2021 Epson International Pano Award
Joshua Hermann (USA) surpassed 5,378 works by 1,245 professional photographers from 97 countries to win the Epson International Panorama Photography Award 2021.
The winners of the 12th Epson International Pano Awards have recently been announced. The competition honors the greatest panoramic photography from throughout the world. This year, organizers reported receiving 5,378 entries from 1,245 professional and amateur photographers from 97 countries, contending for top placements in five categories, special awards, and some of the cash prizes on offer. The contest organizers were once again gracious enough to share some of the winners and top scorers here.
2021 Open photographer of the year: Eternal Triangle, Joshua Hermann (USA)
Eternal Triangle, Louisiana (USA). Photo: Joshua Hermann
This is the overall winning photo of photographer Joshua Hermann (USA).
"A cypress tree generally has a wide flaring base. Due to its watery habitat, it develops this triangular base and roots protrusions called "cypress knees" to help it stand in the soft, soggy bottom. As I paddled amongst the trees on this foggy morning the triangular trunks stood out in a symmetrical fashion. To me, it looked like enumerable triangles receding into the fog," Joshua said.
He captured the unspoiled landscape of the Louisiana swamps and named it the "Eternal Triangle".
"I hope to share the beauty of these places through my imagery, allow people to get a closer look into the uniqueness of these areas, and ultimately to inform them of the importance of protecting these wetlands," Joshu Hermann acknowledged.
2021 Amateur Photographer: Shinning night (Switzerland), Daniel Trippolt (Austria)
Shinning night, Switzerland. Photo: Daniel Trippolt (Austria)
Austrian photographer Daniel Trippolt's stunning work won him first place in the Amateur Photographer category.
Daniel Trippolt expressed, "Most landscape photographers are familiar with the legendary three peaks and are aware of the difficult to assess ability in winter, as the road leading to the destination is closed in winter. But in my favor, I found out entirely on some that it had already snowed there and the road was still open. So I could reach this place under easier condition. Nevertheless, the night demanded unlocked for me, because it was a cold, clear but star-rich night. The three peaks, the perspective, the winter landscape and the starry night make it into a legendary photo."
Daniel Trippolt shared in his portfolio he discovered his passion for photography at the age of 12 when his father gave him his first camera. Every free second of his free time was used to take photos of everything and everyone.
2021 Epson Digital Art Prize:

Anatomy Lesson, Manuel Enrique González Carmona (Spain)
Anatomy Lesson. Photo: Manuel Enrique González Carmona (Spain)
"Minerals, water and water currents are the ingredients with which nature creates these ephemeral landscapes. With each rainy period the canvas is transformed. This canvas is actually a raft of toxic waste from a copper mine, located in the province of Huelva, Spain, which was captured by aerial shooting," Manuel Enrique González Carmona described.
He added, "These ephemeral formations will disappear with the next intense rains. I live only 1 hour away from this scenery, so I usually make a visit every week. There are always completely new structures and details that allow you to make countless abstractions, figurations, etc. I often have the feeling that an abstract expressionist painter has created a large canvas and that I am capturing fragments of this work of art with my drone."
2021 Raw Planet Award: Hidden Lake, Marsel Van Oosten (The Netherlands)
Hidden Lake. Photo: Marsel Van Oosten (The Netherlands)
This image was shot in the Atchafalaya Basin in Texas and features several cypress trees.
Marsel Van Oosten said, "I love these trees because they are simply stunning, especially when there is some Spanish Moss growing in them that dangles down from the branches. They can grow and survive in water which can result in otherworldly scenery like this. I visited this area in autumn to get the warm color palette."
"The only way to get here is by kayak because these swamps are too shallow for normal boats. Paddling here in complete silence is among my best wilderness experiences. When conditions are right, mist can form on the water, adding even more magic to the scenery," Marsel Van Oosten added.
2021 Curators Award: The Mountain Dreamer, Max Rive (The Netherlands)
The Mountain Dreamer. Photo: Max Rive (The Netherlands)
A view in mid-summer from 3145 m/11320 ft over the Fieschergletscher with the Finsteraarhorn on the right (4,274 m/14,000 ft). With a length of 16 km/10 mi, the Fieschergletscher is the second longest glacier in Switzerland after its neighboring glacier the Aletschgletscher (22.6 km/ 14 mi).
2021 Nikon Australia Award: Don't Fence Me In, Ray Jennings (Australia)
Don't Fence Me In. Photo: Ray Jennings (Australia)
Ray Jennings shared, "The Weather Bureau was forecasting snow for the New England Tableland in New South Wales (a fairly rare event) so I packed the warm clothes and camera gear and headed off with a fellow photographer in the hope of capturing snow around the Gostwyck Chapel at Uralla."
"Sadly that didn't happen so we headed to Walcha where snow was encountered on the way up and saw this simple but striking scene with the fence providing a classic leading line to the eucalyptus tree," Ray added.
Ray Jenning thanks The EPSON International Pano Awards for providing the avenue for photographers around the world to showcase their awesome talent and for Nikon Australia for providing such a fabulous prize.
Some other amazing pictures from the award
Highest Scoring Aerial Image: 'Poison Madness' by Gheorghe Popa (Romania)
Highest Scoring Smartphone Pano: 'Torres del Paine' by Andrew Dickman (Australia)
Highest Scoring Film Capture: 'Gastlosen' by Oliver Wehrli (Switzerland)
Highest Scoring IAPP member: 'Gentoo Penguin Colony' by Tom Sheckels (United States)
Highest Scoring Vertical Image: 'Serpentine' by Peter Harrison (Australia)
Highest Scoring Gigapixel Image: 'Sunset over Kyrgyzs Mountains' by Yaz Loukhal (Switzerland)
Finalist: 'Tonal Intersection' by Mark Brierley (Australia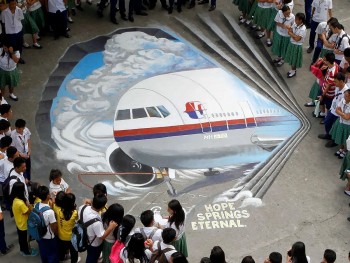 World
The world might never know what really happend when these planes went off the radar. Let's take a look at some of the unsolved mysteries of aircraft disappearances.