50 Years of Vietnam-Canadian Relations: Trusted Friend, Close Partner
"On this day 50 years ago, Canada and Vietnam established diplomatic relations. Let's see how far we have come in the past 50 years," said Consul General of Canada Behzad Babakhani at the 50th anniversary of the diplomatic relations between Vietnam and Canada held on the evening of August 21 in Ho Chi Minh City.
At the 50th anniversary of the establishment of diplomatic relations between Vietnam and Canada, the Department of External Relations (Ministry of Foreign Affairs) and CanCham signed a Memorandum of Understanding. Photo: WVR
According to Consul General Behzad Babakhani, after 50 years of establishing diplomatic relations, Vietnam-Canada relations developed in many fields, from politics to diplomacy, economy and trade, and cooperation in international affairs.
Since the establishment of the comprehensive partnership in 2017, the economic relations between the two countries developed rapidly and steadily.
Vietnam is currently Canada's largest trading partner in ASEAN. Each year, Canada imports about US$11 billion of products from Vietnam. Canada is in the top 10 export markets of Vietnam.
Vietnam's main exports to Canada include textiles, footwear, aquatic products, computers, means of transport and spare parts.
In the opposite direction, in 2022 alone, Canada's exports to Vietnam increased by nearly 40%.
Vietnam's main imports from Canada include wheat, soybeans, fertilizers of all kinds, animal feed and other raw materials, machinery, equipment, tools, and spare parts.
In investment activities, as of July 2023, Canada directly invested in Vietnam 253 projects with a total registered capital of US$4.84 billion. Since 1990, Canada's Official Development Assistance (ODA) to Vietnam worth about CAD2 billion (US$1.4 billion).
"Canada and Vietnam overcome challenges together, such as the global pandemic, to which Canada made a significant contribution to international efforts.
It is impossible not to mention Canada's leading role in the common fight against climate change. Protecting the environment is Canada's top priority, and I know it's also a priority for many of our friends in Vietnam," said Consul General Behzad Babakhani.
The Canadian Consul General expressed much confidence in the next 50-year journey of the Vietnam-Canada relationship, in which the two countries will continue to be reliable friends and close partners.
"I know we will succeed through initiatives like the Indo-Pacific Strategy, but most importantly through the efforts of ambassadors and defenders of Canada-Vietnam relations," Behzad Babakhani said.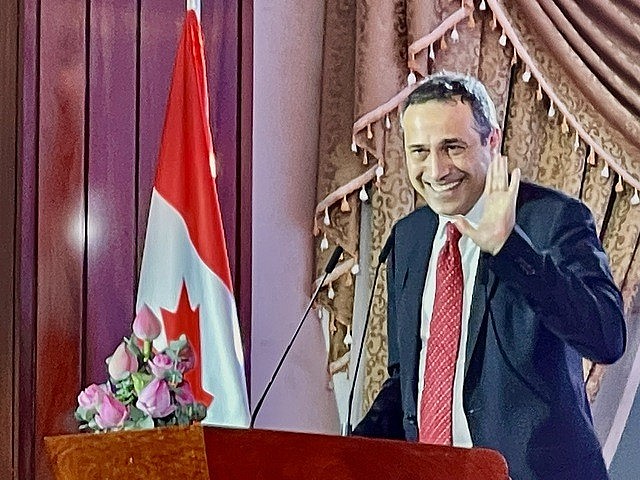 Consul General of Canada Behzad Babakhani. Photo: thanhnien
On the same day, the Canada-Vietnam Clean Energy Partnership Forum was organized by the Consulate General of Canada in Ho Chi Minh City and the Canada-ASEAN Business Council. Several cooperation solutions in this field were discussed by experts.
For example, in terms of carbon capture, use, storage and recycling (CCUS) technology, the Canadian side implemented many efficient CO2 storage projects, typically the Aquistore project at Boundary Dam Power Station (Saskatchewan province, Canada).
According to Vietnamese experts, the development and application of this technology in Vietnam is facing many challenges, requiring large-scale testing and piloting steps with high investment capital.
However, Canada will mobilize US$15.5 billion of financial resources from the private sector and government over the next 3-5 years to support Vietnam's green transition. This is a financial source within the framework of the Just Energy Transition Partnership (JETP) that Vietnam signed with the Group of Seven (G7).
Previously, on August 20, at the Zoo and Botanical Garden, Ho Chi Minh City, Consul General Babakhani and Chairman of the People's Committee of Ho Chi Minh City Phan Van Mai, representatives of the Vietnamese government, organizations and units donated scholarships to 1,400 disadvantaged children and typical students of the two countries.
Also in this event, the Consulate General of Canada and the Canadian Chamber of Commerce Vietnam (CanCham) presented the statue of Inukshuk - the symbol of the Inuit people of Canada to mark the close and lasting friendship of the two countries.