6 best places to see butterflies in Vietnam
These sites are the best places in Vietnam to see thousands of butterflies.
(VNF) - These sites are the best places in Vietnam to see thousands of butterflies.
Tam Dao
Tam Dao is 80 km from the hub of Hanoi. Located at an altitude of 900 m above sea level, the atmosphere in Tam Dao is fresh and cool all year round.
Travelers will be not only impressed by the landscapes but also "clouds of butterflies" in Tam Dao. The best time to see butterflies is March, April or October. There are more than 150 species of butterflies in Tam Dao.
(Photo: baodoi.com)
Ba Be Lake
Ba Be Lake is located in Nam Mau Commune, Ba Be District, Bac Kan Province, 230 km from Hanoi.
(Photo: eyetravelers on Instagram)
This is one of 20 special freshwater lakes of the world that are in need of being protected. Lying at an altitude of 145 m, with clear blue water, the lake is a hidden gem amid majestic mountains.
Every summer, from April, Ba Be becomes a kingdom of white butterflies.
(Photo: lancelaurencephoto on Instagram)
Ma Da forest
Ma Da forest is located in Vinh Cuu District, the southern province of Dong Nai, 90 km from Ho Chi Minh City.
Come here in May or June, you will record beautiful moments when thousands of butterflies float like colorful clouds in the forest, creating a poetic picture.
(Photo: FmD photo)
Cat Tien
150 km from HCM City to the north, Cat Tien National Park spans 5 districts of Tan Phu, Vinh Cuu (Dong Nai), Cat Tien, Bao Loc (Lam Dong) and Bu Dang (Binh Phuoc). (Photo: ArTuan)
The park is home to 450 species of butterflies. These tiny creatures create a fresh and vital atmosphere in the jungle.
Photo: ArTuan
Photo: richard-seaman.com
Central Highlands
April is the season of a species of butterflies called sau muong. This butterfly species is small in size and has yellow color. The name comes after its habit of laying eggs on muong trees.
Sau muong butterflies (Photo: pystravel.vn)
Photo: pystravel.vn
Cuc Phuong
Cuc Phuong National Park, about 120 km away from Hanoi to the southwest, covers the territory of three provinces Ninh Binh, Hoa Binh and Thanh Hoa.
Dubbed the Gift of the Creator, butterflies flood Cuc Phuong in late spring and early summer. The most common species are white butterfly and khe and phuong butterflies.
Cuc Phuong National Park (Photo: vietnambackpackerhostels on Instagram)
Photo: emjiee on Instagram
Minh Phuong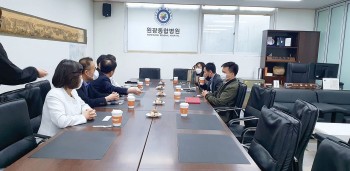 Overseas Vietnamese
A meeting was organized at the Wonkwang Hospital on the provision of medical support for the Vietnamese community in Korea in accordance with the signed cooperation agreement.