A Chinese man illegally enters Vietnam, tested positive for COVID-19
Coronavirus infection rates are soaring in Vietnam with 18 new cases reported on August 14 evening, including one Chinese man caught illegally entering Vietnam.
8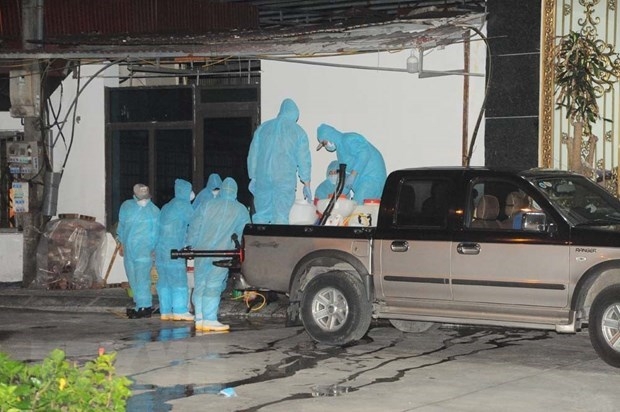 Disinfecting a restaurant related to three COVID-19 patients in Hai Duong. Source: VNA
The 27-year-old Chinese national together seven people had illegally entered Vietnam through the northern border on July 27.
The group was caught on July 30 after traveling to Ho Chi Minh City by car and brought to the city's quarantine facility.
His samples were taken for COVID-19 testing and were found to be positive on the third test. He is currently being treat at Cu Chi field hospital.
The remaining 17 cases related to Da Nang are patients, care takers and those having close contact with infected people.
As of 6pm on August 14, Vietnam had reported 929 cases, including 322 overseas cases quarantined upon arrival. Of the total, 437 have been discharged from hospital, including 10 in the central city of Da Nang and two in Ba Ria-Vung Tau were declared to have fully recovered from the disease on the same day.
The death toll now stands at 21. The deceased were aged between 33 and 86, and all had chronic comorbidities for years.
COVID-19 prevention in Vietnam is now entering a difficult and complicated period, with the growing number of new cases showing no signs of stopping. Acting Minister of Health Nguyen Thanh Long said that Hanoi is still at a high risk as it has a large number of people who recently returned from Da Nang, the epicenter of the country's latest coronavirus outbreak, and those who had close contact with confirmed patients.
The Ministry of Health has strived to provide comprehensive support to the capital, especially in terms of its testing capacity. Out of a total of 30,000 test samples collected in Hanoi, no positive cases were detected. As such, the Ministry of Health has asked the Director of the Hanoi Department of Health to expand sampling and screening tests at hospitals throughout the capital.
According to the Ministry of Health, HCM City has done well to cope with the impact with the disease, with punishments being enforced on those who fail to wear a face mask in public places. Following 40,000 samples being tested, no additional cases were detected.
Meanwhile, the situation in the central province of Quang Nam continues to be problematic, as only nine of its 16 towns and districts have imposed social distancing measures.
The disease is expected to be brought under control in the locality at the end of this month, according to Long.
At the meeting of the National Committee for COVID-19 Prevention and Control in Hanoi on August 14 morning, committee members agreed on the need to step up treatment in central Da Nang city and Quang Nam province, and suggested the Prime Minister issue a new directive given the risk of transmission in all localities, especially major urban areas.
Vietnamese authorities and overseas missions plan to arrange more flights to bring Vietnamese citizens home, depending on their need and quarantine capacity at home.
The authorities also have made efforts to contain the importation of the disease by implementing a range of regulations regarding COVID-19 prevention and control as Vietnamese authorities and overseas missions plan to arrange more flights to bring Vietnamese citizens home.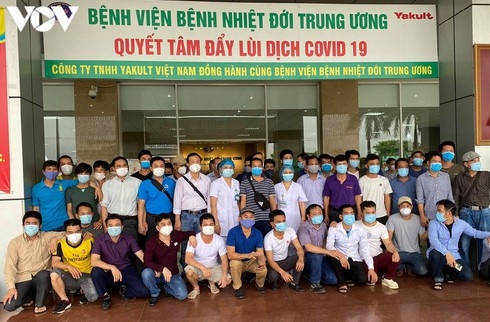 183 out of 219 workers who recently returned from Equatorial Guinea received a discharge from hospital on August 14. Source: VOV
Most recently, over 340 Vietnamese citizens who had been left stranded in Angola due to the impact of the novel coronavirus were safely flown home on August 13 on a flight conducted by national flag carrier Vietnam Airlines.
Passengers included children under 18, the elderly, pregnant women, the ill, workers with expired contracts and no accommodation, and those in disadvantaged circumstances.
The Embassy of Vietnam in Angola also sent its staff to provide the citizens with pre-departure assistance.
To prevent the spread of COVID-19, disease prevention measures were put in place during the flight. Upon arrival at Hanoi's Noi Bai International Airport, all the flight crew and passengers were given heath checkups and went into quarantine in an effort to ensure there is no possibility of the virus recurring or being transmitted among the wider community.
A total 183 out of the 219 workers who recently returned from Equatorial Guinea, are now able to be discharged on August 14 after completing their 14-day mandatory quarantine period and having their test samples come back negative for SARs-CoV-2 at least three times.
After receiving their discharge from hospital, each of the workers will be placed under strict medical surveillance by the local Center for Disease Control, according to the National Hospital for Tropical Diseases./.