Vietnam yet to purchase Russian Covid-19 vaccine, prepares to put indegious one on human trials
The made-in-Vietnam vaccine has been confirmed to produce a good immune response against the novel coronavirus in animals and would be soon to put on human trials after related testing conditions completed. Vietnam health official said on August 13 that the country has yet to mentioned to the plan to import Covid-19 vaccine from Russia.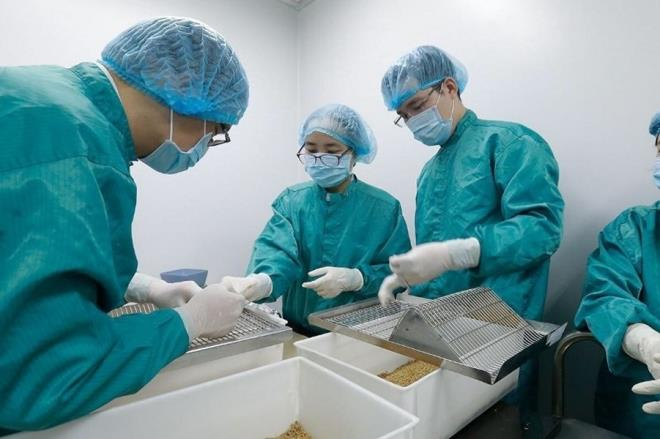 Illustrative photo by VABIOTECH.
According to VTC, the information on processes for manufacturing Covid-19 vaccine was elaborated by Dr. Do Tuan Dat, the President of the state-owned pharmaceutical firm VABIOTECH (The Company for Vaccine and Biological Production No.).
Previously, scientists had conducted Covid-19 vaccine tests on animals, the results then showed vaccine antigens can trigger the immune response. In particular, the vaccine also ensures safety and effectiveness in preventing coronavirus. "We are preparing all necessary conditions to put the vaccine on human trials", Dat said.
As the novel respiratory virus is able to mutate with rapid spreading speed, Vietnamese scientists decided to select the least mutative region of the gene to develop the Covid-19 vaccine. As a result, the indigenous vaccine would feature the most certain genetic stability, which helps maintain the proper performance in preventing the pandemic.
VABIOTEC is entering the stage of optimizing the production process in terms of quality, time, and quantity.
If the demands for regular vaccines could reach from billions to dozens of billions of doses annually, those for Covid-19 vaccines would be hundreds of billions of doses. "We are setting the target to produce mass quantities of vaccines in a short time. Thereby, all related conditions and requirements should be carefully estimated", Dat informed.
In Vietnam, there are as many as four units are researching, developing Covid-19 vaccines, some of which some have entered pre-clinical trials. Each manufacturer goes in a different direction, initially showing quite good results.
For vaccine development, there are many different options with a variety of technologies that can support the work such as viral vectors, DNA, and RNA synthesis. The technology adopted by VABIOTECH is a virus vector - the system is installed with one or more gene regions encoding the desired antigen region. During immunization, protein antigens will be expressed interacting with the host to induce an immune response to the target pathogen.
The "Made-in-Vietnam" Covid-19 vaccine project was launched in February and is evaluated to exceed the 2-month progress of phase 1, which is considered the most important in the Covid-19 vaccine researching progress.
Around 150 Covid-19 vaccine development projects are being carried out worldwide. Eight vaccines have begun human testing.
Vietnam's Covid-19 count now is 911, including 465 active cases.
Since July 25, when local transmission returned after three months, 444 cases have been found in 15 cities and provinces, including Hanoi and HCMC. Da Nang accounts for 310.
Vietnam has yet to initiate plans to purchase a newly announced vaccine against the SARS-CoV-2 virus produced by Russia pending confirmation on its safety and effectiveness, a Vietnamese health official said on August 13, VOV reported.
Dr. Do Tuan Dat, director of the Company for Vaccine and Biological Production No.1 (VABIOTEC) under the Ministry of Health, said Russia is poised to launch its manufactured vaccine known as 'Sputnik V', the first of its kind worldwide, although it has yet to release any scientific data relating to testing.
"Russia has not published scientific research into the vaccine, therefore we have no reference data as well as an assessment of its effectiveness," Dr. Dat told Lao Dong (Labour) daily for its August 13 issue.
According to the director, every vaccine must pass through all stages of clinical trials in an effort to assess its safety and effectiveness before being put into circulation. Despite these stringent procedures, all the data relating to the first COVID-19 vaccine is being kept by Russia, with global experts unable to judge how safe and effective the vaccine is scientifical.
Asked if Vietnam has plans to import the vaccine from Russia, Dr. Dat affirmed that "Vietnam has yet to mention it".