A Japanese Policeman's New Life in Vietnam
Leaving his dream job in Japan to move to Vietnam in 2016, Kaneya Manabu finds the Vietnamese "treat each other with love, not with pressure over work or income."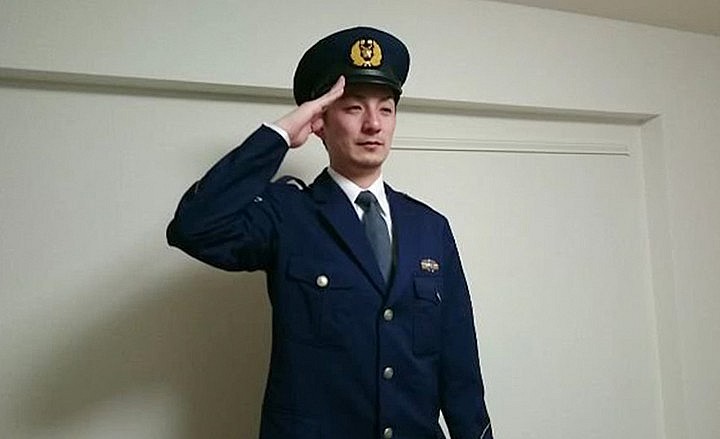 Kaneya Manabu in his police uniform in 2016. (Photo: VNE)
Kaneya Manabu was the youngest child in a family of three in Saitama, Japan. After graduating from university, he followed his father's career to become a policeman in the criminal investigation department, in charge of Vietnamese-related cases in Saitama.
To meet his job's requirements, Manabu took a Vietnamese class in 2012 under a special program for Japanese police. With his advantage in foreign languages, the man was promoted to important positions in the criminal department.
"But this is not the life I dreamed of," Manabu said. His life in Japan was a series of continuous work with high pressure and exhaustion. Policeman Manabu never had a good sleep, always had to keep his phone beside and ready to receive the task.
In 2014, Manabu and some colleagues attended a two-month Vietnamese course at the Hanoi University of Science and Technology.
His first impression of Vietnam is the bright smile and friendliness of the people. "Vietnamese people always smile when communicating. Their faces show happy expressions, unlike the cold looks on the Japanese," he recalled.
Returning to Japan, the image of Vietnam kept appearing in his head. In the following years, he went to Vietnam ten times as a tourist. Eventually, Manabu no longer wanted to return to Japan.
In 2016, he wrote his resignation letter to the surprise of his colleagues and family. "Many of my bosses expressed their disappointment that I resigned I was about to be promoted to a higher position. They even called me a 'traitor.' My parents strongly opposed my decision," he said.
At the time of resignation, Manabu was serving as the head of the Saitama Prefecture department.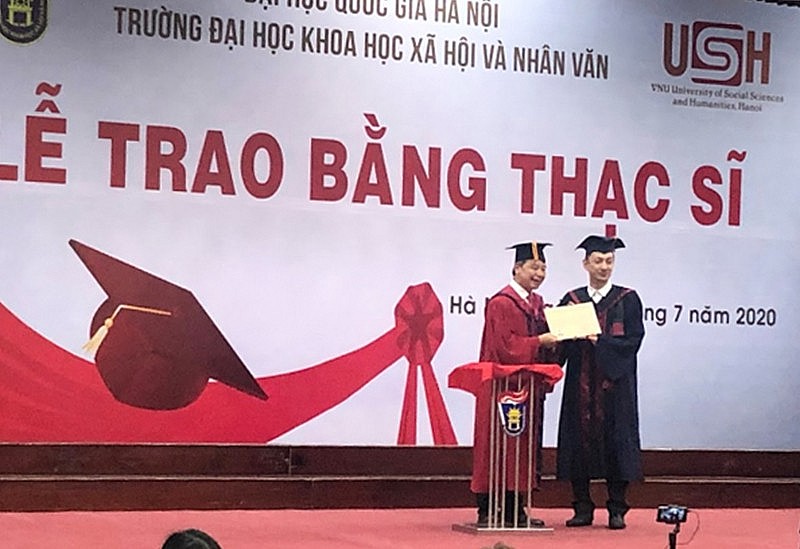 Kaneya Manabu earned his master's degree in Vietnam. (Photo: VNE)
A few months later, he received help from a Vietnamese to settle in Vietnam and find a long-term job at a software technology company in Hanoi.
His first "culture shock" in Vietnam came when he received his first month's salary. "The salary was only enough to pay rent. I must spend my savings."
Wanting to improve his income, Manabu attended training courses on information technology and applied for a master's degree at the University of Social Sciences and Humanities, under Vietnam National University. After a few months, he caught up with the pace of work, his income gradually improved.
"He was too reckless when he quit his dream job in Japan to go to Vietnam," said Hoang Tuan Hung, Manabu's former colleague. Hung said that only a few Japanese had the courage to quit such a good job in the police profession.
After five years of living in Vietnam, going through several jobs and bouncing back from many failures, Manabu still does not have the intention of returning to Japan. He wants to stick with the country where "treat each other with love, not with pressure over work or income."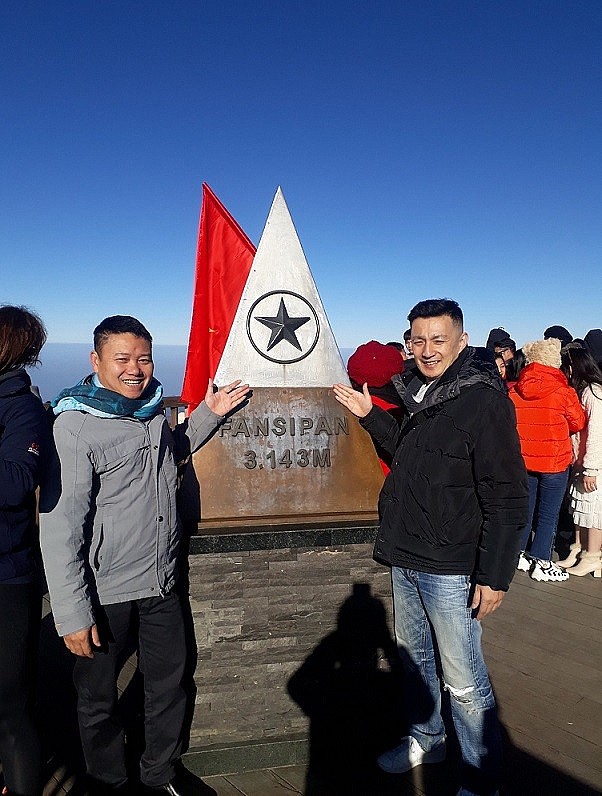 Kaneya Manabu in his trip to Fansipan peak. (Photo: VNE)
In 2019, Manabu started his YouTube channel, creating content about his journey in Vietnam and giving Japanese lessons.
"I want to spread useful information to Vietnamese people, help them understand Japanese culture and law before going to my country to work. I hope they do not end up in prison like some Vietnamese people I have met," Manabu said, adding that he was still haunted by the miserable faces of Vietnamese people taken to the police station where he worked many years ago.
Manabu now feels like a local when he can ride a motorbike to every corner of Hanoi, ready to sit on the sidewalk to enjoy a hot bowl of pho, not afraid to bargain in markets.
"He understands Vietnam like a local," said Vuong Xuan Cuong, Manabu's colleague.
Manabu wants to develop his YouTube channel to help Vietnamese people in Japan gain more experiences and inspire those who want to pursue their dream professions.
"Many people ask me if I am bored with Vietnam, or when I will return to Japan, but I definitely want to stay here, the country that I am so passionate about," he laughed.