Additional three Korea-funded libraries opened in Nam Dinh
Under the project "Cam on thu vien nho" (Thank you Small Libraries), the Ministry of Culture, Sport and Tourism of South Korea has funded Vietnam to build three school libraries using ODA (official development assistance) funds.
The opening ceremony of three small libraries took place in Dao Su Tich junior high school, Truc Noi junior high school and Truc Hung junior high school in the northern province of Nam Dinh with nearly 1,000 students.
A total of 11 school libraries were built in Hanoi, the northern provinces of Vinh Phuc and Phu Tho from 2016 to 2018. The three newly-built libraries have raised the number of the project's libraries in Vietnam to 14.
The project will provide approximately 6,000 books to schools including books consulted by the Ministry of Education and Training and the Vietnamese-translated Korean literature books.
Moreover, these libraries have more than 110 different documents including Kpop, cartoon and films to help students access to Korean culture.
"The Korean Government will be with the Vietnamese Government in erasing educational inequality and improving educational environment in the upcoming time" said Head of South Korean Department of Culture, Sports and Tourism Kim Jeong Bae.
Statistically, from 2007 to 2018, the Ministry of Culture, Sport and Tourism of South Korea opened 123 libraries in 13 Asian and African countries through small libraries projects. After Vietnam, 3 more libraries are said to be opened in Tanzania in November 2019.
VNF ( SGGP )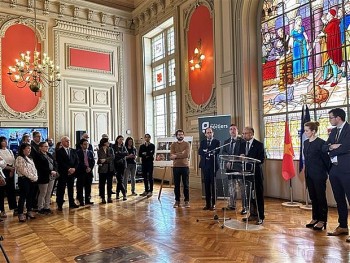 National
Vietnam News Today (Mar. 26): Vietnam and Thailand promote labour cooperation; Vietnamese, French localities look to step up cooperation; Attractive incentives on offer at Hanoi Tourism Festival 2023; E-commerce accounts for 60% of Vietnamese digital economy.