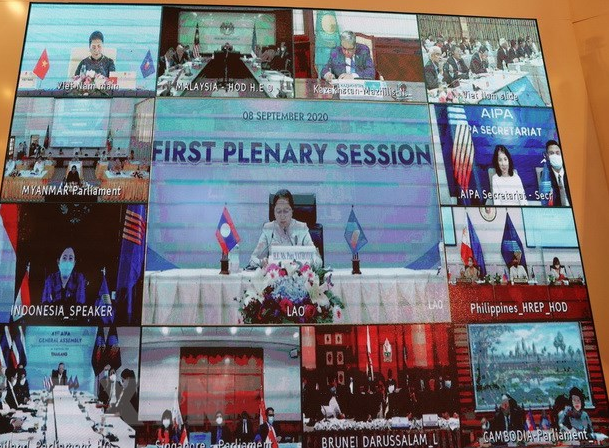 AIPA 41 first online meeting session took place on the morning of September 8. (Photo: VNA)
According to the VNA correspondent in Jakarta, speaking at the first plenary session of the 41st Inter-Parliamentary Assembly of the Association of Southeast Asian Nations (AIPA-41), which took place on the morning of September 8, Mr. Pehin Abdul emphasized that this is the first time in the history that AIPA is held online, due to the context of COVID-19.
The head of the Brunei legislature judged that the theme of AIPA 41 "Parliamentary Diplomacy for Cohesive and Responsive ASEAN Community" is decent in the context when the whole world is facing unprecedented challenges in the adaptation to the new normal situation.
Speaker Pehin Abdul said that, in practice, this topic continues to emphasize the role of ASEAN member parliaments as the voice of the people and the need to unite and quickly react to the issue, in accordance with international law.
According to Pehin Abdul, the global impact of the pandemic on the health, education and economic sectors has fundamentally changed the daily lives of all people. Despite these challenges, however, it is essential that AIPA maintain a forward-looking and carefully adaptive approach to ensure continuity in its work.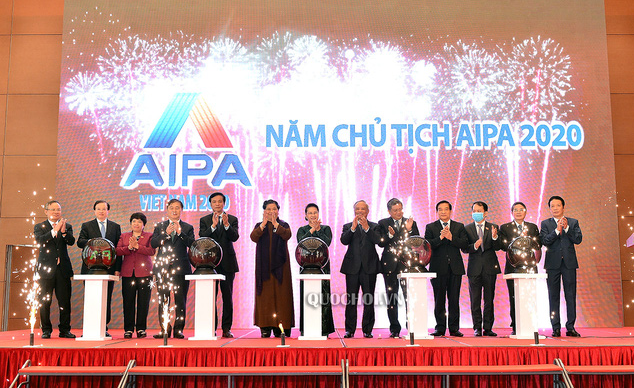 Delegates pressed the button to launch the website of the AIPA 2020 Chairmen's Year of AIPA 2020 mobile application (Photo: National Assembly portal)
He also took this occasion to express his belief that by upholding the ASEAN spirit of "unity in diversity," AIPA will be able to assist ASEAN countries to overcome the challenges ahead and respond well to the coming future. He called AIPA member parliaments to continue to promote cooperation among stakeholders by encouraging the timely sharing of lessons learned in minimizing the impacts of COVID-19.
The Brunei delegate highly appreciated the "dedication and steadfastness" of the National Assembly of Vietnam. Vietnam has done well in its role as President of the ASEAN Inter-Parliamentary Assembly (AIPA 41) in a "very difficult" year for the whole world, a parliamentarian from the Legislative Council of Brunei has said.
As President of AIPA in 2020, Vietnam has made many contributions to strengthening ASEAN's cohesion and proactive response amid current regional and international challenges, including the COVID-19 pandemic. Under Vietnam's leadership, AIPA has made cohesive responses over the last year in a spirit of being "cohesive and responsive" in its role as an entity that oversees parliamentary progress in the region.

AIPA stands for ASEAN Inter-Parliamentary Assembly. It serves as the center of communication and information among Member Parliaments which consist of Brunei Darussalam, Cambodia, Indonesia, Lao People's Democratic Republic, Malaysia, Myanmar, Philippines, Singapore, Thailand, and VietNam. In the ongoing 41st General Assembly of AIPA, the Legislative Council of Brunei will officially take over AIPA presidency from Vietnam's NA.
Valerie Mai