Ambassador Working to Promote Dutch Investments in Vietnam
Vietnamese Ambassador to the Netherlands Pham Viet Anh cleared up Dutch investors' concern regarding Vietnam's investment attraction policy at "Meet Ambassador 2022."
Vietnamese Ambassador to the Netherlands Pham Viet Anh speaks at the event. Photo: The World & Vietnam Report
The annual program was held by the Vietnamese Embassy in the Netherlands on June 7 with the participation of 45 Dutch and Vietnamese enterprises, including the Dutch enterprises that are operating in Vietnam and those that are seeking investment opportunities in the Southeast Asian nation.
Most of the participants are members of the Dutch Business Association Vietnam (DBAV) and the Netherlands-Vietnam Chamber of Commerce (NVCC).
The event was also attended by representatives from the Dutch Ministry of Foreign Affairs, NLinBusiness that supports Dutch entrepreneurs who want to grow internationally, PUM Netherlands senior experts - a non-profit organisation that has been advising businesses in developing countries and emerging markets, among others.
At the meeting, Anh also introduced Vietnam's development strategy in the Mekong Delta, agricultural development orientations, electricity infrastructure and model for direct renewable power purchase agreement, as well as impacts of the circular economy on socio-economic activities in the country.
The ambassador welcomed Heineken Vietnam to participate in the model, towards completely using clean energy in production in Vietnam.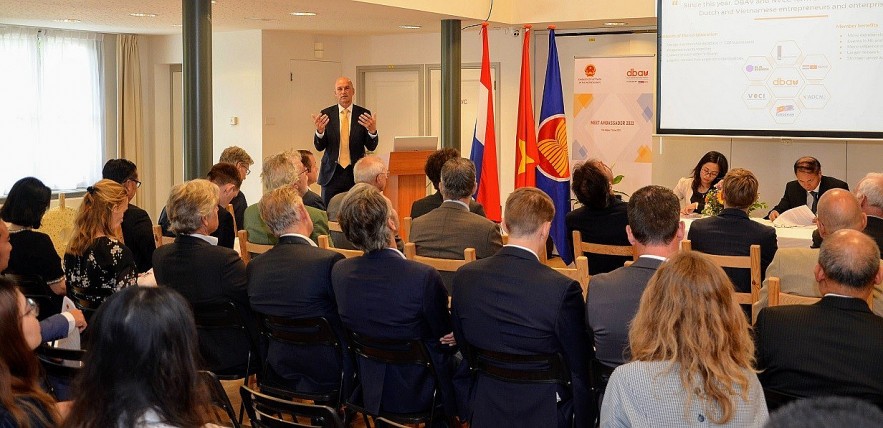 Joost Vrancken Peeteers, Chairman of the Netherlands-Vietnam Chamber of Commerce, speaks at the event. Photo: The World & Vietnam Report
Many Dutch firms were interested in Vietnamese automaker VinFast and its business plan in the Netherlands.
VinFast is among very few Vietnamese businesses that are taking the lead in fulfilling Vietnam's commitments at the 26th United Nations Climate Change Conference of the Parties (COP26) by encouraging the use of clean fuel vehicles and developing charging stations in Vietnam.
Anh affirmed that the embassy and its commercial affairs office always support activities of DBAV and NVCC, contributing to enhancing trade and investment ties between the two countries.
He also suggested DBAV and NVCC cooperate with the Vietnam Chamber of Commerce and Industry (VCCI).
The Netherlands has to date channelled about $50 million into projects and initiatives in the Mekong Delta.
A corner of the Mekong Delta city of Can Tho. Photo: VNA
In Vinh Long province, the Dutch government provided $19.5 million in non-refundable aid for a project totalling $202.2 million which aims to support the province's climate change adaptation.
Through ongoing projects in Mekong Delta localities, Dutch experts and scientists have devised measures supporting local people in climate change adaptation, sustainable agricultural development and water management, among others.
The Mekong Delta is one of the five deltas most vulnerable to climate change in the world. With an area of 3.96 million hectares and a population of 18 million, it contributes 50% of Vietnam's total food output. The region provides 90% of the country's export rice, 70% of fruit and 65% of aquatic products./.