American passenger from MS Westerdam ship tests positive again for COVID-19 in Malaysia
An American female passenger from the MS Westerdam cruise ship docked in Cambodia has tested positive for the new coronavirus (COVID-19) a second time in Malaysia said on Sunday (Feb 16).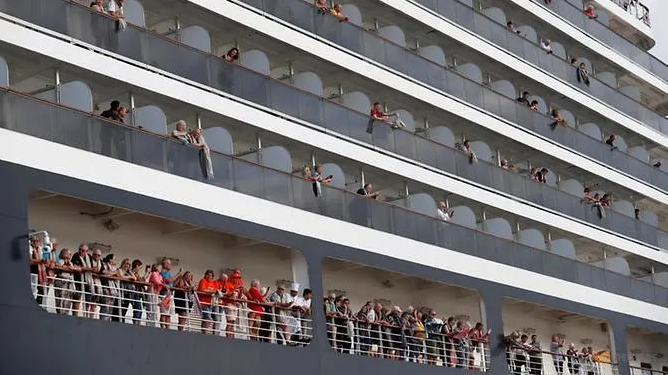 Passengers wave their towels as they are about to leave MS Westerdam, a cruise ship that spent two weeks at sea after being turned away by five countries over fears that someone aboard might have the coronavirus, as it docks in Sihanoukville, Cambodia February 14, 2020. REUTERS/Soe Zeya Tun
The 83-year-old woman was the first passenger from the MS Westerdam, operated by Carnival Corp unit Holland America Inc, to test positive for the virus.
Holland America said 236 passengers and 747 crew remained aboard the vessel, which is docked in the Cambodian port of Sihanoukville.
It arrived on Thursday carrying 1,455 passengers and 802 crew. It had spent two weeks at sea after being turned away by Japan, Taiwan (China), Guam, the Philippines and Thailand.
The passengers were tested regularly on board and Cambodia also tested 20 once it docked. None was found to have COVID-19, according to cruise ship operator.
The American woman flew to Malaysia on Friday from Cambodia along with 144 others from the ship, the Malaysian health ministry said in a statement, adding that she was in stable condition.
The woman's husband had shown symptoms but tested negative, it said. The couple were the only ones among the 145 to show symptoms, the ministry said.
But the cruise ship operator had sought more tests. Cambodian authorities also called on Malaysia to review its test results.
Malaysian Deputy Prime Minister Waz Azizah Wan Ismail said on Sunday a retest was carried out on the American late on Saturday night and she tested positive again. Her husband tested negative.
"They say it could be a false positive. No," she said.
"We are not disputing (Cambodia's tests). But since the passengers reached us, we have to be careful. As for Cambodia, they did what they think was sufficient," she said.
The American woman's case brings the total number of confirmed COVID-19 cases in Malaysia to 22.
As a precautionary measure, all remaining MS Westerdam passengers who are currently still in Cambodia will not be allowed to enter Malaysia since they are considered to have had close contact with the American patient, the deputy prime minister said.
Meanwhile, Malaysia Airlines has also cancelled the remaining three chartered flights booked by cruise operator Holland America Line to fly MS Westerdam passengers back home via KLIA.
The flights were scheduled to fly between Feb 14 and Feb 16. Only the first flight - carrying the American patient - had arrived in Malaysia.
All cruises originating from or had previously visited China will not be allowed to enter Malaysia in view of the COVID-19 outbreak, Dr Wan Azizah stressed on Sunday.
There are widespread fears that cruise ships around Asia may be spreading the virus. The biggest cluster outside China has been on the Diamond Princess, quarantined off Japan's Yokohama. Out of about 3,700 passengers and crew on board, 355 people were found to be infected with the virus./.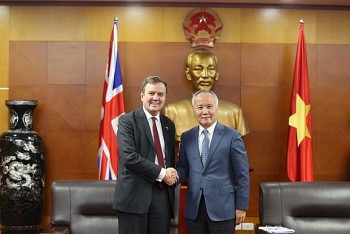 Economy
UK ready to boost CPTPP's economic firepower, said the Trade Minister on Vietnam visit