An one-day tour in Ninh Binh, home to VN's most beautiful stone church
(VNF) - Visiting a stone church with unique architecture, an old tile roofed bridge, and enjoy the fresh taste of local specialty, a one-day trip to Phat Diem in Ninh Binh will be a fulfilling experience for any tourist. The Vietnam Net suggests a 24-hour itinerary as followed:
(VNF) - Visiting a stone church with unique architecture, an old tile roofed bridge, enjoying the fresh taste of local specialty, a one-day trip to Phat Diem in Ninh Binh will be a fulfilling experience for any tourist. The Vietnam Net suggests a 24-hour itinerary as followed:
The cathedral with four side chapels (Photo: Phat Diem Arch-bishop)
6am: Departure from Hanoi to Ninh Binh province located over 90 km to the south of Hanoi. Visitors can take a bus or pick up a tour bus within the Hanoi Old Quarter.
(Riding your motorcycle can be interesting, too, since the travel time is only two hours.)
8am: Breakfast in the city center
Ninh Binh is not only famous for goat meat and com chay (rice crust), but also eel vermicelli. The eel vermicelli restaurant located near the Ninh Binh post office in the heart of the city is always crowded.
Choose a comfortable seat, and taste the delicious dish and watch the morning activity of local people.
8:30 am: Departure to Phat Diem
Phat Diem Town (Kim Son District) is home to the famous stone church of Phat Diem. It is nearly 30 km from the city of Ninh Binh. You can catch a bus which costs around VND15,000/person. On the bus, you will see immense rice fields along the road.
9.30am: Visit Phat Diem stone church.
Designed and constructed in 24 years (1875 - 1899), the cathedral is a unique architecture, with a harmonious combination between European and East Asian art.
The architecture is a sucessful combination of oriental pagodas and Gothic Church, which comprises a Cathedral, a pond, a bell tower (called "Phương Dinh" in Vietnamese), four side chapels, a stone church (Chapel immaculté heart of Mary), two caves or artificial rocks, two porches and an ordeal.
As its name suggests, Phat Diem Stone Cathedral was built of stone and wood that are readily available in the mountain area of Ninh Binh. The preparation phase, mainly extracting materials from limestone mountains, took the locals as many as 10 years to finish.
From the Central Road, visitor can catch the view of the statue of Christ the King overlooking a square island in the center of a rectangular pond. It covers an area of ​​one hectare and is known as the "Ao Ho" or "the Pond".
Overview of Phat Diem cathedral (Photo: Phat Diem Arch-bishop)
The cathedral is 74 meters long, 21 meters wide and 15 meters high with four roofs. It was built of six rows of ironwood. Within the cathedral are four small churches of different styles.
Next to the grand cathedral is a church named "Nha Tho Trai tim Vo Nhiem Nguyen Toi Duc Me" . But people usually refer to it as "Stone Church" because its walls, pillars, ground, bars and beams are made of stone.
The inside of the church has many sophisticated carved reliefs, with chrysanthemums, bamboo, fir trees and apricot trees that symbolize the four seasons.
Just cross the courtyard, tourists can begin their tour with a visit to Phuong Dinh (bell house), a masterpiece of the architectural complex of Phat Diem. The architectural work consists of three floors with stars resembling those often seen in Vietnamese pagoda and temple. This architecture is one of the originality of Vietnam which is rarely found in somewhere else.
The cathedral: façade and Father Six tomb (photo: Manh Dan)
In front of the Cathedral, spend time contemplating the meticulous perfection sculptures and carvings, especially with the admirable purity of all lines.
Phat Diem Cathedral is also notable for its original Sino-Vietnamese style, creating an atmosphere of silence and meditation for meditation and prayer.
(With these values, Phat Diem Cathedral was recognized as National Historical and Cultural Relics by the Ministry of Culture and Information (now the Ministry of Culture, Sports and Tourism) in 1987.)
12pm: Lunch in the town of Phat Diem
Nhech fish salad (source: http://vubao.vn)
Nhech fish salad is considered a specialty of the town, with a combination of fresh fish and a variety of fragrant herb such as balm-mint, basil, chervil, chive, cilantro, coriander and flavorful fruits such as starfruit, fig, chili. Eating this delicious dish while drinking Kim Son rice wine are perfect combination.
2pm: Visit the sedge mat village
Making sedge mats is a traditional trade of local residents. With abundant material resources, creative, hardworking laborers, sedge-made products, particularly mats in Kim Son, are very famous.
3.30pm: Visit the famous tile-roofed bridge
Phat Diem tile-roofed bridge (source: baotintuc)
The Phat Diem tile-roofed bridge in Kim Son district recently appeared on Vietnamese postage stamps. The bridge was built in 1902. It spans the An River in the center of Phat Diem Town. The bridge consists of three spans, with four compartments on each span. The total length of the bridge is 36 m and it is 3 m wide. Along the bridge are two banisters and ironwood pillars. The roof is covered by red tiles of the northern plains. This is one of the rare bridges in Vietnam with high artistic value. Along with Phat Diem Church, this bridge is a symbol of the land.
5pm: Return to Hanoi./.
( VNF )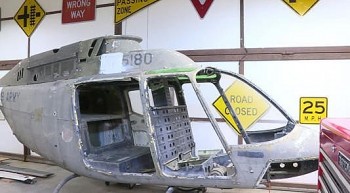 World
A piece of military history related to Vietnam is coming to life with a special project in a small Barton County townm in the US