Ancient Traditions Allow Poor Vietnamese Make Prosperous Futures
With innovative ways of doing things, many Khmer ethnic people in Tra Vinh have poverty through traditional vocations such as farming vegetables, knitting handicrafts.
Stabilizing a life from a traditional profession
Beginning in August, after a brief morning rain, Quach Thi Ut is busy harvesting vegetables in Quang Huu commune, Tra Cu district, Tra Vinh. Quach Thi Ut is one of many Khmer ethnic people in Tra Vinh who have avoided poverty through traditional vocations like farming vegetables, knitting handicrafts, etc. in Quang Huu commune. The vegetable farm owned by her family produces a wide variety of vegetables, including spinach, salad greens, and spices. They are all in the harvest season.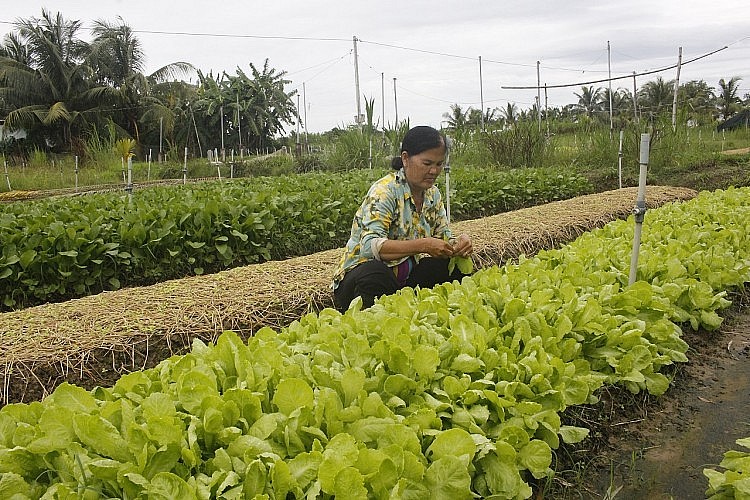 Quach Thi Ut (in Quang Huu commune, Tra Cu district, Tra Vinh) harvesting in her 1000m2 planting area. Photo: Thoi Dai
As shared by Quach Thi Ut, "This land has been home to my family for many years. There is just one profession that can provide a living, and that is vegetable farming. In the past, we planted crops only out of habit and without a plan, which resulted in a lack of income."
"My family and I now make between 255 USD and 298 USD per month thanks to a loan of 853 USD from the An Quang Huu Commune Women's Union and training on how to perform the task scientifically."
I saved money to buy a television after repaying a monthly loan of more than USD 43; I also raised my four children so they could go to school and made a small retirement saving," added Ut.
The Giong Dinh hamlet, Dai An commune, Tra Cu district, and Tra Vinh people all practice knitting as a traditional craft. Duong Thi Tien (born in 1966) is able to care for her grandchildren when her children are away at work because of this model's stable income and availability.
Tien claimed that she was unaware of the history of the knitting trade in the commune but that her parents had learned how to knit from their grandparents. In the past, she had to be distant from home, away from her husband and kids, in order to work as a housekeeper in the city and increase her income. She recently retired to care for her grandchildren after her children moved to the city to work. Tien and her husband continue to make 4.26 USD daily from knitting crafts in addition to spending time with their family.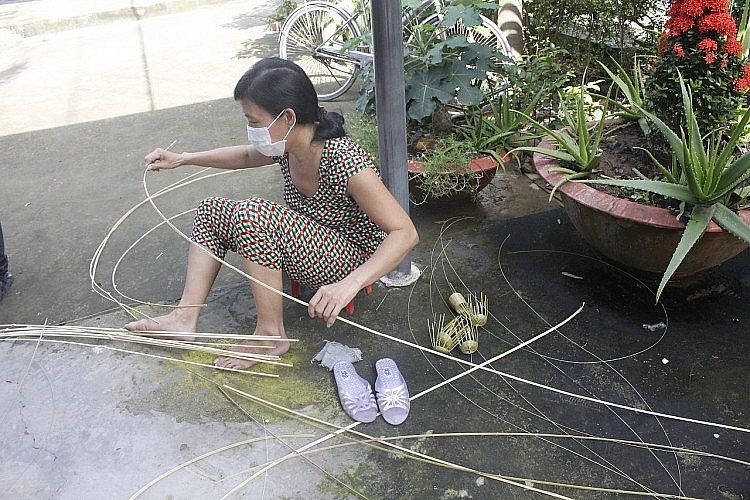 Duong Thi Tien (Giong Dinh hamlet, Dai An commune, Tra Cu district, Tra Vinh) takes advantage of her free time to knit handicrafts. Photo: Thoi Dai
"In the morning, I make my grandchildren breakfast, take them to school, return to the market, and then prepare meals for the entire family. Picking up the kids, cleaning up for them, and doing the laundry in the afternoon. I enjoy knitting in my own time, but still, earn a steady income. There is no need to worry about production time because there is always a lot of work to be done and few supplies available.
According to Le Thanh Tra, the chairwoman of the women's union for An Quang Huu commune claims that Quach Thi Ut's family is one of 32 that take part in the commune's cooperative system for qualified vegetable farming. 27/32 of the poor households in An Quang Huu were able to escape poverty and stabilize Vietnamese lives using this technique.
Old job, a new way of doing things
We established a group to raise quality veggies to support people with resources and growing techniques, according to Le Thanh Tra, Chairwoman of the An Quang Huu Commune Women's Union. The group's members cooperate to lower production costs, make farming easier, and guarantee product yield. Members can specifically borrow money from the social policy bank through the Women's Union to invest in manufacturing and agriculture.
"The average person has 2,000 m2, while the lowest is 500 m2 for growing and cultivation; 32 members of the model have a stable income." Women's unions at all levels—the Party Committee, the Government, etc.—protect and encourage women's rights, according to Le Thanh Tra.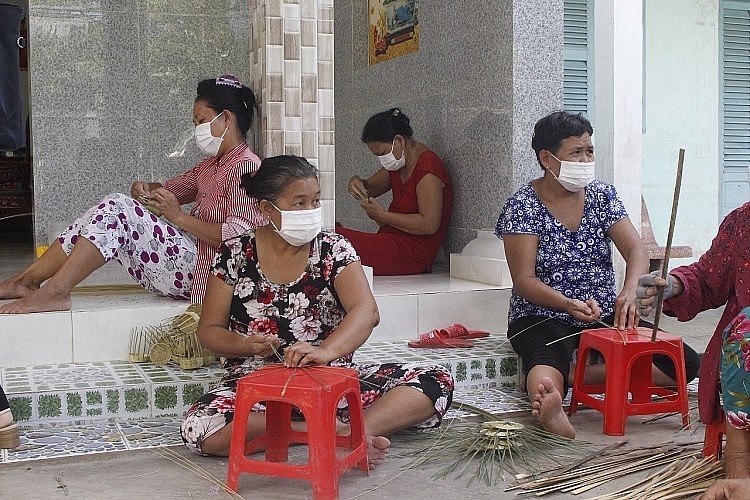 Women in Giong Dinh hamlet, Dai An commune, Tra Cu district, Tra Vinh knit handicrafts.
The owner of a renowned handmade knitting business in Tra Vinh is Diep Thi Trang (Giong Dinh hamlet, Dai An commune, Tra Cu district). The products made at this business include decorative things, display items, and models of everyday objects like teapots, water bottles, and bamboo fish traps. The business, which has 87 members and a selling price of 4.26 USD for each set of products, is always pleased to have constant incoming orders.
It is known that traditional knitting in the past was both cumbersome and cheap, leading to precarious people's lives. After many training classes of the Farmers' Association of Tra Cu district, people switched to knitting handicrafts.
"Every 10 days, orders are collected once for small businesses to sell as souvenirs in the country or for export. The facility sells about 1,500 sets of products a month. Established in 2007, up to date the establishment has always been stable in providing jobs and consuming products", emphasized Diep Thi Trang.
According to the Tra Vinh Provincial People's Committee report, the province currently has 10,207 poor homes, or 3.56% of all households, according to the multidimensional poverty level for the years 2022 to 2025. Of these, 6,483 are of the Khmer ethnicity.
With a total value of 208,843 USD, the province established the "For the Poor" Fund in the first six months of 2022 and mobilized to assist poor, near-poor, and extremely tough conditions houses, as well as households impacted by the COVID-19 pandemic, harmed by natural disasters, epidemics, island communes, ethnic minority areas, and so on.
As of June 2022, the province as a whole had helped 7,421 poor, near-poor, and newly fled poor households borrow loans and stabilize their livelihoods with a total of 10,586,296 USD.
Thời Đại