Ethinic Woman Turns Billionaire After Winning Tan Hiep Phat's Lucky-Draw Prize
With a prize worth US$ 52,000, the woman now can finance her children's education and secure a brighter future
The lucky "Billionaire prize" winner is La Lan Thi Bong, a farmer in the mountainous province of Tay Bac, Phu Yen, southern Vietnam. She won the highest prize at Tan Hiep Phat's "Xe ngay Trung lien" (Immediate tear, immediate win) live-streamed in early July. The other winner, who lives in Can Tho province, received over US$ 4,300.
It took the organizer nearly one day to contact Bong whose neighborhood is hardly accessible by phone signal or Internet, and largely isolated from the outside world.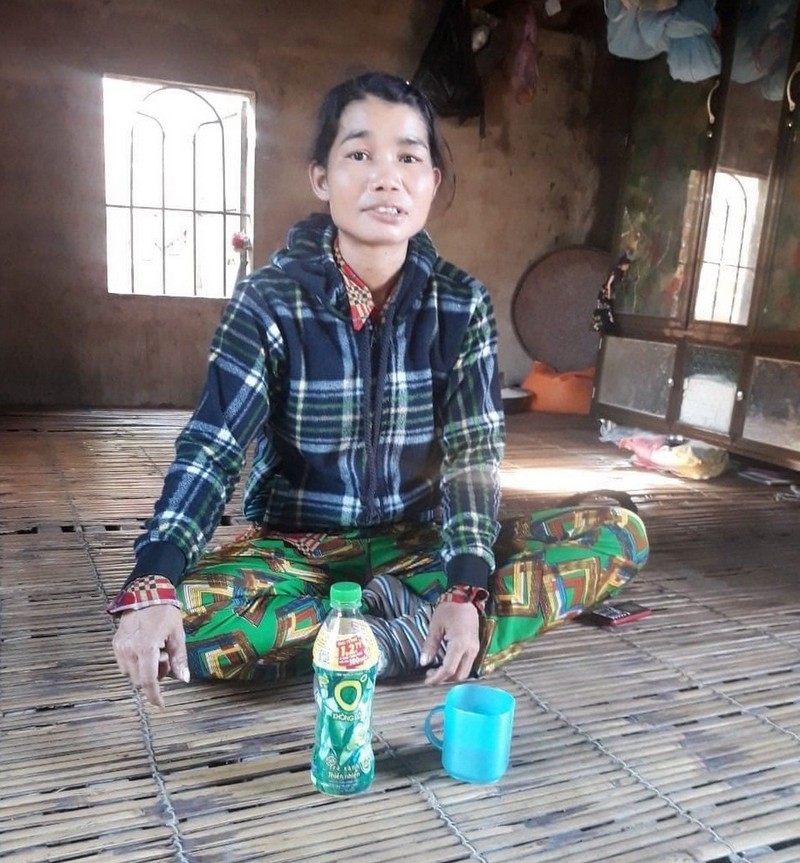 La Lan Thi Bong. Photo: PLO
Bong is reportedly living in a temporary house built by the state in 2015 – her family's biggest asset -- along with an 1,800 square meter field. Her monthly income is around US$ 260.
"My husband died of cancer in 2013. I peel cashew nuts every day for a living," Bong said. Her oldest son joined the military early this year, and her two daughters both still go to school.
However, Bong refused the prize at first. She said she was taken aback knowing she won the US$ 52,000 prize.
"The money is way beyond my imagination. It's too big for me. I would like to return it to the program," she told VOV.
Xe ngay Trung lien's organizers had to contact the Consumer Protection Association and the Women's Union in Phu Yen to finalize necessary procedures. They also enlisted the help of authorities in Dong Xuan district and Phu My commune to talk Bong into accepting the prize. After a lot of consideration, Bong finally accepted the money that will drastically change her life.
Tan Hiep Phat gathered enough official documents to hand the prize to Bong by July 21.
A corner in La Lan Thi Bong's hometown. Photo: PLO
"This is huge money. I would allocate some to rebuild my house, which is quite run-down now. I also plan to buy a new plot of land to do gardening," she told PLO. "My family is very grateful to the program for giving a life-changing present. We now have an opportunity to overcome poverty, my kids can enter higher education."
Tan Hiep Phat expresses its hope that the prize would give Bong and her children a safe shelter and a brighter future.
The Xe ngay Trung lien program of Tan Hiep Phat Beverage Group has awarded over 300,000 valuable prizes to consumers this summer.
Apart from La Lan Thi Bong with the US$ 52,000 prize, Dang Phi Trong (Kon Tum), Nguyen Thi Ti (Quang Nam) and an anonymous person were awarded the US$ 4,300 prize.
Tan Hiep Phat Beverage Group is a leading enterprise in Vietnam's beverage industry, focusing on healthy products. Tan Hiep Phat's drinks, such as Dr Thanh Herbal tea, Zero Green tea, Number 1 Energy drink, are recognized as a National Brand and won the National Quality Gold Award. Millions of people choose the drink every day.
Dr.Thanh Herbal tea has been specially developed to help you relieve inner health and purify the body. Meanwhile, Zero Green containing EGCG compounds and vitamin C supplements helps to relieve stress and fatigue. Number 1 Energy drink helps increase strength and gives instant alertness.
Number 1 Active Salt Lemon Energy Drink provides just enough energy to keep your body in balance. The taste of salty lemon also improves the intestinal tract and helps digestion of food well. It is a suitable drink for those who play sports, and sweat a lot. Macchiato No Degree Milk Tea has a cool, refreshing strawberry flavor, helping to compensate for water and energy after working hours.
Macchiato No Degree Milk Tea is made from natural tea leaves and fragrant milk, without preservatives, bringing an irresistibly delicious taste.