Another metro line in Hanoi conducts trial run
The first train to operate on the Nhon-Hanoi Station railway conducted a trial run in the morning of January 22.
A train of the Nhon-Hanoi station railway has a trial run on January 22, 2021. Photo: VnExpress
The first train to operate on the Nhon-Hanoi Station railway conducted a trial run in the morning of January 22, three months after it reached Nhon Depot from France.
The train traveled from Nhon Depot to the S5 station near the Army Theater, then back to the S1 station in front of the Hanoi University of Industry, VnExpress reported.
Hanoi Metropolitan Railway Management Board (MRB) said the trial run lasted an hour at an average speed below 10 kilometers per hour.
From January 22-23, the train and S1 station would be open for public viewing, MRB stated, with online registration starting Jan. 15.
The second train destined for the metro line is expected to reach Vietnam by the end of this month. Among the 10 trains ordered, four would be included in the first batch to be delivered from France, MRB confirmed. Each would have four compartments, capable of carrying around 950 passengers, with a designed maximum speed of 80 kilometers per hour.
The Nhon-Hanoi Station metro line will run 12.5 kilometers from Nhon in western Nam Tu Liem District through Kim Ma Street to the city's downtown railway station, and cost VND33 trillion ($1.42 billion).
Its elevated section is expected to enter operation by the end of 2021, while the underground section would be opened at the end of 2022.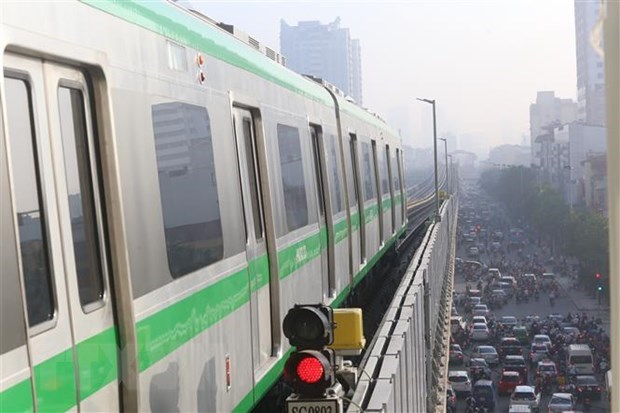 The trial run of the Cat Linh-Ha Dong urban railway project completed in December 2020. Photo: VNA
In December last year, the long-delayed Cat Linh-Ha Dong urban rail project, the first metro in Hanoi, also entered a 20-day whole-system trial run, according to Viet Nam News.
Running from Cat Linh in Ba Dinh district to Ha Dong district, the railway, funded with Chinese ODA, has a total investment capital of approximately 886 million USD after several adjustments.
The system is designed to have a main elevated line of more than 13km, 12 stations, and 13 trains. Each train, whose designed speed reaches 80 km per hour, has four carriages capable of carrying over 900 passengers.
The Government has allowed an extension of the completion deadline of the project until March 2021 and extension for withdrawing the additional loan worth 1.598 billion Chinese yuan (US$50 million) at the request of the Vietnamese transport ministry.
The project was set to be finished in late 2017 but has been delayed several times./.
Overseas Vietnamese
Vice President Vo Thi Anh Xuan had meetings with several Thai leaders and high-ranking officials within the framework of her visit to Thailand to attend the Global Summit of Women (GSW) 2022.