Anshu Jamsenpa: the first woman to climb Mount Everest twice in 5 days
Anshu Jamsenpa, an Indian woman aged 38, mother-of-two has made it to the top of the world five times, all from the South Col route on the Nepalese side of Mount Everest -- an incredible feat for any mountaineer.
Jamsepa is from the Indian state of Arunachal Pradesh (source: CNN)
This year, she broke a world record and made global headlines when she became the first woman to conquer the 29,028-feet-tall (8,848 meter) Himalayan giant twice in five days -- first on May 16, and then again on May 21
For most climbers, reaching Everest's summit once is an achievement of a lifetime. For Jamsenpa — who had reached ascended to the world's highest peak on three other occasions — there was still more to accomplish.
So, Jamsenpa, who is from the Indian state of Arunachal Pradesh, scaled the mountain again, returning to the summit five days later, on May 21, a Nepalese tourism official told the BBC.
"Climbing Everest once in a season is more than enough for most people," Alan Arnette, a mountaineering journalist and Everest expert, told The Washington Post. "You return to base camp exhausted, dehydrated and eager to return home. To do it twice in one season is normally reserved for Sherpas, not foreigners."
How unusual are Jamsenpa's back-to-back climbs?
Richard Salisbury, the co-founder of the Himalayan Database, which compiles records for expeditions into the Nepalese Himalaya, told The Post that database records reveal that, prior to the 2017 season, five people — all of them Sherpas — have summited Everest twice in five days.
In 2009, Jamsenpa had the idea to climb Everest, and began two years of intense training, attending courses aimed at those wanting to climb the world's highest mountain.
According to Jamsenpa, she did all kinds of training -- running, gym, yoga, aerobics, hiking to prepare for the expedition.
She also scaled numerous peaks, including Nepal Peak from Sikkim in 2010.
The biggest challenge, she says, was leaving behind her two daughters, then aged 5 and 10 years old.
"(Leaving them) was the hardest part ... What I decided was this was a time, in my absence, for them to bond with their father." she told CNN.
How did it feel to be on top of the world?
"I was totally blank (when up there) -- I didn't know how things looked," she says.
It was while descending she had a special moment.
"During my first summit, when I was coming back, the weather was bad so I wanted to descend quickly," she remembers.
"I was trekking down and suddenly saw a view of the South Col. I was shocked, because the view -- that picture -- I had seen it in my dreams."
She also admitted "You're putting your life at risk for (Everest) each time,"
For Jamsenpa, the tragedy isn't an abstract idea. She's seen it firsthand, both on her second second summit earlier this year, and in 2011, when she came across dead bodies from previous expeditions.
"During my second summit this year, I saw someone who was dying -- they were in a critical condition. I felt bad, and then I felt like crying," she remembers.
"But then I motivated myself and said: 'No, this is not going to work. If you cry ... you lose your energy. You are not going to gain anything.'"
Reluctant to leave the climber, Jamsenpa asked her Sherpa what could be done. It was too late.
"I looked back at him, and he was already dead."
"After my summit, I felt really heavy. It took me some time to overcome that," she says.
Jamsenpa's reported back-to-back climbs were brought into focus by the deaths of three other climbers who died on Everest within hours of her second ascent.
She also admitted "You're putting your life at risk for (Everest) each time," (source: CNN)
The BBC reported an Australian died on the Tibetan side while two others — a Slovak and an American — died on the Nepalese side of the deadly peak. Rescuers are still searching for an Indian climber who disappeared after reaching the top of the mountain.
Jamsenpa's husband, Tsering Wange, told the BBC that his wife had been planning to execute a daring back-to-back ascent a second time. But she had been thwarted in recent years by an avalanche in 2014 and an earthquake that killed 24 people on Everest in April 2015, the deadliest day in the mountain's grim history.
"My only aim now is to unfurl the national flag once again atop Mt Everest and pay homage to Lord Buddha," the climber was quoted by her PR manager as saying before she began her second ascent, according to Indian news reports "I seek blessings and support from my fellow countrymen."
The 7.8 magnitude quake, which struck near Nepal's most densely populated area, killed more than 8,000 people and injured 21,000 others as it leveled much of Kathmandu and poorly developed rural regions outside the capitol.
"While the Nepal government never officially closed Everest to climbing, it was practically shut off as the primary climbing route goes through the Khumbu Icefall and the Sherpas who managed the route stopped maintaining, it given the danger," Arnette told The Post at the time. "Also, almost every team made the independent decision to halt climbing due to the excessive risks."
"On the Tibet side," Arnette added, "the Chinese government, through the China Tibet Mountaineering Association (CTMA), made the decision to close all climbing throughout Tibet, including Everest, the day after the earthquake and through the remainder of 2015 due to potential aftershocks and excessive risks."
By the end of the climbing season that year, nobody reached the top of Everest for the first time since 1974./.
( VNF/Washington Post )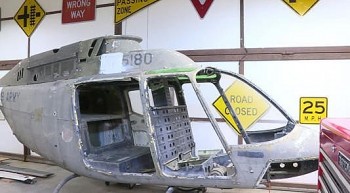 World
A piece of military history related to Vietnam is coming to life with a special project in a small Barton County townm in the US