Antimicrobial resistance, a hard-to-solve quizz for Vietnam
(VNF) - Antimicrobial resistance has been emerging as one of the world's biggest health concern in general and of Vietnam in particular.
(VNF) - Antimicrobial resistance has been emerging as one of the world's biggest health concern in general and of Vietnam in particular.
In many years, antibiotics have been used in humans and animals for several purposes (treatment, disease prevention and growth promotion.)
Photo for illustration (source: DT News)
Antimicrobial resistance (AMR) refers to micro-organisms including bacteria, fungi, and parasites that have acquired resistance to antimicrobials such as antibiotics. The efficacy of antibiotics has been hampered by the development of resistance among bacteria originating from humans, animals, food and the environment. Infections with antibiotic resistant bacteria lead to treatment failures, worse clinical outcomes and deaths.
According to The World Health Organisation (WHO), the estimated death toll due to AMR is some 700,000 deaths per year globally. Failure to control AMR will lead to an increase in cases of up to 10 million per year by 2050, which is more than the estimate for cancer and ten times more than that for diabetes. Further, the economic cost of AMR in 2050 will go up to US$100 trillion.
WHO also listed Vietnam among countries with the highest antibiotic-resistant infections in 2015.
The amount of sold antibiotics in the country is still on the rise as more antimicrobial-resistant viruses have appeared.
In Vietnam, about 88% of the antibiotics in the cities are sold without a prescription and the number in the rural areas is even higher at 91%, said Minister of Health Nguyen Thi Kim Tien, adding that antibiotics have contributed to 13.4 per cent of drugstores' total sales in urban areas and 18.7 per cent of drugstores' total sales in rural areas.
Nguyen Gia Binh, head of the Vietnam National Association of Emergency, Intensive Care Medicine and Clinical Toxicology, expressed concern about the high antibiotic resistance in Vietnam and the challenges to medical facilities, especially in the southern region.
The antibiotic resistance rates for E. coli is 74.6% and 90% for A. baumannii.
According to Luong Ngoc Khue, Director General of the Medical Examination and Treatment Department, while the first generation of antibiotics is still effective in many countries, Vietnam has to use third and fourth generation pharmaceuticals.
More worrisome, many doctors also abuse antibiotics. Statistics from Cho Ray Hospital show that 50% of antibiotics are improperly prescribed, 32% doctors prescribed antibiotics to patients without infections and 33% doctors unnecessarily prescribed prolonged-course antibiotics.
The situation is worse in children. Tran Minh Dien, vice director of the National Children's Hospital, said one-third of hospitalised kids were drug resistant.
Many parents googled their children's illness and bought the medicines themselves.
Pham Thanh Xuan, former head of the paediatric department of Bach Mai Hospital in Hanoi, warned parents against the improper use of antibiotics which could harm their children's development as each child has different reactions to drugs.
The treatment for a child with asthma and a running nose is different for a child without asthma.
On November 12, the Ministry of Health joined with the Ministry of Agriculture and Rural Development, Ministry of Industry and Trade, Ministry of Natural Resources and Environment, World Health Organisation in Vietnam and Food and Agriculture Organisation in Vietnam to hold a ceremony to commit to using antibiotics responsibly.
Speaking in the conference, JongHa Bae, FAO Representative, said AMR threatens the health and livelihoods of the people in Vietnam, the sustainability of food and agriculture production systems as well as the environment. Farmers, veterinarians and animal drug sellers should share responsibility by using antibiotic agents more responsibly and find alternative ways to maintain animal health and productivity such as improving biosecurity and farming practices.
"Launching a National Action Plan is a very important step, but its success depends on effective implementation, on compliance, and when necessary on enforcement. Actions must be based on the best evidence, consistent with international practices," said Craig Hart, Deputy Mission Director of the United States Agency for International Development.
At the moment, the Minister of Health Nguyen Thi Kim Tien has set up a monitoring team to prevent the antibiotic-resistance rate from going higher during 2017-2020 period.
Improper use of antibiotics in breeding will result in antibiotic resistance and residues in food that causes more potential risks for consumers' health and livelihood, experts say. (source: VNA)
According to the Vietnam News, the Ministry of Agriculture and Rural Development has decided to ban the use of antibiotics in animal and fish feed since 2018. By 2020, the use of antibiotics for the prevention of animal diseases will also be banned.
At present, the two ministries of agriculture and health both manage the import and production of some antibiotics.
Recently, in Dong Thap province, a contest themed "Stop Your Poultry from Binge-Drinking Antibiotics," was launched on November 13. The contest, jointly organized by Oxford University Clinical Research Uni, the Dong Thap Center for Health Information and Education, and the provincial Department of Education and Training, aims to tackle antibiotic resistance in both animals and humans.
The contest calls students from two rural high schools Chau Thanh 1 and Thanh Binh 1 to submit photos, drawings, and short essays on safe farming practices which help prevent bacterial infections in poultry and serve as preventative measures against the need for antibiotics.
The contest is targeted at young people, chosen due to the role women, children, and teenagers play in the day-to-day care of poultry./.
( VNF )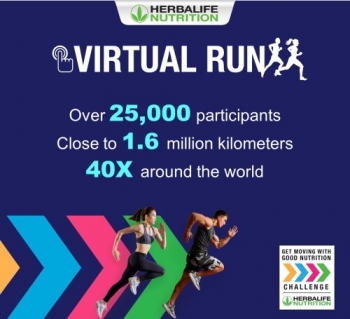 Economy
HONG KONG SAR - Media OutReach - 30 November 2021 - Premier global nutrition company, Herbalife Nutrition, has concluded the 2021 Virtual Run in Asia Pacific with record-breaking results.