APEC 2021: Vietnam Expects to Advance Stature in Multilateral Activities
President Nguyen Xuan Phuc's attendance at the Asia-Pacific Economic Cooperation (APEC) meetings, to take place on November 11 - 12 via videoconference, is expected to help promote Vietnam's stature in multilateral activities, including those of APEC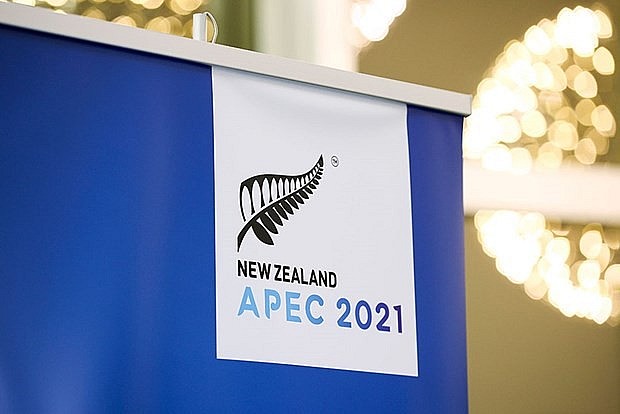 President Nguyen Xuan Phuc is going to attend the Asia-Pacific Economic Cooperation (APEC) meetings on November 11 - 12 via videoconference. Photo: Reuters
2021 is important to APEC as it is the first year to implement the APEC Vision 2040. The 21 member economies continue attaching importance to APEC and considering this a leading forum in the region and an important mechanism in the Asia-Pacific to help augment multilateral efforts to cope with the Covid-19 pandemic, recover economies, and prepare for durable growth, VietnamPlus reported.
23-year APEC membership
Vietnam became an official member of APEC on November 15, 1998, raising the forum's membership to 21. This was a significant milestone during the implementation of Vietnam's open foreign policy of diversifying and multilateralising external relations and integrating into the global economy.
The APEC region is critical to the country's security and development as it gathers 15 of the 30 strategic and comprehensive partners which are leading economic and trade partners of Vietnam. Thirteen of the 17 free trade agreements Vietnam is enforcing, negotiating, or waiting for ratification cover 17 APEC members.
During the 23 years of its APEC membership, Vietnam has made active and proactive contributions to the forum, thereby helping to promote regional peace, stability, cooperation, and economic connectivity and maintain APEC's role as a leading mechanism for economic connectivity in Asia-Pacific.
Amid the Covid-19 pandemic, it is currently one of the members taking the lead in boosting APEC's commitment to the cooperation in sharing vaccines and ensuring equal and effective distribution of and access to vaccines at a reasonable cost. It has also been appealing to other members to voluntarily transfer vaccine production technology so as to step up vaccine production and supply towards herd immunity.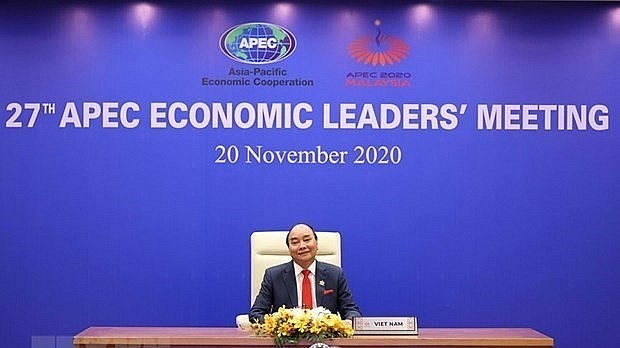 Then Prime Minister Nguyen Xuan Phuc attends the 27th APEC Economic Leaders' Meeting via videoconference on November 20, 2020. Photo: VNA
The APEC Leaders' Week this year takes place amid the continuation of complex developments, increased uncertainties, and new challenges posed by the Covid-19 resurgence with more dangerous variants. Meanwhile, the global economy is recovering, but unstably and unevenly. The Asia-Pacific remains the leading region in economic recovery, development, and connectivity.
President Nguyen Xuan Phuc is scheduled to participate in the 28th APEC Economic Leaders' Meeting on November 12 and a dialogue between APEC leaders and the APEC Business Advisory Council on November 11. He will deliver a pre-recorded speech at the APEC CEO Summit on November 11 - 12.
2021 is the first year Vietnam has implemented the socio-economic development plan for 2021 - 2025 and moved to a stage of comprehensive and extensive integration into the world. The State leader's participation in the APEC Leaders' Week will help raise Vietnam's stature in multilateral activities, including those of APEC, and help the country make active and effective contributions to the building of a plan for implementing the APEC Vision 2040.
Promoting APEC's leading role in free trade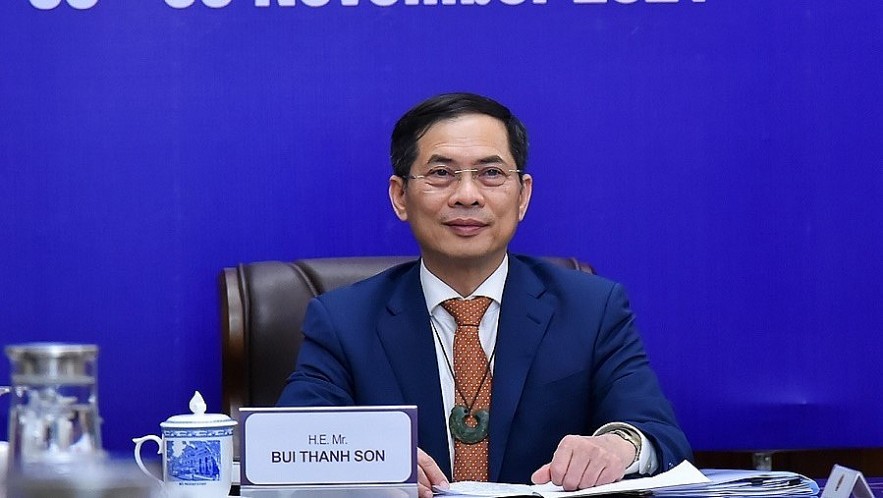 Foreign Minister Bui Thanh attends the 32nd APEC Ministerial Meeting. Photo: Ministry of Foreign Affairs
Foreign Minister Bui Thanh Son and Minister of Industry and Trade Nguyen Hong Dien attended the 32nd Asia-Pacific Economic Cooperation (APEC) Ministerial Meeting (AMM 32), which was held online on November 8 and 9, according to Nhan dan (People) newspaper.
Within the meeting, on November 9, the Foreign Ministers discussed measures to foster cooperation towards a self-resilient and prosperous Asia-Pacific region, and stressed the need to step up measures to cope with the Covid-19 pandemic, thus ensuring equal access to vaccines and treatment.
They also discussed cooperation in vaccine research and expansion of production and supply, as well as investment in healthcare.
The ministers said economic, trade and social policies should bring about equal opportunities and jobs for all people, promote the potential of vulnerable groups, forge collaboration in climate change response and sustainable management of natural resources, and ensure the security of food and water resources.
Speaking at the conference, Foreign Minister Bui Thanh Son welcomed APEC's efforts to maintain the momentum of regional cooperation, repel the Covid-19 pandemic, and promote economic recovery.
Regarding priority cooperation orientations, Minister Bui Thanh Son emphasised that the APEC should carry forward its leading role in promoting free trade. He suggested the APEC reduce measures that would hinder trade and cause discrimination, especially those on essential goods, expand the network of free trade agreement (FTAs), and boost an open, inclusive and multilateral trade system that is based on law and WTO reform.
Earlier, on November 8, the ministers shared experience in economic recovery and exchanged views on cooperation efforts in trade and investment for regional recovery, and the APEC's contributions to the WTO's 12th Ministerial Conference (MC12).
At the end of the event, the foreign and economic ministers adopted a joint statement and two appendices on mid-term assessment of the service competition roadmap in APEC and the APEC environmental services reference list./.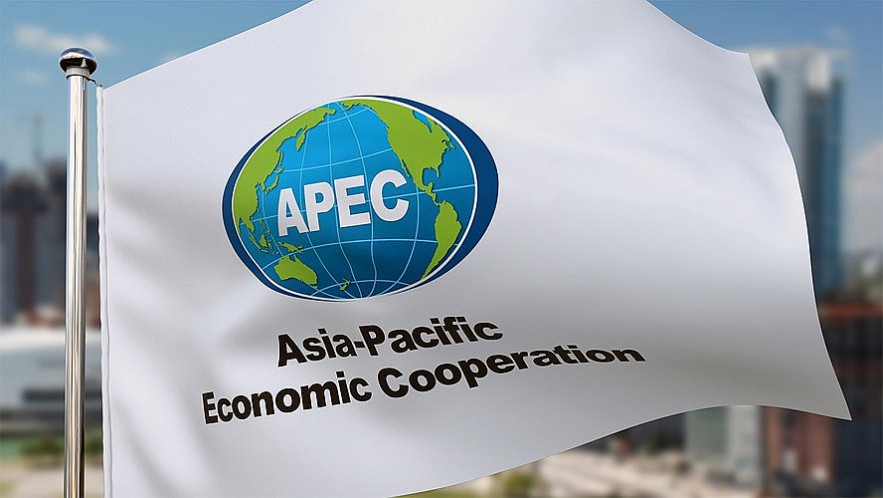 The economy of the APEC region is forecast to grow by 6% this year.
The economy of the APEC region is forecast to grow by 6% this year and will settle at 4.9% in 2022, in anticipation of the unwinding of fiscal and monetary support measures, says a newly published report on economic trends in the Asia-Pacific.
According to the latest APEC Regional Trends Analysis (ARTA), the Asia-Pacific expanded 8% in the first half of this year and contracted 3.7% in the first half of 2020. However, growth among member economies continues to diverge and uncertainties remain substantial.
The report noted that even in the best-case scenario, where climate change is kept at or below 2.0 degree Celsius, APEC can expect GDP losses of up to 11.3% by 2050.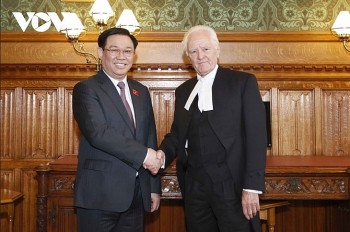 Friendship
Vietnam is willing to create all favourable conditions for investors of the UK to operate in the Southeast Asian country, National Assembly (NA) Chairman Vuong Dinh Hue told UK Secretary of State for International Trade Anne-Marie Trevelyan during their meeting on June 29 (UK time).