APEC seeks boost to food security, sustainable agriculture growth
Vietnam strongly support promoting co-operation in water management for sustainable agricultural development among APEC members, a senior Vietnamese official told the first APEC Water Resources Authorities Meeting for Food Security that opened in Can Tho on August 18.
Vietnam strongly support promoting co-operation in water management for sustainable agricultural development among APEC members, a senior Vietnamese official told the first APEC Water Resources Authorities Meeting for Food Security that opened in Can Tho on August 18.
Tran Kim Long, director general of the Ministry of Agriculture and Rural Development's international co-operation department, said water is an important and limited resource and one of the most important for food production.
"The relationship between climate change, increasing droughts and population growth is very close.
"It is reasonable to conclude that the world would be short of water to produce food to meet the increased demand from the growing population."
It is estimated that agriculture currently accounts for 70 per cent of the world's water use, and water shortages are threatening food security and public health.
Identified as an economy significantly affected by climate change and rising sea levels, Vietnam is also located downstream of two important international rivers, in which two-thirds of the water in Vietnam flows from neighbouring countries, he said.
"Therefore, the availability of freshwater and water management are priorities in agriculture development policies.
"Ensuring adequate water availability in terms of quantity, quality and time is critical for the sustainable development of the agricultural sector, especially in the context of climate change."
"Meanwhile, there is the fact that water is cross-regional resource. Therefore, the development and implementation of integrated management strategies and strengthening of regional and international co-operation in managing water resources management are in urgent needs.
Speaking at the event, Javier Martinez from the Ministry of Agriculture and Irrigation of Peru, said Peru proposed to organize the first APEC meeting of authorities responsible for water resources management and food security in order to strengthen the relationship and future co-operation between the authorities, experts, private sector and academia.
The two-day event is part of the project entitled "Challenges for Water and Food Security in a context of climate change in APEC region", which seeks to increase awareness of the pressing challenges and solutions, concerning water governance and management to support food security in the face of increasing climate change impacts and growing population in the APEC region.
This project aims to identify gaps in water resources and management and development governance strategies, as well as sharing best practices/ experiences on water use for food security.
Besides this, the meeting objectives are to offer technical lectures, as well as to present an overview of the results and findings of the preliminary report on water resource management in the APEC region, which is based on the information received from economies, in the first research mapping survey.
Martinez said: "As you know climate change has a direct impact on water supply, affecting food production, posing limitations to economic growth and creating social conflicts.
"This is compounded by weak governance in some economies, and thus the sustainable use of water resources must be improved to ensure food security and effective climate change adaption measures."
Delegates talk at the 2017 APEC Climate Symposium on building resilient agro-food systems from production to consumption for food security using climate information opened in the Cuu Long (Mekong) Delta city of Can Tho on August 18 within the framework of APEC Food Security Week. (source: VNA)
Long said "As a member economy and the host of APEC 2017, we would like to express our strong support for promoting co-operation on water management for sustainable agricultural development among APEC members.
"We believe that sound collaboration will be valuable co-operation areas within APEC to promote water management, including firstly, strengthening the sharing of good practices in the exploitation and sustainable development of water resources, secondly, encouraging application of advanced science and technology irrigation, and thirdly enhancing responsible use of international water resources."
Delegates at the workshop suggested to economies to move from an approach that treated water as an abundant natural resource, merely to be captured, distributed and drained to an approach that recognized water as a scarce economic good, to be allocated and used wisely for the economic and social benefit of all, while protecting fragile aquatic ecosystem.
Food security and climate change
The Policy Partnership on Science, Technology and Innovation (PPSTI) on August 18 began a three-day symposium on "Building resilient agro-food systems from production to consumption."
Hosted by the Ministry of Natural Resources and the APEC Climate Centre (APCC), it was attended by 130 senior officials, policy makers, academics, climate experts and hydro-meteorologists from 21 APEC member economies.
Speaking at its opening, Dr Hong-Sang Jung, executive director of the APCC, said "food security is one of the most central concerns of the 21st century."
As the world's population would exceed nine billion by 2050, the world needs to produce at least 50 per cent more food by that time, according to Jung.
However climate change has traumatised the sufficient and stable drive of food.
The conference would be a place for policy makers and experts to exchange concrete ideas, information and opinions to tackle the issue of food security, which Jung said would require an inter-disciplinary approach and joint work by invited experts.
Deputy Minister of Natural Resources and Environment Nguyen Linh Ngoc said enhancing food security and sustainable agriculture in response to climate change is the priority of APEC Vietnam 2017.
"Food security is one of the top concerns in APEC as it contributes 55 per cent of global agricultural produce. Food security is also listed as the second goal in the United Nations' 2030 Agenda for Sustainable Development."
This event would improve understanding of weather and climate information to effectively utilise it to enhance food security and sustainable development, he added.
Dao Anh Dung, deputy chairman of the Can Tho city People's Committee, said the Mekong Delta, comprised of Can Tho and other 12 provinces, contributes to more than 90 per cent of Vietnam's rice exports, 60 per cent of fisheries exports and more than 50 per cent of fruit and vegetable exports.
Agricultural production and rural livelihoods depend entirely on natural conditions.
Experts share insights and experiences on reducing food loss and waste at a capacity-building workshop on "Food Losses and Waste Reduction for a Sustainable APEC Food System" on August 19 in Can Tho. (source: VNA)
"Climate change has been a complex issue, especially with floods in 2011 and saline intrusion in 2016, that has caused great damage to agriculture production in the entire Mekong Delta, affecting social stability and the sustainable development of the community."
According to local and international experts, the unpredictable weather conditions have severely affected agriculture and aquaculture production.
"The main focus is to link production and consumption, ensure environmental protection and the sustainable exploitation of resources, and adapt to climate change," Dung said.
The conference would be a place for shared opinions from various local and regional perspectives to learn from one another and work out integrated solutions to develop sustainable agricultural production chains in response to climate change, he said.
The APCC was established in 2005 to enhance the socio-economic well-being of APEC member economies by utilising the latest scientific knowledge and applying innovative climate forecast techniques.
Since its establishment, APCC has played an important role in the region in providing climate information products and services based on a multi-model ensemble prediction system./.
( VNF/VNA )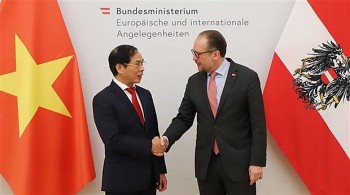 Overseas Vietnamese
Fifty years have passed since the establishment of the relationship, the two countries have enjoyed great strides in bilateral cooperation.