Around The World: Discover 10 Best Cities For Eating and Drinking
Eating, exploring, drinking, relaxing are most favourite activities for us to enjoy when we travel to a new place. Take a look at these 10 best cities in the world for eating and drinking to add to your future travel bucket list.
The world is a wonderful place to explore, travel and leisure, with many new destinations waiting for you.
These 10 destinations scored the highest marks when TimeOut magazine asked their readers to rate their city for eating and drinking. From Buenos Aires and Melbourne to Shanghai and Madrid, these are the most delicious places on the planet.
1. Shanghai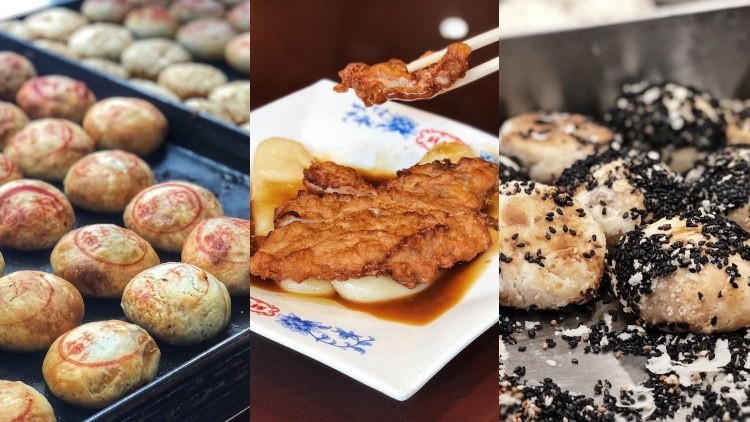 Photo: Time Out Shanghai
Brash, stylish and forward-thinking, Shanghai's culinary scene typifies the city's craving for foreign trends and tastes. As much an introduction to regional Chinese cuisine as a magnet for talented chefs from around the globe, Shanghai has staked a formidable claim as the Middle Kingdom's hottest dining destination.
In general, the Chinese eat earlier than Westerners. Restaurants serve lunch from around 11am to 2pm and then often close until 5pm, when the dinner crowd starts pitching up. They then carry on serving until 11pm. Smaller restaurants are more easygoing, so if you're hungry out of hours they're often happy to accommodate you.
Shanghai cuisine has been heavily influenced by the culinary styles of neighbouring provinces, and many of the techniques, ingredients and flavours originated in the much older cities of Yangzhou, Suzhou and Hangzhou. Broadly speaking, dishes tend to be sweeter and oilier than in other parts of China. Spiciness is anathema to Shanghai cooking.
The eastern provinces around the Yangzi River delta produce China's best soy sauces, vinegars and rice wines, and the method of braising (known as 'red cooking'), using soy sauce and sugar as a base, was perfected here. As a general rule, the regional cuisine emphasises the freshness of ingredients – as with Cantonese food – using sauces and seasonings only to enhance the original flavours. Look out for the characters 本帮菜 (běnbāngcài) on restaurant shopfronts and in menus, which refers to authentic Shanghai homestyle cooking.
The city's position as a major port at the head of the Yangzi River delta means that you'll find plenty of fish and seafood, especially crab, river eel and shrimp. The word for fish (yú) is a homonym for 'plenty' or 'surplus', and fish is a mandatory dish for most banquets and celebrations. Types commonly appearing on Shanghai's menus include guìyú (Mandarin fish), lúyú (Songjiang perch), chāngyú (pomfret) and huángyú (yellow croaker). Fish is usually qīngzhēng (steamed) but can be stir-fried, pan-fried or grilled. Squirrel-shaped Mandarin fish is one of the more famous dishes from Suzhou.
2. Tel Aviv
Photo: Fodors Travel Guide
Tel Aviv's status as the Middle East's culinary capital is difficult to contest. The cosmopolitan city continues to expand its roster of world-class restaurants serving everything from original variations on classic hummus to lip-smacking contemporary dim sum, which often explore innovation without forsaking fresh, honest flavours.
The city's location is advantageous too, based along the seafood-rich Mediterranean with fast access to fresh produce from the region's arable (but limited) farmland. One of the best things about Tel Aviv is its gastronomy, there loads of amazing restaurants featuring cuisine from around the world.
With craft beer breweries, wine bars, quirky dives and picturesque rooftops, a good drink in Tel Aviv is never far from reach. Some spots are pumping, others so chilled they're almost comatose. For relaxed, jovial vibes, hit Dizengoff St in the City Centre or head south to Florentin. Rothschild Blvd and Allenby St is also a sure bet.
For decades the Israeli and Palestinian Territories' beer market was dominated by Tempo (which makes Goldstar and Maccabi), but all that has changed in recent years. Local boutique brews such as Malka (wheat beer), Alexander (amber or black stout), Taybeh (a rare beer brewed in the Palestinian Territories) and Dancing Camel (made in Tel Aviv) are proudly stocked. Most bars sell one or two of these beers, usually in bottles.
If you order a beer, you can usually order a shot of spirits as a chaser, which is cheaper than ordering a single shot. Beers on tap are sold in one-third (shlish) and one-half (hetsi) of a litre. These usually cost around the same (about 30NIS), so it makes sense to order a hetsi.
3. Bangkok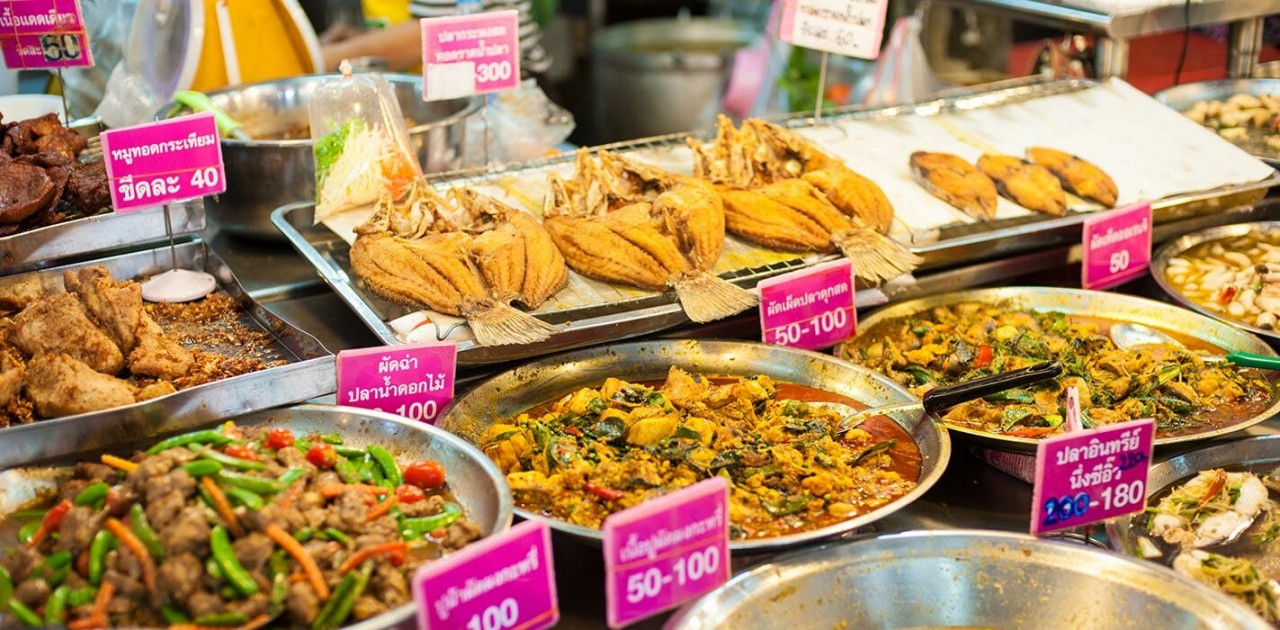 Photo: Bangkok Attractions
Bangkok is one of the most exciting cities in the world, and a paradise for food lovers.
Everywhere you look while walking around the city, you'll be tempted by something delicious – whether it be fresh green papaya salad, a spice filled coconut milk curry, or smoke pouring off a street food grill.
Bangkok is one of the world's greatest street food cities and as soon as you arrive and start exploring the city, you'll discover that there's an abundance of delicious things to eat everywhere you look.
Along with street food, Bangkok is a also a city where restaurants of all levels, serving both Thai and an extensive range of international cuisine, are flourishing. You can eat modern Thai meal for lunch and sit down for a world class Italian dinner (there are so many food possibilities).
Thai street food is one of the ultimate joys of being in Bangkok.
You can get anything from a snack to eat while you're walking down the sidewalk, to an entire sit down meal feast on the streets of Bangkok, twenty four hours a day.
Bowls of piping hot noodles, stir fried dishes over rice, Thai curry and rice, grilled meats, and green papaya salad, are just a few examples of foods you'll encounter.
People in Bangkok generally drink a lot – and a lot of the time, that means beer. Yet until recently, there was very little variety in the domestic beer scene.
Advertised with such slogans as 'þrà•têht row, bee•a row' (our land, our beer), the Singha label is considered the quintessential Thai beer by fa•ràng (Westerners) and locals alike. Pronounced sĭng and boasting 6% alcohol, this pilsner claims about half the domestic market. Singha's biggest rival, Beer Chang, pumps the alcohol content up to 7%. Boon Rawd (the maker of Singha) responded with its own cheaper brand, Leo. Sporting a black-and-red leopard label, Leo costs only slightly more than Beer Chang but is similarly high in alcohol. Other Thai-brewed beers, all at the lower end of the price spectrum, include Cheers and Beer Thai. Also popular are foreign brands brewed under license in Thailand such as Asahi, Heineken, Kirin and San Miguel.
Thai rice whisky has a sharp, sweet taste – not unlike rum – with an alcohol content of 35%. The most famous brand for many years was Mekong (pronounced mâa kŏng), but today there are domestic brands meant to appeal to the can't-afford-Johnnie-Walker-yet set, including Blue Eagle, 100 Pipers and Spey Royal, each with a 40% alcohol content. Also popular is Sang Som, a light-bodied domestic rum. In Thailand, booze typically comes in 750ml bottles called glom, or in 375ml flask-shaped bottles called baan.
4. Manchester

Photo: Confidentals
From rag pudding to pasty barm, black peas to Manchester caviar – Greater Manchester can lay claim to some truly lip-smacking regional treats.
But while many of Manchester's most famous dishes remain regularly on the menus of restaurants across the city to this day, others have become less familiar.
Lancashire Hotpot: Probably the most famous Manc dish on our list, the Lancashire hotpot remains a hot food staple on dinner tables across the UK. Traditionally it is made with lamb or mutton, onions and stock and topped with sliced potatoes before being cooked low and slow until the potatoes on top go crispy.
Famously associated with Coronation Street thanks to the fictional Betty Turpin's hotpot, the meaty mantle was taken up by the soap's Jennie McAlpine when she launched her own restaurant in Manchester with husband Chris Farr in 2012, Annies on Old Bank Street.
Their traditional Lancashire hotpot remains one of their best sellers.
Manchester Tart: One that may bring back memories of school dinners, and perhaps some stifled sniggers, the Manchester Tart is a tricky one to pin down these days. Not least because there's no definitive recipe for the sweet confection.
The general consensus is that it's a shortcrust pastry casing, with a dollop of some kind of jam, bright yellow custard and then a sprinkling of coconut and glace cherry on top.
In more recent years, the region's finest chefs have created their own versions of the pudding, that appears to have its origins from the Victorian domestic goddess Mrs Beeton's acclaimed cookbooks.
Rag Pudding: Never heard of a rag pudding? Then you're missing out on this delicious dollop of diced and minced beef and onion gravy inside suet which is hand-folded and then traditionally cooked in a "rag" or muslin cloth to give it its distinctive shape, and that name.
Invented in Oldham, this is still a popular delicacy all around Greater Manchester – particularly Oldham, Bury and Rochdale. Jacksons Farm Fayre in Milnrow still lovingly hand-fold 15,000 of the puddings A WEEK which are then distributed to local butchers, delis and chippies. If you're a fan of a suet pudding from the chippy, then you will love rag pudding – it's twice the size and packed with chunks of meat.
5. Buenos Aires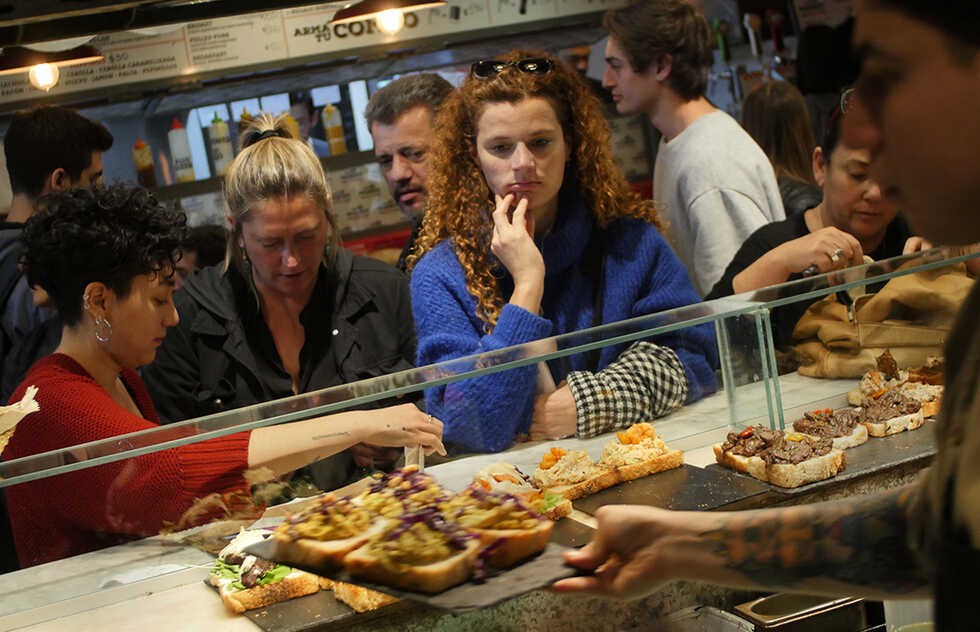 Photo: Frommer's
Argentines take barbecuing to heights you cannot imagine. Their best pizzas and pastas vie with those of New York and Naples. They make fabulously tasty wines and impossibly delectable ice cream. And ethnic cuisine is rampant in Buenos Aires. In fact, you'll eat so well here that you'll need to power-walk between lunch and dinner to work off the excess calories.
Argentines have perfected the art of grilling beef on the asado (barbecue). This involves cooking with coals and using only salt to prepare the meat. On the grill itself, slanted runners funnel the excess fat to the sides, and an adjustable height system directs the perfect amount of heat to the meat. The asado is a family institution, often taking place on Sunday in the backyards of houses all over the country.
One of Argentina's most definitive treats is dulce de leche, a milk-caramel sauce that is dripped on everything from flan to cake to ice cream. Alfajores (round, cookie-type sandwiches) are also delicious – Argentina's version of the candy bar. The most upscale and popular brand is Havanna (also a coffee-shop chain), but kiosks carry many other kinds.
Mate (mah-teh) is Argentina's unofficial national beverage. More than a simple drink such as tea or coffee, mate is more like an elaborate ritual shared among family and friends.
There's an informal etiquette to preparing and drinking mate. The cebador (server) fills the gourd with yerba, then pours in very hot water. Each participant drinks the gourd dry, then the cebador refills it and hands it to the next person. Germaphobes beware: the bombilla (a silvery straw with built-in filter), used to sip the mate, is shared by everyone.
If Argentina has a national beer, it's Quilmes. Order a porrón and you'll get a half-liter bottle, or a chopp and you'll get a frosty mug of draft.
Argentines love their café con leche (coffee with milk). An espresso with a drop of milk is a café cortado. Black and herbal teas are also commonly available.
6. Melbourne
Photo: Shutterstock
Despite being a relatively small city (four million people) at basically the end of the earth, Melbourne has food that's up there with places like New York City or London, and has the kind of variety you won't find anywhere else.
While Sydney gets all the international attention, if you travel mostly just to eat a lot, Melbourne is where it's at. The influence of multiple waves of immigration is felt at every level, from the city's longstanding obsession with coffee to a European drinking culture to a whole lot of Vietnamese and Chinese food. Basically, any kind of food you want, Melbourne has it.
There's plenty to eat in the main Central Business District (the locals just refer to it as "the city"), but a lot can also be found in surrounding neighborhoods like Fitzroy, Carlton, and Richmond. And while you can certainly go all-in on fine dining, these days a lot of the more interesting spots are casual, focused on family-style menus or small plates or things to share. And then you have the cafes. Melbourne is a coffee town, but "coffee shops" are unheard of - cafes are almost always table-service affairs with full menus with actually-exciting things to eat. Competition is fierce, which means you're more likely to get ham hock benedict or a full Indonesian breakfast than plain old bacon and eggs at some of the cooler spots around.
The Melbourne food scene is interesting and insanely varied, and yes, also pretty expensive. But if you like to eat, you need to get Melbourne on your list. And maybe plan on doing more than just three meals a day - you've got a lot to get through.
7. Madrid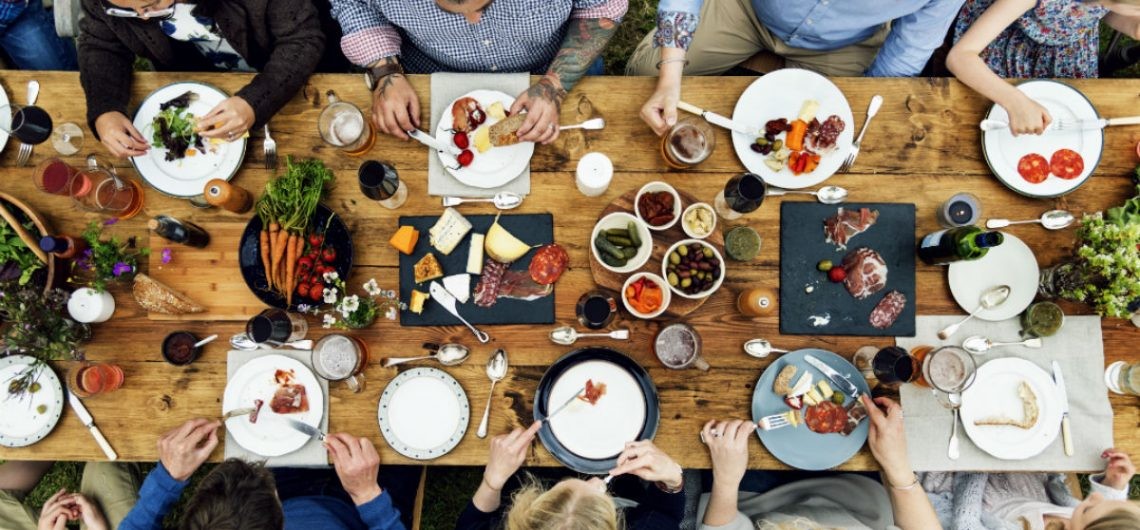 Photo: Local Tuk Tuk
Nights in the Spanish capital are the stuff of legend. They're invariably long and loud most nights of the week, rising to a deafening crescendo as the weekend nears. And what Ernest Hemingway wrote of the city in the 1930s remains true to this day: 'Nobody goes to bed in Madrid until they have killed the night.'
Madrid has more bars than any other city in the world – six, in fact, for every 100 inhabitants, and wherever you are in town, there'll be a bar close by. But bars are only half the story. On any night in Madrid, first drinks, tapas and wines then segue easily into cocktail bars and the nightclubs that have brought such renown to Madrid as the unrivalled scene of all-night fiestas.
Madrid's thriving cafe culture dates back to the early and mid-20th century, when old-style coffee houses formed the centrepiece of the country's intellectual life. Although many such cafes were torn down in the rush to modernise, many that recall those times remain, with period architecture and an agreeably formal atmosphere; their clientele long ago broadened to encompass the entire cross-section of modern Madrid society.
The mojito (a rum-based drink with sugar, fresh mint, crushed ice and lemon) may have its origins in Cuba, but it has arguably become Madrid's favourite adopted child. As a consequence, the reputation of the city's cocktail bars can rise and fall according to the quality of its mojitos, and those that have lasted the distance have usually done so on the back of a mighty fine mojito. Other cocktails of breathtaking variety are also possible in the city's cocktail bars that range from slick and trendy temples to all that's new to storied bastions of tradition where bow-tied waiters and cocktail makers are as celebrated as the famosos (celebrities) who have visited through the decades.
8. Prague
Photo: Getty Images
Prague, the capital city of the Czech Republic, is undoubtedly one of the most beautiful cities in Europe. But did you know that Prague is also a foodie's dream destination? From local beers to tasting the best Czech traditional foods, from trendy coffee and brunch spots to vegan eateries, the city's dining scene has so much to offer.
With its castle, bridges, and maze of cobbled lanes, Prague attracts around 8 million visitors from around the world every year. Its history goes back a millennium and you can see that in the different architectural styles of churches and buildings across the city. The Historic Centre of Prague, covering an area of 900 hectares with around 4,000 monuments, is listed in the UNESCO World Heritage List. The city is, quite literally, a museum of architecture under the sky.
Meat specialties like goulash, schnitzel and grilled sausages (grilované klobásy), dumplings (knedlík) and pancakes (palačinky), traditional sweets like kolache and buchty, Europe's best beer: Czech cuisine can offer you all this, and much more! The classics are served all year round in restaurants around Prague. They are hearty, comforting, very filling and delicious dishes.
Some of these dishes have their roots beyond the country's borders, in Austria, Germany, Hungary, Poland, etc. Czech people, however, have adapted and updated these recipes over centuries, added unique flavours and and made them their own. Take beef goulash (hovězí guláš), for example: a thick stew made with beef, onions, and seasonings that is popular throughout Central Europe. Nowhere you will taste one as good as in Prague, where it is served with boiled homemade knedlik (bread dumpling) on the side. Pair it with a Pilsner Czech beer and it's pure perfection!
Pivo. Remember this word because you will hear it – and likely say it – a lot in Prague. It is, of course, the Czech word for beer. You can order it in any restaurant or bar in Prague and it will be delicious. If your really want to immerse yourself in authentic Czech life, go to U Hrocha in the Mala Strana neighbourhood (a few minutes walk from Prague's Castle). Don't worry about finding a table, for this traditional Czech pub is always full. Just order at the counter and drink your pivo standing inside or outside.
9. Copenhagen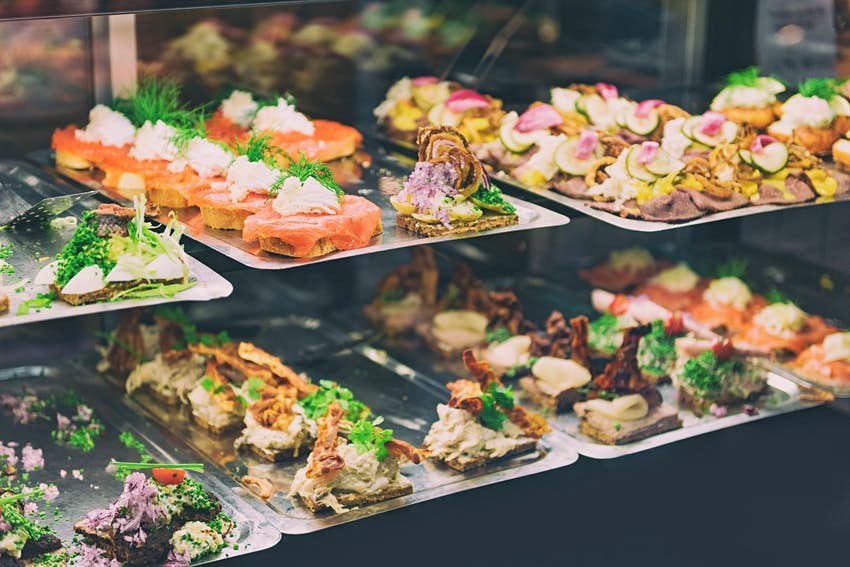 Photo: Shutterstock
Whether you are into bistros or Michelin-starred restaurants, you will find it in Copenhagen. The restaurant scene is among the world's most distinct and innovative, and it caters to all budgets, tastes and situations. On Copenhagen's menu is delicious food from all over the world and a strong focus on making exquisite meals from local ingredients in season. An approach started by noma and the New Nordic cuisine and a way of cooking that still makes Copenhagen's restaurants culinary trailblazers.
You can't talk about the food scene in Denmark's capital without at least mentioning two-Michelin-starred Noma, which is often included on short lists of the world's best restaurants. But if you don't have the budget to splurge, you won't go hungry here – Copenhagen is also known for its seemingly endless supply of sausage stands, open-faced sandwiches (smørrebrød) and meatballs (frikadeller).
Copenhagen is packed with a diverse range of drinking options. Vibrant drinking areas include Vesterbro's Kødbyen (Meatpacking District), Istedgade and the northern end of Viktoriagade; Nørrebro's Ravnsborggade, Elmegade, Sankt Hans Torv and Jægersborggade; and the historic Latin Quarter. On a sunny day, there's always touristic Nyhavn, although prices are higher and the handful of great spots are just off it.
10. Dubai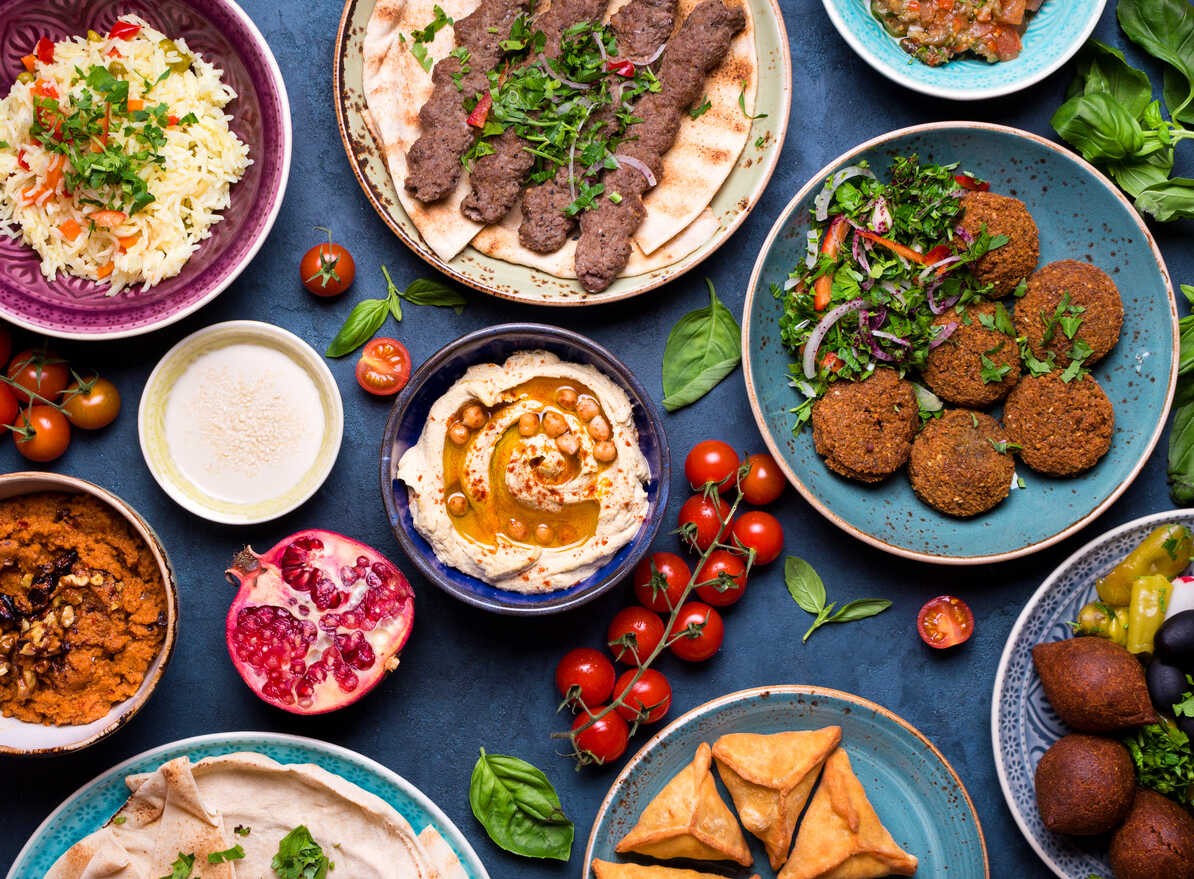 Photo: iStock
Eating in Dubai is a multicultural experience, with a virtual UN of cuisines to choose from. Middle Eastern and Indian fare are most prevalent, but basically you can feast on anything from Afghan kebabs to fish and chips in the city's myriad eateries. These run the gamut from simple street kitchens and fast-food franchises to family restaurants and deluxe dining temples.
Taking global fare local is not a trend unique to Dubai, but it's arrived here with a vengeance. As awareness has grown, the demand for certified organic produce increased right along with it. Farms in Dubai and beyond have expanded their operations, and new farmers markets to stock up on the good stuff have been popping up all over. Even the big supermarkets have gotten in on the locavore – many now post the origin of their produce next to the price tag.
Dubai is a fast-food haven, and we're not talking golden arches (although they're here as well). If there ever was a local snack food with cult status, it would have to be the shawarma, strips of marinated meat (usually chicken or lamb) and fat roasted on a rotating grill, slivered and stuffed into a pita bread.
Dubai can be good for vegetarians, with lots of Asian and subcontinental cuisine on offer. Health-conscious cafes and restaurants have been sprouting faster than alfalfa and serve up inspired menus that leave veggie and tofu burgers in the dust.
Many of the Indian restaurants, particularly in Deira and Bur Dubai, have extensive vegetarian menus. Even those that are not dedicated vegetarian restaurants still do fantastic things with vegetables, paneer (cheese) and rice. You can also fill up fast at Lebanese restaurants with all-veg mezze, while Thai places have plenty of coconut-and-chilli spiced veg curries and soups.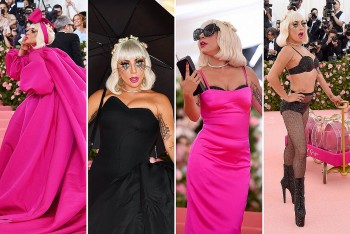 Handbook
From gowns to jumpsuits, these are the best outfits ensemble from the fashion world's most buzzed-about event.
Multimedia
Nha Trang is packed with beautiful and amazing places to see and visit in your holiday, and many exciting things to do. Here is 10 best activities to enjoy in the region.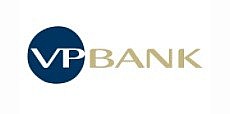 Economy
SINGAPORE - Media OutReach - 20 September 2021 - VP Bank has today announced the appointments of Alexander Tsikouras as Chief Financial Officer & Chief Operating Officer Asia and Will Wang as Head of Client Solutions & Strategic Partnerships Asia in two newly-created roles which form part of the Asia Management Committee (Asia Manco) as of 24 September 2021.