ASEAN Ministers Responsible for Information and Related Meetings to Take Place in Da Nang
The 16th ASEAN Ministers Responsible for Information (AMRI) meeting, the 7th AMRI +3 Meeting, and related senior officials' meetings are scheduled to take place in Da Nang City from September 20 to 23.
The events, hosted by Vietnam will include nine other ASEAN members, Timor-Leste as an observer, and three partner countries - Japan, the Republic of Korea, and China, according to the Vietnamese Ministry of Information and Communications (MIC) at a press conference in Da Nang on September 18.
According to MIC Deputy Minister Nguyen Thanh Lam, traditional forms of media are experiencing significant competition from new ones, which are entirely changing people's information-seeking behaviors, and these changes will result in various economic issues.
Thereby, the conferences, themed "Media: From Information to Knowledge for a Resilient and Responsive ASEAN," will focus on ASEAN collaboration in information and communications. According to the MIC, they will also develop a cooperation mechanism for dealing with fake news on the internet, promote digital transformation in the press and communication sector, apply modern technologies to the sector, and promote information provision across ASEAN and for dialogue countries.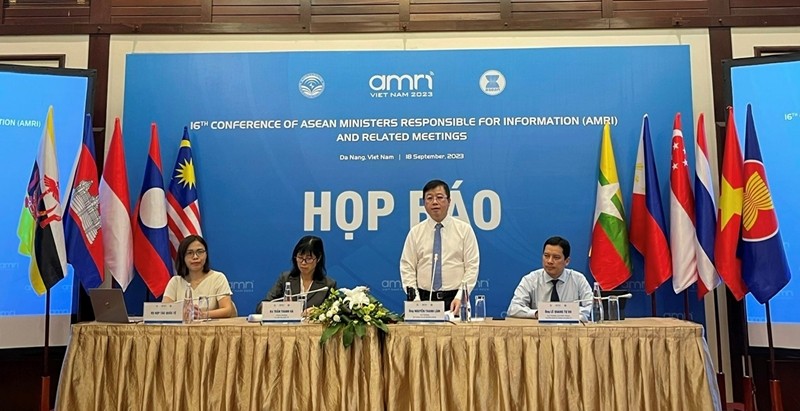 The press conference was held by the Vietnamese Ministry of Information and Communications on September 18. Photo: Communist Party of Vietnam Newspaper
The theme of the conference emphasizes the role and mission of communication in the new era, which is not only providing information but also promoting the conversion of information into knowledge, building a resilient ASEAN, strengthening internal capacity, resilience, and adaptability to affirm ASEAN's role and position, not only looking inward but also prepared to respond to fluctuations in the current world situation.
Participants will have the opportunity to share their countries' experiences, offer ideas, and seek agreement on a common action plan to address issues of shared concern. This is also an opportunity to emphasize the importance of the mainstream media, Deputy Minister Nguyen Thanh Lam said.
The 16th AMRI meeting will provide a forum for ASEAN ministers to discuss strategies for increasing regional cooperation in the areas of journalism, radio and television broadcasting, the internet, and raising ASEAN awareness. Faced with such global issues, Lam noted that ASEAN needs to develop solutions to fake news and limit the negative effects of emerging technologies in the information sector.
Ministers from ASEAN and the three dialogue countries will discuss initiatives, priorities, and future perspectives for information cooperation at the 7th AMRI +3 Summit. Meanwhile, the SOMRI meeting of 20 senior officials responsible for information (SOMRI), the SOMRI +3 meeting, and the SOMRI Plus Japan meeting will serve as forums for officials to address concerns to be submitted to the AMRI and AMRI +3 meetings.
Some conferences will also be organized to address issues such as how to respond to fake news on the internet and the digital transformation in journalism. According to the MIC, events on the sideline will include bilateral meetings, an ASEAN-themed photo exhibition, a zone for seeing films and photos from the bloc, and cultural exchange activities.