ASEM striving to achieve 'twin goals' of 'not leaving anyone and any women behind'
Nearly 130 delegates from 41 ASEM member countries and seven international and regional organisations have attended the Asia-Europe Meeting (ASEM) High-level Dialogue on Promoting Women's Economic Empowerment amid the COVID-19 Pandemic which was an initiative proposed by Vietnam and was strongly supported by ASEM members.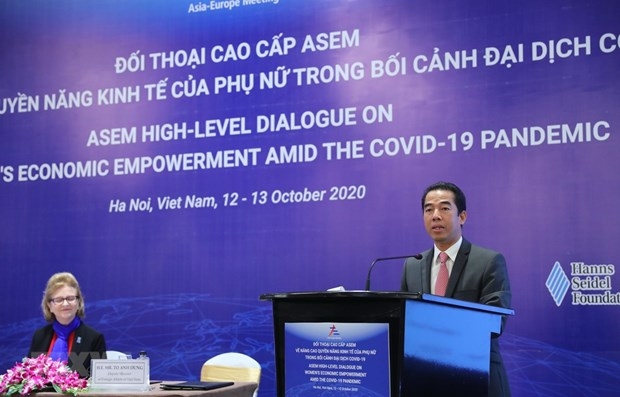 Deputy Foreign Minister To Anh Dung speaks at the dialogue. Photo: VNA
The dialogue has opened on October 12 in the form of video conference.
Co-hosted by the Ministries of Foreign Affairs and Labour, Invalids, and Social Affairs, the dialogue was an initiative proposed by Vietnam and was strongly supported by ASEM members.
Eight countries namely Australia, China, Denmark, Finland, Indonesia, Italy, Japan, and Norway co-sponsored and worked together to implement the initiative.
It is one of the most important activities of ASEM in 2020 and is also the first practical activity to implement the direction of ASEM Foreign Ministers on responding to COVID-19 adopted in the Declaration on July 9, 2020.
The two-day dialogue focuses on discussing the impacts of COVID-19 on women's economic activities, thus proposing measures to strengthen Asia-Europe cooperation to improve women's economic power in current economic recovery efforts.
In his opening speech, Deputy Foreign Minister To Anh Dung affirmed that 2020 is a landmark year in realising the goal of gender equality and women's empowerment and marks the 25th year of implementing the Beijing Declaration and Platform for Action to promote gender equality, the 20th anniversary of the adoption of UN Security Council Resolution 1325 (2000) on Women, Peace and Security, and five years of implementing the sustainable development goals (SDGs).
As an important inter-regional forum that gathers 53 members from the two continents, Asia and Europe, ASEM has made crucial contributions to promoting gender equality and enhancing economic empowerment for women, he said.
He suggested that now, more than ever, ASEM need to further strengthen Asia-Europe cooperation to secure coordination policies to enhance women's empowerment to achieve the "twin goals" of responding to the pandemic and promoting post-pandemic economic recovery.
"ASEM needs to be a pioneer in realising the goal of 'not leaving anyone behind' and not leaving any women behind," he said.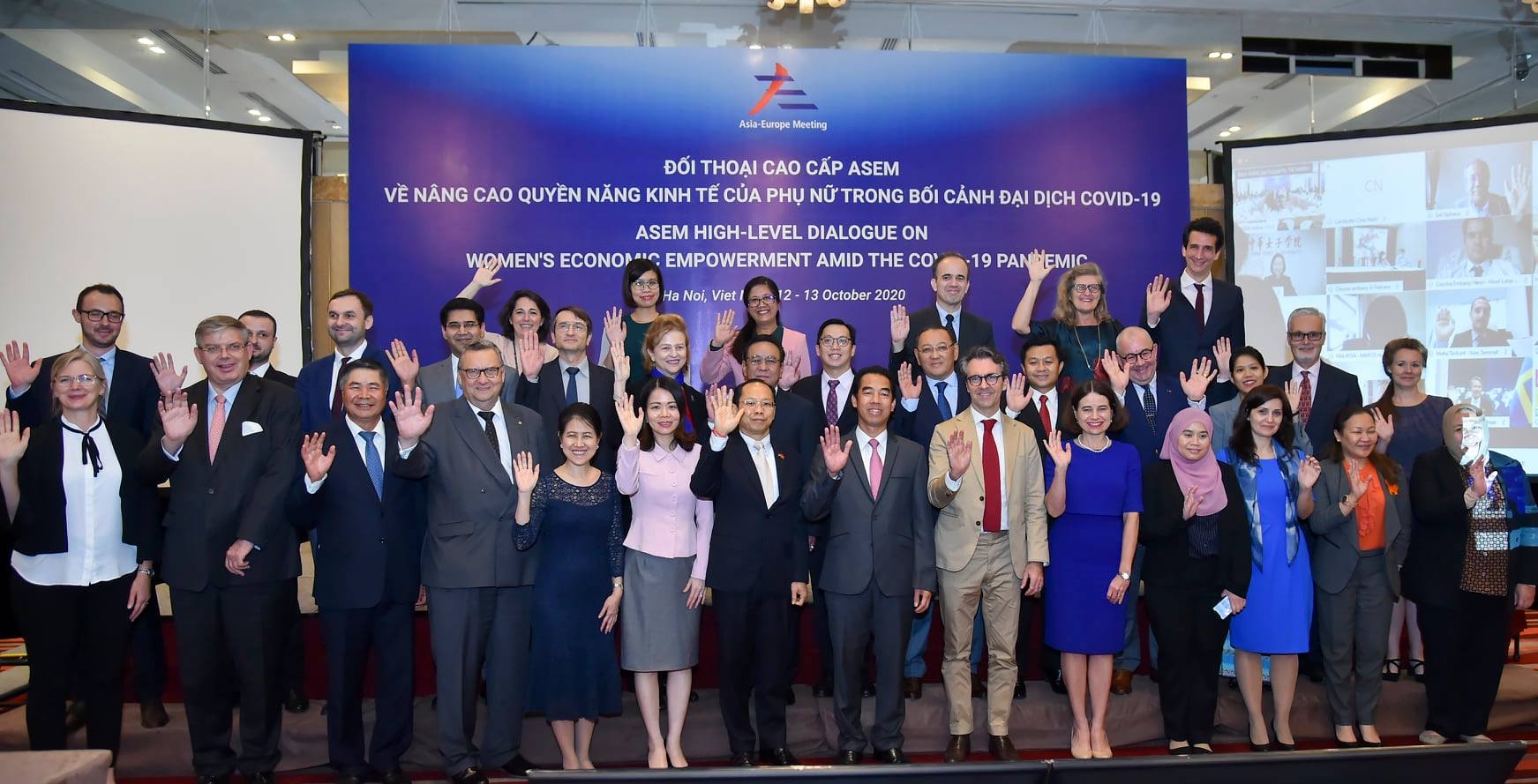 Attendees at the ASEM high level dialogue on women's economic empowerment amid the COVID-19 pandemic.
Dr Sok Siphana, Senior Advisor with the Cambodian Government and ASEM SOM Leader for Cambodia, highly valued Vietnam's initiative, emphasising that the dialogue has contributed to promoting ASEM's strong commitments on gender equality and women's empowerment.
He also made important recommendations for submission to the 13th ASEM Summit, to take place in Cambodia in 2021.
Meanwhile, Caitlin Wiesen, Chief Representative of the UN Development Programme (UNDP) in Vietnam, said the UNDP-UN Women rapid assessment of COVID-19 impact on vulnerable households and enterprises conducted during April and May in Vietnam (as well as UNDP-supported assessments of COVID-19 socio-economic impact in many other countries in the region) showed the pandemic has disproportionally impacted women.
"Jobs and incomes of women have been reduced in heavily-affected sectors such as garment and footwear, education and health care, tourism and related services where female workers dominate, temporarily pushing many of them into poverty or deeper in poverty," she said.
"Amid the COVID-19 pandemic, women's economic empowerment – the topic of the today' dialogue – was more important, if not vital, to integrate in countries' response and recovery plans and actions if they are to be effective."
She stressed that the strong development of digital technology and the complex development of the pandemic led to socio-economic crises and threatened achievements made in narrowing the gender gap over recent decades.
To contain the virus and address its negative socio-economic impact, Wiesen suggested ASEAN countries adopt a number of solutions including maintaining focus on accelerating and sustaining progress towards achieving the Sustainable Development Goals, gender equality and leaving no one behind.
Wiesen said top priority must be to assist those vulnerable to extreme poverty.
She highlighted the significance of the dialogue, saying it helps promote the implementation of the UN 2030 Agenda for Sustainable Development.
Along with the success of the ASEAN Leaders' Special Session at the 36th ASEAN Summit on Women's Empowerment in the Digital Age in June, the dialogue will contribute to affirming Vietnam's role and contribution in multilateral frameworks and in regional and global efforts in promoting gender equality and women's economic empowerment./.