Australia launches value chain contest to support ethnic minorities
(VNF) -  "Value Chains Idea Contest", an initiate launched by the Australian government, World Bank Vietnam  and the Committee for Ethnic Minority Affairs (CEMA) has opened for application.
Delegates at the launching ceremony of "Value Chain Ideas Contest" on June 22. (source: Australian Embassy)
The contest, funded under by Australia-World Bank Strategic Partnership Phase 2, will identify opportunities for expanding market access for products of ethnic minorities in Vietnam while contributing to the preservation and promotion of cultural strength and traditional knowledge and enhancing the role and capacity of ethnic minority women and youth.
Eligible candidates include: inpiduals, groups of inpiduals, small and medium enterprises, cooperatives, cooperative groups, ethnic minorities, etc. with ideas for ​​developing cooperation or partnerships with ethnic minorities anywhere in Vietnam.
Candidates's idea is required to contribute to solving one or both of the following issues: Developing value chains benefiting ethnic minority women and youth; Creating an enabling environment for the development of value chains which benefit ethnic minorities, especially women and youth.
Submission deadline: August 31 2018.
For more details, visit the following website:
http://www.worldbank.org/en/news/press-release/2018/06/22/value-chains-idea-contest-launched-to-support-ethnic-minority-communities-in-vietnam
or send equiry to [email protected]/.
( VNF )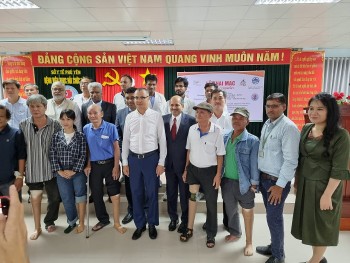 Friendship
This is the 5th time the Jaipur Foot Artificial Limb Fitment Camp has been held in Vietnam since 2018 by the Indian Ministry of Foreign Affairs, Indian agencies and organizations.