Australia to provide AUD90 million ODA for Vietnam in 2015-2016 period
(VNF) - Australia will continue to provide aid to Vietnam for the next five years to support the country's long-term development needs.
(VNF) - Australia will continue to provide aid to Vietnam for the next five years to support the country's long-term development needs.
The Australia-Vietnam high-level consultations on development cooperation were held in Hanoi on July 9th to discuss the priorities of Australia's aid to Vietnam from 2015-2020. Australia confirmed it will provide Vietnam with an estimated total ODA of around AUD90 million of which around AUD60 million will be direct bilateral aid during the financial year 2015-2016.
"Australia remains committed to Vietnam's sustainable economic growth as well as to delivering a high-quality, focused aid program that complements Vietnam's ambitious objectives to industrialize by 2020," said Mr Craig Chittick, Head of the Australian delegation, who also said that he was very pleased to gain the Vietnamese Government's support for Australia's proposed objectives under the new Aid Investment Plan (AIP) for 2015-2020.
Australian development cooperation in Vietnam will focus on three priority areas: enabling and engaging the private sector for development; assisting the development and employment of a highly skilled workforce; and promoting women's economic empowerment, including ethnic minorities.
Australian Ambassador to Vietnam Mr Hugh Borrowman added that given Vietnam's continuing economic development, Australia planned to transition from traditional aid to an economic partnership with Vietnam, an approach which will also apply to many other aid recipients in the region.
"We no longer subsidize essential services through our aid program, but are moving towards an economic partnership that shares lessons from Australia's own reform experiences, finds innovative ways to maximize the reach of public resources and leverages greater private sector investment," said the Ambassador.
Earlier, the Vietnamese Government on July 8th approved the Vietnam - Australia human resource development program outline for the upcoming five years. The long-established Australia Awards Scholarships remains the core of Australia's support for Vietnam in the human resources area. It will be supplemented by other short-term training courses and programs designed to increase Vietnam's professional and technical knowledge, skills and competencies and contribute to the country's sustainable and inclusive economic development.
Australia has a long history of providing development assistance to Vietnam with numerous achievements, including the support to the construction of two critical bridges which link people and markets in the Mekong Delta to the rest of South East Asia – the My Thuan bridge and the Cao Lanh bridge, currently under construction.
It has so far provided more than 5,700 scholarships for Vietnamese students to study in Australia, contributed to enabling 82% of the rural population to have access to hygienic water, and 60% to hygienic latrines thanks to its support for the national water supply and sanitation program./.
( VNF )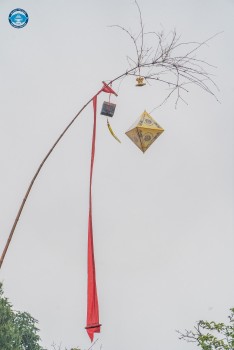 Viet's Home
In the past, the Neu pole (a tall bamboo pole with red garment strips used to ward off evil spirits during the lunar New Year) lowering ceremony at the royal palace of the Nguyen Dynasty was performed to mark the end of the New Year holiday and prepare to enter a new working year.