Austria Among Largest Trading Partners of Vietnam in EU
Austria is a country with strengths in technology and infrastructure, which are areas where Vietnam is in great demand for development.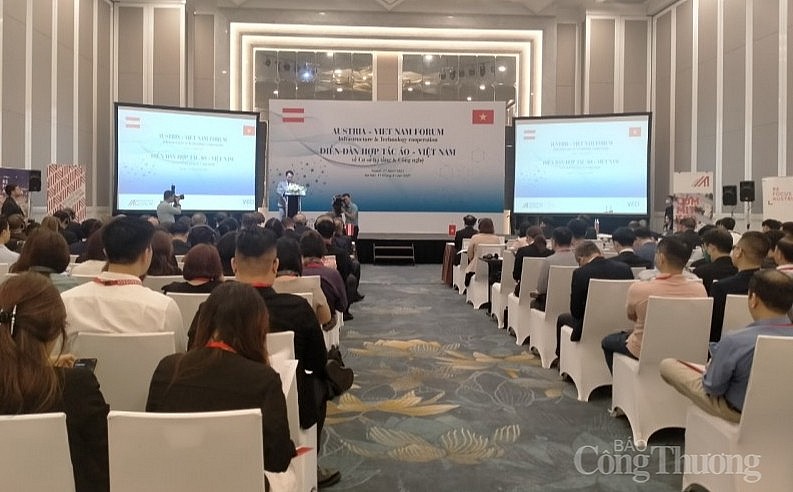 Austria is in the group of Vietnam's largest trading partners in the EU with two-way trade turnover in 2022 reaching nearly US$2.8 billion.
Potential cooperation
On April 17, in Hanoi, Vietnam Confederation of Commerce and Industry (VCCI) coordinated with the Austrian Embassy and the Austrian Economic Chamber to organize the Austria-Vietnam Forum on infrastructure and technology cooperation.
Information at the Forum shows that Vietnam and Austria have opportunities to cooperate in many fields, including infrastructure and technology. Austrian investors are also interested in investing in these areas of Vietnam.
Speaking at the Forum, Nguyen Quang Vinh, vice president of the Vietnam Confederation of Commerce and Industry (VCCI) gave the following address:
After more than half a century (1972-2023), Austria is currently in the group of Vietnam's largest trading partners in the EU (European Union) with two-way trade turnover in 2022 reaching nearly US$2.8 billion, of which Vietnam exports to Austria nearly US$2.5 billion and imports from Austria more than US$300 million.
In the agricultural sector, Vietnam's export turnover to the EU has increased by more than 11% right after the EVFTA came into effect.
In 2023, many Vietnamese exports to the EU will enjoy 0% tax. This will certainly create a strong "bump" for exports, especially for key commodity groups Vietnam has competitive advantages such as: agricultural products, textiles, leather and footwear, agricultural and aquatic products, wooden furniture.
This will also be a great opportunity to further promote trade cooperation between Vietnam and Austria particularly as well as the EU.
In addition to trade, Vietnam-Austria cooperation in recent years has also expanded into the fields of science-technology, culture, and development cooperation. The two countries still have many prospects to strengthen cooperation in areas such as: environmental technology, renewable energy, vocational training, tourism, agriculture, sustainable urban transport solutions and health care.
In 2022, Vietnam has a GDP of US$409 billion. Thus, it can be seen that the scale of Vietnam's economy has increased more than 10 times compared to 2000. It is forecast that in the next 10 years Vietnam's GDP will exceed US$1,000 billion.
Vietnam has the world's leading open business and investment environment, with 17 signed free trade agreements (FTAs), including the EVFTA. Along with the advantages of political stability; abundant and qualified human resources; transport infrastructure and digital transformation rapidly upgraded, Vietnam has emerged as the world's leading attractive destination for FDI.
According to data from the Ministry of Planning and Investment, there are businesses from 143 countries and territories investing in Vietnam, with a total registered capital of over US$440 billion. After the Covid-19 pandemic, there are currently leading corporations in the world continuously investing in Vietnam such as: LG, Samsung, Intel, LEGO.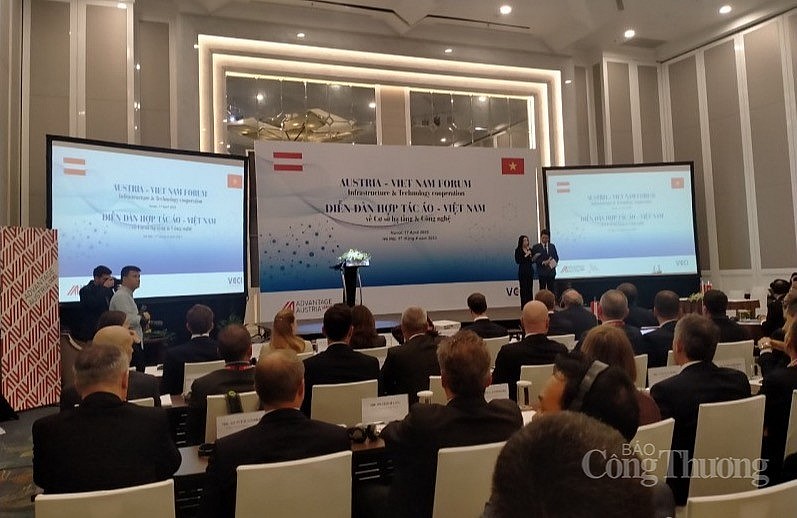 The prospect for Vietnam to attract investment from Austria in the infrastructure sector is huge
Technology and infrastructure
Sharing about the prospect of attracting investment in infrastructure and technology in Vietnam, Nguyen Van Sinh, deputy minister of Construction said that in the period 2011-2020 and 2021-2030, Vietnam always identifies Infrastructure development as an important factor for socio-economic development and economic restructuring.
Regarding planning for construction, management and socio-economic development, the Politburo also identified the important role of infrastructure in urban development in Vietnam.
Accordingly, one of Vietnam's key tasks in 2030-2045 is developing modern infrastructure, adapting to climate change, concentrating large-scale investment resources to perfect digital infrastructure, encouraging green economic development, sustainable economy.
Vietnam has made efforts to perfect urban infrastructure, smart infrastructure, focusing on areas such as information technology, traffic, and wastewater treatment.
Based on the above analysis, Vice President of VCCI Nguyen Quang Vinh said that Austria is a country with strengths in technology and infrastructure development.
Those are the areas that Vietnam needs to achieve its socio-economic development goals. Therefore, the opportunities for cooperation between the two countries in these fields are huge.
"Now that the pandemic situation has stabilized, Vietnam and the world have well controlled the Covid-19 pandemic, I think this is a good time for Austrian businesses to take advantage of. We encourage you to invest and cooperate with Vietnamese businesses in these fields," said Nguyen Quang Vinh.
Appreciating the investment potential in the Vietnamese market, including infrastructure and technology, Alexander Schallenberg, Austrian foreign minister said that Vietnam is a potential investment destination for many Austrian investors.
Meanwhile, Tino Terraneo, executive director of Austrian Technology Corporation assessed that, with the advantages of a stable political institution and a clear legal framework, Vietnam is a potential investment market for Austrian businesses.
Tourist Share Impressions of Vietnam

An increasing number of foreign MICE (Meeting, Incentive Travel, Conferences and Exhibitions) tourists is coming to Vietnam over the past year. This special group of ...