Banana leaves in Vietnamese cuisines: Full of fragrance
Banana leaves add a delightful aroma to whatever they may wrap.
Banana leaves add a delightful aroma to whatever they may wrap.
Banana leaves are never eaten but are great for packaging food and add a particular fragrance. Green banana leaves (usually pip bananas or areca bananas), bear an outstanding fragrance after boiling that is imbued into the food it wraps around.
Banana leaves are also, for many, reminiscent of their childhood. I remember clearly the three-way crossroads leading to our elementary school, where various breakfast offerings were sold. Almost everything could be found, from 'high-end' dishes like phở (noodle soup with beef or chicken), bánh cuốn (steamed rice rolls), bún mọc (hot noodle soup with pounded pork and pig feet), and bún riêu cua (crab noodle soup), to less expensive options such as bánh mì (bread), khoai luộc (boiled sweet potatoes), sắn luộc (boiled cassava), xôi ngô (steamed sticky rice with corn), xôi đậu đen or đậu xanh (steamed sticky rice with black or green beans). The latter were for poor students like me, while the well-off kids preferred phở or one of the bún dishes.
My house was about 3 km from the school. Every morning my mother took me to the crossroads and then put VND2,000 in my pocket. That was my spending for breakfast. With such an amount, my choices were limited to 'take-away' food to eat at school. My preference was always sticky rice with corn wrapped in a fresh banana leaf.
Sometimes I would eat sticky rice with corn for breakfast for a month and never tire of it. On days when I went out to collect dried wood to sell to our neighbour, Mrs Lam, I could eat two servings of sticky rice for breakfast. I devoured it like I'd never eaten sticky rice before.
I love the fragrance of the rice and the taste of the corn, the salty, fatty taste of the sesame salt and the roasted puree. All topped off by the fragrance from the fresh banana leaf it was all wrapped in. Sticky rice wrapped in a banana leaf has a very special taste that's extremely difficult to describe. Suffice to say, once you've had it you'll always want it again.
Many may wonder why sticky rice must be wrapped in a banana leaf. It could, of course, be wrapped in other leaves, such as lotus. Above everything else, banana leaves are simply more useful, are easier to find, are smooth and soft, and make whatever they wrap taste much more delicious.
Leaf of the Vietnamese soul
Banana leaves are not too crunchy nor too large or bitter, as many other leaves are. Before being used as packaging, they're exposed to steam to remove the crunch and add some softness. More than one leaf may be needed, depending on the dish, which will gain the characteristic aroma and blue patches that add beauty.
Banana leaves are considered the 'traditional Vietnamese leaf'. Nobody knows when food was first wrapped in the leaves but it's now a key feature of traditional cakes such as bánh tẻ (rice cake stuffed with stir-fried pork and green onions), bánh dày (pounded sticky rice cake), and bánh nậm (Hue special cake).
Fresh banana leaves have a delicate aroma and taste, and when placed on the leaves the food tastes differently than when simply placed on porcelain or plastic dishes.
Bologna
Similar to the method used for wrapping traditional cakes, banana leaves are also used to wrap sausage (though today many people use plastic bags instead of banana leaves), such as chả lụa (pork bologna sausage), chả đùm (beef bologna), and chả ốc (snail bologna). People just remove the banana leaf and then eat it, which tastes infinitely better than sausage in plastic wrapping.
Grilled dishes
Many dishes can be prepared with banana leaves. Once you try grilled beef wrapped in banana leaves you may well become addicted. Grilled pork, chicken or fish can also be wrapped in banana leaves.
Depending on the dish, whether chicken or fish, lemongrass, ginger, lemon leaves or other spices can be added then wrapped tightly in a banana leaf (two or three if you wish) and grilled over a charcoal fire. If you want even more fragrance, grill them until the banana leaves are burnt just slightly. In the south, meanwhile, can be found Chuối nướng, or 'grilled banana in a banana leaf'. The chef uses steamed sticky rice to cover the banana, which is then wrapped in a banana leaf and grilled over a charcoal fire.
Bánh gai (glutinous rice cake blackened in a concoction of edible leaves)
Bánh gai is a typical cake of northern Vietnam, shaped in a square and small enough to fit in the palm of your hand. In Binh Dinh and other central provinces it comes in a pyramid shape but tastes the same.
Fragrant gai leaves covered with smooth white down are an indispensable part of the dish. Fresh leaves are washed, boiled, squeezed and pounded. All stems are removed. The dried leaves are then mixed and ground into a powder. High-quality glutinous rice is soaked in water for about two hours, sifted and then ground into flour. The rice flour is then mixed with the gai powder in a 5:1 ratio, and ground peanuts and molasses are added. This mixture is used to prepare the cake crust.
The stuffing is made from green beans, coconut shreds, sugar-coated lotus seeds, and banana attar. The cakes, sprinkled with sesame, are then wrapped in dried banana leaves and steamed for about one hour. 'Bánh gai' is a tasty treat when served cool as a dessert.
Bánh tro (special boiled sticky rice cake with ash water)
The name 'bánh tro' comes from the way the cake is made, as sticky rice is soaked in ash water, with cake being 'bánh' and ash being 'tro' in Vietnamese. Cakes with ash water may not sound too hygienic but it's actually a healthy dish, since it's the ash of burned herbs. Bánh tro has a crystal amber colour that is not at all easy to make.
The ash water is a mixture of herb ash, containing grapefruit skin, mistletoe leaves, and sticky rice straw. They are dried in the sun then burned to dissolve easily in water. The ash water is important in creating the colour as well as the flavour of the cake. Almost pure limewater is added to soften the rice. Depending on where it's made, the cake comes in different shapes. In the north it's in a long shape of about 15 cm, while in the south it's often in the shape of a pyramid.
Bánh giò (Vietnamese pyramid cake)
Bánh giò is a pyramid-shaped rice dough dumpling filled with pork (mostly pork shoulder), shallots, wood ear mushrooms, and pepper, and wrapped, of course, in a banana leaf. It's usually served hot and is a great breakfast on a misty, chilly morning in Hanoi.
The pyramid-shaped rice dough dumpling is wrapped in layers of banana leaves. Once the leaves have been removed to reveal the translucent dumpling and the teaspoon cuts into the cake, the filling of minced pork, wood ear mushrooms, and shallots is uncovered. Inside the mouth, it seems to melt on the tongue, with the soft exterior and well-cooked filling making the whole cake tender and aromatic. Banana leaves are usually half-dried in the sun and then rinsed in water and dried with a clean cloth. A banana leaf is folded into a pyramid shape and then stuffed with a mixture of rice flour paste, pork, and mushrooms. Finally, the Bánh giò is boiled in fresh water for about 30 minutes./.
( VNF/The Guide VN )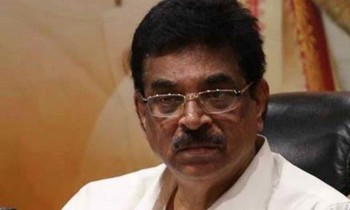 Economy
Mizoram Governor Hari Babu Kambhampati on Thursday said that a Super-Speciality Cancer Hospital and Research Centre would be set up in Aizawl