Belgium's Queen Visits Vietnam as Honorary President of UNICEF Belgium
Belgium's Queen Mathilde, who is Honorary President of UNICEF Belgium, wrapped up a three-day visit to Vietnam that highlighted significant achievements towards realizing child rights as well as the key challenges the most vulnerable children still face.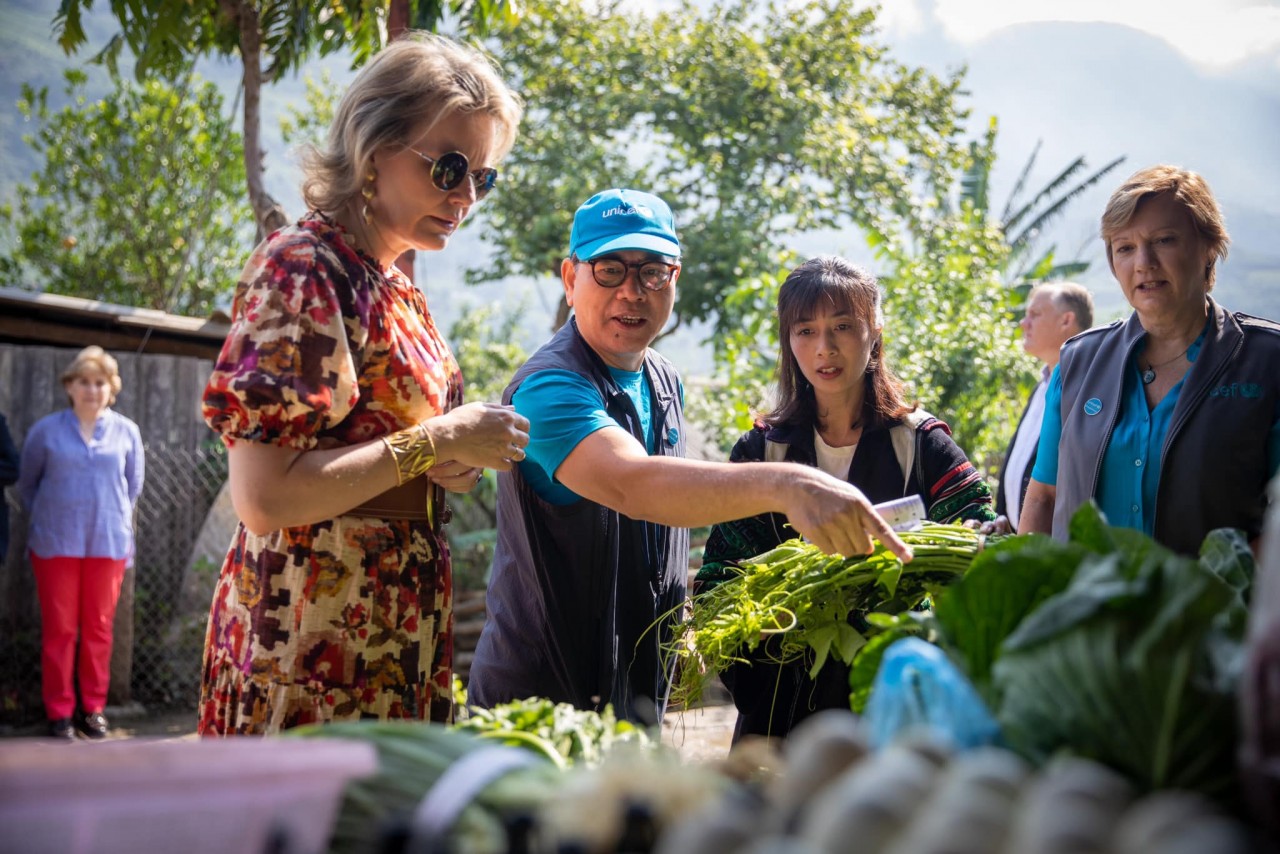 Queen Mathilde of Belgium meet with children and mothers in Hang Lao Chai village in Lao Cai, who are learning about nutritious meals through the UNICEF-supported Nutrition club. Source: UNICEF Vietnam
Belgium's Queen Mathilde just participated in a three-day UNICEF-mission as Honorary President of UNICEF Belgium. The mission focuses on UNICEF's work to close educational gaps and increase opportunities for the most vulnerable children and adolescents in the hardest-to-reach rural areas.
The Belgium's Queen just wrapped up her three-day visit to Vietnam, during which she met President of Vietnam Vo Van Thuong and Minister of Education and Training Nguyen Kim Son, as well as travelled to Lao Cai province.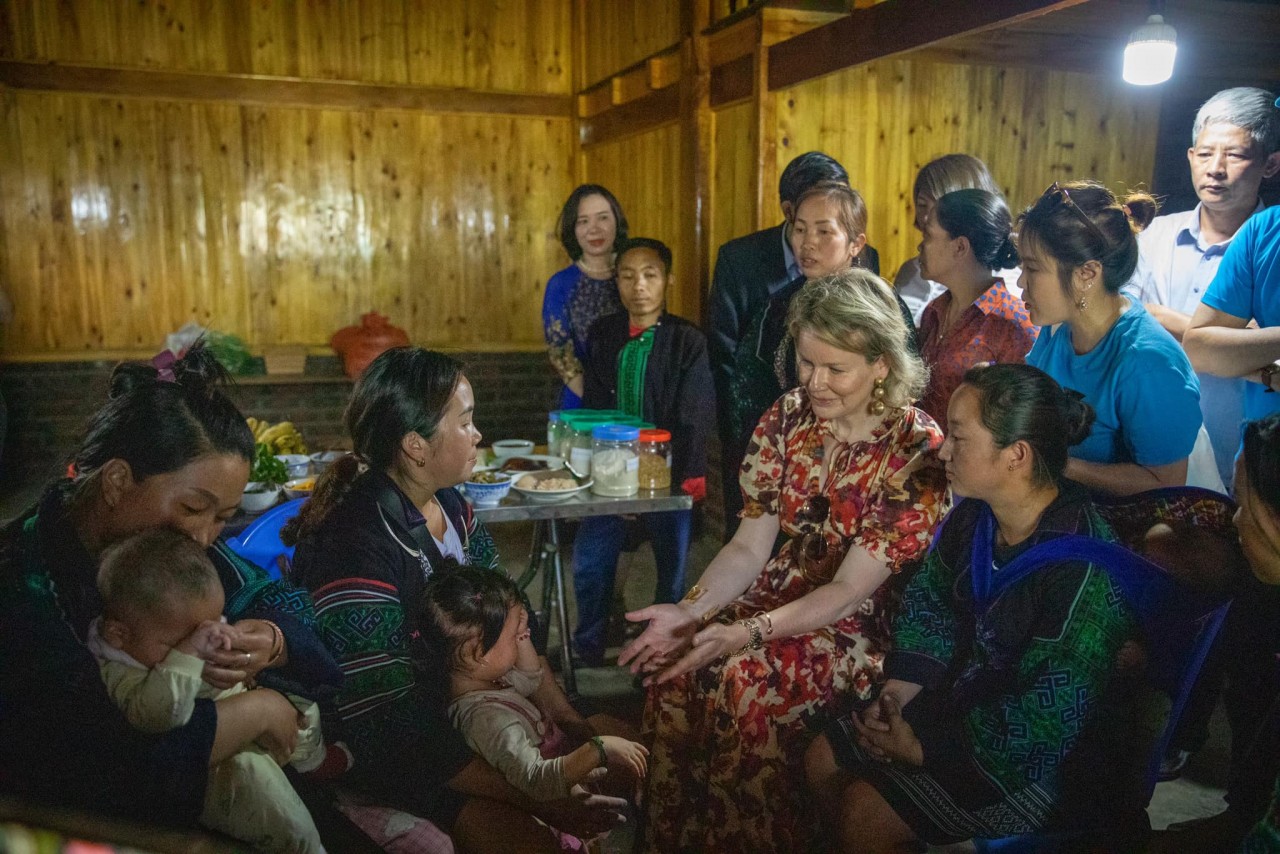 This UNICEF's inititiative helped reduce child stunting from 35% to 27% in the project locations and has been scaled up by the local authorities.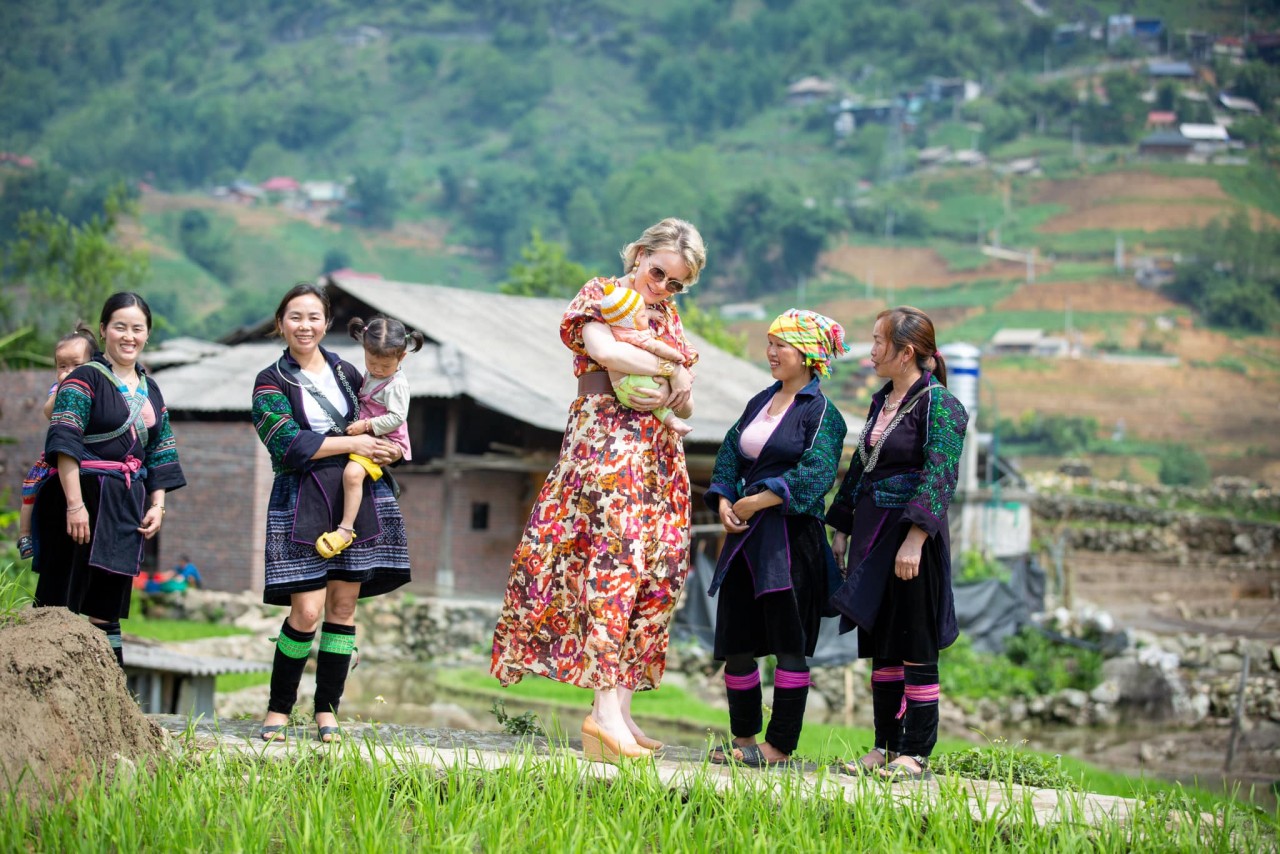 Learning how to identify, process and cook local food that is good, available and affordable for these families is critical to ensure children get nutritious meals.
UNICEF Vietnam said in a press release on May 11 that during her visit to Lao Cai, Queen Mathilde was accompanied by Rana Flowers, Representative of UNICEF Vietnam, Luc Suykens President of the Board of UNICEF Belgium, Christèle Devos Executive Director of UNICEF Belgium and by Karl Van den Bossche, Ambassador of Belgium in Vietnam.
The Queen witnessed how UNICEF Vietmam supports the Government to close equity gaps and expand opportunities for the most vulnerable children.
During her visit, she interacted with children, teachers, mothers and fathers, health workers and Government officials, learning first-hand about Vietnam's progress for every child.
"I have witnessed Vietnam's progress towards ensuring its children are healthy, safe, educated, protected and empowered to reach their full potential," she remarked. "There are still many challenges, but this visit has reaffirmed for me that there are innovative and creative approaches being designed and tested that greatly enhance the opportunities and improve the wellbeing of children across this country", she added.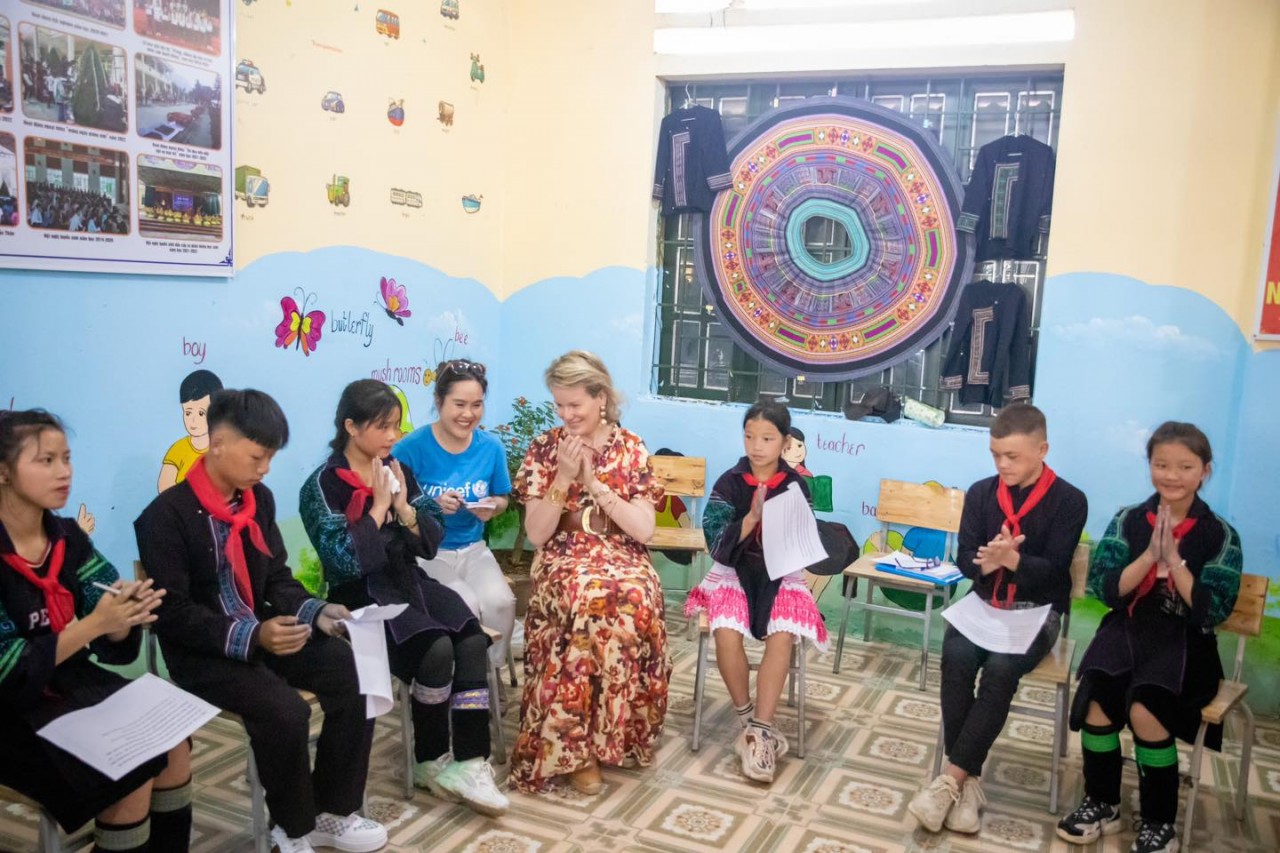 On the last day of her visit to Vietnam in her capacity as Honorary President of UNICEF Belgique, Queen Mathilde met a group of adolescents in Hau Thao Lower Secondary School, Lao Cai province to talk about their mental well-being concerns.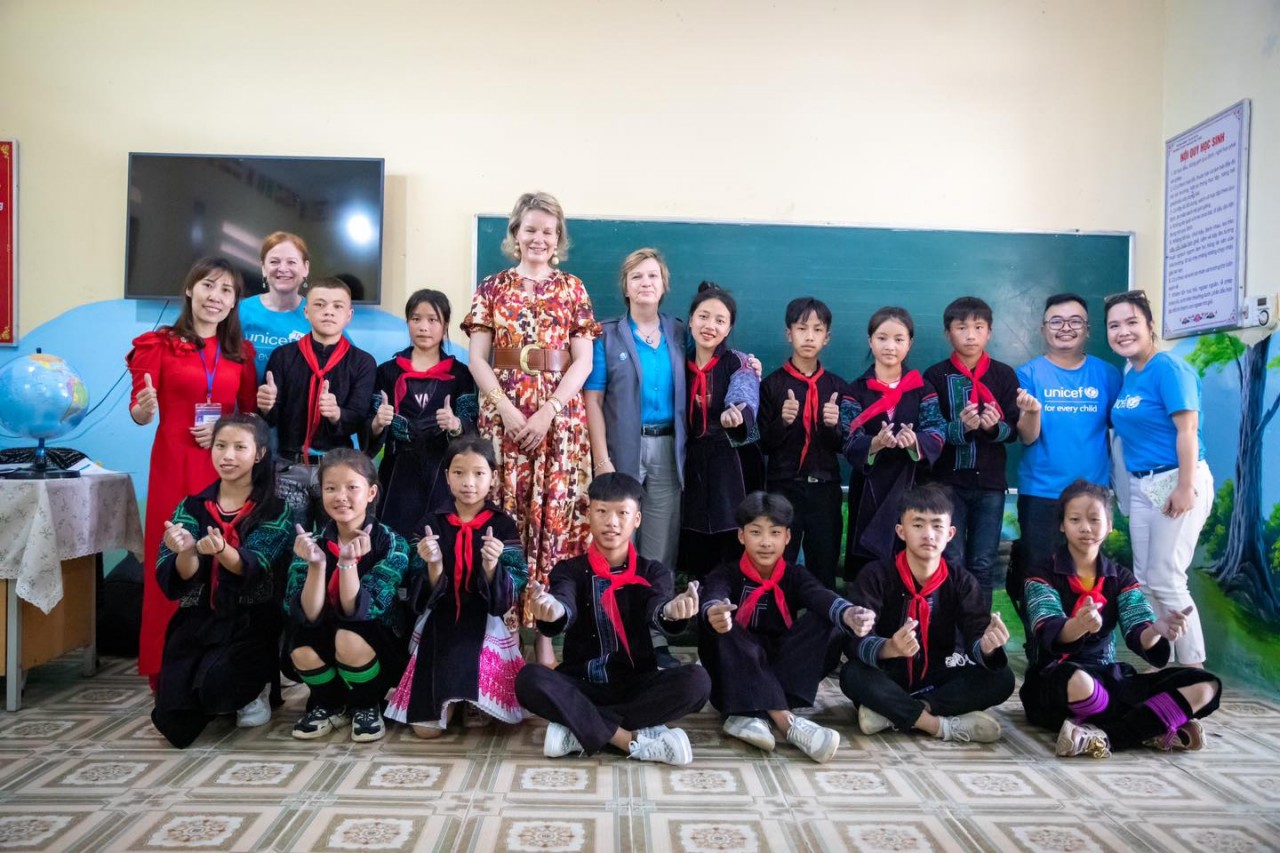 Queen Mathilde was pleased to note the work underway to promote positive mental health through activities that help children and adolescents to adopt and maintain healthy lifestyles.
At her meeting with Chairman of the People's Committee of Lao Cai Trinh Xuan Truong, Queen Mathilde showed her pleasure at the active coordination and engagement of Lao Cai in UNICEF-funded projects in the locality, according to VNA.
Briefing the guest on local socio-economic situation as well as potential and advantages, Truong said that Lao Cai has received support from many international organisations, including the UNICEF through various programmes and projects, helping the province strengthen people's equal access to safe studying environment.
However, the Lao Cai official said that the province's education and health care sectors have faced many difficulties due to tough terrain and scattered population, two-thirds of education facilities are in mountainous areas, and 70% of students are from ethnic minority groups.
Meanwhile, mental health care and psychosocial support, especially for children and adolescents have also been limited, Truong said.
He proposed that the UNICEF increase assistance to Lao Cai in these fields. Lao Cai hopes to continue receiving support in maternal and child malnutrition prevention and control, especially in disadvantaged communes and communes with high malnutrition rate, along with financial assistance for reproductive health care activities, he said.
He also called for the UNICEF's support in implementing digital transformation in education and foreign language training for local students and teachers, as well as capacity improvement for teachers in remote and mountainous areas.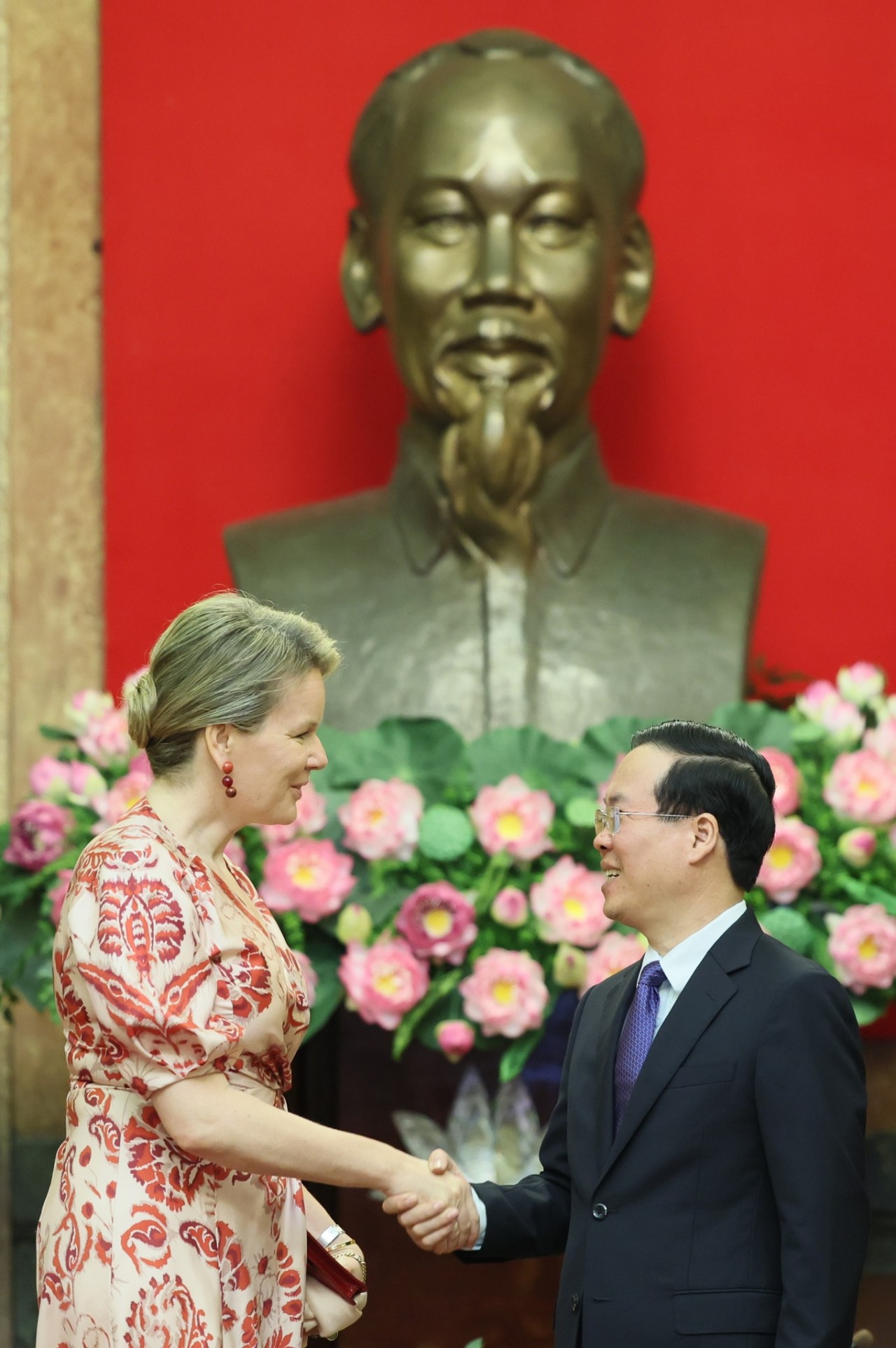 President Vo Van Thuong and Queen Mathilde of Belgium, who is on a visit to Vietnam in her capacity as Honorary President of UNICEF Belgium. Source: Embassy of Belgium in Vietnam
Earlier, President Vo Van Thuong hosted a reception in Hanoi on May 9 for Queen Mathilde of Belgium, saying that for many years, the Vietnamese Party, State, and people have always paid attention to child care, education and protection, with the view of dedicating the best things to children.
Along with that, Vietnam has been fine-tuning its legal system and launching policies related to children such as poverty reduction, new rural development, education, health care and social care. Child care work has been carried out synchronously from the central to local levels.
He took the occasion to thank Belgium, UNICEF Belgium and Queen Mathilde for their continuous support and cooperation with Vietnam in child protection and care, donating significant resources to help Vietnam improve the effectiveness of the effort.
According to him, Vietnam still faces challenges, such as the growing development gap among regions, and differences in health and nutrition among areas, especially in remote and disadvantaged regions.
The host believed that while visiting projects funded by UNICEF Belgium in Vietnamese localities, Mathilde will have the opportunity to better understand Vietnam's efforts, achievements and difficulties in the field.
Speaking highly of the guest's suggestions, he wished that UNICEF Belgium would continue helping Vietnam fine-tune policies and laws related to children, allocate resources to support Vietnam, especially in education and health care so that Vietnam could better care for and educate children in the future.
Queen Mathilde referred to Vietnam's achievements and learnt about national efforts to address children's issues working closely with UNICEF.
She also recognised that this year marks 50 years of close collaboration between Vietnam and Belgium, "an opportunity for strengthening the longstanding ties of friendship and cooperation between the two countries", she said.