Ben Tre province attracts of foreign NGOs' funding projects
The extending of external information's activities of Ben Tre province in the first 4 months of 2019 boosted the socio-economic development of the province in particular and broadcasted Vietnam's image to international friends in general.
International friends impressed by Ben Tre.
The land of coconut
In the first 4 months, People's Committee of Ben Tre province as well as other departments maintained the diplomatic activities effectively to attract socio – development projects, especially from foreign NGOs. For example, "Supporting women's startup by collective economic model in Binh Dai district, Cho Lach district and Ba Tri district" project (sponsored 281.079 USD by Medical Committee Netherlands – Vietnam), "Project of improving sanity and clean water based on women's leading, 2018 – 2022 period" (funded by East meets West with 367.565 USD) and "Project of organic agriculture's development" (Seed to Table sponsored 95.154 USD).
The Ben Tre Union of Friendship Organisations held 10 working sessions with 7 NGOs to provide and promote the Ben Tre's image to foreign people. The province received 73 foreign delegations to works with departments, unions and People's Committee of districts and city and also expand the propaganda's activities to promote Vietnamese people, traditional culture, and history to the world.
Moreover, the external information was a bridge of not only international friends, but also overseas Vietnamese to the fatherland. The Ben Tre Fatherland Front held a Vietnamese New Year 2019 celebration for overseas Vietnamese and their relatives, over 100 people attended in this event. Since the first months of 2019, the municipal Liaison Association for Overseas Vietnamese met over overseas Vietnamese to present the Party's policy and resolution, laws and to mobilize them to support the home country.
Preventing the false information
The police force of Ben Tre province got information of foreign people and organizations perpetually. The propaganda about rackets and plots of the opposites, along with deploying State's confidentiality were concentrated to improve effectively. Particularly, the authority implemented to observe and prevent sabotage actions to Party and State by Internet, the plans to call for rallies and the perversions of political, economic and social events of the province.
In addition, the cyber-attacks to steal State's secrete information and documents were revealed and countered. For example, 7 people had livestream to provoke for a riot on December 22, 2018 and February 27-28, 2019 and other 7 people participated in the reacted and political rebelled organization were detected and blocked, 1 opposite person was arrested in My Thanh village, Giong Trom district.
Locals in My Hung commune,Thanh Phu district, Ben Tre province escape poverty by making tiny shrimp fried with coconut. Photo: NDO
Beside the preventing source of false information, the province actively propagated the policies and directions of the Party and State, especially about sea and islands. Over 1000 officers, party's members, teachers and high school students in Ben Tre were approached to the true information about Vietnam's sea and islands. The province paid more attention to promote the enforcement of Provincial Party Committee's action program No. 38 to implement Resolution No. 36 of 12th Party Central Committee on sustainable development of the maritime economy until 2030 and with a vision until 2045.
The provincial Party Committee for Propaganda and Training cooperated with The Party Committee of the Border Guard to accomplish the scheme of training and disseminating laws to officers and people lived in border area and island, 2017 – 2021 period. The coastal districts celebrated 60th anniversary of the Traditional Day of the Vietnam Border Guard and the 30th anniversary of the Whole People's Border Day.
Dong Khoi newspaper, Ben Tre Television collaborated with Border Guard to maintain and consolidate to maintain and consolidate the high quality features of ocean and island. Furthermore, village, town and district's media provided news and information about ocean and island to people and encouraged fisherman not to violate foreign fishing area. However, in some cases, the direction of external information's content were not in time. Ocean, island and landmarks' propaganda was not deep, constant and perse. The preventing aberration of opposites was still slow
According to leader of Provincial Party Committee's Commission for Propaganda and Training, to improve the weakness, the province continue to focus on giving Party and State's foreign affair activities as to people. The main information are results in dimensions of New Dong Khoi's competed movement, Dong Khoi Start-up and Enterprise Development as well as other important events of Ben Tre along with promoting provincial potential and strength, introducing opportunity and investment environment of Ben Tre.
The Executive Board of provincial external information hailed the provincial departments for successfully steering the external information's activities and expressing the ocean, island, border's landmarks and in cooperating to newspaper and television to take image of Ben Tre people, traditional culture, history and fruitfulness in many fields to Vietnamese and foreign people./.
Translated by Thanh Van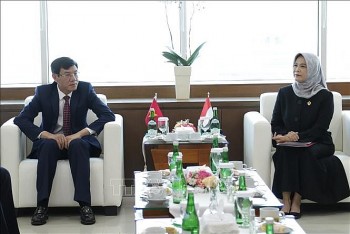 Friendship
At a recent working session with the Audit Board of the Republic of Indonesia (BPK), Deputy Auditor General of the State Audit Office of Vietnam (SAV) Doan Anh Tho suggested cooperation between the two institutions through the exchange of ideas and experiences in anti-corruption.