Best Christmas TV To Watch In 2021
Christmas is just around the corner, and there also come the best Christmas TV specials that promise to bring you the best and most entertaining experience in this special holiday of the year.
Christmas is coming near, with the bells ringing, Christmas songs, and shops full of gifts and presents. It is also a great time to turn up the TV for the best Christmas specials, with Family favorites including Strictly and The Voice Kids lined up alongside comedy with the Not Going Out Christmas special and eagerly awaited drama, A Very British Scandal.
1. The Larkins' Christmas Specials, ITV
Photo: Yahoo News
Thirty years after The Darling Buds was screened, ITV has produced a new version of the H.E. Bates books called The Larkins.
And now it's been revealed it's getting its own Christmas special, which will be shown after the opening series goes out.
Star Bradley Walsh announced that there was going to be a Christmas episode on The One Show. He revealed that he was currently filming the episode in Kent.
All the main cast are expected back for the festive episode. Bradley Walsh will once again play Pop Larkin, the character famously played by David Jason in The Darling Buds of May. Joanna Scanlan will return as Ma Larkin, with Sabrina Bartlett as Mariette. While Tok Stephen will be back as Cedric "Charley" Charlton.
Following on from The Larkins' series finale in mid-November, the entire family will be back on our screens over the festive season for a feature-length special. The story sees Mariette and Charley return to Kent for Christmas, the latter bringing his parents with him for a formal introduction.
However, things quickly go wrong when a power cut leaves the entire village without lighting or heating, which is particularly bad timing when residents have been suffering a recent spate of burglaries. The synopsis teases that "chaos descends on the Larkins' farm", according to RadioTimes.
2. A Very British Scandal, BBC One
Photo: Variety
Hugh Grant wowed in season one of A Very British Scandal – and now the show is back with a whole new cast and a salacious story from British history. While in season one, Hugh played a politician involved in the failed murder plot of his once-lover, season two looks at the acrimonious divorce of the Duke and Duchess of Argyll.
The series follows Claire Foy as Margaret Campbell, Duchess of Argyll, and Paul Bettany as Ian Campbell, 11th Duke of Argyll, during one of the most notorious, extraordinary, and brutal divorces of the 20th century.
The official synopsis reads: "Famed for her charisma, beauty, and style, Margaret, Duchess of Argyll, dominated the front pages as the divorce exposed accusations of forgery, theft, violence, drug-taking, bribery, and an explicit Polaroid picture that was to haunt her for the rest of her life.
"A Very British Scandal turns this scandal inside out in order to explore the social and political climate of post-war Britain, looking at attitudes towards women, and asking whether institutional misogyny was widespread at the time. Like her contemporaries, the press, and the judiciary sought to vilify her, Margaret kept her head held high with bravery and resilience, refusing to go quietly as she was betrayed by her friends and publicly shamed by a society that reveled in her fall from grace."
3. A Boy Called Christmas, Sky Cinema
Photo: Sky
A Boy Called Christmas is a 2021 British Christmas fantasy film directed by Gil Kenan from a screenplay by Ol Parker and Kenan and based on the 2015 book of the same name by Matt Haig.
The film was released on 26 November 2021 in the United Kingdom, Australia, New Zealand, France, Germany, and China, by StudioCanal, while Netflix released the film elsewhere, on 24 November 2021. The film received positive reviews from critics.
A reimagining of the story of Father Christmas, Nikolas is a boy who sets off into the snowy white north in search of his father.
A deal was completed in May 2016 for the book to be adapted into a film by Blueprint Pictures and Studiocanal. Ol Parker was set to write the screenplay. In April 2019, Gil Kenan was revealed to be directing the film, with Jim Broadbent, Sally Hawkins, Maggie Smith, and Kristen Wiig amongst the cast. Filming began that same month, with production occurring in Lapland, Finland, the Czech Republic, Slovakia, and London.
4. Superworm, BBC One
Photo: BBC
Superworm is a new half-hour animated film based on the book written by Julia Donaldson and illustrated by Axel Scheffler.
It's become something of a Christmas TV tradition for the BBC to adapt a work by Julia Donaldson for the festive season — previously there have been versions of The Gruffalo, The Snail and the Whale, and Zog to name a few.
Now Superworm is getting the same treatment. Olivia Colman, who acts as the narrator, says: "I was excited to play the narrator because I love all the Julia Donaldson books. I've read them to my children over the years and I love watching them at Christmas time when they're on the telly. So I was thrilled that [Magic Light] asked me.
"The films are just lovely and they come out at the time of year when you can all be cozy and at home and watching something together."
Joining Olivia Colman as the narrator is ex Doctor Who star Matt Smith as Superworm. Rob Brydon is Crow, while Kobna Holdbrook-Smith is Wizard Lizard. Plus Patricia Alison is Butterfly and Cariad Lloyd takes on multiple voices.
5. The Abominable Snow Baby, Channel 4
Photo: Channel 4
The Abominable Snow Baby is Channel 4's upcoming animated Christmas special, based on the short story from Terry Pratchett's book of Christmas tales entitled "Father Christmas's Fake Beard".
It tells the story of a quintessentially English town that is thrown into disarray by a huge snowfall and the dramatic appearance of a 14-foot tall Abominable Snow Baby.
Shunned and feared by the local townsfolk, Snow Baby is rescued by the indomitable Granny who along with grandson Albert, welcomes him into her home, showering her new pet with love and affection, changing the town's perception and helping the community overcome their initial prejudices.
From Scrooge to the Gruffalo, via the nativity story itself, Christmas tales are full of outsiders finding their place in a community. This delightful 30-minute fable, based on Terry Pratchett's bestselling collection Father Christmas' Fake Beard, is a classic of the genre: after a heavy snowfall, a cozy little English town is upended by the arrival of a two-storey-tall Abominable Snow Baby. Will its residents learn to embrace their visitor in time for Christmas?
6. Worzel Gummidge, BBC
Photo: Imdb
Worzel Gummidge is a British television fantasy series, produced by Southern Television for ITV, based on the Worzel Gummidge books by English author Barbara Euphan Todd. The programme starred Jon Pertwee as the titular scarecrow and Una Stubbs as Aunt Sally. It ran for four series in the UK from 1979 to 1981. On a countdown of the greatest British children's programmes, this series was number 50 in the 50 Greatest Kids TV Shows on Channel 5 on 8 November 2013. Channel 4 reprised the show in 1987 as Worzel Gummidge Down Under, which was set in New Zealand.
In the series, Worzel Gummidge was a scarecrow that could come to life. Living in Ten Acre Field, he would often visit the nearby village of Scatterbrook. He befriended two children, brother and sister John and Sue Peters, who often tried to clear up the messes he created. Worzel had a collection of interchangeable turnip, mangelwurzel, and swede heads; each suiting a particular occasion or allowing him to perform a certain task. He also had his own language, Worzelese. Worzel's catchphrases were: "A cup o' tea an' a slice o' cake", "I'll be bum-swizzled" and "Bozzy MCoo". He was madly in love with Aunt Sally, a vain, cruel-hearted fairground coconut-shy doll who considered herself a lady and far too good for a common scarecrow such as Worzel. Aunt Sally often exploits Worzel for her own ends (in one episode, she promises to marry him if he frees her from a junkshop washing machine, but she never has any intention of going through with it). The Crowman says there are good and bad Aunt Sallys. The one Worzel likes has delusions of grandeur and is evil, in her constant nastiness to him.
The rationale for the move to New Zealand in Down Under was that Aunt Sally is purchased by a visiting museum curator from New Zealand, and Worzel follows her into the luggage chute.
7. The Witcher, Netflix
Photo: Netflix
The eight episodes of The Witcher season 2 are set to continue the story of the eponymous, monster-hunting Geralt of Rivia, played once again by big-screen Superman Henry Cavill. The season 1 finale ensured that the show's (sometimes confusing) multiple timelines are now aligned, uniting Geralt with orphaned princess Ciri (Freya Allan) – just as their respective destinies decreed. We're also guessing it won't be too long before they cross paths with the show's third viewpoint character, the mage known as Yennefer of Vengerberg (Anya Chalotra).
Release date: Netflix has confirmed The Witcher season 2 release date as December 17, 2021.
Cast: Henry Cavill, Anya Chalotra, and Freya Allan return in the core roles of Geralt of Rivia, Yennefer of Vengerberg, and Ciri, the Lion Cub of Cintra. New recruits include Killing Eve's Kim Bodnia as Vesemir and Game of Thrones' Kristofer Hivju as Nivellen.
Story: Now that Geralt and Ciri have finally met, The Witcher season 2 story will focus on the Witcher's efforts to keep the princess safe – while dealing with the fact she's more powerful than anyone imagined. There's also the aftermath of the bloody Battle of Sodden to deal with, according to Tech Radar.
8. LIVE Joe Lycett: Mummy's Big Christmas Do!, Channel 4
Photo: Channel 4
Comedian Joe Lycett will be bringing a "big queer Christmas house party" to Channel 4 over the festive season, with the 90-minute special being recorded live from his hometown of Birmingham.
The audience will be comprised of LGBTQ+ icons and allies to the community, as well as local heroes and others who will be subject to some "devilish" surprises from Joe himself.
The special seems to be part of Channel 4's ongoing effort to be less London-centric and distribute focus more evenly across the entire country, promising to feature Birmingham "as you've never seen it before".
Lycett said: "This show combines three of my favorite things – LGBTQ+ culture, Birmingham, and chaotic live television.
"Queer creativity outside of London is the most exciting it has been in years and I can't wait to introduce Channel 4 viewers to our colorful and anarchic world, with some silliness and a few laughs thrown in.", according to RadioTimes.
9. Last Train to Christmas, Sky Cinema
Photo: Sky Cinema
All aboard The Last Train To Christmas! The original new movie coming to Sky Cinema features time travel, plenty of 1980s nostalgia, some life-changing decisions, as well as Michael Sheen in a dodgy wig and Game of Thrones star Nathalie Emmanuel. It kicks off in the UK in 1985 as Tony Towers, a successful nightclub manager, and local celebrity boards the last train to Nottingham for a Christmas family reunion. Towers is at the top of his game and has also recently become engaged to a much younger woman. But things go wrong when he moves to the buffet car only to suddenly find himself in 1995 — and things ten years on aren't all they're cracked up to be, according to RadioTimes.
The movie looks at one man across many decades. It simultaneously celebrates the history of British cinema with each period shot cinematically as it would have been at that time.
In The Last Train To Christmas, it's 1985 and things are going great for Tony Towers (Michael Sheen) with his recent engagement to Sue (Nathalie Emmanuel) and a string of successful nightclubs. But things become a little strange when he boards the 3:17 train to Nottingham for a Christmas family reunion. Moving up a carriage to the train's buffet car, Tony finds himself transported to 1995, where his nightclubs have shut and his personal life is in tatters. It soon becomes apparent that traveling up and down the carriages sends Tony forwards and backwards in time to various stages of his life, with his actions in one carriage directly affecting his life in the next. His appears as Tony Towers in many different years, hairstyles and fashions. You'll see him as a youth, in the 1970s in a checked suit, plus getting old! The question is, can Tony change his life — and the lives of the people he loves — for the better, or will he just make things worse?
10. Call the Midwife Christmas special, BBC
Photo: BBC
Call the Midwife has become a regular fixture of the Christmas Day TV schedule in recent years.
The Christmas 2021 special is likely to air on BBC One on 25th December 2021 around 8 pm – and keep us happy until the show returns for its 11th season in 2022. However, with timing yet to be confirmed viewers will have to wait for more information.
Season 11, which has now completed filming, is expected to air soon after in January 2022.
All of the familiar faces are expected to return for the Call the Midwife Christmas special including Leonie Elliott (Lucille Anderson), Stephen McGann (Doctor Patrick Turner), Helen George (Trixie Franklin), and Jenny Agutter (Sister Julienne).
Fans can also look forward to seeing a beloved face for the special, it has been revealed.
Miriam Margolyes will be reprising her role as Sister Mildred in the special, following her absence from the 10th season. The actress was forced to take a break from Call the Midwife earlier in 2021 after COVID-19 travel restrictions prevented her from getting back to the UK for filming, according to RadioTimes.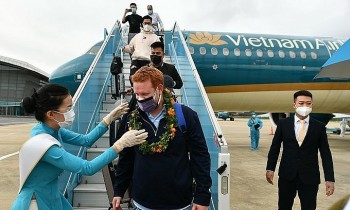 National
Vietnam News Today (Jan. 29): Vietnam records 14,892 new local Covid-19 cases; PM orders prioritizing pandemic control for safe and warm Tet; Vietnam scraps rapid Covid test requirements for int'l passengers; Vietnam-Australia trade hits all time high in 2021.