Best Things To Do In The United States In 2022
With 2022 comes, many new activities and experiences will be coming in the United States, including Boston Marathon, new Star-Wars-themed hotel, glorious new rooftop bars, etc.
After a hard year, we can finally celebrate all the hardships and difficulties that the world has pulled through. New activities are thriving in the United States, with some grand openings and many exciting experiences waiting for tourists and local people. There are museum openings, like the world-class First Americans Museum which is dedicated to the 39 Native nations that live in the state of Oklahoma and L.A.'s newest homage to Hollywood magic, The Academy Museum of Motion Pictures. There are brand new parks and trails both within and outside urban areas, including Presidio Tunnel Tops overlooking the San Francisco Bay and the Peaks and Prairies Trail, which stretches several hundred miles from Yellowstone National Park to Minneapolis. Take a look at these best things to do in the US in 2022.
1. Utah's Sundance Film Festival 2022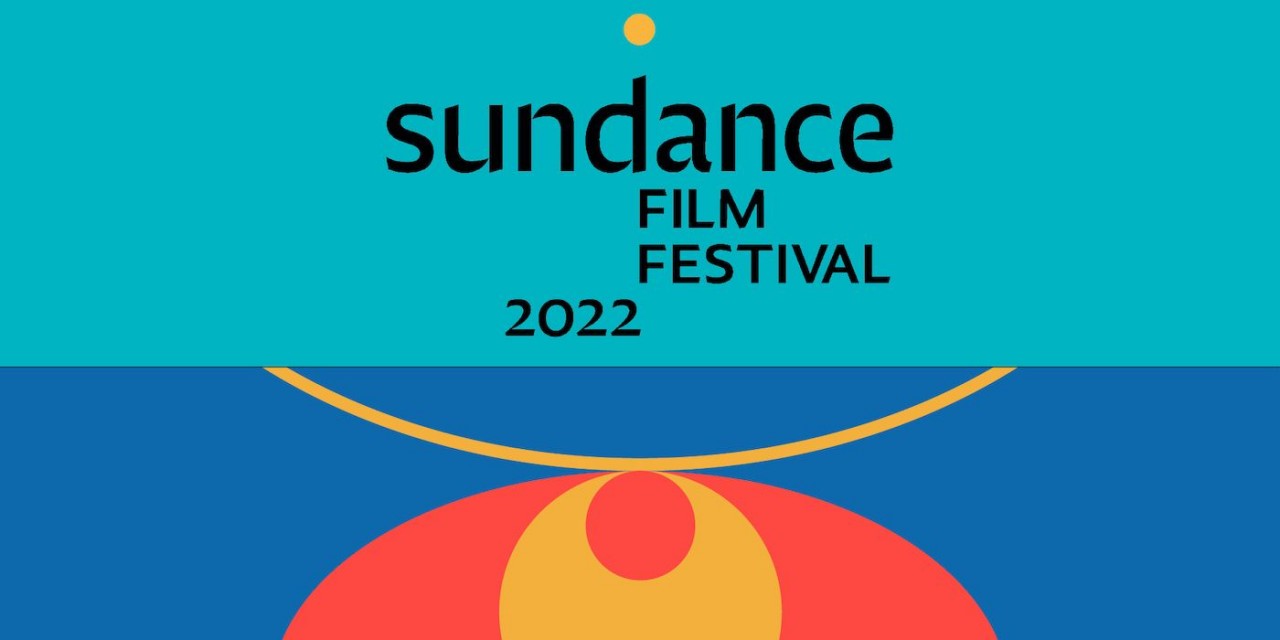 Photo: Collider
The Sundance Film Festival is an annual event that takes place in Park City every year. The 2022 Sundance Film Festival is scheduled for Thursday, January 20-Sunday, January 30, 2022.
The festival has changed over the decades from a low-profile venue for small-budget, independent creators from outside the Hollywood system to a media extravaganza for Hollywood celebrity actors, paparazzi, and luxury lounges set up by companies not affiliated with Sundance. Festival organizers have tried curbing these activities in recent years, beginning in 2007 with their ongoing Focus On Film campaign.
The 2009 film Official Rejection documented the experience of small filmmakers trying to get into various festivals in the late 2000s, including Sundance. The film contained several arguments that Sundance had become dominated by large studios and sponsoring corporations. A contrast was made between the 1990s, in which non-famous filmmakers with tiny budget films could get distribution deals from studios like Miramax Films or New Line Cinema, (like Kevin Smith's Clerks), and the 2000s, when major stars with multimillion-dollar films (like The Butterfly Effect with Ashton Kutcher) dominated the festival. Kevin Smith doubted that Clerks, if made in the late 2000s, would be accepted to Sundance.
The premiere of, American singer-songwriter Taylor Swift's 2020 documentary film: Miss Americana, at the opening night of the 2020 Sundance Film Festival and Swift's pre-announced appearance at the festival, caused a great surge in the number of attendees, traction and media coverage, which was new to the normally reserved festival. The 44th went virtual for the first time in 2021.
2. San Francisco, CA: A brand new park with spectacular views
Photo: Golden Gate National Parks Conservancy
Led by the Golden Gate Parks Conservancy, the Presidio Tunnel Tops campaign has exceeded its $98 million goal!
The Presidio Tunnel Tops is the newest national park experience coming in Spring 2022. It will be a place where visitors and residents can gather with friends and family to play and learn, take in panoramic views of the bay and city, experience culture and community, and launch their adventure in the Presidio and across the Golden Gate National Parks.
These 14-acres of new parkland will feature interactive play and education facilities to serve many more local youth, families, and community partners in park-based programs; a welcoming community plaza with a new visitor center, picnic grounds, and a communal campfire circle; and meandering paths with awe-inspiring views and gardens.
3. Minneapolis, MN: Bike the Parks, Peaks and Prairies trail all the way to Yellowstone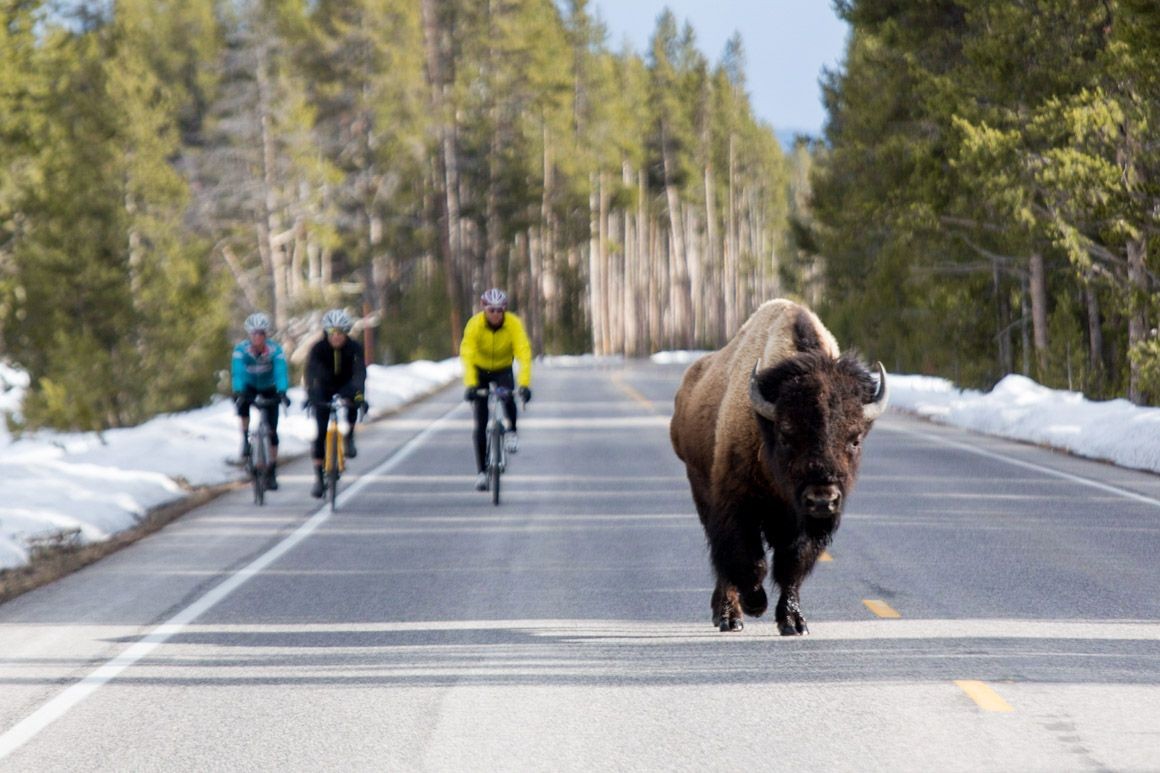 Photo: Cadence Mag
The Parks, Peaks, and Prairies Bicycle Route fulfills the request of so many cyclists visiting the ACA headquarters in Missoula for a northern connector between the TransAmerica Trail and the Northern Tier Bicycle Route — one that strings together the iconic American parks of Yellowstone, Devils Tower, Mt. Rushmore, Badlands, and the famous Black Hills of South Dakota.
But don't expect the connection to come easily! Located nearly smack dab in the middle are the compact, yet formidable Black Hills. This small mountain range exhibits a network of rollercoasting, winding roads that can frequently rise to 10% grades for short durations. Many of these same roads are very popular for motorcyclists, especially in August for the world's largest motorcycle rally centered in the nearby town of Sturgis. Roads and crowds notwithstanding, the Black Hills offers scenery and grandeur on a scale that may be surprising to the conventional out-of-state visitor.
The route begins in the gateway community of West Yellowstone, Montana and ends in the "City of Lakes" — Minneapolis, Minnesota. After riding 2.3 miles in Montana, the route enters Wyoming and Yellowstone National Park, which is renowned as America's first national park. The route meanders past numerous geothermal hotspots, plunging waterfalls, and idyllic valleys teaming with wildlife.
After Yellowstone, the route climbs east to Sylvan Pass where it crests the Absaroka Range. From there, it's nearly 60 miles of downhill along the wild North Fork Shoshone River to the old west town of Cody, Wyoming. Here the route makes a departure from the mountains to enter the vast, windswept country of the Bighorn Basin. Towns are few and far between, and sagebrush and pronghorn abound. The small town of Basin anchors the route in this region, providing valuable services through this stretch of remote country.
4. Orlando, FL: An immersive Star Wars-themed hotel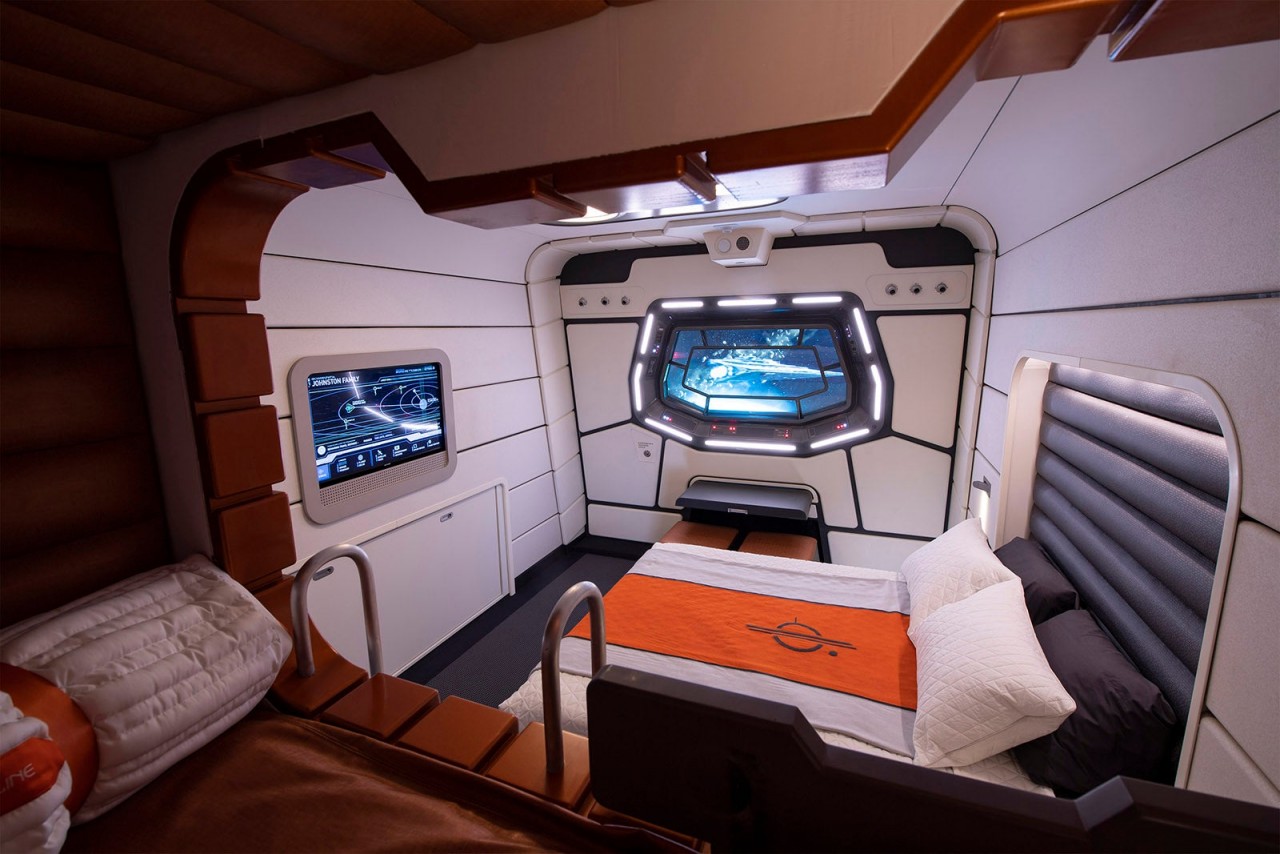 Photo: The Points Guy
If you're a Star Wars fan like we are, you've likely been taking in all of the updates about the Star Wars: Galactic Starcruiser hotel for the last few years as feverishly as we have. This is set to be more than a hotel, but rather a two-night immersive experience, unlike anything Disney World has offered before beginning on March 1, 2022.
And now we're back with the news everyone has been waiting for: hopeful Jedis and resistance fighters can start booking reservations now. Just get ready, you'll need cash, patience, flexibility and perhaps a little bit of the Force to snag one of these coveted reservations, currently bookable only over the phone.
The Star Wars: Galactic Cruiser will open for guests on March 1, 2022, located just behind Disney's Hollywood Studios.
As of Oct. 28, 2021, bookings are currently open to all potential guests, though some people, including Annual Passholders and Disney Visa cardholders, had early access to reservations so some dates are already sold out.
This is set to be a two-night immersive adventure aboard the Starship Halcyon as you travel to Galaxy's Edge. It really does make more sense to think of it as a Disney cruise on land where you live out a "Star Wars" story, in that meals, lodging, entertainment and activities are all part of the package.
Upon arrival at the "terminal," you'll complete your earthly tasks (with included valet parking) and then enter a launch pod that blasts you off into space toward the Halcyon ship for your boarding with the main starcruiser.
Along the way, the "windows" above will show you the stars as well as the space cruiser in the distance. You'll no longer see Central Florida at all — the magic of technology will completely immerse you in the scenes of outer space.
You'll then dock with Halcyon, hearing the "whoosh" of the airlock as your launch pod engages and you'll emerge into the ship's atrium. Once onboard, you'll start two nights and three days of your Star Wars dreams, according to The Points Guy.
5. Denver, CO: Book a seat on a glass-domed train ride through the Rocky Mountains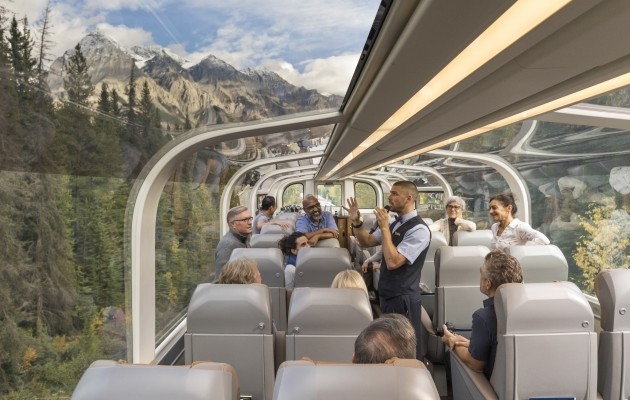 Photo: www.rockymountaineer.com
Rocky Mountaineer is renowned for its super luxurious service – in 2020, the company won a Globe Travel Award for 'Best Rail Company' – which includes personalized, at-your-seat meal service and cocktails. Meals are made using local ingredients (like Colorado bison and farm-fresh veggies) and feature collaborations with local companies (desserts are crafted by the Aspen Baking Company). And the route also includes a stop-off at a hotel for the overnight portion of the trip – both so that guests sleep well and so they don't miss any of that scenery we keep mentioning while traveling in the dark.
Ready to book your trip? There are two classes of service on the Rockies to the Red Rocks: SilverLeaf ($1,250 per person) and SilverLeaf Plus ($1,645). Both include all your meals and drinks (including alcoholic beverages), seats under the glass-dome windows and an overnight hotel stay in Glenwood Springs. The SilverLeaf Plus adds an additional course during meals and exclusive access to a separate lounge that features a mixologist who makes craft cocktails with premium spirits.
This year, the initial run will last through though November 19. The 2022 season will be extended to seven months and begin next spring. Which might give you plenty of time to save up for this epic journey through the west, according to Timeout.
6. Boston Marathon 2022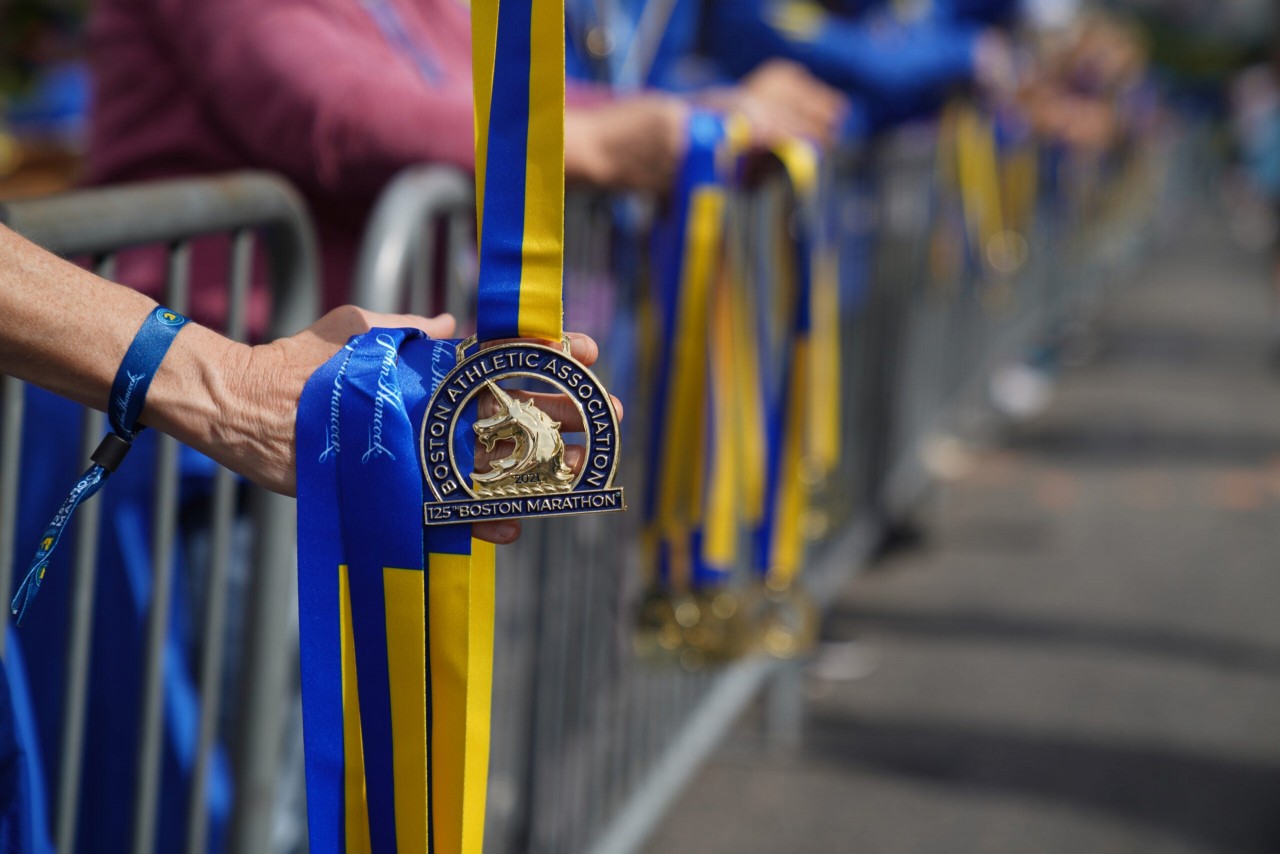 Photo: Boston.com
The Boston Athletic Association (B.A.A.) has announced that 43 organizations have been selected for the B.A.A.'s Official Charity Program for the 2022 Boston Marathon. Five new organizations are joining the B.A.A.'s Official Charity Program for the 126th running, to be held on Monday, April 18, 2022, the first Patriots' Day edition of the race in three years.
Entering the 33rd year of the Official Charity Program, the B.A.A. provides select nonprofit organizations with entries into the Boston Marathon, which are used to raise millions of dollars for worthwhile causes. A total of $14.2 million was raised through the B.A.A. Official Charity Program this year, with an average of more than $10,000 raised per entry. Combined with the John Hancock Non-Profit Program and other qualified and invitational participants, $26.6 million was raised for nonprofits surrounding the 2021 race. The B.A.A. Official Charity Program and the John Hancock Non-Profit Program have combined to raise more than $426 million since the charity program's inception at the 1989 Boston Marathon.
7. Nashville, TN: Celebrate an American treasure at a Dolly Parton-inspired bar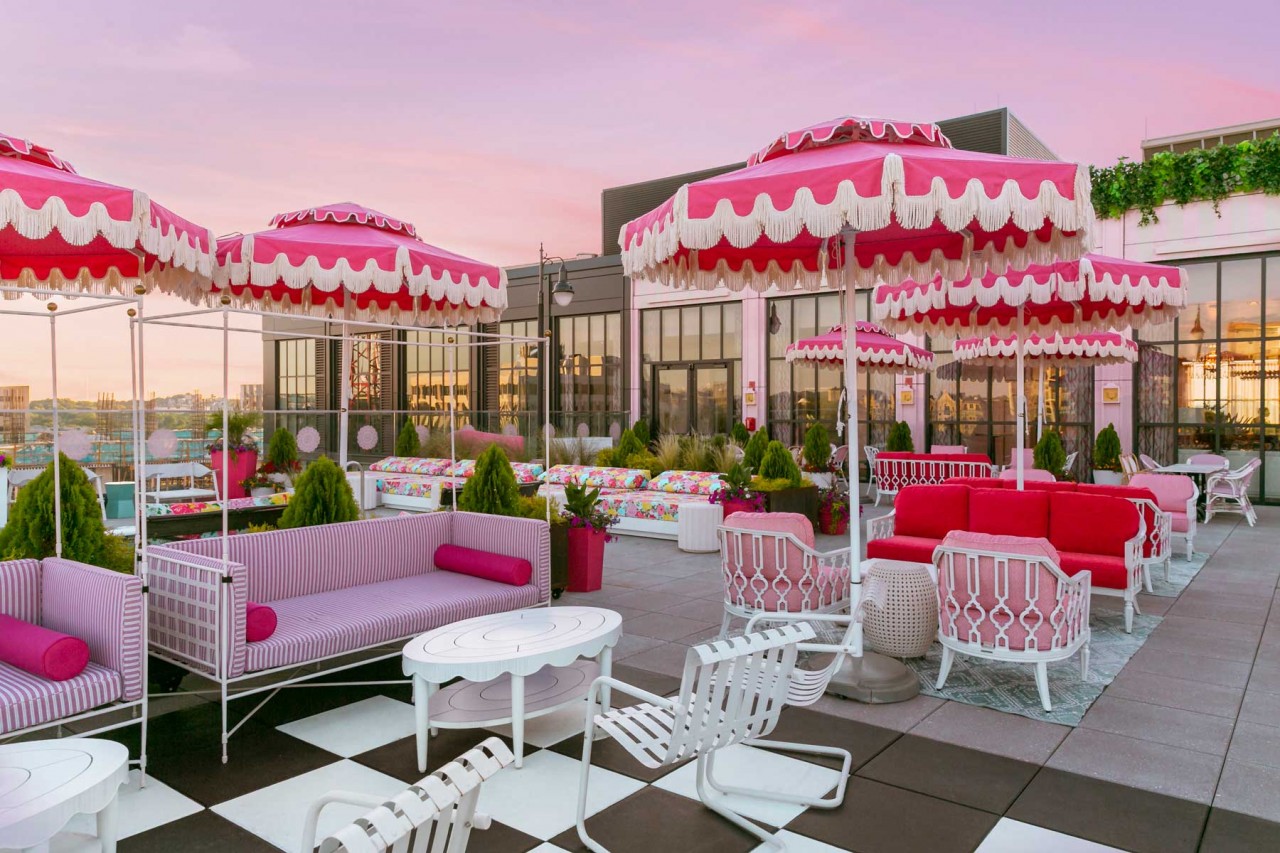 Photo: Travel + Leisure
Dolly Parton fervor is at an all-time high. In the last couple of years, the singer managed to release a Christmas album, win an Emmy for her 2020 Christmas special, donate 700,000 to Tennessee flood victims, and also fund one of the Covid-19 vaccines—a true American hero. If you want to celebrate all things Dolly, consider a trip to the Dolly-inspired bar White Limozeen, named after the country star's 1989 album and title song. The rooftop watering hole is a vision in pink—pink walls, pink couches, pink chairs and even a pink giant chicken-wire sculpture of Parton herself—and even has a pool.
That high-low element can be seen throughout the indoor lounge and outdoor pool space. Inside, you'll find an onyx wraparound bar and glitzy chandeliers. On the outdoor patio, hot pink fringed umbrellas provide shade for oversized floral daybeds situated around a wading pool. Anchoring the entire space is a massive pink Dolly Parton statue made from chicken wire. It's a little bit kitsch, but also completely fabulous—just like Dolly herself.
The bar program at White Limozeen is led by Demi Natoli, formerly of Chicago's Lost Lake and Nashville's the Patterson House and continues the high-low theme. You can choose from pool cocktails like the pink Queen of the Rodeo ("a gussied-up Cosmo," according to the drinks menu), the vodka-cucumber Frozen Iguana ("if spa day was a slushie"), as well as frozen Aperol spritzes and champagne Jell-O shots. Wine lovers can order from a list that focuses on French and American natural wines.
The food menu is dedicated to homestyle renditions of traditionally French dishes like mussels steamed in Nashville hot butter, trout fritters with almondine dip, and chicken liver pie with pumpernickel crust.