Bitcoin price today: BTC price suddenly drop below $7k, what happens next?
Bitcoin (BTC) price dropped nearly $200 in minutes on April 10 to slide below $7,000 for the first time in four days, Coin Telegraph reported. 
Data from Coin360 and Cointelegraph Markets showed BTC/USD now dropping below the tight $400 corridor between $7,100 and $7,410 where it had stayed for most of the week.
The sudden drop from $7,150 to $6,915 also formed the most volatility seen in recent days and, at press time, Bitcoin is trading around $6,960.
Bitcoin's price drop comes after stocks have seen an extremely healthy week, with both the S&P 500 and the Dow Jones rallying hard as the coronavirus curve starts to flatten and despite record-level unemployment claims in the U.S, according to NewsBtc.
As reported by NewsBTC previously, the Tom Demark (TD) Sequential on Wednesday printing a sell "9" candle on the charts of Bitcoin, Ethereum, Ethereum Classic, Cardano, Binance Coin, Litecoin, Ontology, OmiseGo, Tron, Stellar, and Tezos.
The so-called 9 candles, per the time-based indicator, are often seen at reversal points in markets. Case in point: 9 candles were seen at the $6,400 Bitcoin bottom in December 2019 and at the local $10,500 top in February of this very year.
Furthermore, this outlet also observed that the Stochastic indicator, a trend/momentum-based indicator, recently printed a sign that Bitcoin was overbought. A top analyst observed that it has been accurate up to 86% for BTC.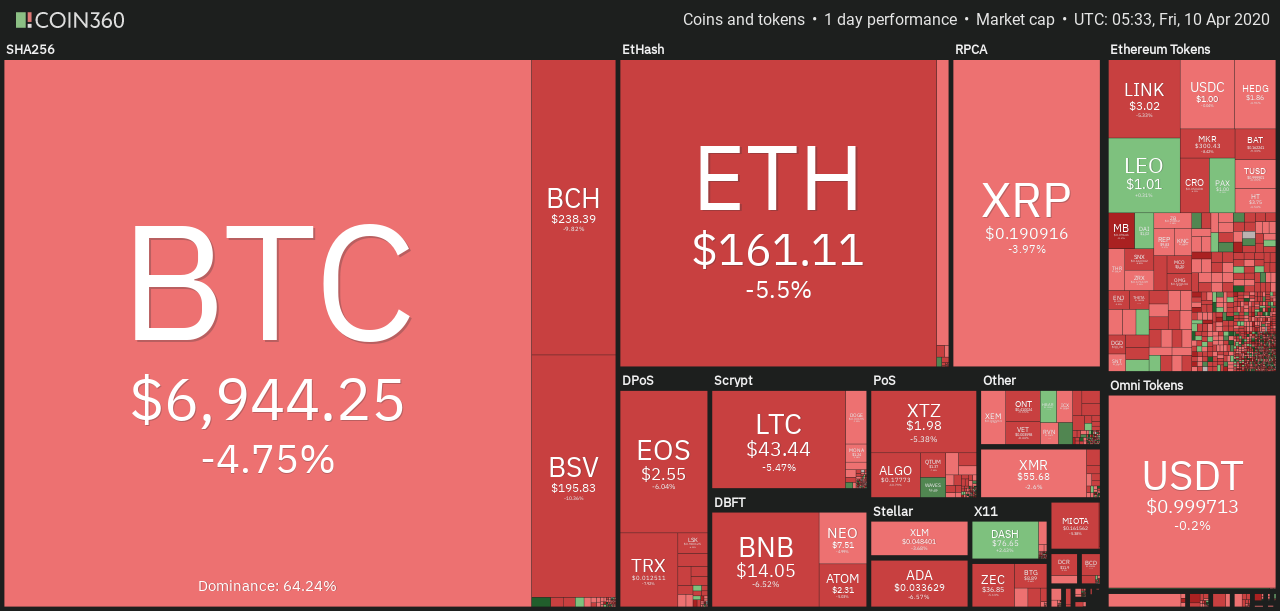 Cryptocurrency market daily overview. Source: Coin360
BTC price dives going into the weekend — $6.3K next?
As previously expected by some traders, the small Bitcoin price rise did not occur from the $7,200 levels going into Friday. However, the $6,900 has shown to be the first line of defense for the bulls. If this level fails to hold, then trader Michaël van de Poppe expects low $6Ks next.
"We might be getting a liquidity tap towards $7,500-7,700 area, after which I'm expecting a sharp decline," Van de Poppe said late on Thursday.
He added: "If we lose $6,900 area though, I'm assuming we're going straight towards $6,300."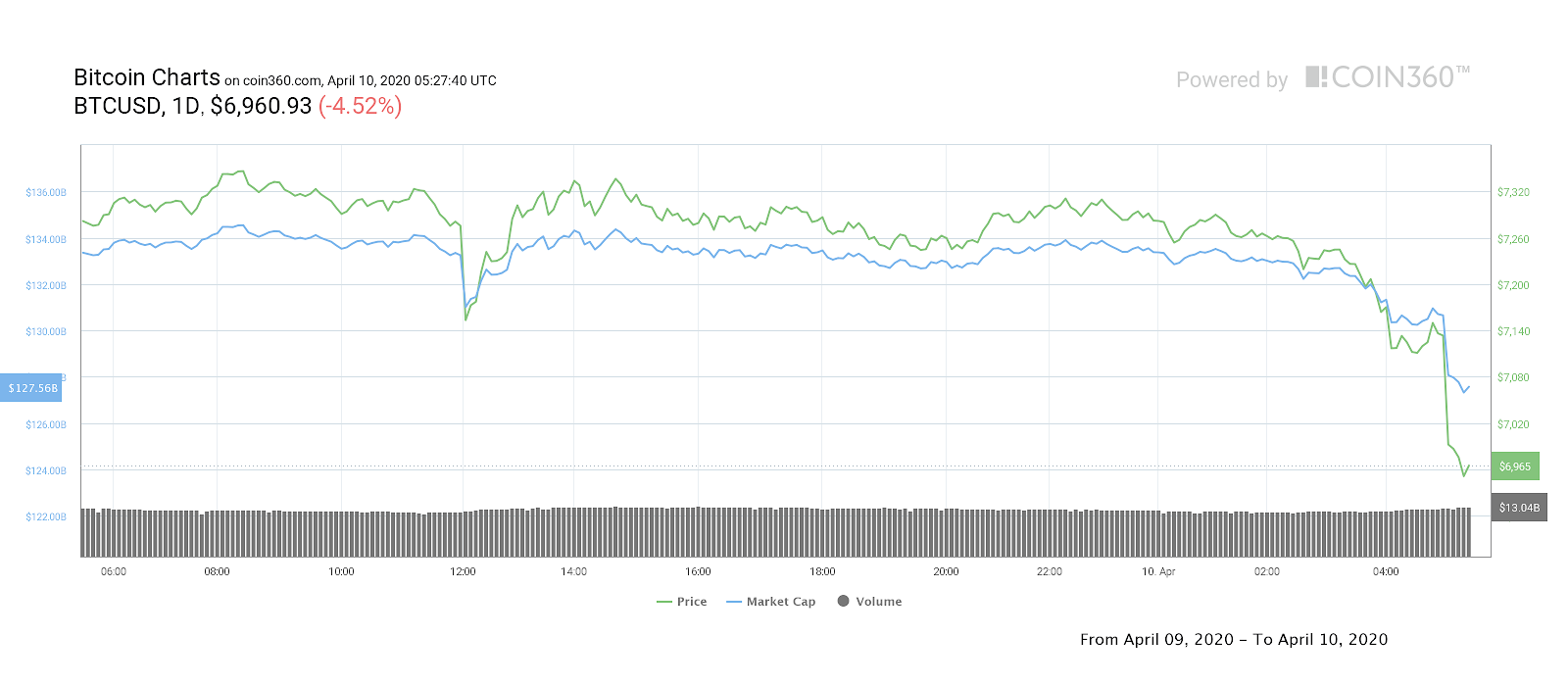 Bitcoin 1-day price chart. Source: Coin360
All markets still gripped by fear
Meanwhile, the Fear & Greed Index shows a reading of 15, which means that the cryptocurrency market is still in "extreme fear."
Comparatively, the traditional stock market is experiencing "fear" with a reading of 43, according to CNN Money, as markets bracing for a volatile close to a wild week, which saw trillions in new stimulus money announced by the U.S. Fed.
Fear & Greed Index
The total market capitalization has also slid below $200 billion. Also, despite their halving events this week, Bitcoin Cash (BCH) and Bitcoin SV (BSV) are down nearly 10% while Ether (ETH) dropped roughly 5.3%. Bitcoin's market dominance is 64.1%.
BTC fell by 5.35% within 4 hours, two more candles had taken shape, Ambcrypto analyzes
One was a green candle, indicating buying pressure, however, this was overtaken by the sellers once against as the next hour produced a long red candle and its wick went as low as $6,867.63, at press time. The fall that took place at 0500 UTC triggered liquidations worth $16 million in a single hour. However, BTC has been witnessing spurts of buy and sell liquidation in the market over 24-hours.
According to data provider, Skew, a total of $40 million in liquidation took place on the BitMEX exchange. After several weeks, the Sellers were in full swing as they amounted for $37 million worth in long liquidations, compared to just $3 million short liquidations. This indicated that the sellers in the market have an upper hand and were pushing the price of BTC down.
Despite a rocky market, BTC futures have been seen a spike in Open Interest [OI] in the market. Apart from the overall market, the CME BTC futures and Bakkt BTC futures noted a rising OI and volume after the slump.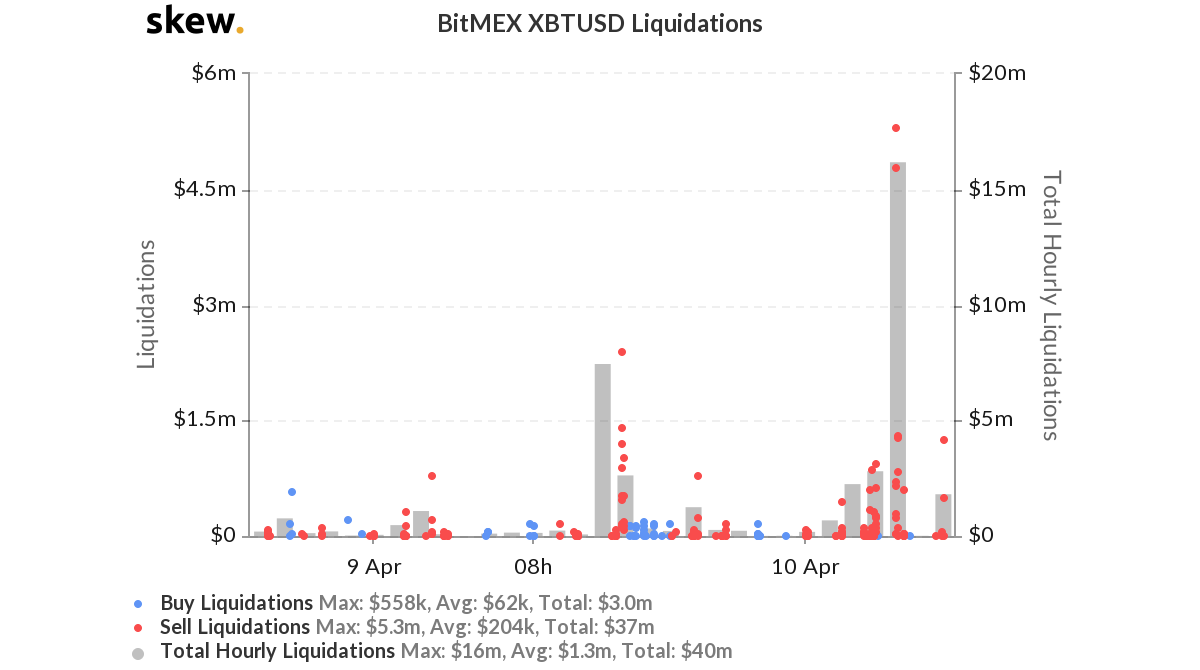 Source: Skew
On 10 April, Bakkt OI was reported to be at $6.5 million, whereas the volume was close to $13 million. On the other hand, the CME BTC futures were way ahead with $179 million in OI and a daily volume of $110 million.
Bitcoin whales were reported moving large sums of BTC amongst themselves. Whale Alert created a commotion by reporting the moves on Twitter, which instantly garnered a huge number of responses by the community.
As the market recovers from its March crash, people are optimistic about the market's momentum. The latest move by the whales strengthens the belief that the bullish momentum would continue, and the market will recover swiftly.
Bitcoin whales on the move
Whale Alert reported that more than 49,000 BTC was moved by an unknown wallet to another unknown wallet. The sum, which is worth over 360 million dollars at the current trading price, was purportedly a move amongst Bitcoin whale investors, according to CryptoPolitan.
Twitter users were excited about the moves and optimistic about the market's future movements. While some wondered about the origin of the funds, others were cheering for the asset and predicting a price pump. Some even stated that the price would swiftly recover to over 9,000 US dollars.
Why did people expect a pump and not a dump? Well, it is because neither of the aforementioned wallets were identified as crypto exchanges, so it is impossible to say whether the sum was bought or will be sold. However, it is unlikely that the sum will be sold as the market is currently enjoying a bullish rally, so there is no need for a selloff.
What's Next for Bitcoin?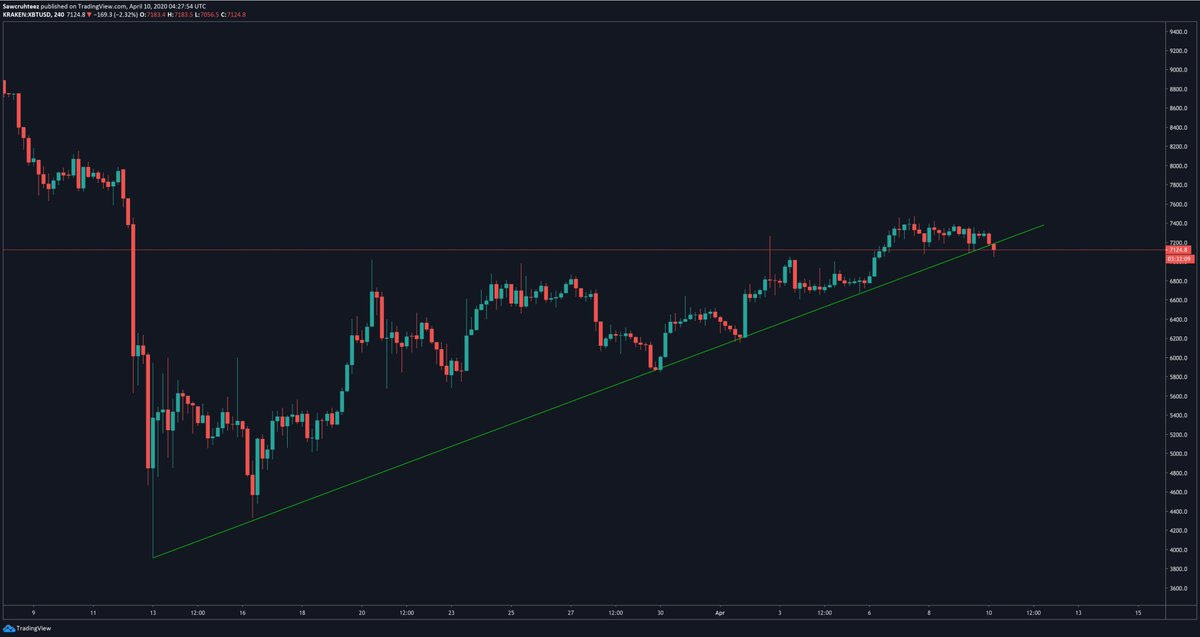 NewsBTC
Traders expect Bitcoin to breakdown further if it fails to maintain current levels, according to Newsbtc.
Tyler D. Coates, a technical analysis author and a popular Bitcoin trader, remarked that the recent price action has seen BTC "threaten to breakdown a bull trendline" that has held since March's bottom. The breakdown, Coates wrote, could see the cryptocurrency return to the "mid $5ks."
Coates' bearish sentiment was echoed by others, like a trader who suggested that Bitcoin's recent price action is looking so much like the start of the 2018 bear market that it is "uncanny.
Despite the potentially harrowing short-term outlook, many remain optimistic about Bitcoin's long-term prospects.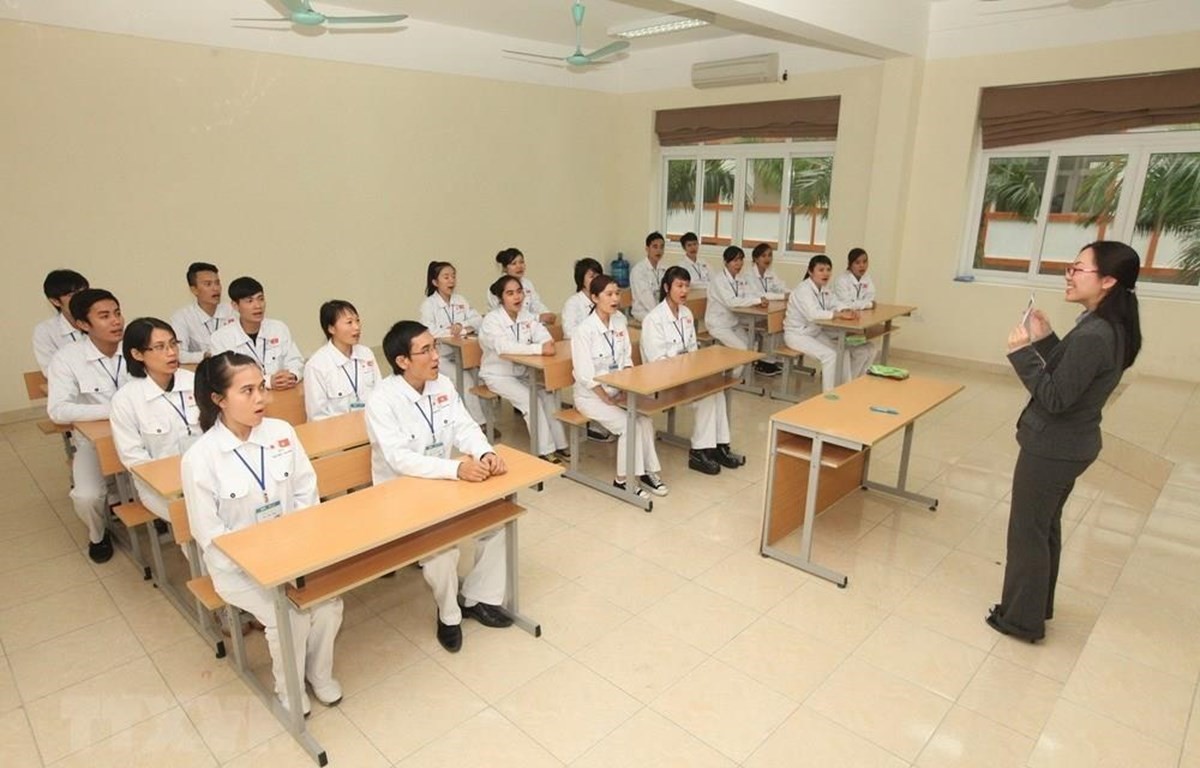 Economy
The demand for Vietnamese nurses and caregivers in Japan is higher than the number of recruited and trained candidates each year.
October 02, 2023 | 16:09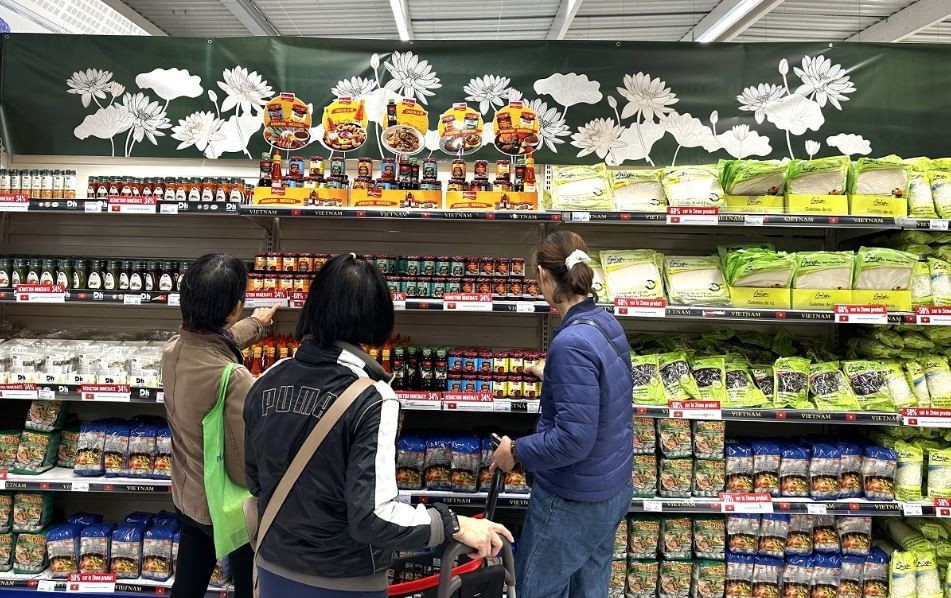 Economy
From September 25 to October 1, Vietnamese Goods Week took place at the Système U supermarket system in France. More than 15 Vietnamese businesses participated with agricultural products, food, textiles, and rattan.
October 02, 2023 | 14:29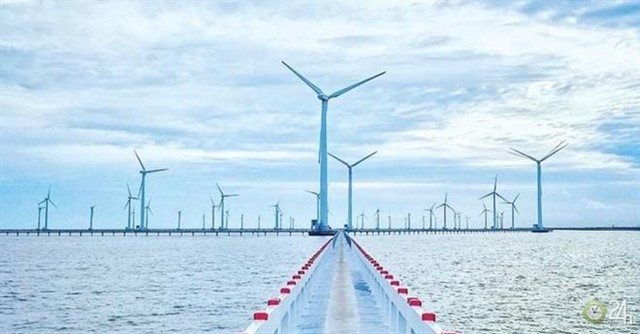 Economy
Vietnam's industry ministry has launched an investigation that could lead to anti-dumping duties on wind towers originally from China, following a complaint by domestic producers, the government said on Saturday.
October 02, 2023 | 06:00