Books are best medium to share knowledge between two peoples: Diplomat
Embassy of India in Hanoi organised an event to gift books to the Vietnam National Library on August 19. The books were gifted by the Ambassador of India Pranay Verma to the Vietnam National Library, under the initiative 'An introduction to India - Sharing Knowledge with the World' of the Ministry of External Affairs of the Government of India.
Photo provided by Indian Embassy in Hanoi
The event was organised by the Embassy as a part of the ongoing celebration of 150th birth anniversary of the Father of the Nation Mahatma Gandhi. The 36 books that the Ambassador gifted to the Library included 'My Experiment with Truth', a well-known book written by Mahatma Gandhi. Among other books were collection of poem 'Gitanjali' by Gurudev Ravindra Nath Tagore and other classics written by literary icons of ancient and modern times.
Ambassador Pranay Verma, in his remark made on the occasion, said that books are the best medium to share knowledge between people of two countries. He highlighted the civilizational links between India and Vietnam and acknowledged the continuous process of sharing knowledge between people of two countries for more than two millennia when Buddhist monks first brought the knowledge and wisdom of Lord Buddha to Vietnam from India.
Deputy Director of the National Library, Nguyen Xuan Dung, thanked the Ambassador for the gift to the Library and said that this new collection of book will create curiosity among Vietnamese readers to know more about India.
Heads of various Divisions of the Library, staff member and senior officials from the Embassy and staff members of Swami Vivekananda Cultural Centre were present in the event held in the audio-visual center of the Library./.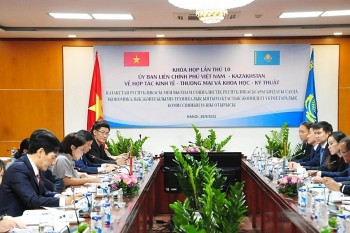 Friendship
The 10th session of the Vietnam-Kazakhstan Intergovernmental Committee on economic-trade and scientific-technical cooperation was held in Hanoi on September 26.