Bringing Vietnamese literature to the world – a long way to go
Local poet Bang Viet urged that the government should be more receptive when steering the development of Vietnamese literature to make sure contemporary works address issues of global and topical interest.
Though Vietnam has made certain attempts in promoting its literature to the world, these remain insubstantial, as remarked by experts at an ongoing international meeting in Hanoi.
An international conference on Vietnamese literature, which kicked off in the Vietnamese capital on Monday and will wrap up on Friday, is attended by the local literati and over 150 international poets, authors, and translators from 43 countries and territories.
Veteran poet Huu Thinh, chair of the Vietnam Writers Association, opened the conference by pointing to the fact that Vietnam has been heavily 'importing' foreign literary works for several decades.
"We aspire to be one of the world's culture exchange partners on an equal basis, not a mere 'consumer' of the world's tomes. The world is eager to learn about Vietnamese culture just as much as we are about theirs," Thinh stressed.
However, 'exporting' Vietnamese works is few and far between.
Only a limited number of works authored by late revered poets and authors – including Nguyen Trai, Nguyen Du, and President Ho Chi Minh – have been translated and introduced in Russia, France and China, along with a small number written by emerging writers.
"The number is really insubstantial compared to the thousands of 'imported' foreign literary works," he said.
Veteran poet Bang Viet, chairman of the Hanoi Art and Literature Association, noted that the country's literature arena was uneventful between 1975 and 1995, with most works published domestically.
"In the past 10 years, though the government has made efforts to speed up the integration of Vietnamese literature into the world, progress has gone on at a snail's pace. Several inpiduals have gone to great length to render Vietnamese works into other languages, but no governmental agency has taken on the task professionally," he pointed out.
Similarly, author Le Minh Khue put the poor global integration down to the limited popularity of the Vietnamese language, inadequate translation, publication and advertising.
Many international experts expressed a profuse interest in the promotion of Vietnamese literature.
A Chinese translator noted that three key criteria for a fruitful global integration are the emergence of worthy and topical works, the prevalence of outstanding translators, and good financial resources.
"Today's Russians are considerably less informed of Vietnamese culture and history than their predecessors. Russian researchers can help publicize Vietnam's culture and literature, but the job can be fulfilled satisfactorily only with the involvement of Vietnamese people themselves, including embassies, authors, poets, researchers, and governmental agencies," said Igor Britov, head of the editorial board at an international press agency in Russia.
He is also a salient researcher in Vietnamese culture and translator of Vietnamese contemporary prose and verse.
A board with a poem written by late Vietnamese playwright Luu Quang Vu is seen in this photo.
Local poet Bang Viet urged that the government should be more receptive when steering the development of Vietnamese literature to make sure contemporary works address issues of global and topical interest.
"Proper attention should also be paid to training translators, as most respected translators of French, Russian, and Chinese either passed away or are well past their prime. Meanwhile, though some of the younger translator generation excel in English, most are not yet fully capable of producing flawless translations, as translating Vietnamese works into other languages requires both brilliant linguistic skills and good literary appreciation," he elaborated.
The conference in Hanoi is the onset of the ongoing activities in the capital and the northern province of Quang Ninh to foster the country's literature, including the second Asia-Pacific Poetry Festival and the 13th Vietnam Poetry Day.
Thinh, of the Vietnam Writers Association, thus called for the establishment of an agency dedicated to promoting Vietnamese culture to the world.
The activities are designed to link Vietnamese authors and poets with international translators, researchers and publishers, and introduce local literary works to potential partners in different countries and territories.
Tuoitrenews.vn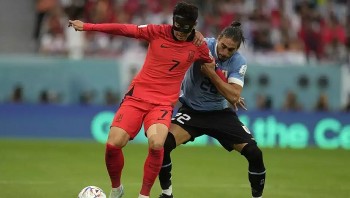 World
Both South Korea and Ghana are searching for their first wins at this year's World Cup. Ghana are facing the prospect of an early elimination from World Cup 2022 Group H when they travel to the Education City Stadium to face South Korea on Monday.