British Man Helps Hanoi's Homeless
"I was once homeless," is how Christopher Axe always introduced himself to students in his English class.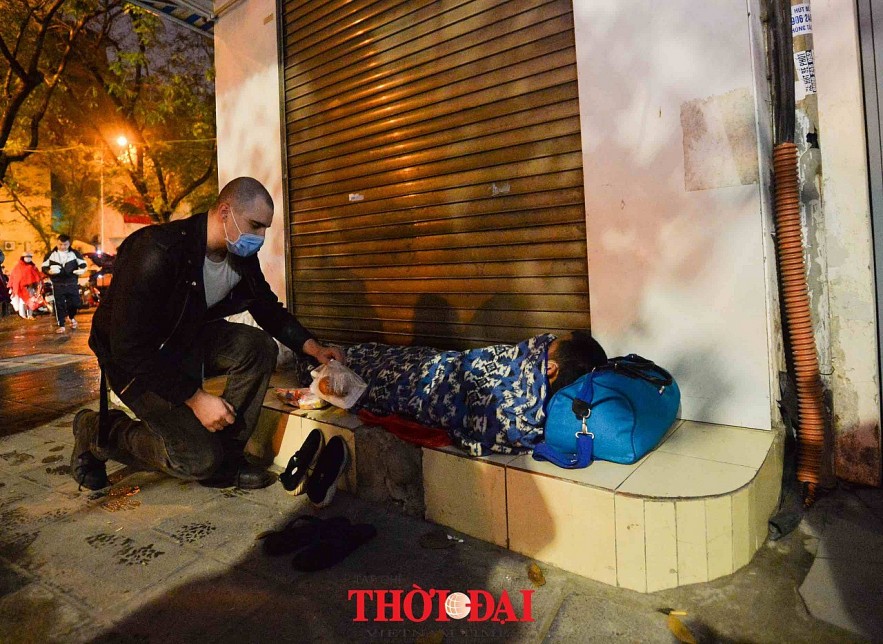 Christopher Axe delivers meals to the homeless every Thursday night
Protecting those on the streets
When the city lights turn off, the homeless return to the sidewalk. That's when Christopher Axe (28 years old) brought them hot meals. Help Hanoi's Homeless was founded by Axe with the purpose of supporting the unfortunate and helpless lives around Hanoi. For the past 4 years, Axe and the volunteers always spent one day a week going around the streets and alleys to bring gifts to people in difficult circumstances. Many people know his face, they call him by the name A Xay.
At exactly 10 p.m. every Thursday night, Axe and about 20 volunteers gather in front of Hanoi Railway Station before going to the streets.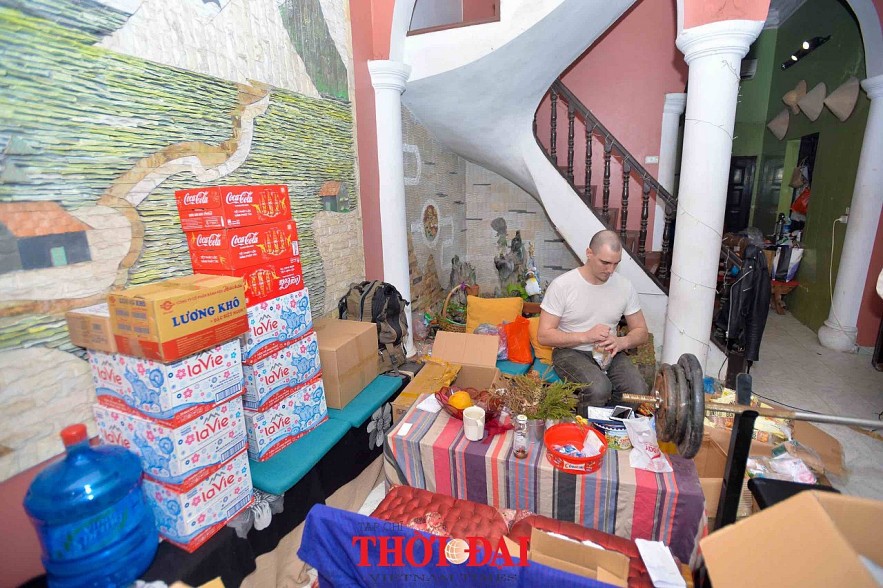 Axe personally prepared each gift. He has a certain sophistication when he always prepares personal hygiene items such as brushes, razors
"My team and I have been operating in Vietnam for about 3 to 4 years. We operate in locations where we have the resources and it's been done from day one until now. We spent a lot of time building resources and relationships in the area," said Axe.
Axe has a map of about 35 places in the inner of Hanoi where homeless people are, so that donors can easily find them. He cooperates with many organizations, thereby establishing a network of relief supplies including instant noodles and sausages. Most of the gifts will include necessities such as packaged food, sometimes the group will also cook hot dishes, along with other items like toothbrushes, toothpaste, razors.
"One problem that we have experienced, and also the most difficult, is that when homeless people are bullied by others, they can be robbed, harassed, or forced to do things to earn money. We hope to be able to reduce those things, and at the same time encourage others to do the same," he said.
Help Hanoi's Homeless usually gathers at Hanoi Railway Station
While the Covid-19 pandemic is still not under control, Axe's team adheres to not gathering in large numbers. When supporting people, the group will separate into small groups, ensuring each person wears a mask and disinfects their hands. Besides, the group also built a number of campaigns, contacted businesses to expand.
"If Hanoi returns to social distancing again, if anyone is really difficult, come to my house, I will provide you food enough for a week, masks and sanitizers, clothes. I know that while cities are social distancing to fight Covid-19, there are many people who have struggled to live, many have fasted for a few days. It hurts me to hear such stories. I've been in that situation before, so I really want to help them," Axe said.
Understanding the homeless experience
When they first met, perhaps no one thought that Axe was once homeless. After graduating from a prestigious university in his hometown (Manchester), he came to New Zealand with full of hope for the future with his favorite writing job. However, after only a few visa problems, he immediately lost his job, could no longer afford the rent and was forced into a vagrant situation.
They thought I was an addict, dangerous, lazy, or stupid, says Christopher Axe.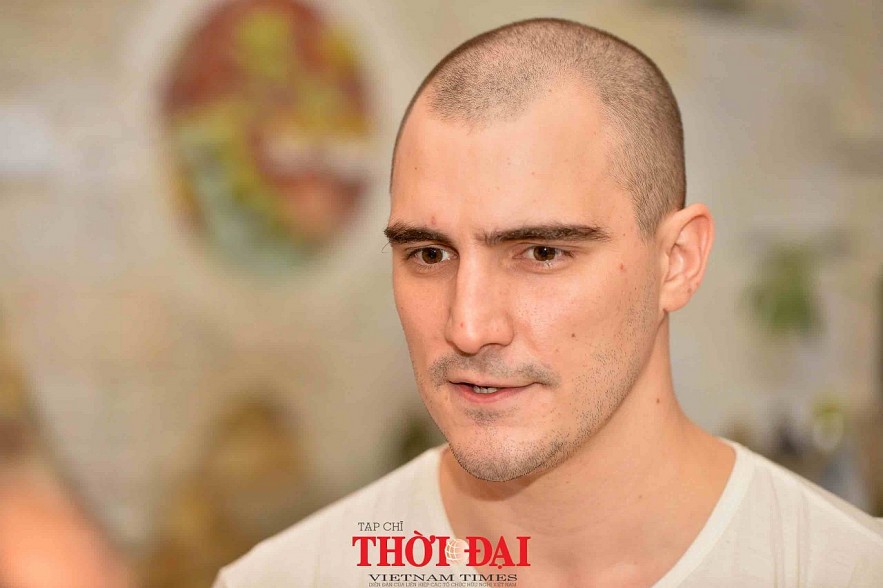 Christopher Axe, a teacher and writer
One evening, he rushed to protect a boy who was surrounded by five thugs. After that incident, he suffered a serious injury to the back of his head, but was picked up and cared for by the boy's family.
"Those gestures almost made me cry. It was the kindest gesture I've received in a long time," he said.
After days of traveling in many countries, Axe chose Hanoi as the next stop. He quickly found himself in many of the same situations he was in when he didn't have a place to stay. He started out as an English teacher, along with writing. After gradually stabilizing financially, Christopher devotes most of his money and efforts to providing the most basic support to those in need.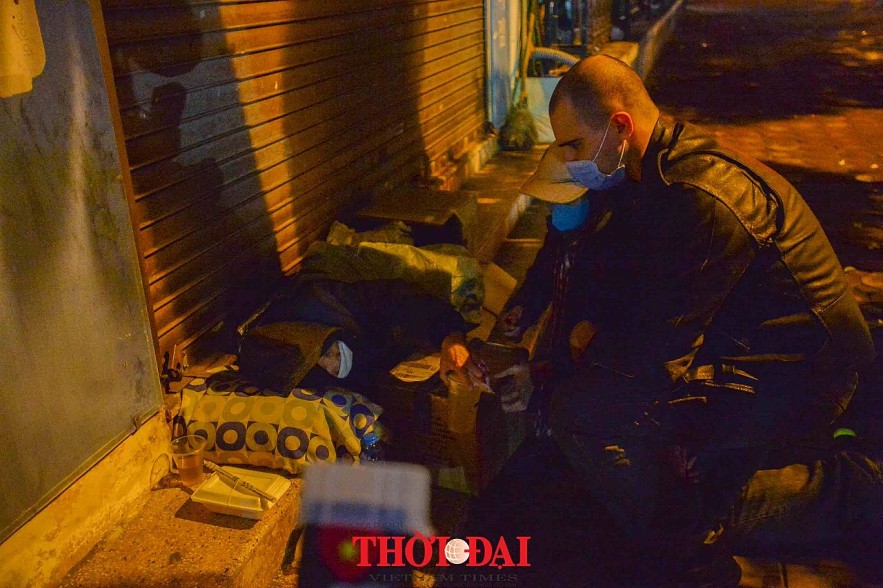 Christopher Axe has a deep empathy for the homeless because he was also a person living on the street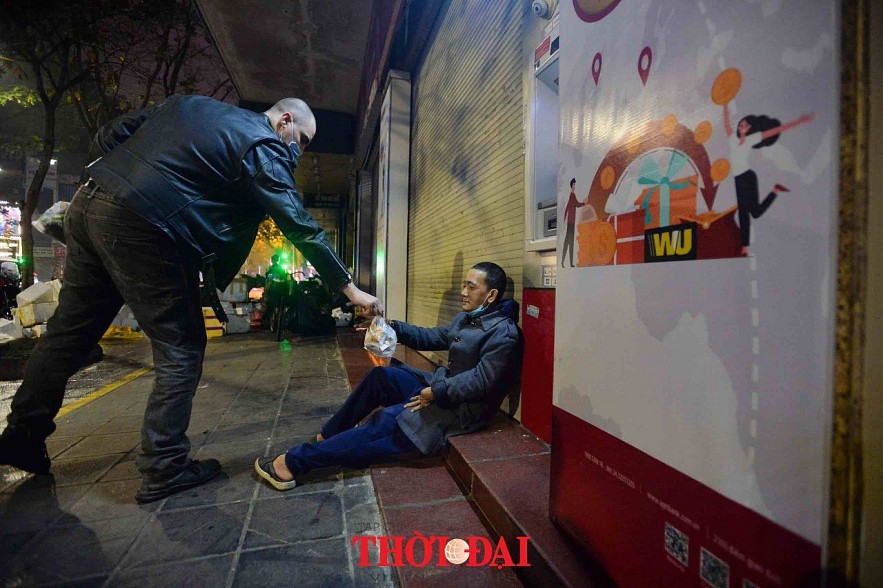 Hot meals come to the unfortunate lives on the streets of Hanoi
Thanks to the efforts of Axe and a network of charitable organizations - including the environmental volunteer group Keep Hanoi Clean or the social enterprise HopeBox, the expat community in Hanoi has built volunteer communities. This model has been replicated in many other cities, with branches in Ho Chi Minh City, Adelaide (Australia) and Prague (Czech Republic) operated by collaborators who used to work with him.