Ca Mau Holds Online Forum on Seafood Consumption
The forum aims to support enterprises, cooperatives, and production facilities in the province to connect and find output for products.
The Ministry of Agriculture and Rural Development coordinated with Ca Mau People's Committee to hold an online forum to promote agricultural and fishery consumption in Ca Mau on Sept. 18.
The forum took place under the supervision of Ca Mau. Chaired by Deputy Minister of Agriculture and Rural Development Tran Thanh Nam and Le Van Su, vice chairman of Ca Mau People's Committee, the event opened up new opportunities and directions for Ca Mau agricultural products.
The forum aims to support enterprises, cooperatives, and production facilities in the province to connect and find output for export, agricultural and aquatic, OCOP products, and specialties. It also creates favorable conditions for seafood processing and exporting enterprises to connect and cooperate with domestic and foreign buyers.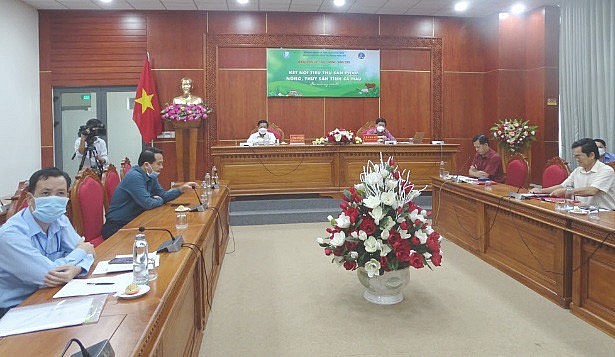 At the forum. (Photo: Ca Mau portal)
Production affected by pandemic
At the event, Chau Cong Bang, deputy director of Ca Mau Department of Agriculture and Rural Development, said that from the beginning of the year, Ca Mau's total production of aquatic products reached 405,258 tons, of which shrimp production was 142,873 tons, and processed shrimp was 114,957 tons.
Production and processing activities were seriously affected by the pandemic. Businesses have implemented measures to prevent and control the pandemic, as well as ensure safety in production and business. Some shrimp processing facilities temporarily stopped working, while factories and enterprises must implement select plans to reduce the number of workers, working hours, and shrimp processing capacity.
According to the Ca Mau agricultural sector, initial difficulties exist, but not much congestion was found in terms of harvesting and consuming summer-autumn rice.
Up to now, the harvest is about 95% finished and consumption has reached a stable situation. Shrimp prices in the past month strongly fluctuated due to the pandemic and restrictions.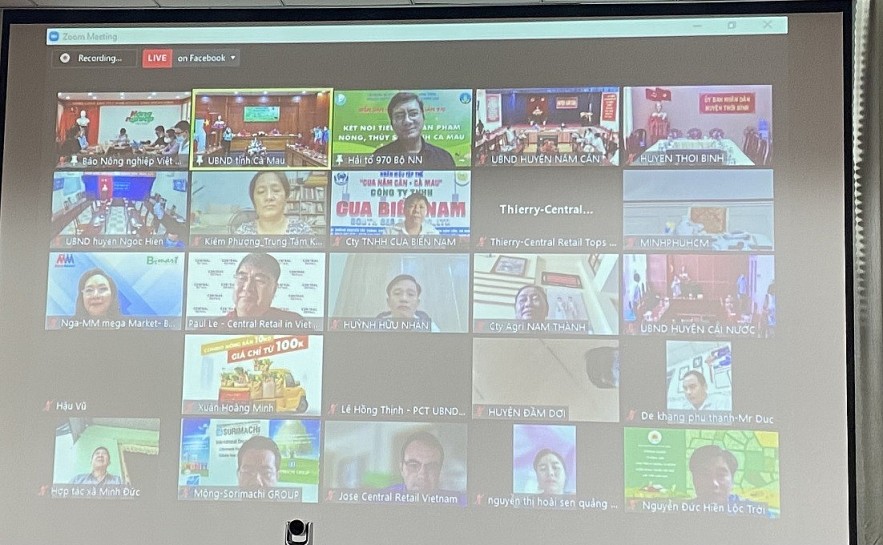 Delegates attended the forum online. (Photo: Ca Mau portal)
Working group founded to connect suppliers and consumers
To solve the above difficulties, Ca Mau established a working group to direct production, connect suppliers and consumers of agricultural products in the pandemic.
The group has supported cooperatives, businesses, and people to consume more than 20,000 tons of agricultural products of all kinds.
It has 1,183 tons left and is continuing to support the connection. The group also helped review the residents' area of aquaculture until the harvest season. Ca Mau has 1,958 tons of seafood from 271 households, including 1,837 tons of white-leg shrimp from 247 households, nearly 96 tons of goby from 16 households, and 25 tons of blood cockles from eight households.
The group timely provided a list of 32 shrimp purchasing agents, ensuring Covid prevention while help farmers contact, negotiate and sell products according to demand. Besides, the group continues to contact and update the list of qualified shrimp purchasing agents to support farmers.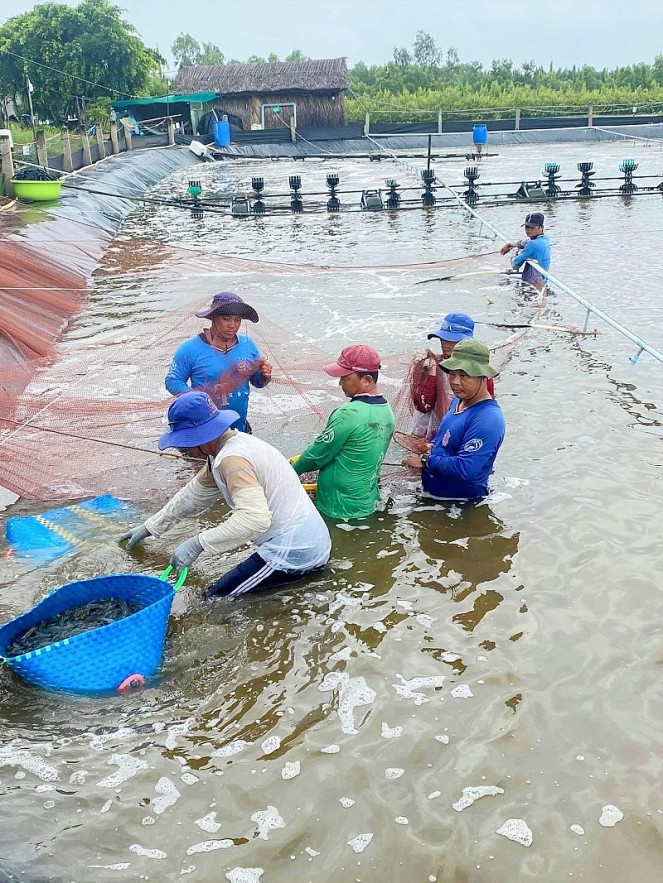 Farmers harvest the shrimp.
Finding buyers for agricultural and aquatic products
At the forum, Ca Mau introduced products that were in need of buyers. The attendees discussed obstacles to the consumption of agricultural and aquatic products in the context of the pandemic.
The forum heard representatives of traditional distribution channels and e-commerce platforms, purchasing, and processing enterprises share solutions to improve consumption and develop domestic and foreign markets.
Many businesses and distributors said Ca Mau's shrimp and crab products were tasty and well known, however, their price at farms had a huge difference compared to the market.
Do Quoc Huy, marketing director of Saigon Co.op, said: "The Ministry of Agriculture and Rural Development and the province should have a guide to avoiding concentrated harvest to reduce to farmers' difficulty. Besides, they should think of how to bring Ca Mau shrimp to Ho Chi Minh City with the most reasonable price and freshest quality. To achieve that, all steps from cultivation, preliminary processing, to packaging and preservation must be standardized. Furthermore, the packaging should be attractive."
Meanwhile, Tran Kim Nga - external affairs director of MM Mega Market Vietnam, said: "The MM Mega Market already has stable suppliers in Ca Mau. Ca Mau's main products such as black tiger shrimp and crab are currently bought a lot from Ca Mau's local businesses. However, the province has been implementing distancing, "three at place" and "one road, two destinations" models to cope with the pandemic since Aug. 23, leading to many difficulties for businesses. Businesses cannot produce at full capacity, resulting in a serious shortage of supplies for supermarkets and distributors."
Le Van Su, Vice Chairman of Ca Mau People's Committee said the locality has not been able to form a chain to cooperate with distributors. Once a partner selects a product, they register with Ca Mau so that the province and the buyer can establish a supply chain that best meets the market's needs.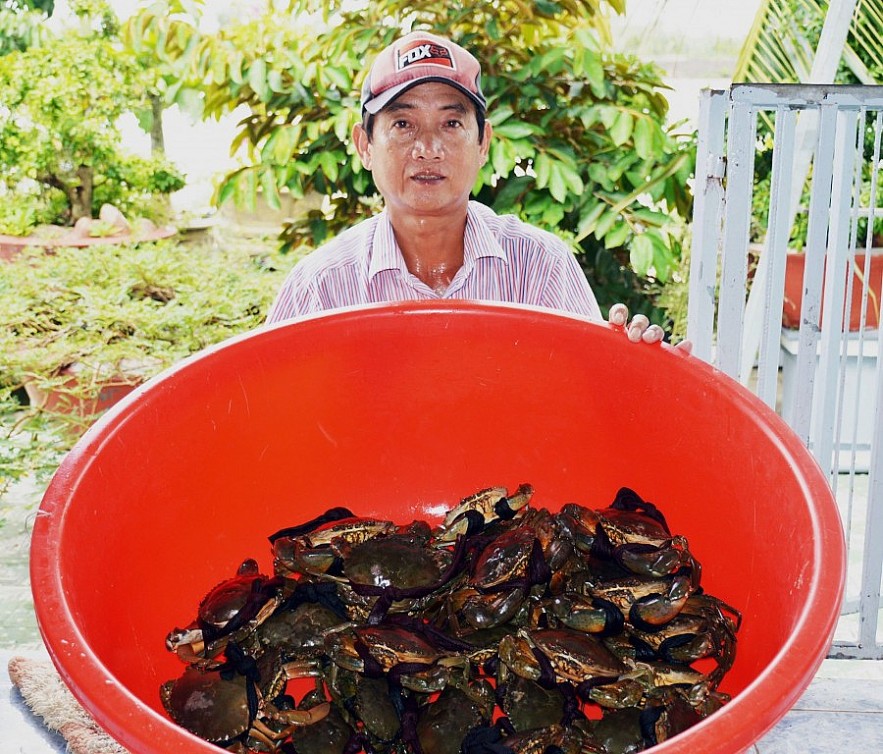 Ca Mau crab is loved by customers.
According to Su, Ca Mau is Vietnam's southernmost province and has a special advantage in developing aquaculture production, in which shrimp is the main production.
Ca Mau has a strong team of shrimp processing and exporting enterprises that have been exporting to many markets with an average turnover of around US$ 1 billion per year.
"Ca Mau currently has about 33 recognized OCOP (One commune, One Product) items, of which three are 4-star rated. The province still has many potential OCOP products that interest consumers. This is a very good condition for the province to connect with distributors, improve the output and value of its specialty and bring them to many markets," said Su.
Deputy minister of agriculture Tran Thanh Nam said he hoped to build a value chain so that retailers and export processing enterprises could be closer to the raw material area, local leaders to solve difficulties.
"I hope that the People's Committee of Ca Mau and businesses will continue to connect with the forum in the near future. We have recently connected 1,400 partners, including businesses and cooperatives of Ca Mau to supply to Ho Chi Minh City market through combo bags which are highly appreciated by consumers. In the coming time, the ministry will connect the consumption of agricultural and aquatic products. Tt looks forward to receiving the support and suggestions from retailers, businesses, and cooperatives," Nam said.
The forum included a signing ceremony, implementation of criteria as well as the assurance of the supply chain of goods between the leaders of Ca Mau People's Committee and two big retailers, Central Retail and Loc Troi. Deputy minister Tran Thanh Nam said he hoped they would promote the achieved results and continue to work with the forum.
In the first eight months of 2021, Ca Mau's export turnover was estimated at US$ 707 million, equivalent to more than 64% of the planned figures, an increase of nearly 20% over the same period last year.
Seafood exports reached US$ 653 million, accounting for more than 92% of the province's turnover, thanks to the high growth rate in the first months of 2021.
In general, the province's seafood exports achieved positive results, increasing 17.6% overall.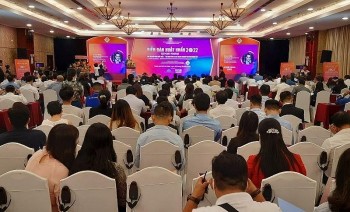 Focus
Vietnam News Today (Dec. 9): Vietnam - Singapore innovation centre helps firms transform production; HCM City among most searched destinations by travelers; Vietnamese digital technology industry's revenue estimated at 148 billion USD in 2022; Two Vietnamese films up for consideration at Oscars.