Café Crawls: A Breezy Stroll Through Vung Tau
In VNT's newest installment, staff writer Ollie Nguyen dives into the tropical shores of Vung Tau, Vietnam's most peaceful beach town.
The coffee route. Screenshot by Ollie Nguyen.
Vung Tau is a port city and the capital of Ba Ria - Vung Tau Province, which is located on a southern Vietnam peninsula, a mere two hours drive from HCMC or two hours flight from Hanoi. Vacationers have flocked to Vung Tau for generations, eager to soak in the charismatic town's sun and waves, making it a desirable destination for you to visit as summer approaches.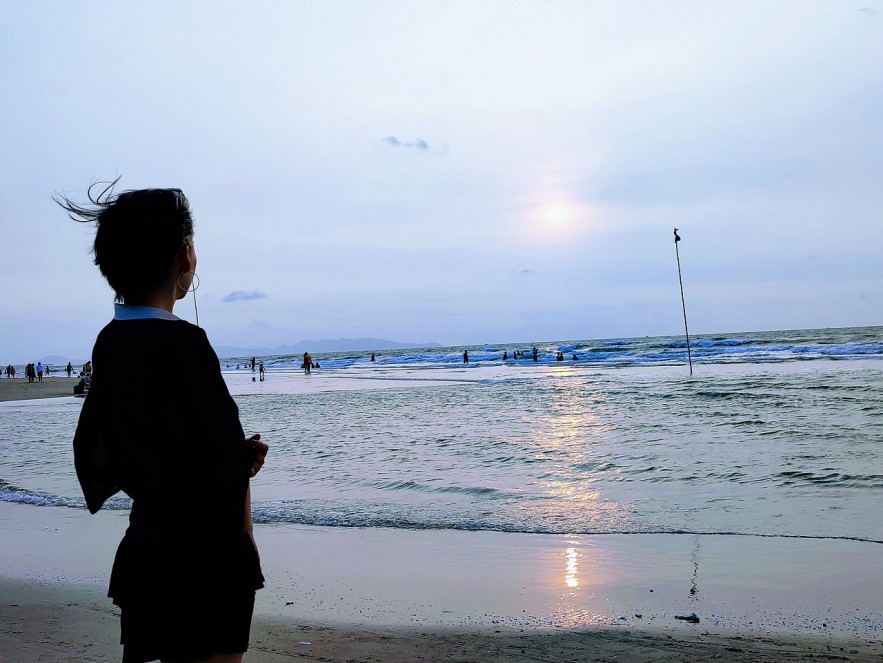 6:20 AM at Ba Ria - Vung Tau beach, witnessing the sunrise. Photo: Ryan Terry
Valley Beach - Vung Tau. Photo: Ollie Le Nguyen
1st café: Marina Club & Coffee - 3 Ha Long, Ward 2, Vung Tau
The Marina Club & Coffee in Vung Tau is a well-known, freshly remodeled restaurant-lounge-café complex in the heart of the seaside city. Its latest renovations provide a stunning ocean view and a Mediterranean-style ambiance, making it a must-see for travelers.
If you're looking for a place to enjoy a refreshing detox drink or a refreshing cocktail, this is the place for you. You can easily get lost in the blue sky and the sea view while sipping the drinks. A double shot-ice cappuccino and carrot juice would be perfect for the hot climate.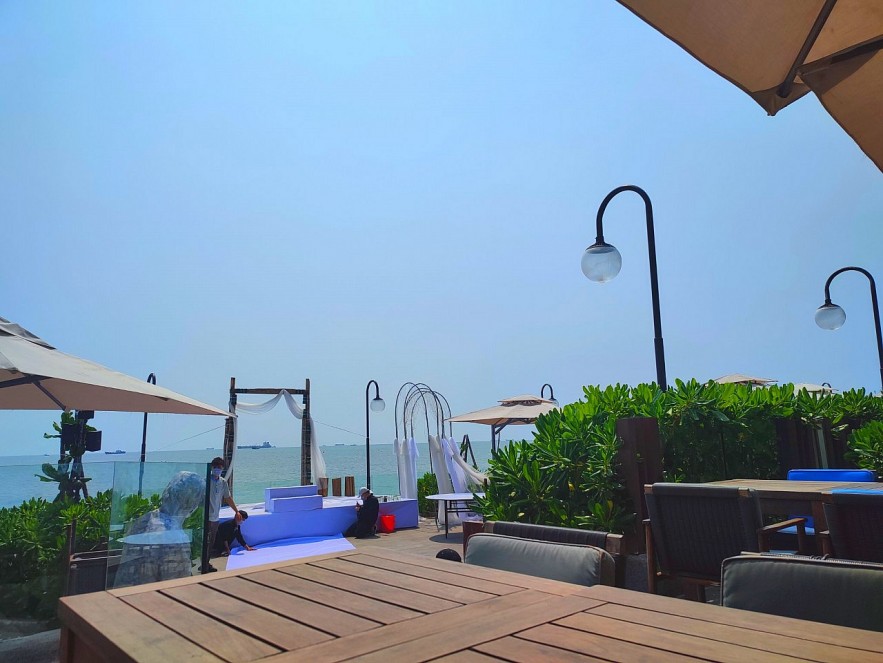 View from Marina Club Vung Tau cafe & bar area. Photo: Ollie Le Nguyen
Marina Club Vung Tau is undoubtedly a must-see for anyone who wants to snap for Instagram while having fun. The place is known for its broad and high-quality drink menu, in addition to its beautiful environment.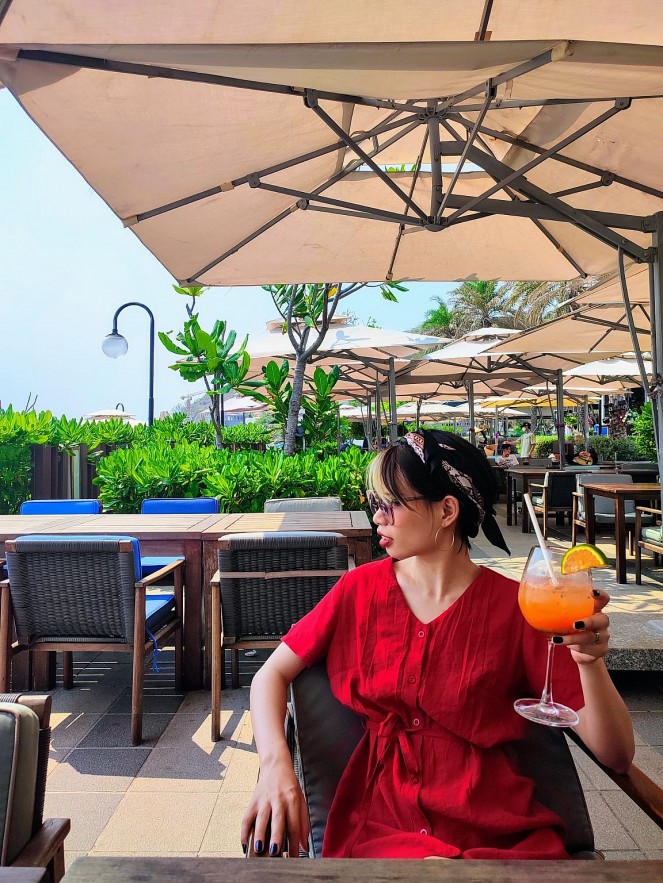 View from Marina Club Vung Tau cafe & bar area. Photo: Ryan Terry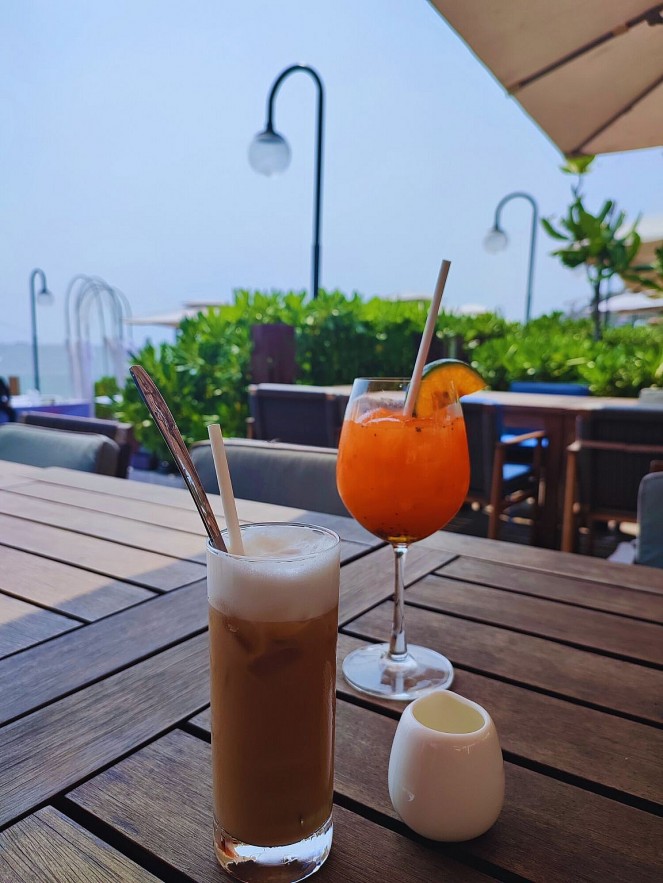 A 2 USD carrot and orange juice and a 4 USD iced latte. Photo: Ollie Le Nguyen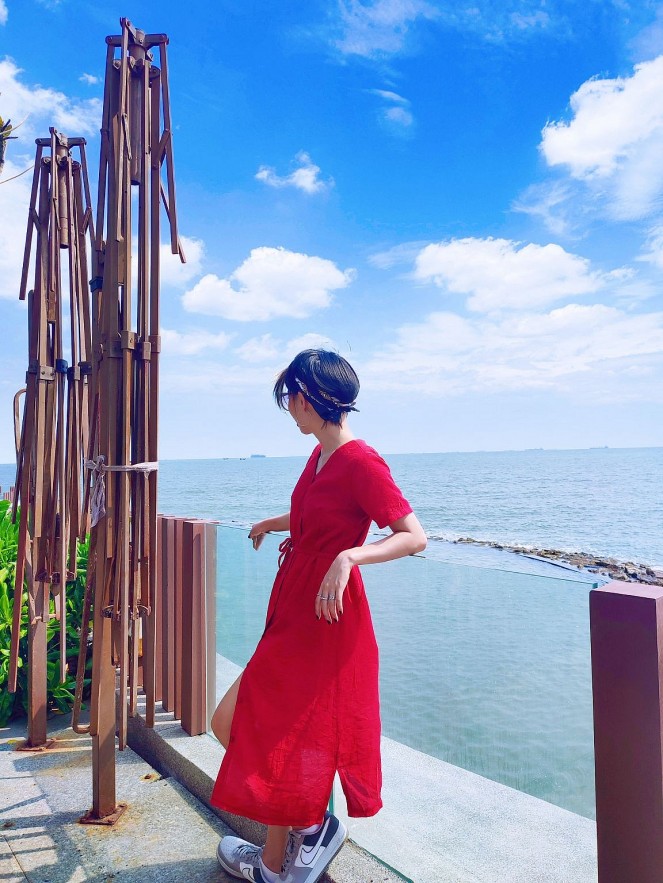 Area in the back overlooks the ocean at Marina Club Vung Tau. Photo: Ryan Terry
My boyfriend had a carrot and orange juice, while I ordered a classic iced latte. The beverages range from 4 to 13 USD, which is slightly more expensive than a café in any city, but keep in mind that you are paying for the environment as much as you are for the drinks. With a selection of fresh, succulent seafood dishes also available at the restaurant, you'd be missing out if you didn't sample the local fish too, right?
2nd café: Gazebo café and lounge - 90 Ha Long, Ward 2, Vung Tau
Crowded front view of Gazebo at night. Photo: Ollie Le Nguyen
As I drove off on Ha Long street, along the coast of Pineapple Beach, I spotted Gazebo Beach Café and Lounge. During the day, Gazebo is a regular beach cafe but at night, it becomes an eye-catching location with a vibrant bustling lounge along with exciting and attractive entertainment activities.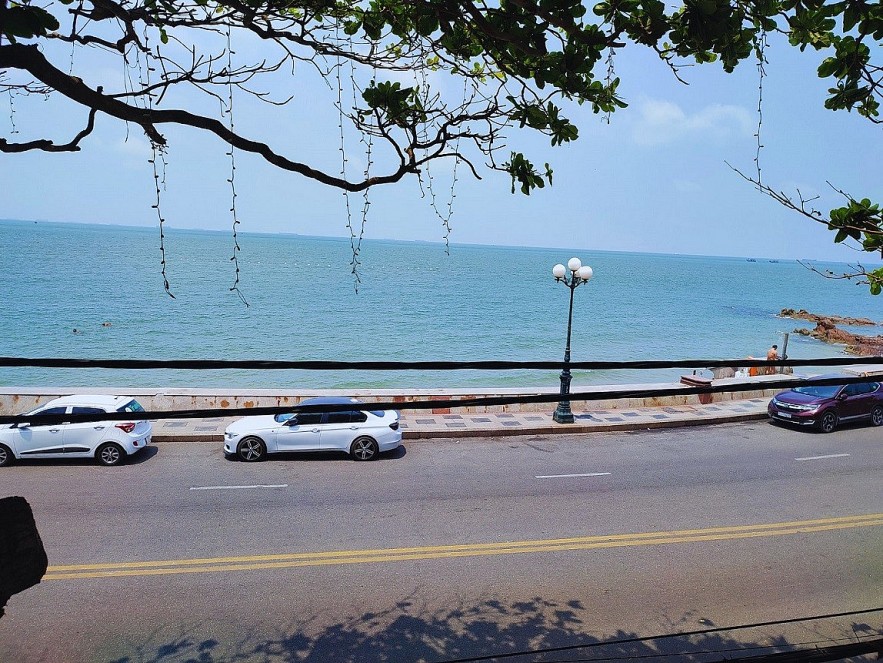 Gazebo front view is Pineapple Beach. Photo: Ollie Le Nguyen
Pineapple Beach (Bãi Dứa) also known as Lang Du Beach, is located between Front Beach and Back Beach, to the west of Small Mountain, near Nghinh Phong Cape. Currently, Pineapple beach is one of the most beautiful beaches and attracts many tourists to Vung Tau.
Have your morning coffee on the entrancing sundeck of the Gazebo if you want to enjoy a discussion with your friends. Toast and other common breakfast items are offered here. You could keep the conversation going with a $2 espresso. For lunch and dinner, there is fresh seafood on the menu in addition to beverages.
The drinks are typically beer and wine because it is a cafe with a luxury lounge ambiance integrated that is close to the beach. Other drinks, however, taste wonderfully sumptuous and are visually eye-catching. I came around Gazebo after dinner so I had quite an experience with the cocktails mostly.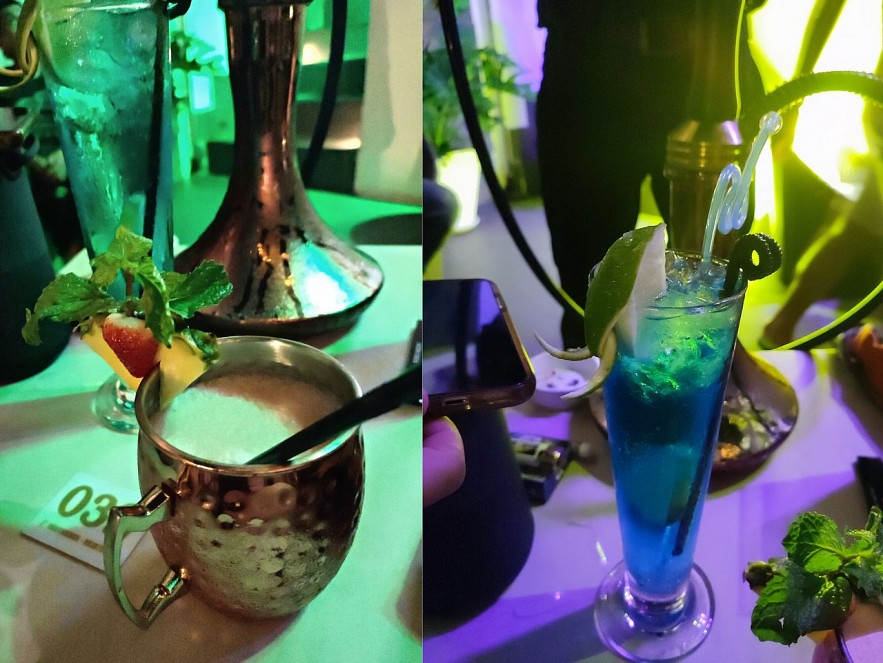 A classic Piña colada and A Blue Lagoon at Gazebo. Photo: Ollie Le Nguyen
As the sun sets and Vung Tau's nightlife commences, Gazebo stands out as one of the more lively parts of town. From a distance, you can see and hear the pulsating music and brilliant lights, and you'll be lured to the nightly scene that unfolds there.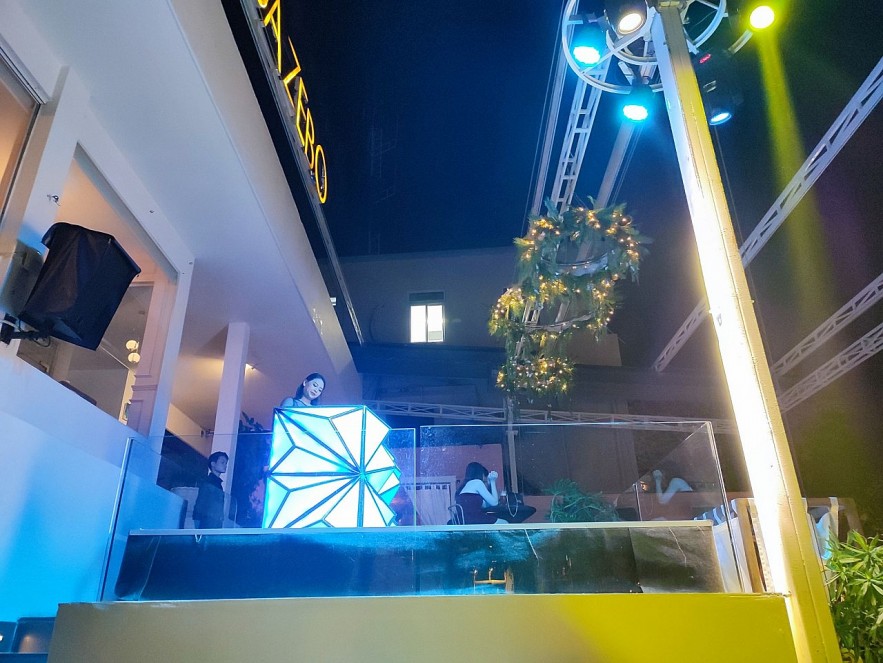 You'll have a fantastic view of the DJ booth and the go-go dancer from the audience. Photo: Ollie Le Nguyen
When go-go dancers and dazzling stage lights entered the scene, the peace of the entire beach at Ha Long Street was shattered. The sound of the ocean waves and quiet conversation over coffee is replaced by the clinking of champagne glasses and bassy music in a high-end nightclub ambiance as DJs playing electronic music delight visitors.
3rd café: SoHo Coffee – 66 Ha Long, Ward 2, Vung Tau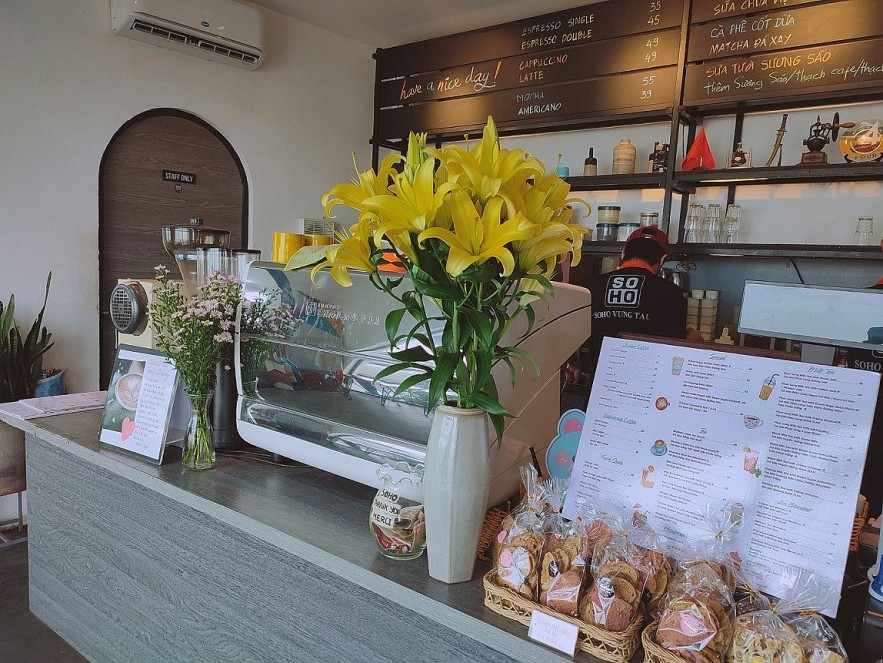 Soho coffee's design is serene and pleasant. Photo: Ollie Le Nguyen
Soho Coffee is one of the newest and most popular names in town right now. The seaside cafe is exceptionally airy with a great view, located on the hottest Ha Long Street in Vung Tau city.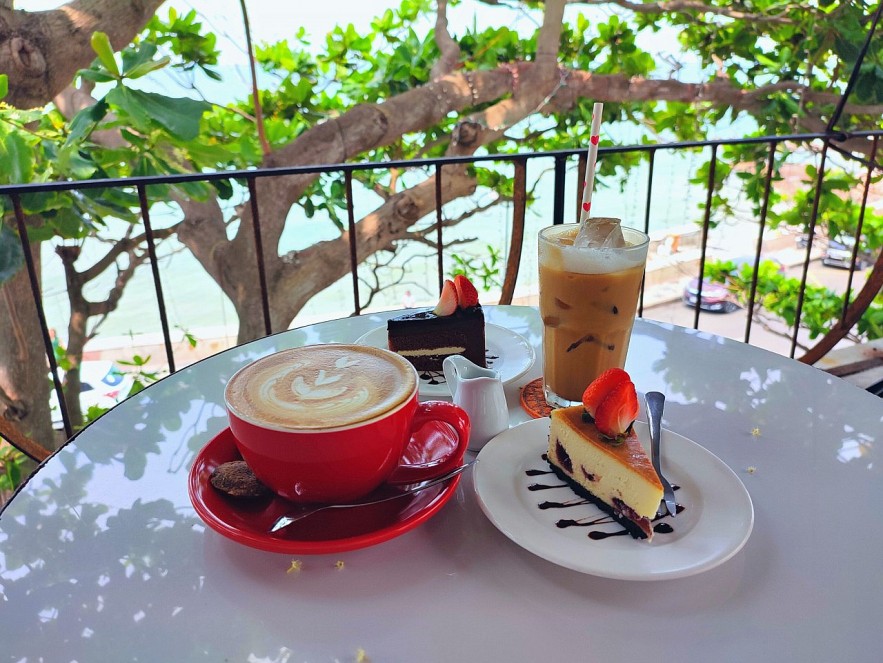 The cost of a Vietnamese milk coffee is $1.29, a latte is $2.09, a dark chocolate cake is $1.66, and a cheesecake is $2.35. Photo: Ollie Le Nguyen
Furthermore, delicate white, cool, and light blue embellish SoHo, two colors that change throughout each item displayed around the shop, gives a stunning aesthetic effect. This place is surely a must-check attraction for Instagram lovers. As a result, it's no surprise to see young people flock to SoHo Coffee to experience the high-end, cultured atmosphere by the sea.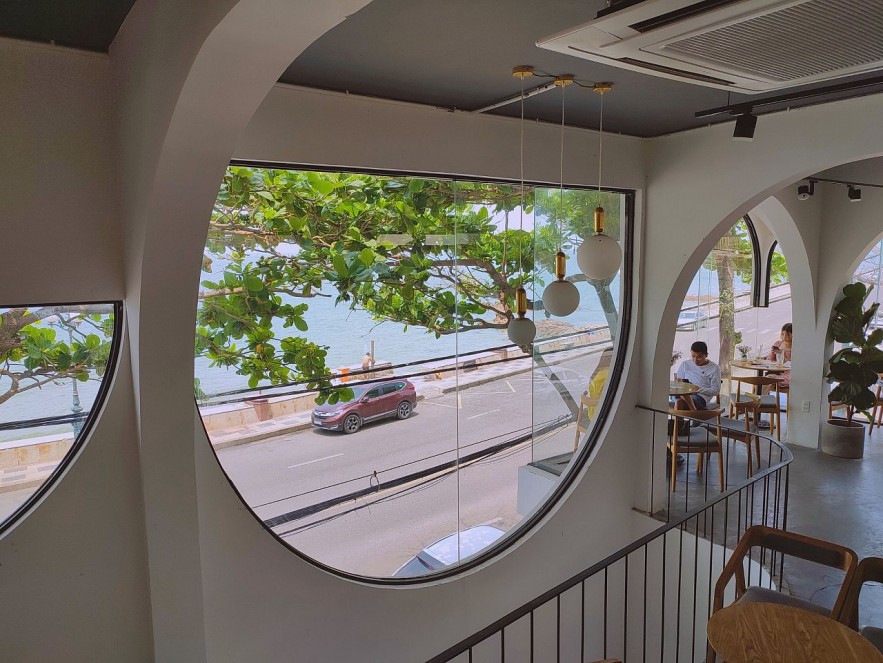 Delicate white, cool, and light blue decor at SoHo. Photo: Ollie Le Nguyen
Milk tea, flower tea, latte, mocha, and other cool drinks are available on SoHo Coffee's drink menu. Moreover, the café offers a variety of appealing cakes, much to the delight of sweet-tooth beachgoers. You may enjoy checking in while overlooking the beach for photos.
Top area of SoHo. Photo: Ollie Le Nguyen
The menu is written in cute handwriting, and also uses eco-friendly bamboo straws. The price is quite affordable, it ranges from just over a dollar up to five dollars. As a warm sunset melts into an inviting sea, enjoy a warm cuppa with some cake - a perfect end to your day in Vung Tau.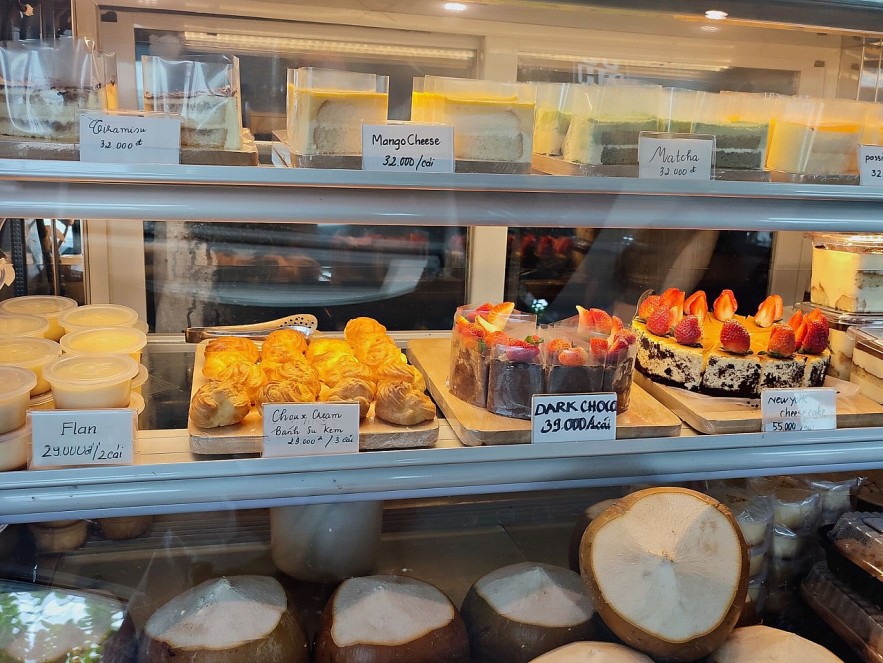 Cake are being displayed at the center of the entry so you can pick out your favourite dessert. Photo: Ollie Le Nguyen
A stunning cafe as SoHo is a must-visit for getting your new photos taken. Photo: Ryan Terry
Like a Local: Hanoi's Bia Hoi Culture

Hailed as the best beer for backpackers, Hanoi's beer halls are frequented by tourists and locals alike. While a friendly atmosphere, the Vietnam Times offers ...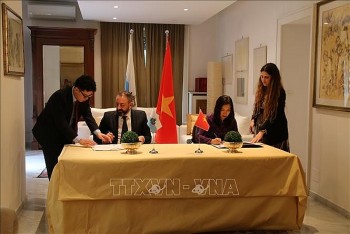 Friendship
The two countries will continue promoting cooperation to enhance growing ties between the two countries based on the good friendship since they established diplomatic relations in 2007.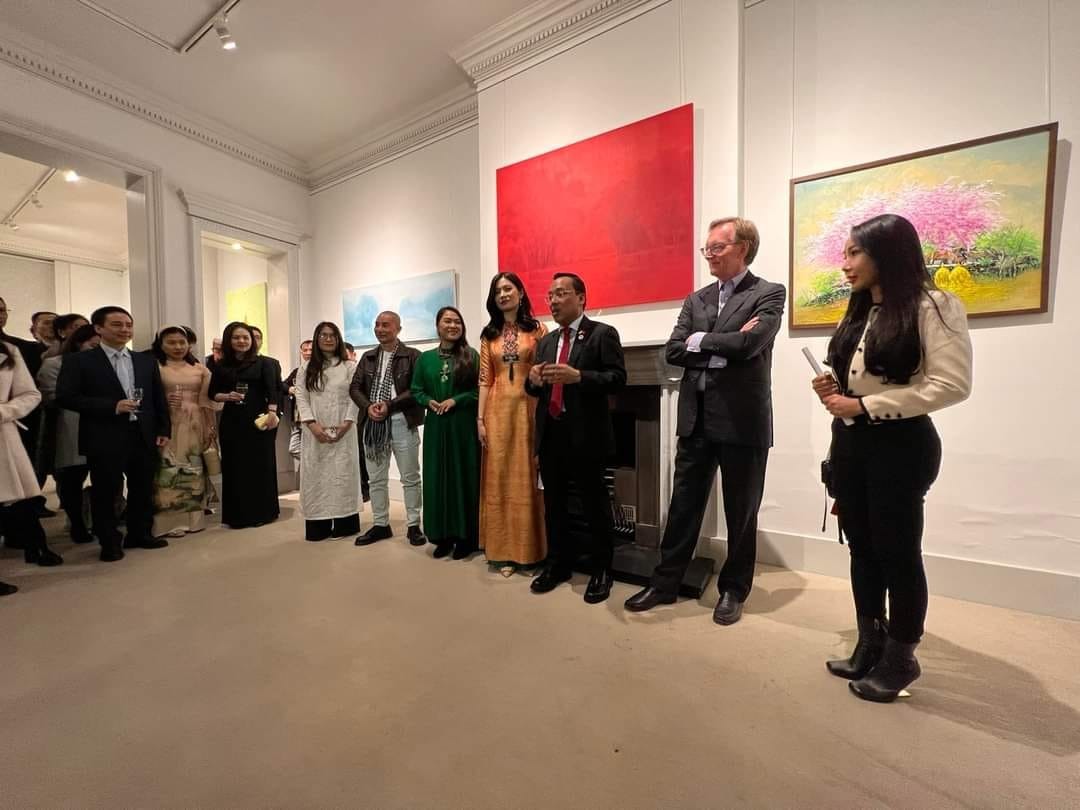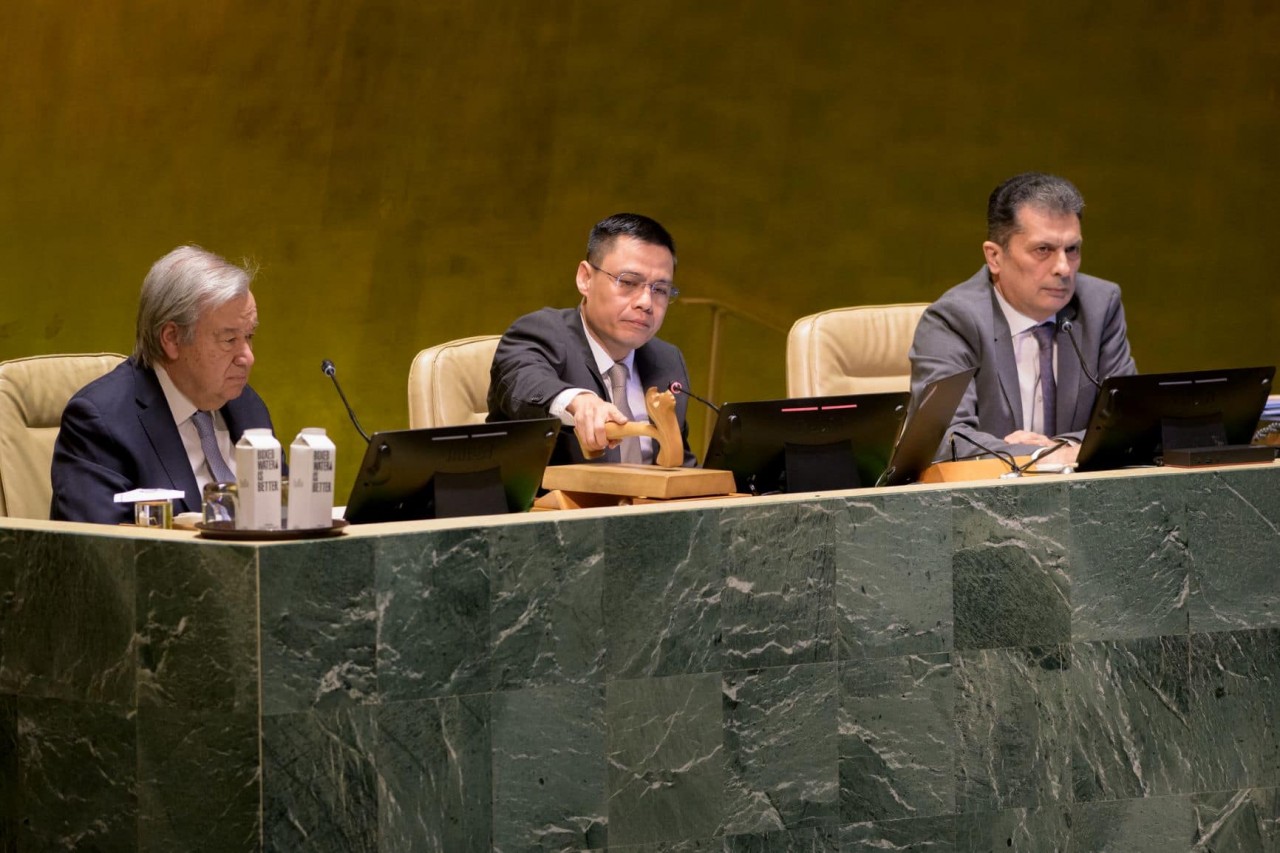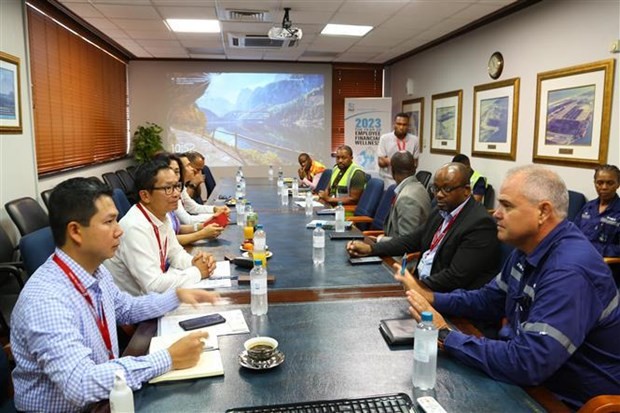 Multimedia
From March 19, the second season of "Nine+ O'Clock" on VTV3 - National Television of Vietnam in coordination with the Vietnam General Confederation of Labor, will come back with new and exciting programs for Vietnamese union members, workers, officials and laborers.
March 15, 2023 | 12:42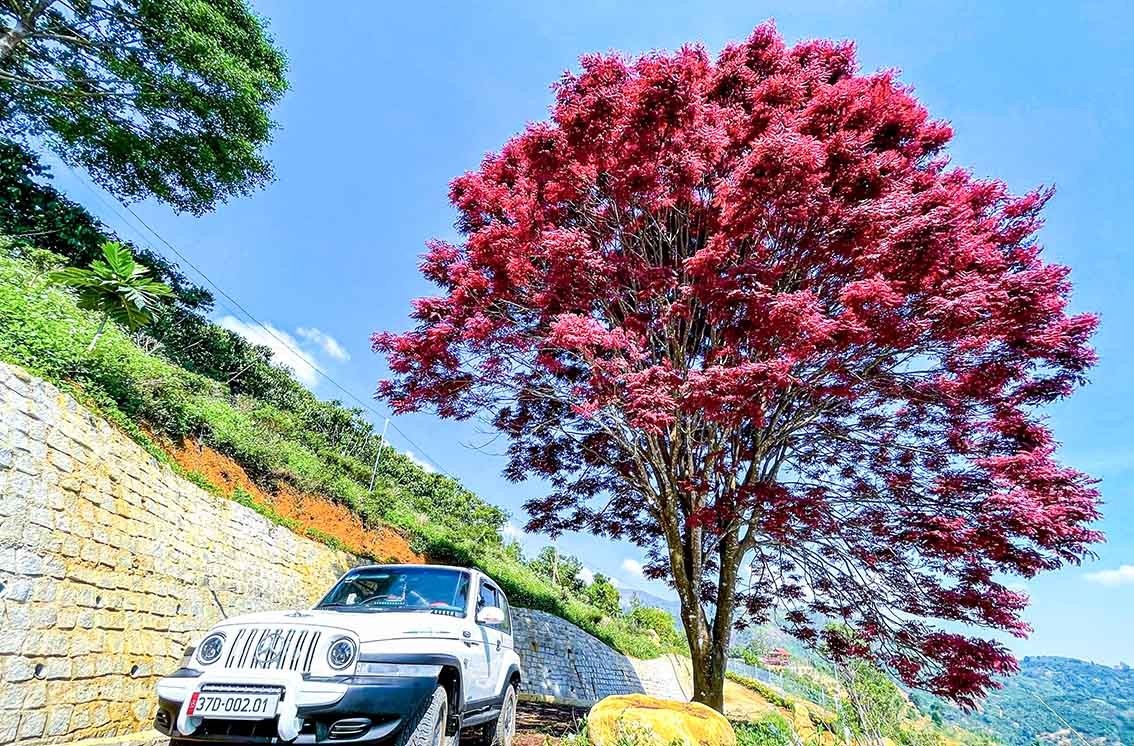 Multimedia
The topic of finding the real name of a beautiful lonely red-leaf tree in the Bao Lam district is attracting hundreds of young people to capture the most beautiful Instagram check-in pictures here.
March 08, 2023 | 22:46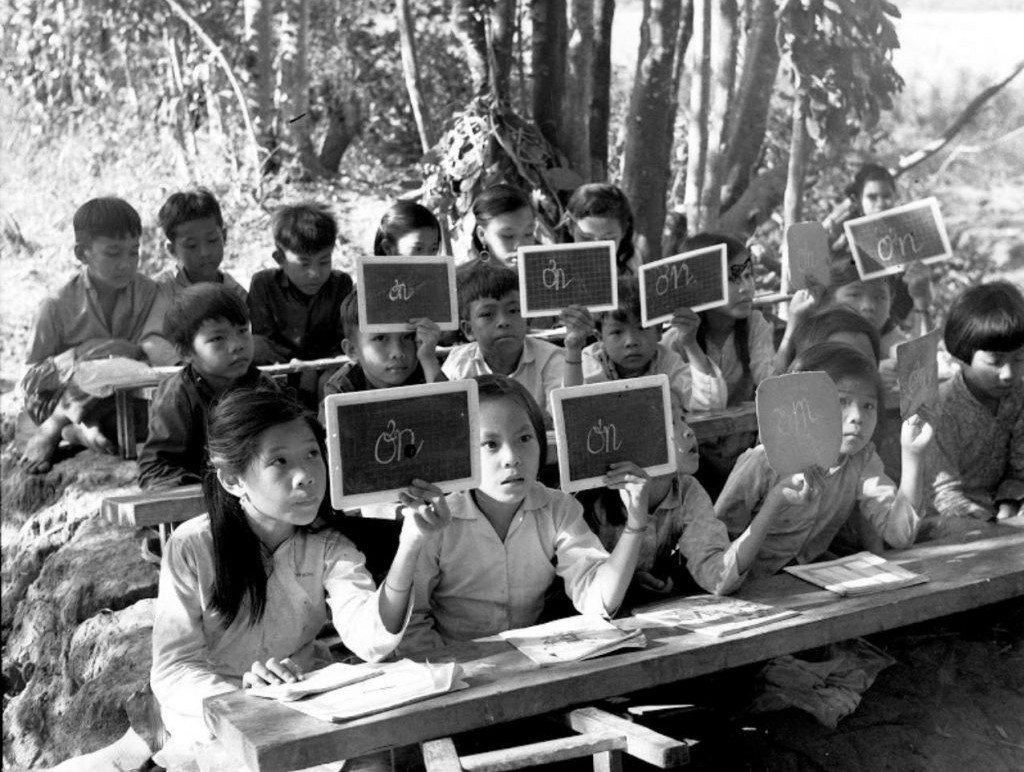 Multimedia
Vo An Khanh's stunning photography demonstrates the dismay of war as well as the strength of the Vietnamese people. Although he passed earlier this year, his spirit lives on through his photos.
March 06, 2023 | 14:55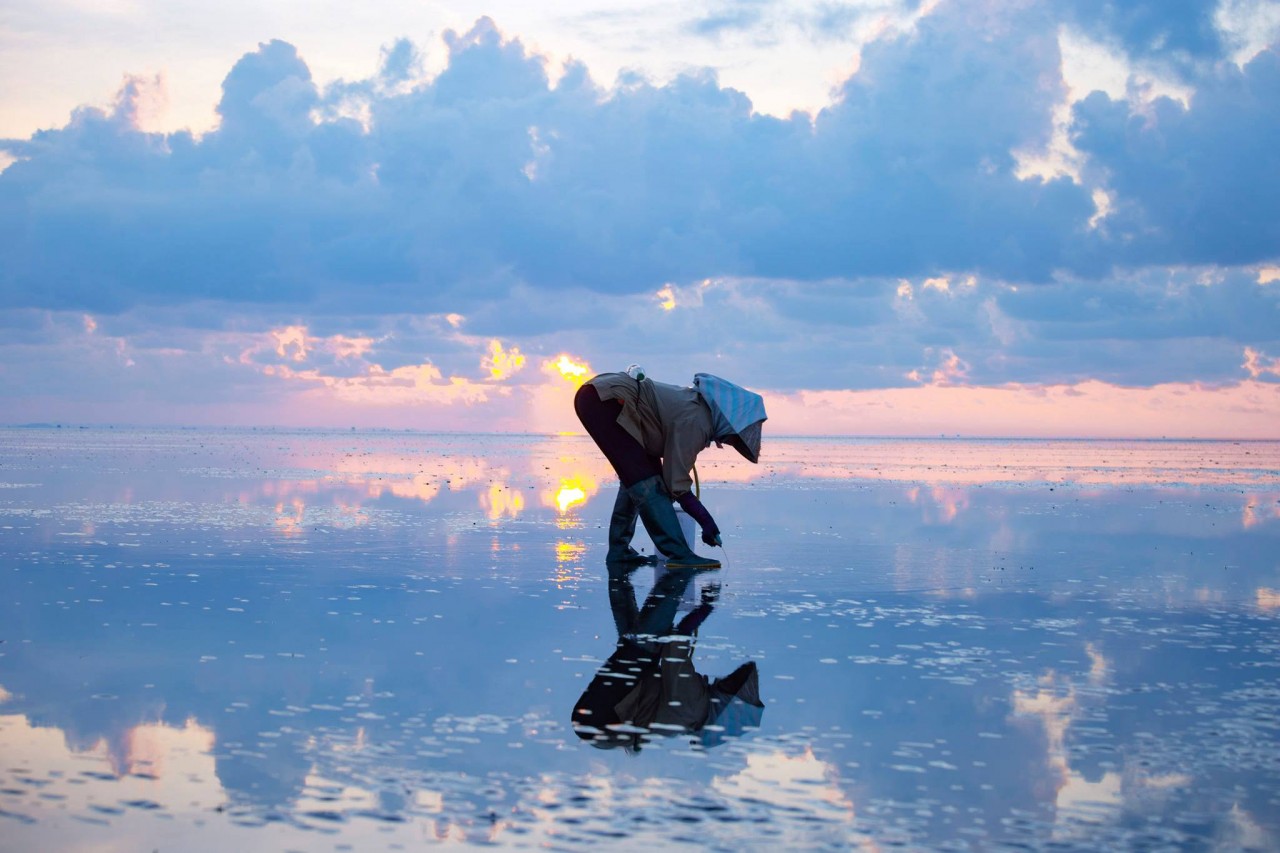 Multimedia
Quang Lang Beach is located in Thuy Hai commune, Thai Thuy district, Thai Binh province, about 140km from Hanoi. Early in the morning, when the water dries up, the sea surface is coated with a thin layer of water that is shallow enough to dip your ankles in, making it look like a giant mirror reflecting the crystal blue sky.
March 04, 2023 | 14:35