Like a Local: Hanoi's Bia Hoi Culture
Hailed as the best beer for backpackers, Hanoi's beer halls are frequented by tourists and locals alike. While a friendly atmosphere, the Vietnam Times offers a few tips and tricks to navigate crowded beer halls and enjoy Vietnamese beer like a local.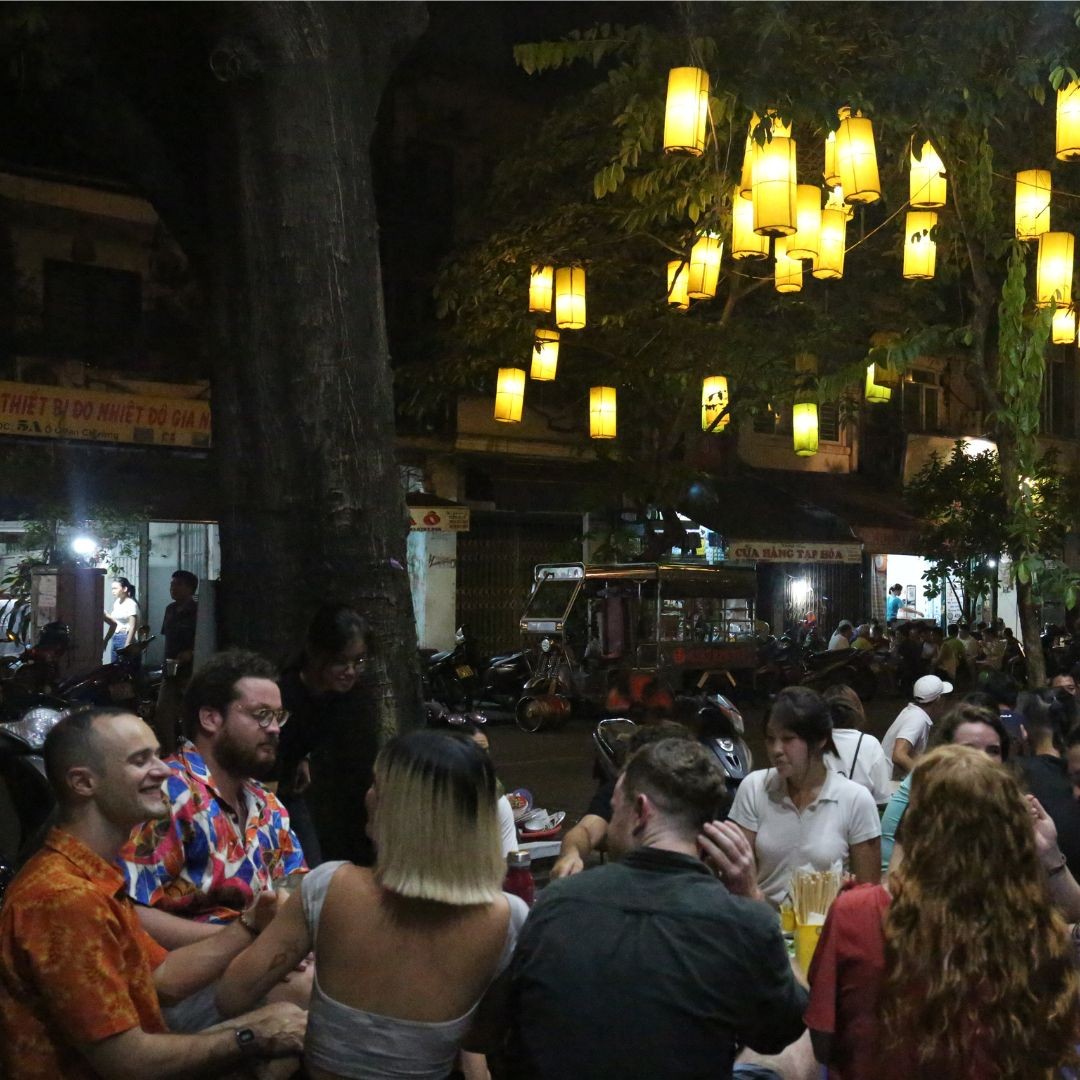 Enjoying beers beneath a banyan tree. Photo by Zoey Nguyen.
Appearing above us like floating glasses of golden beer, the lanterns of Phùng Hưng Street warmly welcome my friends and I to one of Hanoi's most iconic locations: Beer Street. Located near the intersection of Tạ Hiện Street and Lương Ngọc Quyến Street, this area of Old Quarter is beloved for its dozens of cheap beer shops, served swiftly and cheaply with an expert pour.
Plenty of sights and sounds surround us as we each down our beers. Vietnamese performers, dressed as ancient gods and tricksters, dance on the streetcorner. A curious toddler mindlessly babbles as his drunken uncle bounces the boy on his knee. As a young Vietnamese man arrives on a motorbike with a fresh keg, a rowdy group of nearby tourists begin to cheer him on, ready for another glass!
A trip to Hanoi is not complete until visiting the merry alleyways of Beer Street. While the intense crowds may be a bit intimidating, I follow my local friends and quickly learn how to enjoy a night at a traditional bia hoi.
History of Hanoi's Beer Culture
Before French colonization, Vietnamese people preferred rice wine, as the beverage was easy to make and boasted a stronger alcohol content. The French elite would be the only ones to try the first beer in Vietnam because very few Vietnamese workers could afford such a drink. Despite the low popularity among the Vietnamese natives, the French continued to adapt their beermaking traditions for the Southeast Asian climate.
In the 1950s, as Vietnam liberated the north from the French colonists, the Vietnamese reclaimed many French-owned breweries as well and began incorporating local ingredients, adding a Vietnamese dash of flavor into the French beverage.
You can thank President Ho Chi Minh for Vietnam's current love of beer. In the 1960s, as war with the United States intensified and materials were scarce, the Vietnamese leader declared that rice should only be harvested for food, therefore, no more rice wine. To substitute their alcoholic beverage of choice, beer became in vogue for patriotic Hanoians.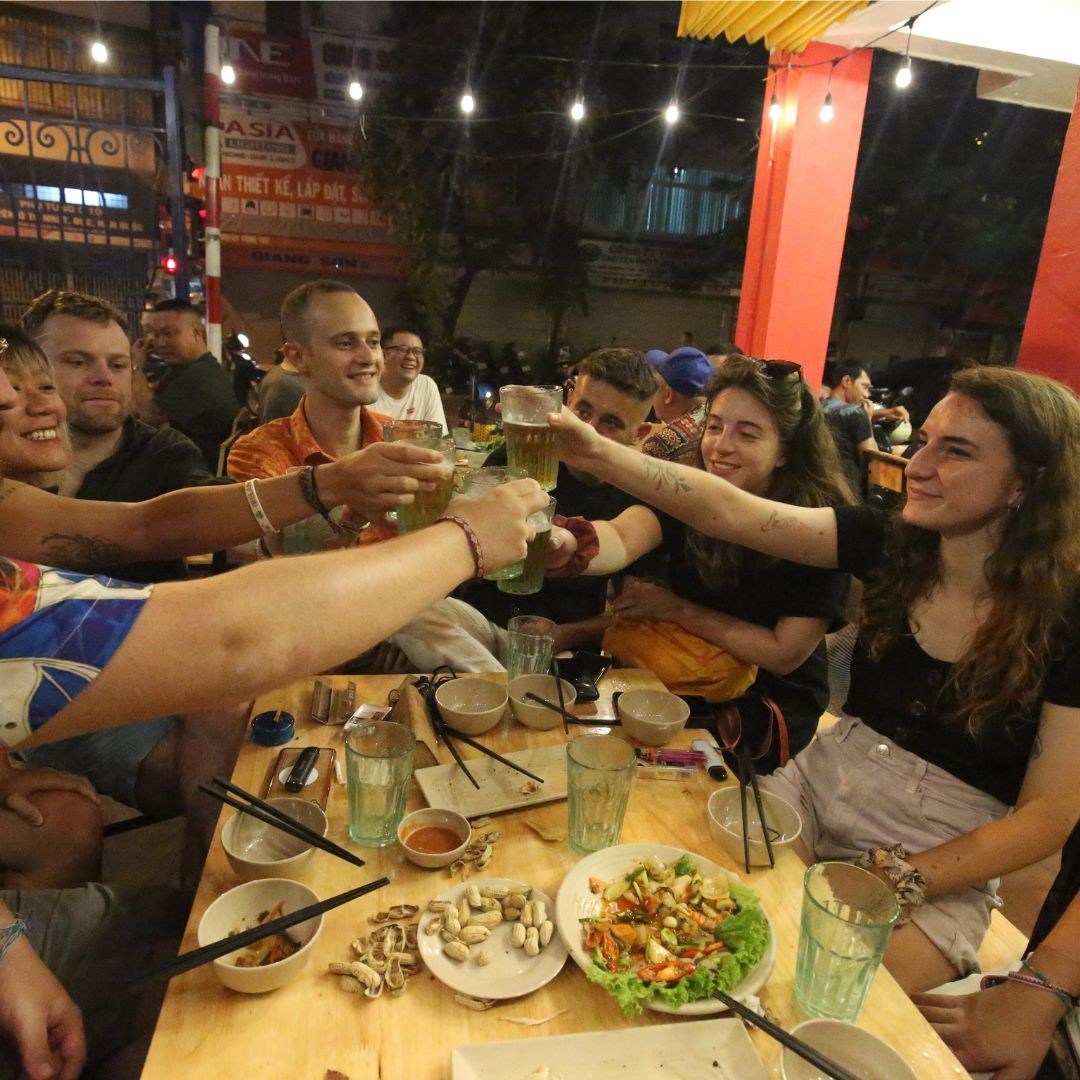 Nowadays, Hanoians of every nationality enjoy an ice-cold beer. Photo by Zoey Nguyen.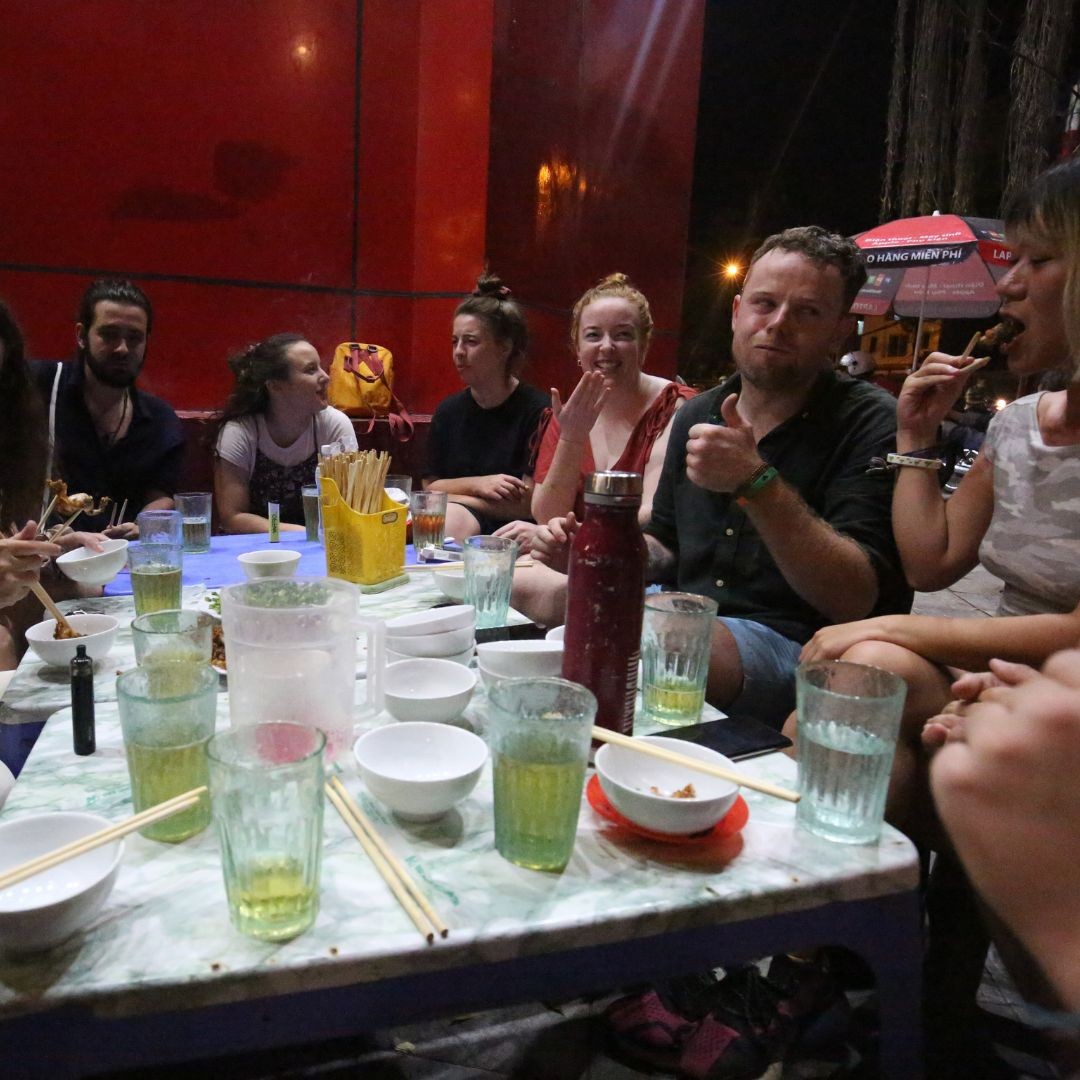 Foreigners and Vietnamese alike enjoy Hanoi's beer culture. Photo by Valerie Mai.
As glass and metal were mainly used for the war effort, Hanoians would rely on big, reusable kegs to store their beer. This practice continues today - every morning, local beer shops receive large kegs and, sure enough, they will be bone-dry by nighttime.
Without a proper beer storage system, it is imperative that the kegs are finished as soon as possible. This makes drinking beer a communal effort and an enjoyable pastime for a Communist nation.
It is very easy to get "adopted" into the community of the beer keg. Older Vietnamese men, eager to meet new faces and attempt a few English phrases, often invite travelers to drink with them. Don't be worried about the language barrier - many simply conclude their drinking with short nod, a friendly smile, and a warm handshake.
What Makes Bia Hoi So Special?
"I really enjoy the bia hoi scene," said British expat Raphel Dormer. "As someone who studies Vietnamese, it gives me an an excellent opportunity to casually chat with a local. No matter your skill level, they are always so surprised and delighted to hear a foreigner speak Vietnamese."
Local Hanoians also enjoy meeting foriegners over a glass of beer, especially after the two-year long hiatus on tourism.
"I like the fact that we are so different in many ways, but when we talk about simple, everyday life things like Hanoian food or the traffic, whatever. It doesnt seem like we are different at all," said Zoey Nguyen, a fellow writer at the Vietnam Times. "I missed socializing with people after two years of social distancing, so drinking people of different cultures reminds me of good memories and makes me feel lucky to be in Hanoi."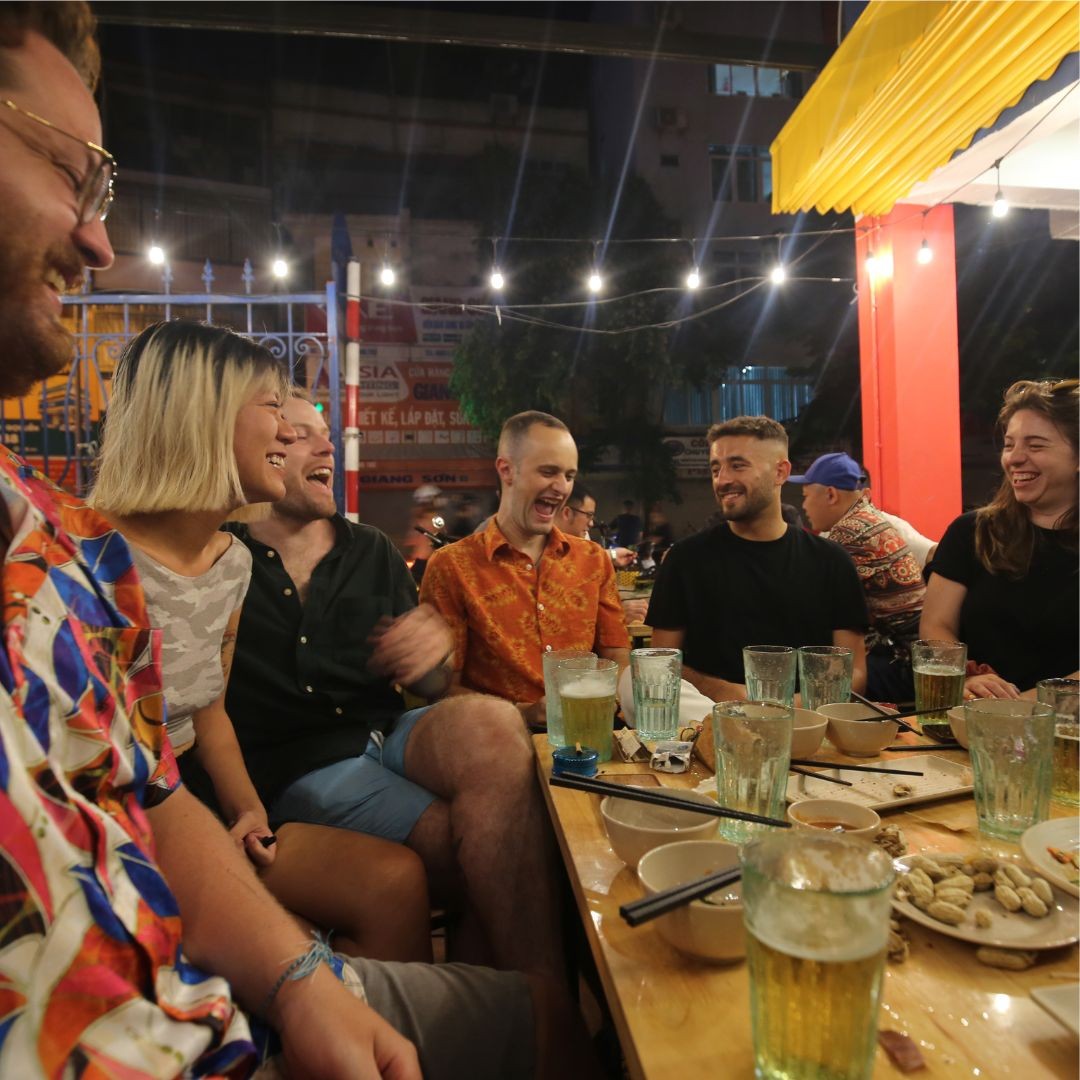 Laughter erupts from the center of the bia hoi. Photo by Zoey Nguyen.
Nguyễn Quỳnh Nga, a young Hanoian who frequently drinks with her foreign friends, has fond memories of the bia hoi.
"I was introduced to bia hoi by my dad when I was younger," said Nga. "For us back then, bia hoi was a special reward after a long work day of my dad. Every time we saw bia hoi in a plastic bag on the table, it meant my dad was happy with the money he earned that day. The atmosphere of the dinner would be amazing; full of laughter, jokes and happiness. Bia hoi to me nowadays is not much different; it is still the joy, laughter and stories we share over our retro glasses of bia hoi that makes me love it!
"Nowadays, it's always a little bit more special for me to grab some bia hoi with my foreign friends around sets of plastic chairs and tables. That is where both Western and Eastern cultures intertwine and I never stop finding this beautiful. Seeing them using chopsticks to pick some Vietnamese fingerfood, breaking boiled peanut shells, and saying 'zô!' warms my heart. I started to appreciate my own culture more because of this."
Irish expat David Di Nógla, fond of his homeland's pub scene, also has a great admiration for Vietnam's beer culture, echoing Nga's nostalgia. The Irishman often muses on the hospitiable nature of Hanoi's friendly beer drinkers.
"There seems like a genuine want to share the bia hoi culture with any foreign newcomer and a genuine excitement to see you there. One that you rarely find in a cafe, a park, or in a restaurant," said David. "It feels like each person with those bia hoi glasses in their hand is forgetting their troubles and is in a safe space where, regardless of nationality, wealth, or culture, they are always willing pull up a plastic chair."
The Beer Itself
Vietnamese beer is easily the cheapest beer in the world! Ranging from 5,000VND to 11,000VND, a glass from a Vietnamese bia hoi is probably the cheapest thing you can buy on your tour of Southeast Asia.
Beer snobs might turn up their nose at Vietnamese beer, saying it lacks the more robust flavors of Western beer. However, Vietnamese beer's low alchohol contnent (around 3-4%) allows for many glasses to be consumed in one sitting, without one becoming too drunk, making it the perfect, cheap drink for a casual night out with friends.
One of my local friends, Quynh Nga Phung, appreciates Beer Street's big charms and low prices.
"As a person living on a budget, it ain't about the quality, it's about the quantity," said the young Hanoian woman, as she surrounds herself with several empty beer glasses and cheerful friends.
Despite the little amount of alcohol, it is still possible to get sick so be sure to never drink on an empty stomach. Fortunately, there are dozens of tasty options around Tạ Hiện Street.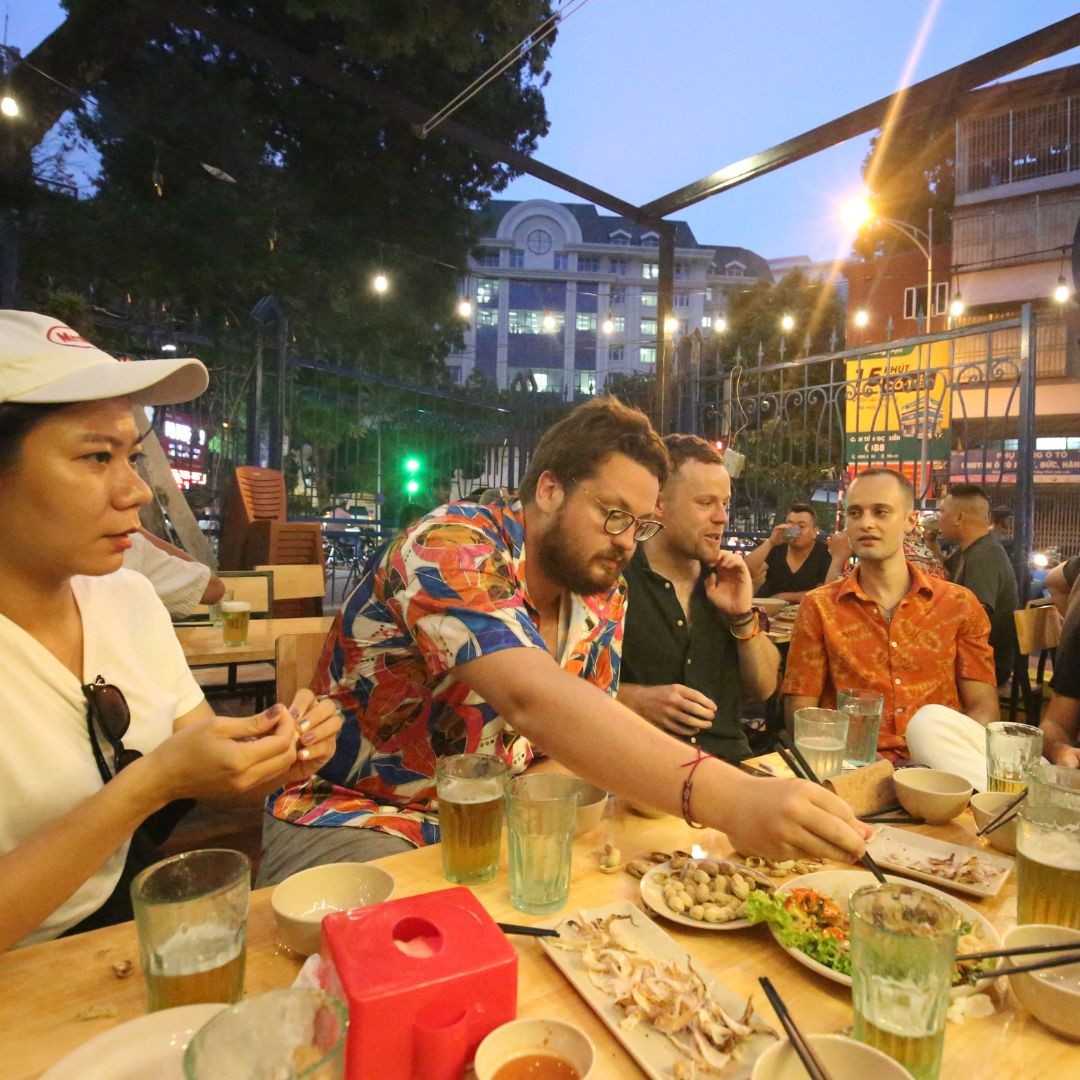 Seafood pairs well with Hanoian beer. Photo by Valerie Mai.
Most Hanoian beer halls will serve plenty of Vietnamese delicacies to enjoy alongside your ice-cold beverage. Over the course of the night, I was treated to delicious bites of stir-fried octopus, grilled squid, fried frog, tofu with fish sauce and onions, and cheese sticks. Even if you are only feeling peckish, it is custom for servers to bring out the beer with a side dish of peanuts.
The High-Spirited Atmosphere of Tạ Hiện Street
During the Covid lockdowns, Tạ Hiện felt empty, only occupied the drunken ghosts of a pre-pandemic era. Now as restrictions are lifted and tourism returns to Vietnam, Tạ Hiện has been restored to its former glory!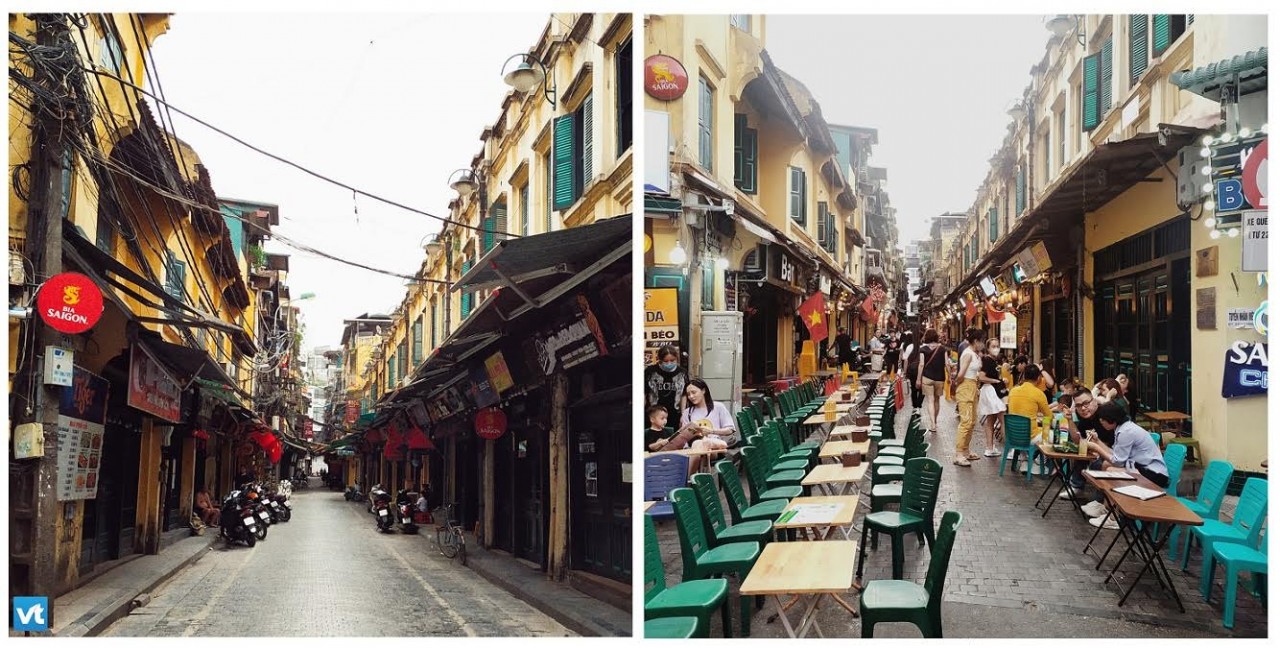 Tạ Hiện has been reborn! Photo by Valerie Mai.
Vendors hawk fried pastries and light-up toys. Eager server gesture at their establishment, promising all the beer you can drink. Thousands of drunken people from across the world bump into each other, swapping smilies for stories and cigarettes.
"Beer Street is an absolute buzz!" exclaims Irish expat Orla Yaffree. "I don't mind the crowds. Sure, it can be hectic, but you can always meet someone new! For example, tonight I met these lovely Irish lasses who are from my hometown. Small world, yeah?"
To say Tạ Hiện is crowded is an understatement. In fact, just walking through the massive crowds is akin to sweaty trek through a dense, bamboo forest. Despite the excitement and confusion, my friends and I continue to make like the locals and just go with the flow. However, if you do find the crowds overwhelming, seek out Phùng Hưng Street for a similar albeit more relaxed vibe.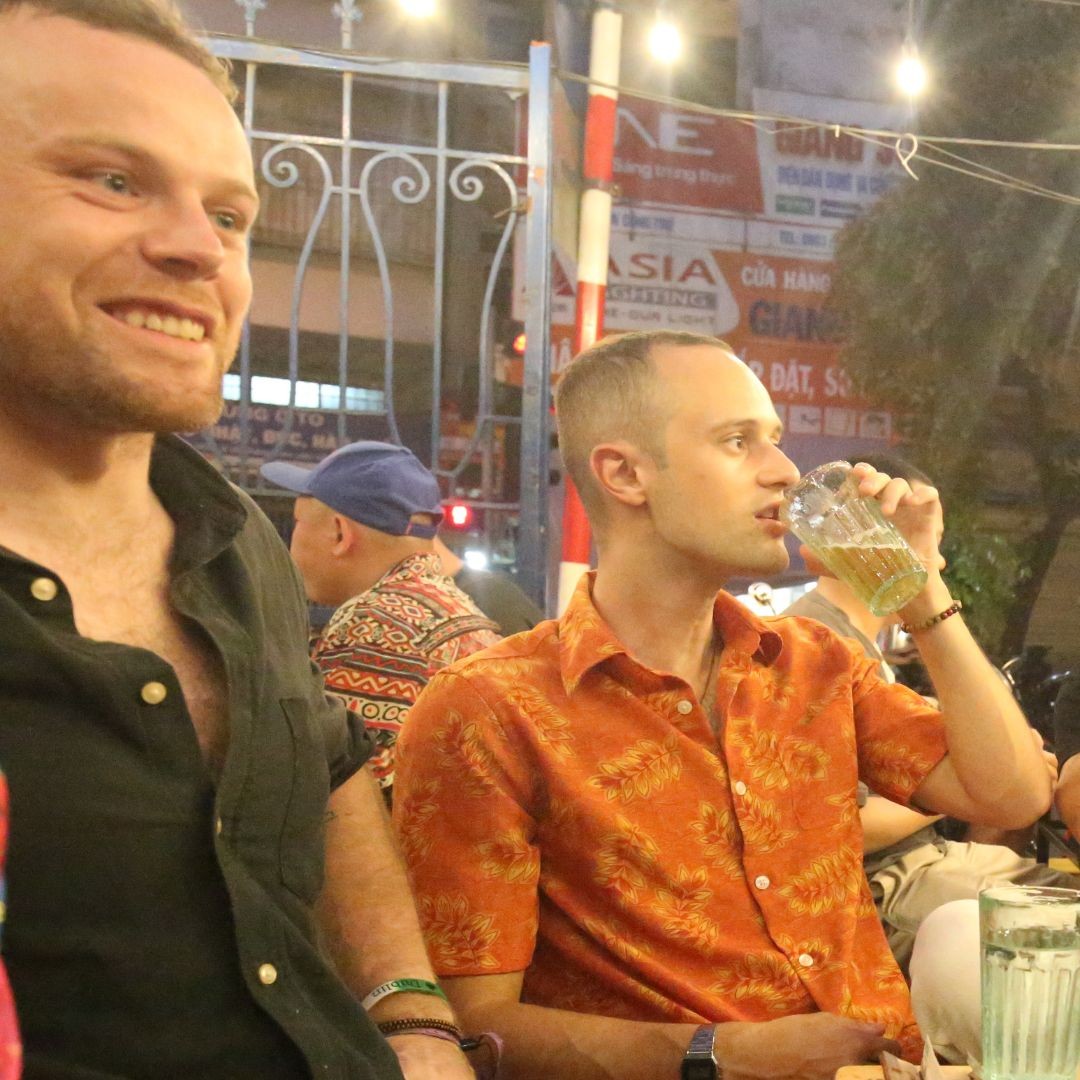 Hanoi's expats are happy to return to Beer Street, despite the crowds. Photo by Zoey Nguyen.
The crowded current of people finally subsides for a moment and we regroup at another joint, inhabited by young, tattooed men with a thuoc lao (Vietnamese pipe tobacco). Like other Vietnamese partiers, the men are friendly enough to invite us over for a few glasses. However, once they offer a go at the thuoc lao, I politely, but adamantly, refuse.
The thuoc lao is easily the biggest danger of the bia hoi scene. A well-meaning Vietnamese may offer a tourist the chance to drag from the lengthy pipe but not understand how demanding the practice is for novice smokers. Pulling from the thuoc lao is like smoking a thousand cigarettes in one sitting, leading to an intense head rush. This causes many ignorant foreigners to lose their balance, lunch, and briefly, their minds. Fortunately, the young men do not seem to mind and are happy to simply drink with us instead.
A Successful Night Out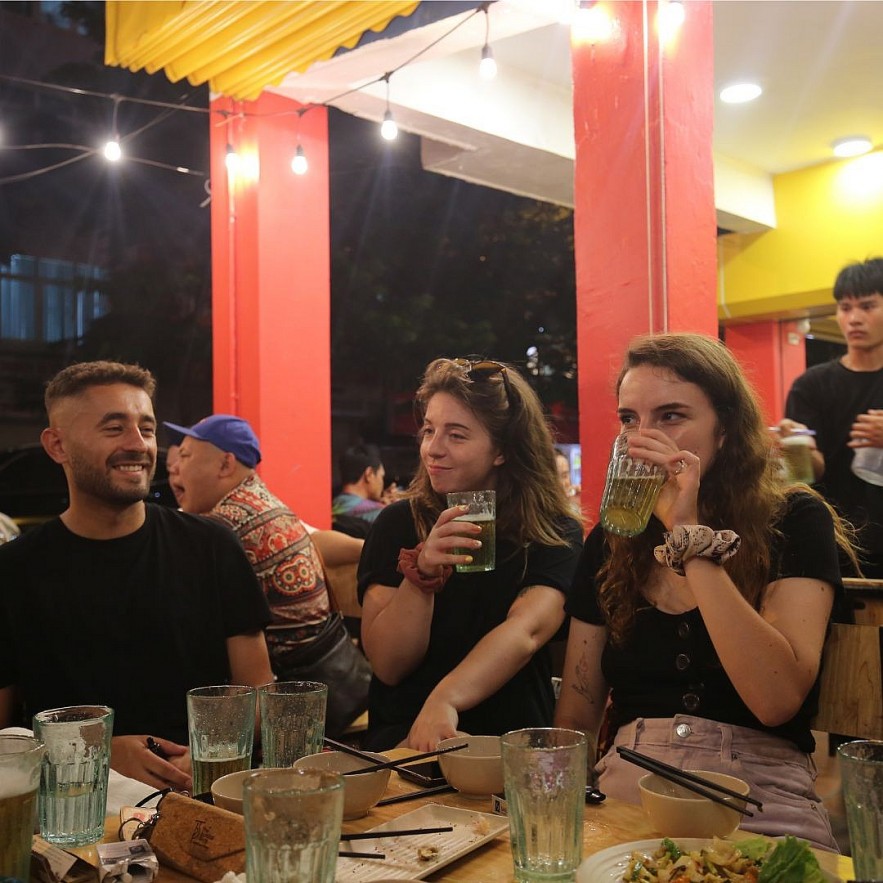 With every sip, comes a smile. Photo by Zoey Nguyen.
Stumbling towards the taxi, my friends and I are ready for bed after a successful night of drinking. Under the glow of orange streetlamps, we all appear to have the same red, flushed face, just like the most experienced beer drinkers of Tạ Hiện Street.
Stifling a burp, I thank my Vietnamese friends for showing us a good time before drifting into a drunken slumber.
Once again, Beer Street works its malty magic.