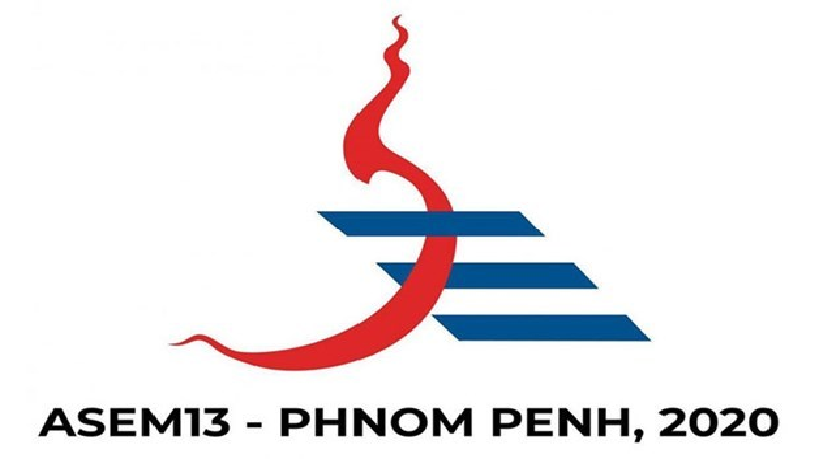 Photo: khmertimeskh
Cambodia has officially postponed the upcoming Asia-Europe Meeting (ASEM 13) due to difficulties regarding the COVID-19 pandemic, the Cambodian Ministry of Foreign Affairs and International Cooperation said in a press release issued on July 4.
The information was revealed after the country organised the ASEM Senior Officials' Meeting (SOM) via videoconference on July 2-3, which was chaired by Dr. Sok Siphana, Senior Advisor of the Cambodian government.
SoK expressed his sincere appreciation for the support that all ASEM partners have extended to Cambodia in hosting ASEM 13. He also highlighted Cambodia's efforts, both logistically and substantively, in ensuring the success of the summit, which had initially been scheduled to be held on November 16-17 in Phnom Penh under the theme "Strengthening Multilateralism for Shared Growth."
Due to COVID-19, however, all ASEM SOM leaders unanimously expressed their understanding of and support for Cambodia's request to postpone ASEM 13 to mid-2021.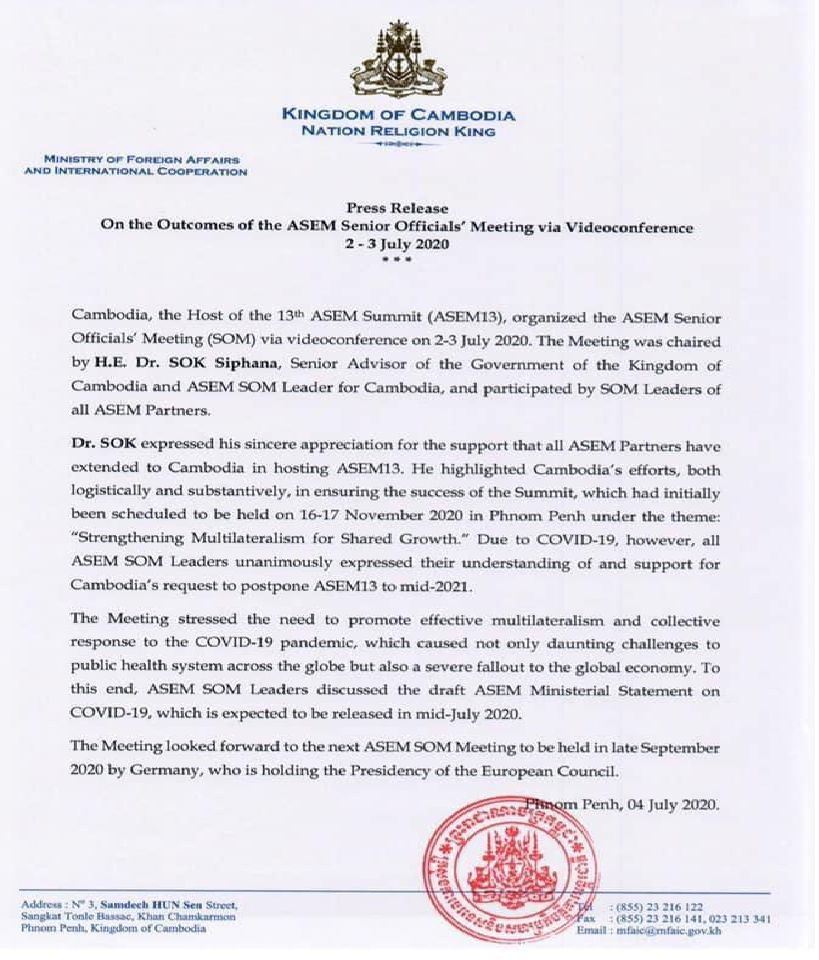 The information was revealed after the country organized the ASEM Senior Officials' Meeting (SOM) via videoconference on July 2-3. (Photo: freshnewsasia)
ASEM is an intergovernmental process established in 1996 to foster dialogue and cooperation between Asia and Europe.
It addresses political, economic, financial, social, cultural, and educational issues of common interest in a spirit of mutual respect and equal partnership. Its foremost event, the ASEM Summit, is a biennial meeting between the Heads of State and Government, the President of the European Council, the President of the European Commission, and the Secretary-General of ASEAN. In addition, ASEM Ministers & Senior Officials also meet in their respective sectoral dialogues.
The initial ASEM Partnership in 1996 consisted of 15 EU member states, seven ASEAN member states, China, Japan, the Republic of Korea (RoK) and the European Commission. Today, ASEM comprises 53 partners: 30 European and 21 Asian countries, the European Union and the ASEAN Secretariat.
Through its informal process based on equal partnership and enhancing mutual understanding, ASEM facilitates and stimulates progress but does not seek to duplicate bilateral and other multilateral relationships between Asia and Europe.
A founding member of ASEM, Vietnam has always been an active and responsible member, contributing to enhancing ASEM's role and profile. The country was the host of the 5th ASEM Summit in 2004 and 5 Ministers' Meetings on Economics, Information and Technology, Foreign Affairs, Education and Labour. It also implemented 25 initiatives and co-sponsored 27 initiatives on the areas that serve the interests of the people and businesses such as sustainable and inclusive development, connectivity, human resources development, sustainable water management and climate change.
Global coronavirus cases soaring
Global coronavirus cases exceeded 11 million on July 3, according to a Reuters tally, marking another milestone in the spread of the disease that has killed more than half a million people in seven months.
The number of cases is more than double the figure for severe influenza illnesses recorded annually, according to the World Health Organization.
Many hard-hit countries are easing lockdowns put in place to slow the spread of the coronavirus while making extensive alterations to work and a social life that could last for a year or more until a vaccine is available.
Some countries are experiencing a resurgence in infections, leading authorities to partially reinstate lockdowns, in what experts say could be a recurring pattern into 2021.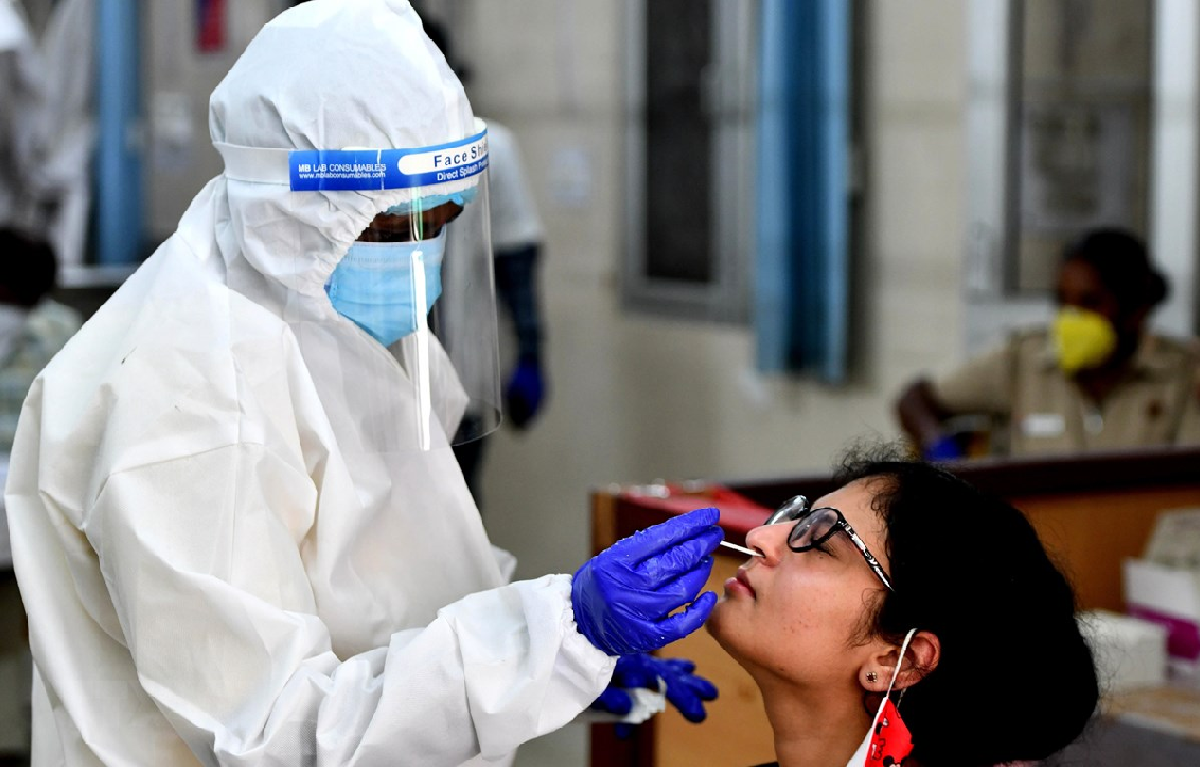 A medial worker is taking sample for COVID-19 testing in New Delhi, India (Photo: Xinhua)
Asia makes up around 12 percent of the global total of people infected, according to the Reuters tally, which uses government reports.
In some countries with limited testing capabilities, case numbers reflect a small proportion of total infections. Health experts caution that the official data likely does not tell the full story, with many believing that both cases and deaths have likely been underreported in some countries.
Worldwide, there have been more than 520,000 fatalities linked to the disease so far, roughly the same as the number of influenza deaths reported annually, Reuters reported./.
Rosy Huong