Can Covid-19 be Transmitted Through Food and Goods?
Food delivery staff are at risk for Covid-19, causing many people to fear contracting the SARS-CoV-2 virus through food and goods.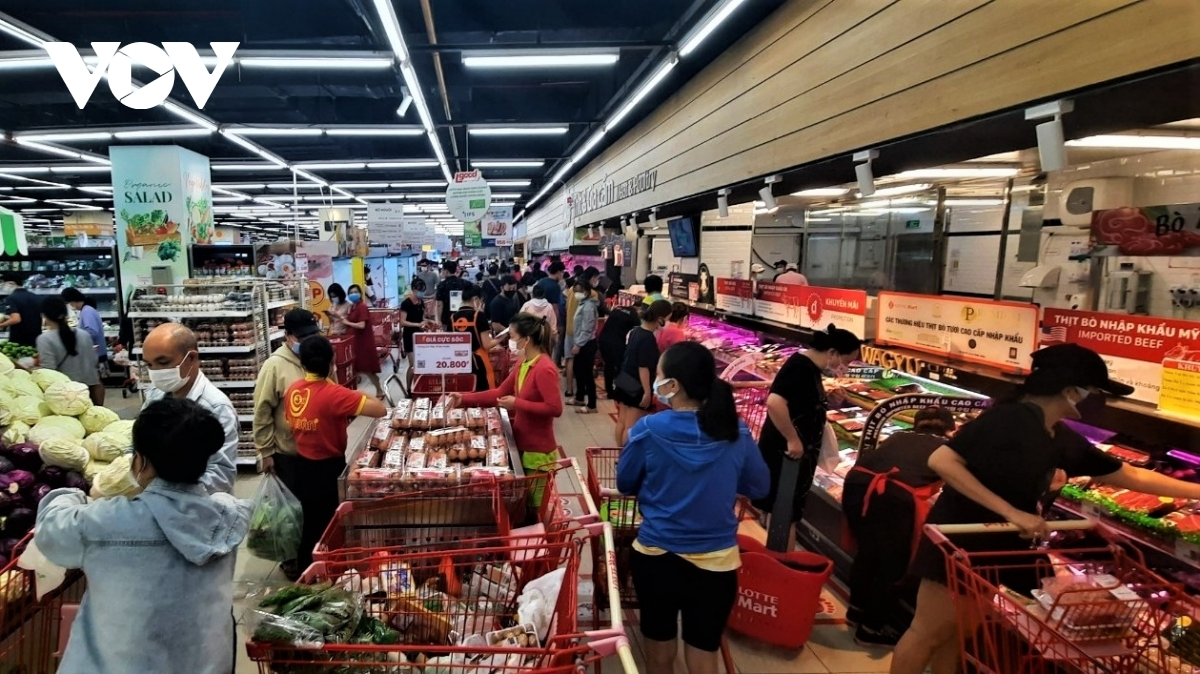 Photo: VOV
The updated report at noon on August 3 of the Hanoi CDC informs about two cases of Vinmart supermarket employees who tested positive for the SARS-CoV-2 virus. These F0 cases originated from delivery staff of Thanh Nga Food Company to Vinmart supermarket chain and some hotels in the area.
This new chain of infection has many people concerned about the possibility of the SARS-CoV-2 virus spreading through food and goods. But this is not a new problem and has been explained by the experts.
Prof. Dr. Le Thi Quynh Mai, deputy director of the Institute of Hygiene and Epidemiology, said that the SARS-CoV-2 virus spreads from person to person through close contact and droplets.
However, like other coronaviruses, the SARS-CoV-2 virus can live on different surfaces. Therefore, according to Professor Quynh Mai, if people are still wondering about the possibility of contracting the SARS-CoV-2 virus through food, please follow the instructions on hygiene and wash your hands with soap after touching food, vegetable.
"To prevent and fight the virus, people must wear masks when going to the market, and clean food and vegetable containers regularly. At the same time, disinfect your hands regularly, "said Prof. Dr. Le Thi Quynh Mai.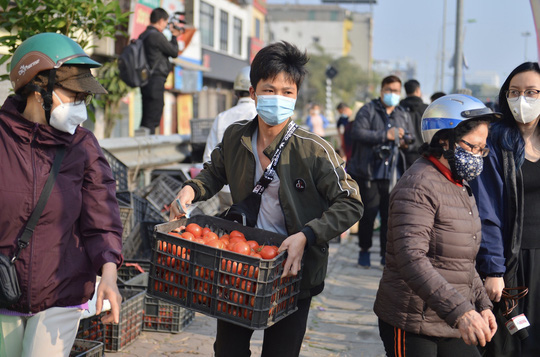 Photo: NLD
Referring specifically to the case of a food delivery worker infected with Covid-19, Assoc. Prof. Dr. Tran Dac Phu, former director of the Department of Preventive Medicine (Ministry of Health), also emphasized that the highest possibility of infection is those the person in contact with this delivery worker. This is the reason that functional forces and medical forces are reviewing this food supply chain.
With many people's concerns about spreading the virus from F0 onto surfaces, Phu said that if shoppers and supermarket employees touch these surfaces and then put their hands on their nose and mouth, there is high risk of infection.
"The principles of Covid-19 prevention and control, the slogan 5K clearly states the wearing of masks in crowded places and regularly disinfecting hands. These are simple measures but very effective, especially in this situation. Viruses can attach to utensils, food packages, and surfaces of vegetables and fruits. But the possibility of infection is not much if people strictly follow pandemic prevention measures. Cooked food will never be an infectious factor," Phu said.
Currently, there is no evidence to suggest that handling food or consuming food is associated with Covid-19, according to CDC.
Coronaviruses, like the one that causes Covid-19, are thought to spread mostly person-to-person through respiratory droplets when someone coughs, sneezes, or talks. It is possible that a person can get Covid-19 by touching a surface or object, including food or food packaging, that has the virus on it and then touching their own mouth, nose, or possibly their eyes. However, this is not thought to be the main way the virus spreads.
After shopping, handling food packages, or before preparing or eating food, it is important to always wash your hands with soap and water for at least 20 seconds. If soap and water are not available, use a hand sanitizerexternal icon that contains at least 60% alcohol. Cover all surfaces of your hands and rub them together until they feel dry. Remember, it is always important to follow good food safety practices to reduce the risk of illness from common foodborne pathogens.
Everyday handling of packaged food and fresh produce
The risk of infection by the virus from food products, food packaging, or bags is thought to be very low. Currently, no cases of Covid-19 have been identified where infection was thought to have occurred by touching food, food packaging, or shopping bags. It is always important to follow good food safety practices to reduce the risk of illness from common foodborne pathogens, cited CDC.
Handling packaged food
When unpacking groceries, refrigerate or freeze meat, poultry, eggs, seafood, and other perishables within 2 hours of purchasing.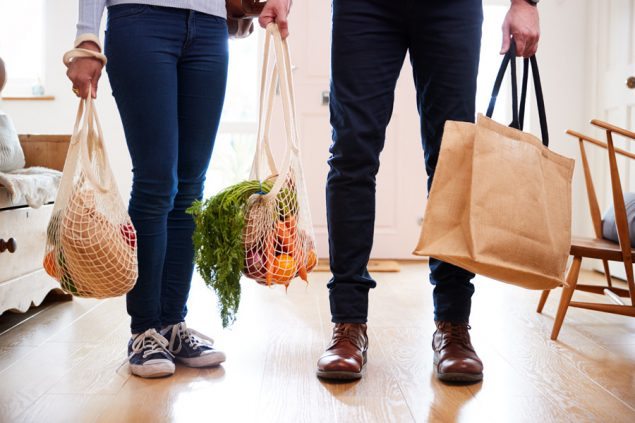 Photo: CDC
Do NOT use disinfectants designed for hard surfaces, such as bleach or ammonia, on food packaged in cardboard or plastic wrap.
If reusable cloth bags become soiled, follow instructions for washing them, and dry them on the warmest appropriate setting.
Handling and cleaning fresh produce
Do NOT wash produce with soap, bleach, sanitizer, alcohol, disinfectant or any other chemical.
Gently rinse fresh fruits and vegetables under cold, running tap water.
Scrub uncut firm produce (e.g., potatoes, cucumbers, melons) with a clean brush, even if you don't plan to eat the peel.
Salt, pepper, vinegar, lemon juice, and lime juice have not been shown to be effective at removing germs on produce.
Meal kits and delivery
Because of the Covid-19 outbreak and increases in demand, some deliveries have been delayed.
If you have a meal kit or frozen prepared meal delivery, check the temperature of any food that is normally kept in the refrigerator or freezer (such as milk, meat, and eggs) immediately after it is delivered,using a food thermometer and make sure the food is 40°F or below.
Refrigerate or freeze your delivery as soon as possible.
To help prevent the spread of Covid-19, pay online or on the phone when you order (if that is an option) and accept deliveries without in-person contact whenever possible.