More Vaccine, Remdesivir Doses Arriving to Vietnam
More doeses of the Covid-19 vaccine and the antiviral drug Remdesivir will be arriving to Vietnam as coronavirus cases hit record high nationwide.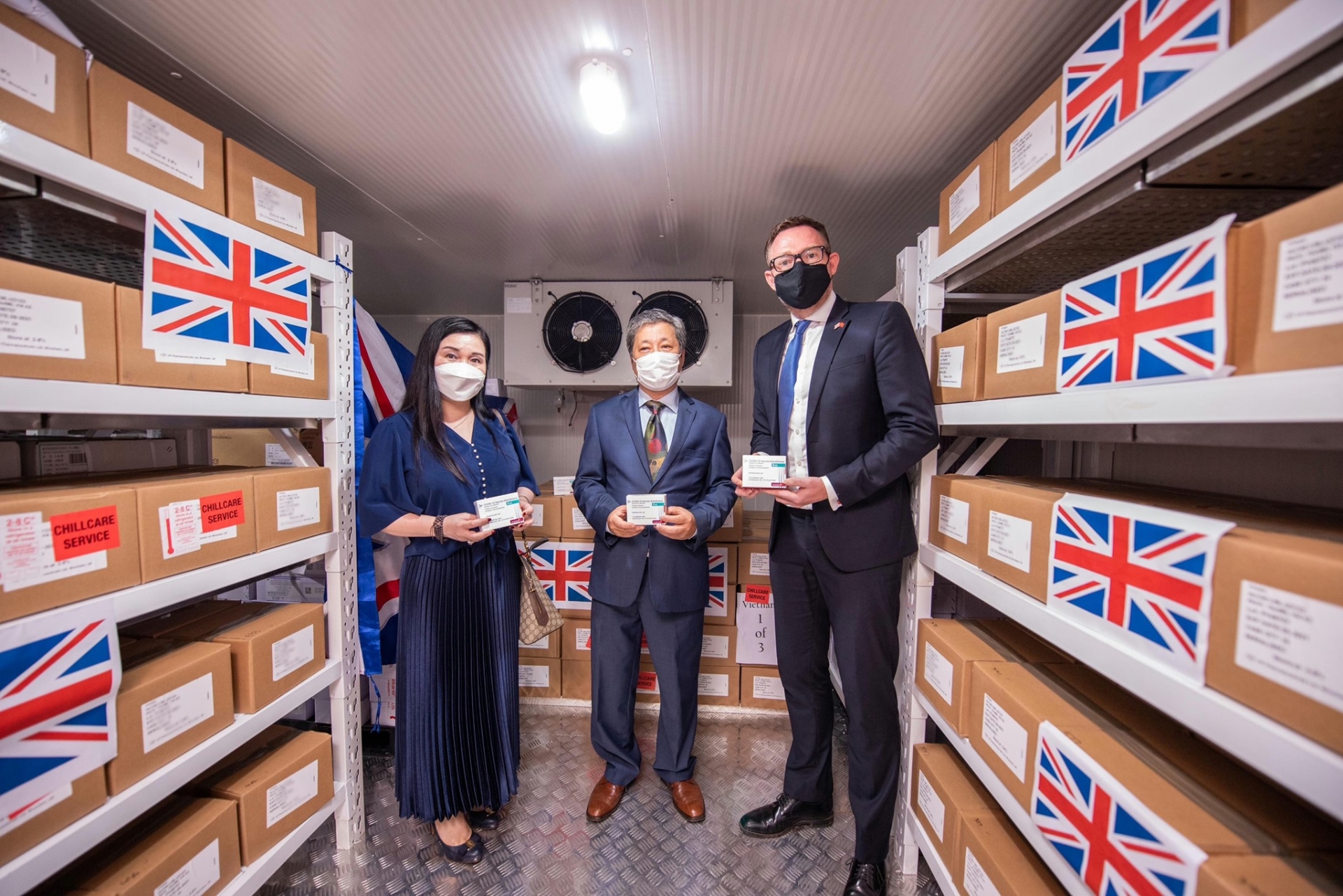 David McNaught, the counsellor of the Embassy of the United Kingdom of Great Britain and Northern Ireland in Vietnam (right) and representatives of Vietnam. Source: British Embassy in Vietnam
415,000 Covid-19 vaccines that the UK has donated to Vietnam arrived at Noi Bai airport in Hanoi on Aug. 2 night. A hand-over ceremony also took place on Aug. 3 at the National Institute of Hygiene And Epidemiology (NIHE) with the attendance of representatives from the Ministry of Health, Ministry of Foreign Affairs, the British Embassy in Vietnam, Oxford University Clinical Research Unit - OUCRU and AstraZeneca Vietnam.
The Oxford University/AstraZeneca vaccines being handed over to Vietnam Health Ministry will be distributed to those in most need across the country.
Having joined and witnessed the signing of the MoU on the donation in his trip to Vietnam in late July, UK Minister of State for Asia Nigel Adams shared, "The UK stands with Vietnam in this challenging period of fighting new waves of Covid-19. We believe in a world of health security and vaccine equity for all. We will continue to work closely with Viet Nam to share our experience on vaccine roll-out to maximise the benefits across the globe."
One million doses of antiviral drug Remdesivir for Covid-19 treatment is committed by India to Vietnam in the next 30 days, reported VnExpress.
This is the result of active work of the "Quick-Response Team on Drugs and Vaccines" of the Vietnamese Embassy in India with major pharmaceutical companies such as Hetero, Dr. Reddy, Cipla, Jubilant, Mylan, Zydus and Cadila. Accordingly, these enterprises pledged to supply Vietnam with about 1 million doses of remdesivir within the next 30 days.
The Ministry of Foreign Affairs and the Ministry of Industry and Trade of India in recent meetings with the "Quick-Response team on drugs and vaccines" also said they would consider creating maximum conditions for Indian businesses to complete export procedures.
Remdesivir is an antiviral developed by US biopharmaceutical firm Gilead Sciences. It has been approved for Covid-19 treatments in around 50 countries and territories like the US, Australia, Japan and India. It is administered through injections into the veins.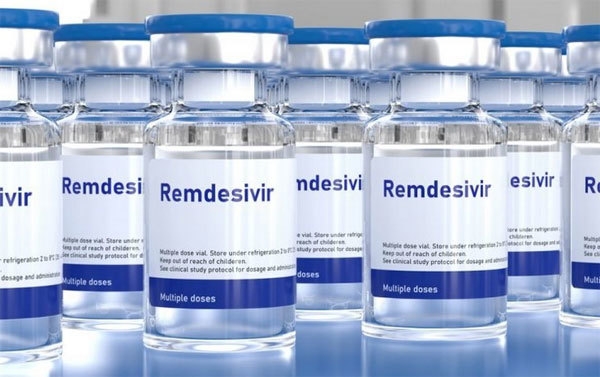 Remdesivir is an anti-virus drug approved by the Food and Drug Administration (FDA) of the United States to treat Covid-19 patients from October 22, 2020. Photo www.europeanpharmaceuticalreview.com
Vingroup has offered to donate 500,000 bottles of remdesivir to the health ministry this month.
Deputy Minister of Health Nguyen Truong Son said the ministry was considering adding remdesivir to Covid-19 treatment plans, saying the drug has already been approved by the Food and Drug Administration (FDA) and many countries. Vietnam has also been using remdesivir to treat its Covid-19 patients in certain medical facilities, he added.
Whether to use the drug for a patient or not will depend on doctors at medical facilities, so people should not buy it for home use, Son stressed.
Vingroup has negotiated to hire a special plane to transport the drug to Vietnam. It is expected that the first batch of 105,000 vials will arrive in Ho Chi Minh City before Aug. 5 and the rest will be delivered later within the month.
Moreover, about 47-50 million doses of Pfizer vaccine will arrive in Vietnam in the last quarter, said Minister of Health Nguyen Thanh Long at an urgent meeting on Covid-19 prevention and control on Aug. 2.
A total of 8,429 new Covid-19 infections were reported in Vietnam on Aug. 3, increasing the caseload since the beginning of the pandemic to 170,190, according to the Ministry of Health.
Fifty-two of them were imported cases and the remaining 8,377 infections were domestic.
Ho Chi Minh City recorded the most with 4,171 cases, followed by neighbouring Binh Duong province with 1,606, and Long An with 566.
So far, Vietnam has received more than 17.6 million doses of Covid-19 vaccines, including AstraZeneca, Pfizer, Moderna, Sputnik-V, and Sinopharm, according to VNA.
The ministry has allocated more than 16 million doses of vaccines in 16 batches to localities, ministries and agencies.
On July 31, one million doses of Sinopharm vaccine imported by Sapharco Pharmaceutical Company under the authorisation of the Ho Chi Minh City People's Committee arrived in the city.
As of Aug. 2, nearly 6.5 million doses of vaccines have been administered to people nationwide, with the highest rate being reported in Ho Chi Minh City, the country's current largest Covid-19 hotspot.
The Treatment Subcommittee under the National Steering Committee for Covid-19 Prevention and Control on Aug. 3 also announced 190 more fatalities related to virus.
The country has now recorded 2,071 deaths related to the disease.