Canada-based group labelled terrorist for seeking violent overthrow of Vietnam government
The Ministry of Public Security has designated Trieu dai Viet (Vietnam Dynasty), which seeks to violently overthrow the Vietnamese government, as a terrorist organization.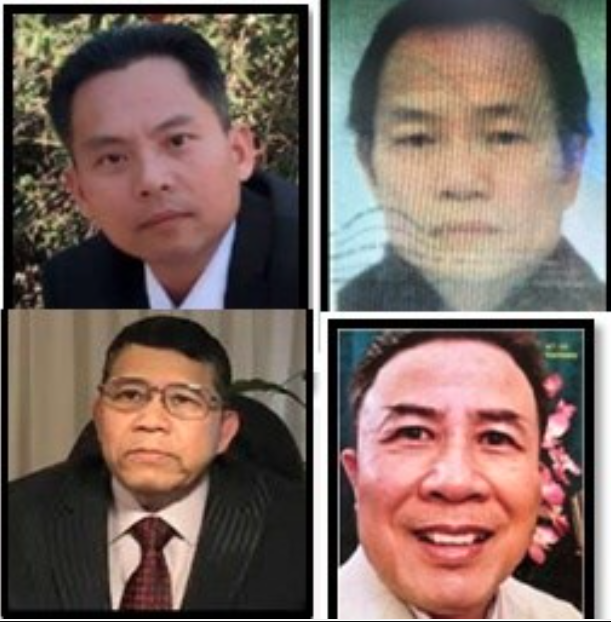 Leaders of the Trieu Dai Viet organization. (Photo: Ministry of Public Security)
The Canada-based Trieu Dai Viet (Viet Dynasty) organization, infamous for its motto of "Fire all, Kill all, Destroy all, Pillage all", was designated as a terrorist organization by the Ministry of Public Security on Tuesday.
The label means that anyone who participates in the organization, attempts to recruit members for the organization, sponsors or receives sponsorship from it, take part in its training courses, or follows its instructions would be charged with the crimes of "terrorism" and "sponsoring terrorism" and would be handled in pursuance to Vietnam's law, the ministry said.
According to VN Express, the group is accused of directing members in Vietnam to carry out terrorist activities, instigate people to join protests, and attack police stations and officials' houses. It has sent thousands of dollars to Vietnam to fund the purchases of guns, bombs, and mines, making of flags, and printing of seditious flyers, the ministry said.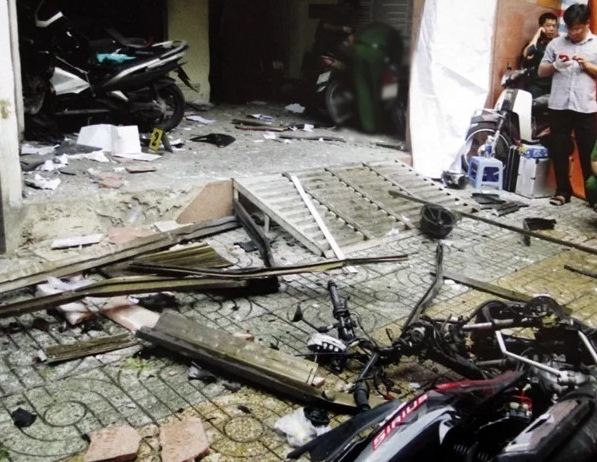 Dust and debris scatter at a police station in HCMC after two bomb blasts in June 2018. (Photo courtesy of the police)
Last May, 20 people, members of the group and those hired by it, were sentenced to between two and 24 years in jail for a bomb blast at a police station in HCMC's Tan Binh District in June 2018. A woman officer was injured in the blast and several motorbikes were damaged.
According to the public ministry, Trieu Dai Viet was established by former members of a terrorist organization called the Provisional National Government of Vietnam in January 2018.
Headquartered in 31 RVE Meunited West, Laval, Quebec Province of Canada, the organization operates many websites and media channels, including Trieu Dai Viet, Free Bibet, Hoang Ky (Yellow Flag), Political detoxification, Vietnam today, Free Viet, Radio channel for nation's people, among others.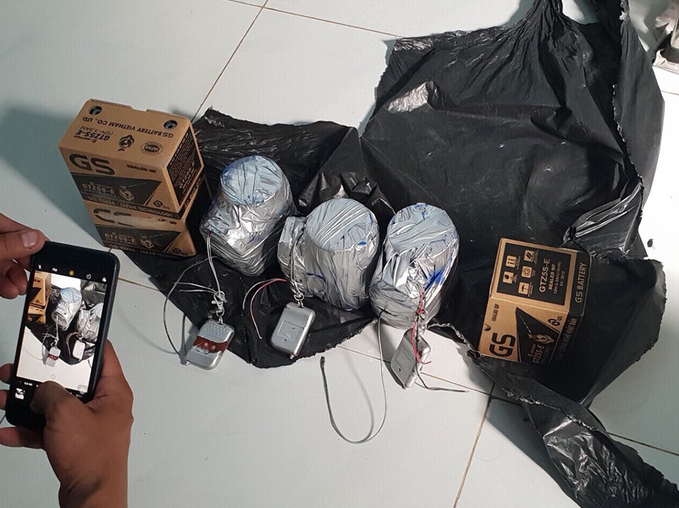 Stuff that Trieu Dai Viet used in the bomb blast. (Photo: Nguoi Lao Dong)
The leaders are Ngo Van Hoang Hung, born in 1952 in Tien Giang Province, who has Canadian citizenship and claimed to be commander-in-chief of Trieu Dai Viet; Tran Thanh Binh, born in 1957 in Nam Dinh Province and currently holding German citizenship, who titled himself as the Deputy Prime Minister of Trieu Dai Viet; Ngo Manh Cuong, born in 1961 in HCM City, current holding French citizenship and claimed to be head of the General Department for Special Operations; and Huynh Thanh Hoang, born in 1976, with American citizenship and the role as the spokesperson for the organization, Vietnam News cited.
Vietnamese security agencies have prosecuted Hung, who lives in Canada, for "terrorism to oppose the people's administration" and issued an international warrant for his arrest. He was sentenced to death by a court in Tien Giang Province in the Mekong Delta, later reduced to life, for a conspiracy to overthrow the government in 1979. Hung's latest terrorist attempt was in 2018 August when he directed a so-called 'Phantom Squad' based in Thailand led by a man named Nguyen Van Hung, together with six other Vietnamese to cross into the southern localities of Vietnam via Cambodia and planned to set off bombs during National Day (September 2) that year but the plan was foiled by the police.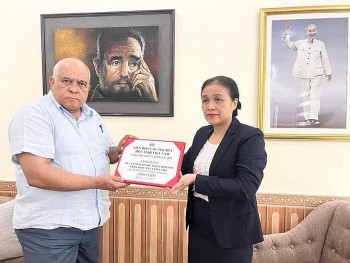 Focus
According to Cuba's News Agency Prensa Latina, on August 16, President of Vietnam Union of Friendship Organizations Nguyen Phuong Nga said that Vietnamese people will always stand by and support Cuba no matter what difficulties our friend is facing.