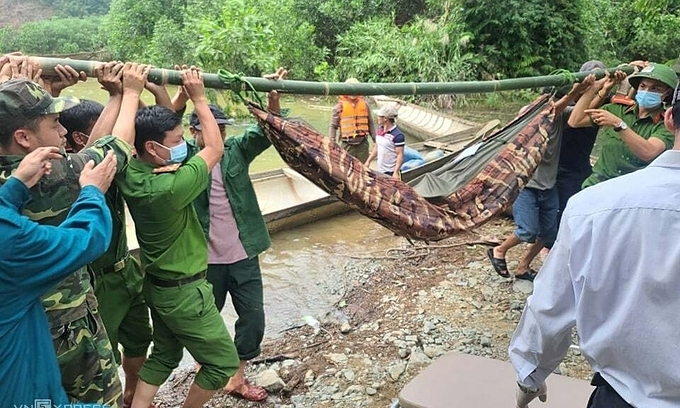 The body of a hydropower plant construction worker is carried out of the jungle in a hammock in Thua Thien-Hue Province, October 14, 2020. Photo: VnExpress
A construction worker has been found dead following a landslide near Rao Trang 3 hydropower plant in the central province of Thua Thien-Hue, with 29 others still missing.
The worker's body was found on October 14 and has been moved to hospital for identity assessment. The same day, 19 victims, including two Indian experts and 17 Vietnamese, were rescued and admitted to hospital.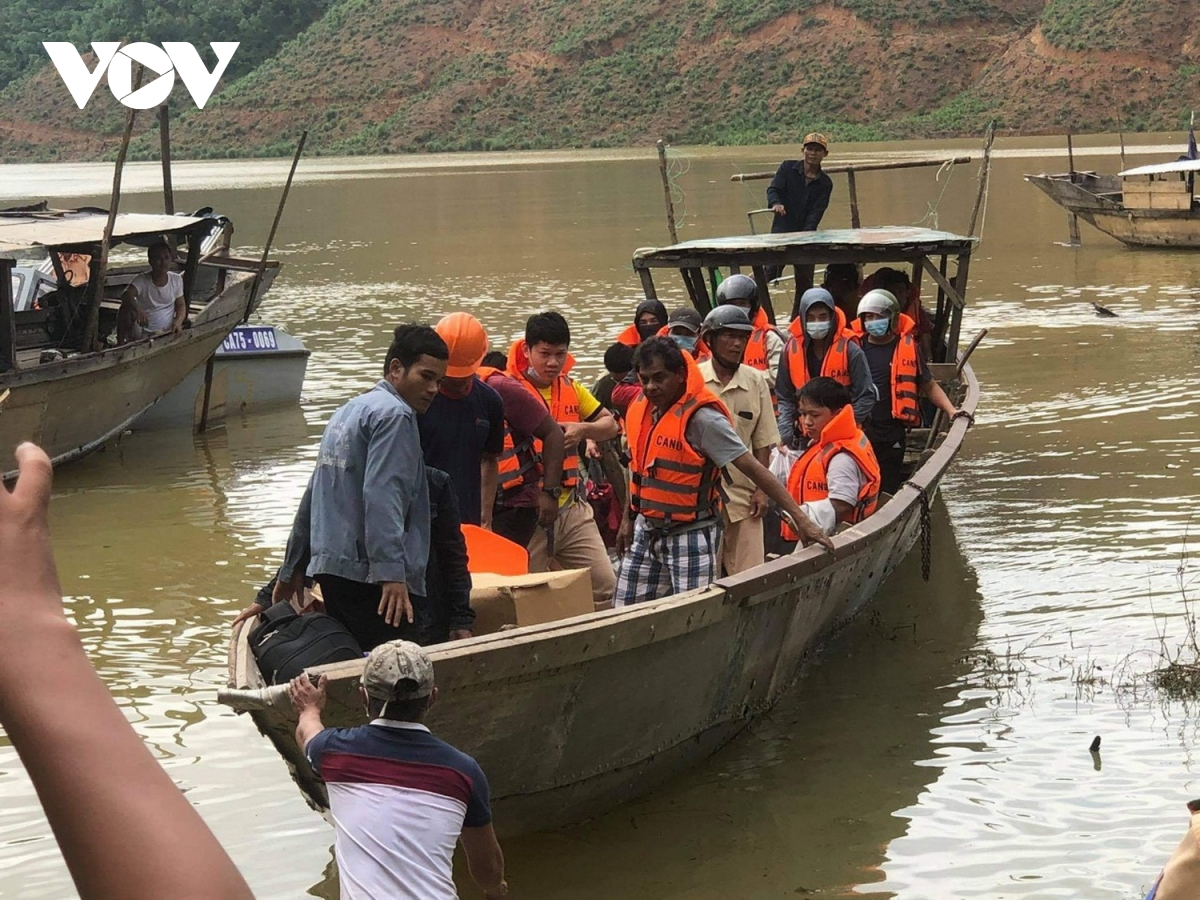 19 people, including two Indian experts and 17 Vietnamese, have been found and moved out of the jungle by October 14 afternoon. Photo: VoV
As of October 14 afternoon, 29 people, including 16 hydropower plant workers and 13 members of a rescue team who had tried to reach the trapped construction workers remain missing.
The workers were declared missing after a landslide hit their plant construction site, while the rescuers were hit by another landslide later while they were staying at ranger station 67, more than 10 km away and 14 km from main roads.
At 10 a.m., rescue teams were supplied with relief packages, before approaching the landslide site at the ranger station. However, recovery efforts were impeded by the huge amount of soil and rock.
The ranger station before the landslide. Photo: VGP
The ranger station after the landslide. Photo: VGP
As many as 983 people have since been deployed to search for the victims and sniffer dogs have been employed to boost rescue attempts.
Dozens of excavators and bulldozers have worked non-stop since October 13 to clear the road. For now, the 20 km route from the main road to Rao Trang 3 include at least 10 areas hit by serious landslides, with four streams in full spate.
At about 12.30 pm on October 14, a group of rescuers reached the site of the Song Bo ranger station where 13 members of the rescue team went missing.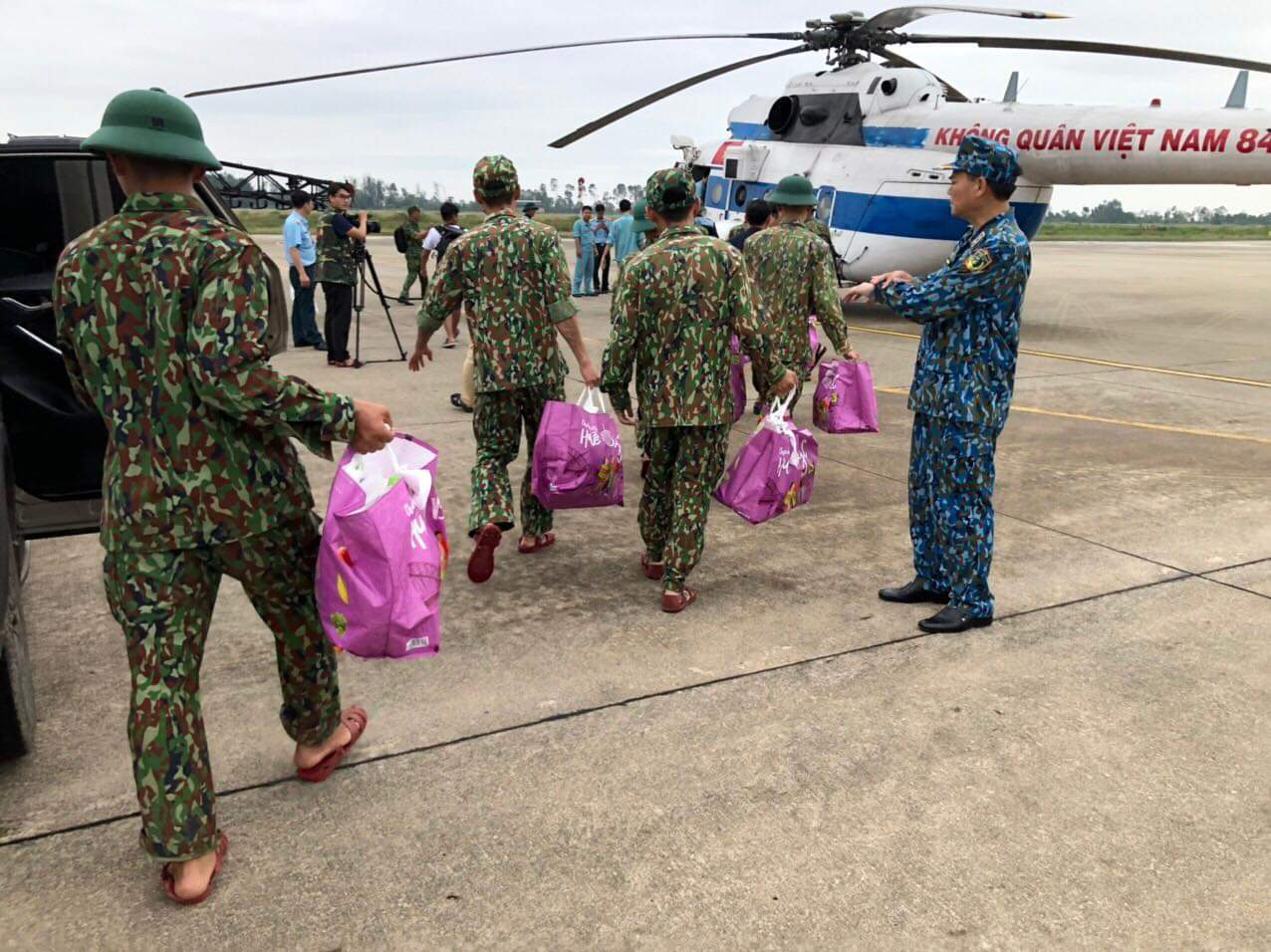 Air forces join rescue efforts. Photo: VGP
A Mi-171E helicopter of the Air Defence-Air Force departed Phu Bai Airport in Thua Thien-Hue for Rao Trang 3, to drop off foodstuffs, medicines, and supplies.
According to Major General Pham Truong Son, Vice Commander of the Air Defence-Air Force, a second flight will be conducted to Rao Trang 3 if the weather conditions are suitable.
Deputy Prime Minister Trinh Dinh Dung on October 23 arrived in Phong Dien district to oversee the search and rescue mission.
He ordered mobilising all available forces and means to search for and rescue people missing in connection with the landslides.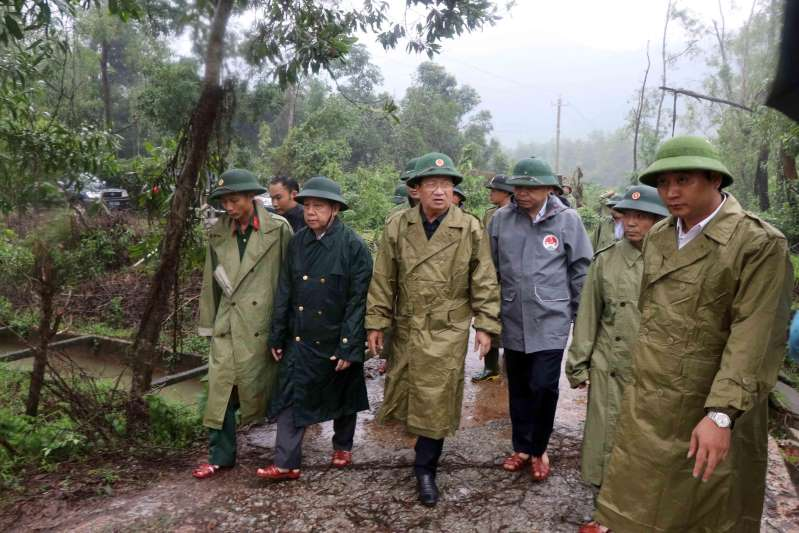 Deputy Prime Minister Trinh Dinh Dung instructs research and rescue efforts. Photo: VNA
Phan Ngoc Tho, Chairman of the Thua Thien-Hue People's Committee, said the central region could be battered by more heavy rains from October 16-17, hindering rescue efforts.
"Task forces have to take advantage of the golden time to carry out the rescue mission and look for missing victims," he was quoted by VnExpress as saying.
Since last week, central Vietnam has been bombarded by rains, floods and landslides after a cold spell came in contact with tropical turbulence, which have killed at least 36 people, leaving 12 missing.
As of October 14, Thua Thien-Hue has reported seven deaths and thousands of homes submerged. Provincial authorities have asked for emergency supplies including food, medicine and rescue gear./.
On October 12, the provincial Steering Committee for Natural Disaster Prevention, Control and Rescue received a phone call stating a team of over 10 construction workers had been buried under a landslide at Rao Trang 3 hydropower plant, standing deep within the jungle, around 30 km (18.6 miles) from Phong Xuan Commune in Phong Dien district.
The informant had climbed a mountain to make the call. The phone number was reported out of service later.
The same night, 21 members of a rescue team had set out to verify the incident. However, 13 of them, including Nguyen Van Man, deputy commander of the 4th Military Region of Vietnam People's Army, were themselves buried by another landslide and have been declared missing.
Rosy Huong