Chinese Diplomats Slams Reuters for 'Ugly' Photo of Weightlifting Gold Medalist Hou Zhihui
The Chinese embassy in Sri Lanka blasted Reuters as "ugly" and labelled the photo of weightlifter Hou Zhihui competing on her way to gold in the women's 49-kg weightlifting as "shameless".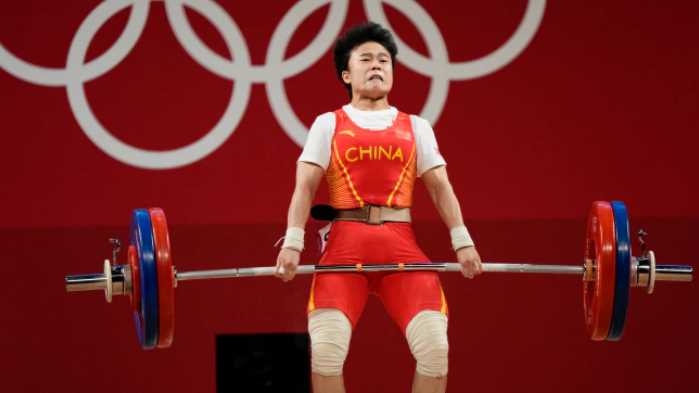 The photo that's seemingly caused outrage appears to show Zhihui Hou straining as she raised the barbell above her waist. The photo published by Reuters. Picture: Getty Images
Chinese diplomats furious after a photo was published of gold-medal winning weightlifter Zhihui Hou, reported Independent.
The complaint was about a photo of Hou Zhihui, grimacing with effort on her way to victory in the 49kg event at the Tokyo Olympics on Saturday.
Reuters, in an article titled: "China's Hou wins 49-kg weightlifting gold at Tokyo Olympics", chose a photo of the 24-year-old in the middle of her weightlifting routine.
In the picture, Hou can be seen pushing her body to the extreme during a heavy lift in Tokyo - an event which she ended up clinching gold in.
"Among all the photos of the games, @Reuters has chosen this one, which only shows how ugly they are," tweeted the Chinese embassy in Sri Lanka. "Don't put politics and ideologies above sports, and call yourself an unbiased media organisation. Shameless."
It then posted other Reuters pictures from the games suggesting that Hou had been treated differently, saying: "Maybe it's because everything good in life comes easier for the white westerners?"
Chinese publication The Global times also accused "mainstream Western media organisations" CNN and Reuters for "unfairly targeting China".
"The selection of the controversial photo also angered Chinese netizens," the article in The Global Times read.
"Some on Sina Weibo (blogging website) said it only exposes the 'mean' face of Western media.
The Global Times then included some comments from Sina Weibo users.
"See how evil they are, not respecting Hou at all," one person wrote.
While another added: "Smear and defame won't stop Chinese athletes winning honour for the country."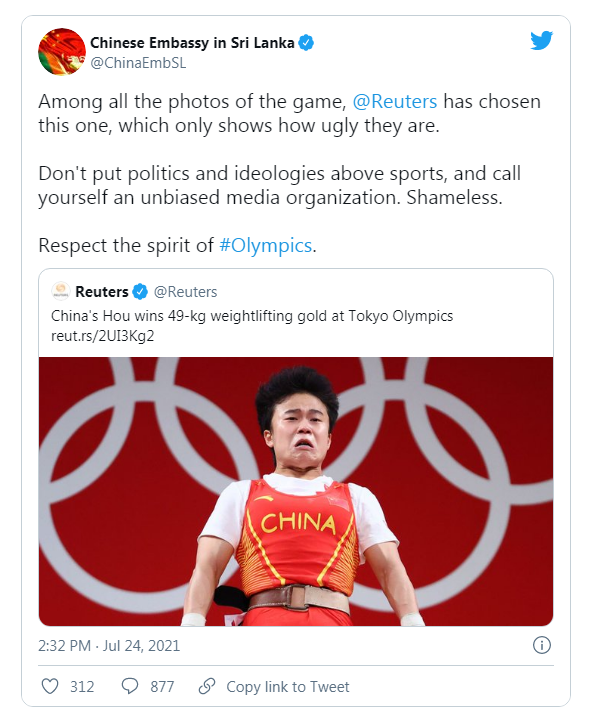 The embassy took to their official Twitter account with a statement against Reuters, accusing the platform of putting "politics and ideologies above sports."
Some people in the comments agreed that this wasn't the most flattering photo and wondered why the outlet didn't choose something else.
But Twitter users argued the photo was "well captured" and shows that "nothing good in life comes easy".
Others hit back at The Global Time, saying no one else called her "ugly" but them, according to Sky News.
"It's only ugly to you. I see an athlete in the middle of her effort on her way to bag and Olympic medal. This tweet says more about you than anything," one person wrote.
"Looks like China itself thought it was ugly, no one else did. Deep inferiority complex," another tweeted.
The embassy responded to the comments comparing four different photos of athletes posted by Reuters.
"Same day, same Olympics, same @Reuters, different faces. Maybe it's because everything good in life comes easier for white westerners?"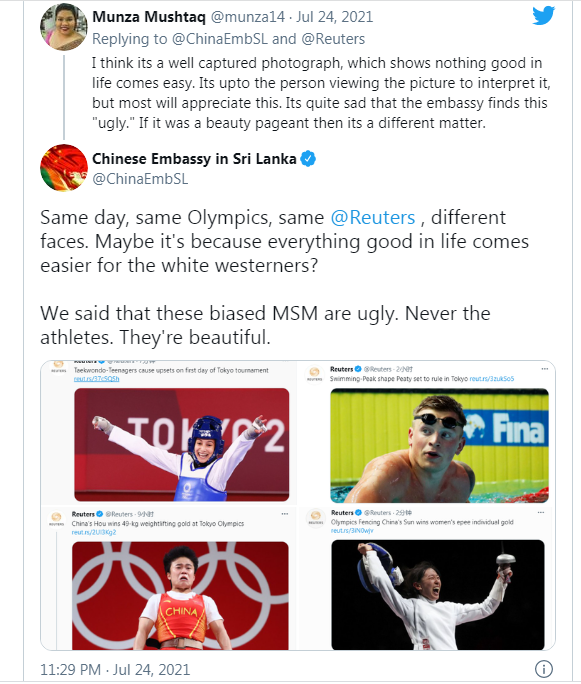 The embassy then ended up doubling down on the accusations in response to the aforementioned comment.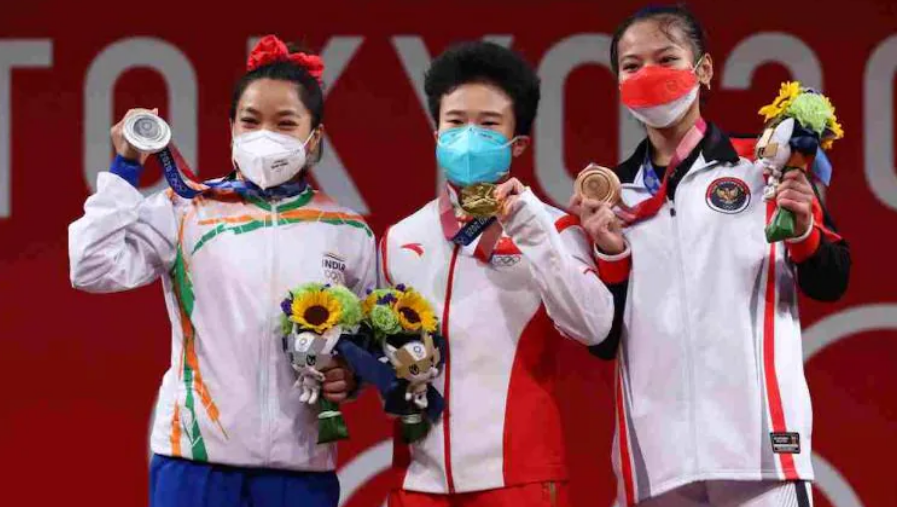 Gold medalist Hou Zhihui of China, Silver medalist Mirabai Chanu of India and Bronze medalist Windy Cantika Aisah of Indonesia posing at the medal ceremony. Image: Reuters
China's Zhihui Hou bagged gold on July 24 with a total of 210 kilograms (462.971 pounds) and created a new Olympic Record. Mirabai Chanu opened India's medals tally as she bagged a silver in the Women's 49 kilograms (108.027 pounds) category at Tokyo International Forum, while Indonesia's Windy Cantika Aisah grabbed bronze with a total of 194 kilograms (427.697 pounds).
There were also bombshell claims from India on Monday night where it was reported Hou has been asked to remain in Tokyo before flying home under the advice of anti-doping officials on July 26.
According to reports, there is an "adverse analytical finding" in the samples of Zhihui. This means that further tests would be conducted to ascertain the presence of prohibited substances in her first sample. The gold medalist has also been asked to undergo a fresh dope test, news agency ANI reported.
The report claims, India's Mirabai Chanu could be upgraded to the gold medal if Hou fails the doping test.