Cho Ray Phnom Penh Hospital: Symbol of friendship between Vietnam and Cambodia
Srey Phirum Khun, 45, used to spend 8 hours travelling from Cambodia's Kampong Speu Province to Ho Chi Minh City in Vietnam for health checkups and treatment. Today, she no longer faces the grueling journey thanks to the inauguration of the Cho Ray Phnom Penh Hospital in January 2014.
Srey Phirum Khun, 45, used to spend 8 hours travelling from Cambodia's Kampong Speu Province to Ho Chi Minh City in Vietnam for health checkups and treatment. Today, she no longer faces the grueling journey thanks to the inauguration of the Cho Ray Phnom Penh Hospital in January 2014.
A patient is transferred to Cho Ray Phnom Penh Hospital by helicopter. — VNA/VNS Photo
"I no longer have to travel abroad for treatment. It helps save my money and time," she said with a smile.
Khun was just one of many who have benefited from the joint cooperation between Vietnam and Cambodia in the medical sector.
According to So Thoeun, a 44-year-old Cambodian tour guide who has spent 11 years taking patients to Vietnam, every day, hundreds of Cambodians travel from their home country to HCM City for health services and treatment.
SYMBOL OF FRIENDSHIP
Cho Ray Hospital was well-known and supported by the majority of Cambodian patients, he said, citing one of Thoeun's old acquaintance as an example.
Suffering from haemorrhoids, the man chose to get treatment at Cho Ray Hospital on the advice of friends. A week after surgery, he was discharged and is now in good health.
Since the Cho Ray Phnom Penh Hospital was put into operation, Cambodians have come here instead of going to Vietnam.
Vietnamese often say "Vạn sự khởi đầu nan" or "It's the first step that counts". And this idiom goes well with the early stages of the hospital.
Pham Ngoc Nguon, head of the Outpatient Department at Cho Ray Phnom Penh Hospital, said they faced huge difficulties early on due to a shortage of patients.
Although the hospital was well-equipped with 200 beds, it failed to attract customers.
"Some days, only two patients came to the hospital for health checkups," he said, blaming the problem on the high cost of treatment, which might be up to USD 100 a day.
To overcome the situation, the hospital's management board decided to change its strategy, focusing on middle- and low-income earners in Cambodia.
As a result, the number of people visiting the hospital has increased substantially. Up to 1,700 people now visit the hospital for medical checkups and treatment each day.
The number of inpatients at Cho Ray Phnom Penh Hospital rose sharply to 5,590 last year, from 1,260 in 2014.
In the first eight months of the year, the number of patients undergoing surgery rose by 51 per cent, while those seeking other forms of treatment was up 70 per cent compared to the same period last year.
It is reported that Cambodia's top Buddhist patriarch Tep Vong also chooses the hospital for regular check-ups and treatment.
The above-mentioned results indicated that patients now have more trust in their local doctors.
Doctors perform an ENT endoscopic surgery on a patient at Cho Ray Phnom Penh Hospital. — VNA/VNS Photo
Phan Vi Chet, a Cambodian doctor working at the hospital, said that Cambodians always hoped to be treated by Vietnamese doctors, especially old and experienced ones because they believed in the expertise of Vietnamese doctors.
"This underlines the 'brand name' of Vietnamese doctors, and shows how much we admire our Vietnamese colleagues," he said.
Tran Thanh Tung, director of the Cho Ray Phnom Penh hospital, attributed the institution's success to the great efforts of its staff.
As gaining trust among Cambodians was a prerequisite, the hospital has concentrated on improving the professional skills of health workers.
Thousands of physicians from Cho Ray Hospital in Vietnam have shared specialised medical knowledge and transferred medical technologies to their Cambodian peers.
The hospital also dispatches staff for advanced training at Hung Vuong and Tu Du Hospital – two centres specialising in obstetrics and pediatrics.
In addition to offering training courses, Nguyen Truong Son, director of Cho Ray Hospital (HCM City) said it also provided financial support as well travel arrangements for physicians to the hospital in Phnom Penh to perform surgery and treat patients with serious diseases.
Le Truong Chien, a consultant at Cho Ray Phnom Penh Hospital, said: "Once, the hospital received a patient suffering from multiple injuries after a traffic accident."
Realising that the case might be beyond their capabilities, the hospital immediately informed Cho Ray Hospital and four doctors from HCM City were sent to support the surgery. The operation was successful and the patient survived, he recalled, adding that over the past five years, thousands of trips like that have been made.
"As soon as we receive the request, our doctors immediately set off for Phnom Penh, regardless of the time of day or night, because curing people is the most important thing," Chien said.
The thing that makes these trips special is they often travel by regular bus.
"It took us just 30 minutes to conduct the surgery, but 6 hours to travel and then the same time on the return journey," said Nguyen Tri Thuc, who took part in these activities many times.
"A doctor's job is to cure people regardless of who they or where they come from," he said.
Thuc said they chose to travel by bus as it was convenient and cheap – costing VND180,000-200,000 per trip.
"With our support, we hope that Cho Ray Phnom Penh Hospital will become a leading centre in Cambodia's health care system, contributing to strengthening the close relationship between the two countries," Son said.
The 500-bed Cho Ray Phnom Penh Hospital, a joint venture between Vietnam's Saigon Medical Investment JSC and Cambodia's Sokimex Co, has departments specialising in internal medicine, surgery, pediatrics, obstetrics, cardiology, trauma and orthopedics, diagnostic tests, and emergency aid.
Cambodian Prime Minister Hun Sen emphasised that the hospital not only helped Cambodian people to improve their health, saving time and money but also created favourable conditions for Cambodian doctors to gradually enhance their skills and learn specialised knowledge from their Vietnamese peers.
STRONG ATTACHMENT
After building trust with Cambodian patients and developing a strong attachment to the country, it's hard for some Vietnamese doctors to return to Vietnam.
As one of the first doctors to take a job at Cho Ray Phnom Penh Hospital, Nguon wants to continue his work even though he is 66 years old.
"Cambodian patients are very gentle. They like doctors like us very much. Whenever they see us, their hands are folded in front of their chest to pay respect. That moved me," Nguon said.
He said he was trying to learn Khmer to be able to communicate with patients more easily as he has strong affection for the land and people.
Danh Rithy, a care-giver in the Emergency Department said he thought of Cambodia as his second home./.
VNF/VNS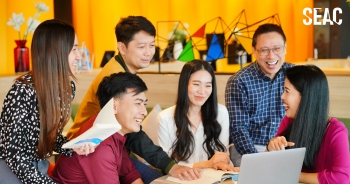 Economy
SEAC, a leading corporate and lifelong education innovator, is shaking up the Thai and ASEAN education market with significant investment to expand its SMART learning solutions across the ASEAN region.