Climbing Mount Dai Bang in Kim Boi Hot Spring
The Muong Dong believe that witnessing an eagle on the mountain peak is a blessing.
The mountain, located about 50km from Hanoi, is a retreat for mountain climbers and hot spring lovers.
Kim Boi is also known as Muong Dong, where the ancient Muong people lived. This is among the four Muong residential units in Hoa Binh province, namely Muong Bi, Muong Vang, Muong Thang, and Muong Dong. Kim Boi attracts tourists with one of the best hot springs in the North of Vietnam. Visitors can also enjoy delicious Muong specialties, drink mineral water, and experience Muong culture.
Dai Bang (Eagle) Mountain was discovered recently and is now a new tourist spot that attracts travelers to Kim Boi. It is called Eagle Mountain because the local people often see eagles when standing on the top of the mountain. The Muong Dong people said that if you meet an eagle on the top of this mountain, you will be lucky.
Climbing Dai Bang mountain is both daunting and exciting. It requires patience and perseverance. The first 1km is steep, however, the higher you reach, the more beautiful the scenery you see.
Then, everything is changing as visitors pass through acacia forests and encounter fields of wildflowers.
After that, you will see vast grasslands and untouched forest trails. The beautiful scenery makes you feel better. You can see the whole area of Muong Dong from afar. However, climbers need to bring a hat, sunscreen, and a long-sleeved shirt on a sunny day to avoid heatstroke because there are not many trees along the road.
Along the way, travellers can see buffaloes and cows on the grassland. You can lie down on the grass, feel the fresh air and the majesty of nature.
You also see many kinds of flowers and wild fruits with beautiful colours. However, do not eat without asking the locals.
You will feel a sense of accomplishment and happiness when reaching the top of the mountain. The Dai Bang Peak area is spacious, appropriate to camp. From here you can see the whole Kim Boi with mountain ranges which is hard to forget. The total distance is about 8 km.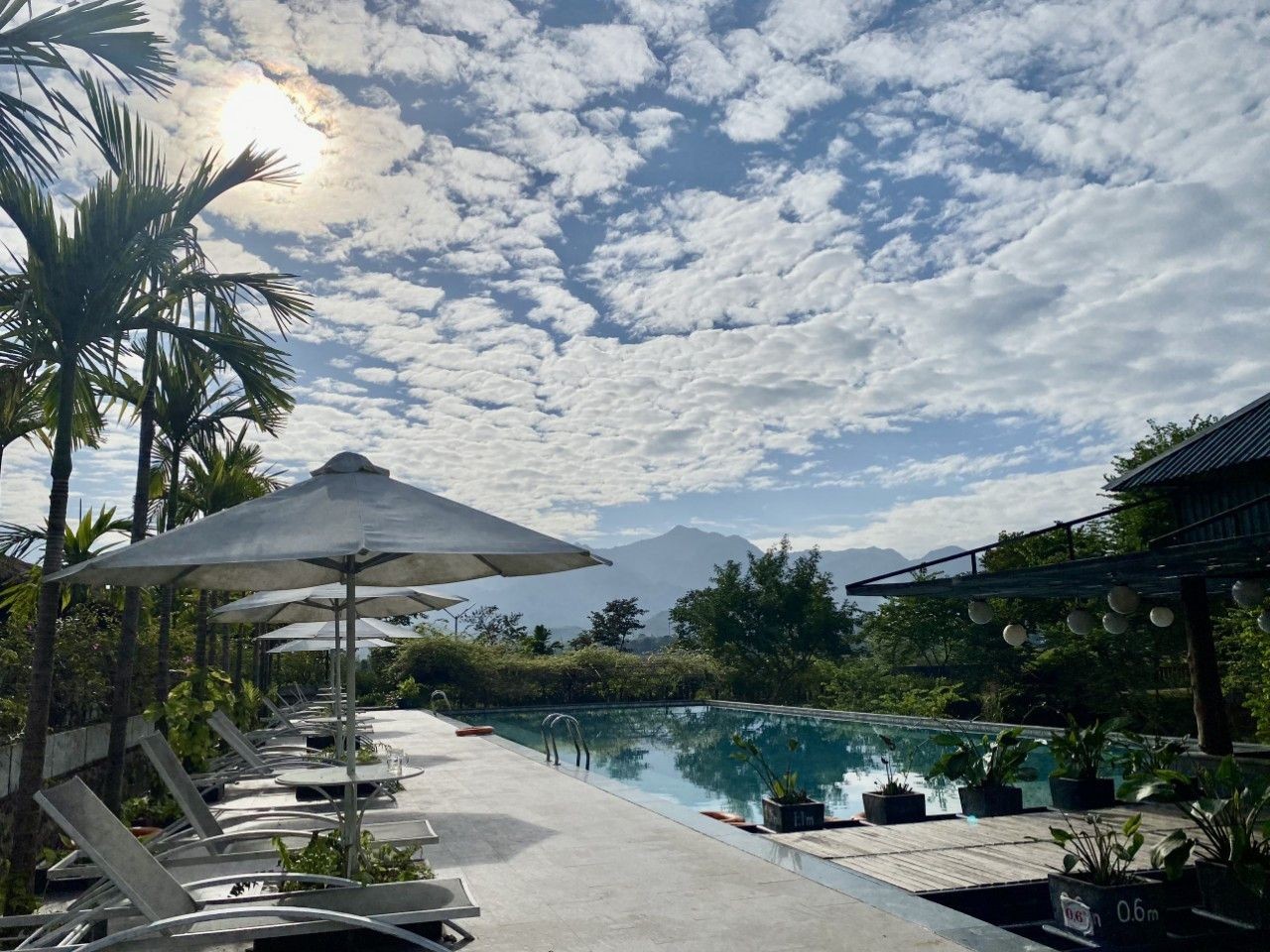 Photo: VnExpress
Visitors can bathe in hot springs after climbing the mountain. The mineral water helps to relax tense muscles. Some resorts have large pools, filled with fresh air and warm natural mineral water. That would be a great experience to relax in warm water after climbing for 4 hours.
Dai Bang Mountain is a spot in the family trip program on December 7-8, organized by S-Travel with the participation and support of local authorities and travel agencies. Currently, this mountain has not yet welcomed tourists. Visitors must book tours through a travel agency.
Source: VnExpress