Road to Mount Everest: Vietnamese Engineer Conquers Top Of The World In Second Attempt
A Vietnamese engineer has successfully set foot on Mount Everest in his second attempt and realised the promise to conquer the peak.
Khai Nguyen at Nagarjuna Hill at the height of 5,100m. Photo courtesy of Khai Nguyen
Khai Nguyen, hailing from Ho Chi Minh City and working in California, traveled to Kathmandu, Nepal in April to get ready for his climbing trip.
This was the second time he tried to climb the highest mountain of the world, after failing in the first attempt in 2019.
The mountaineering service he paid to the tourism company was about USD40,000-65,000. If climbers do not take the service, they still need to pay USD11,000 for a climbing license.
From Kathmandu, his team took a flight to Lukla, a small town where all trekkers to the Everest started their journey.
It took them eight days to climb from Lukla to Everest basecamp. This route usually has a lot of climbers, but this year due to the pandemic, there were almost no tourists.
Khai had six Everest companions and one guide called Sherpa.
Sherpa Chhiring Namgel was Khai's closest friend on the trip. He has conquered Everest for nine times including two times this year.
A lot of people were infected Covid-19 on Everest and had take helicopter from the base camp to hospitals in Kathmandu for treatment. Khai's group was no exception. Some climbers and sherpas had to go down the mountain to return for self isolation or treatment.
A hard trip
The Everest basecamp located at the height of 5,334m is home to climbers.
They have to make several rotations in Everest parlance to successively higher camps up the mountain.
Khai had to face avalanche during his rotation trips. After finishing rotations, climbers are required to travel to a position of lower altitude to recover themselves and prepare for the climb to the peak.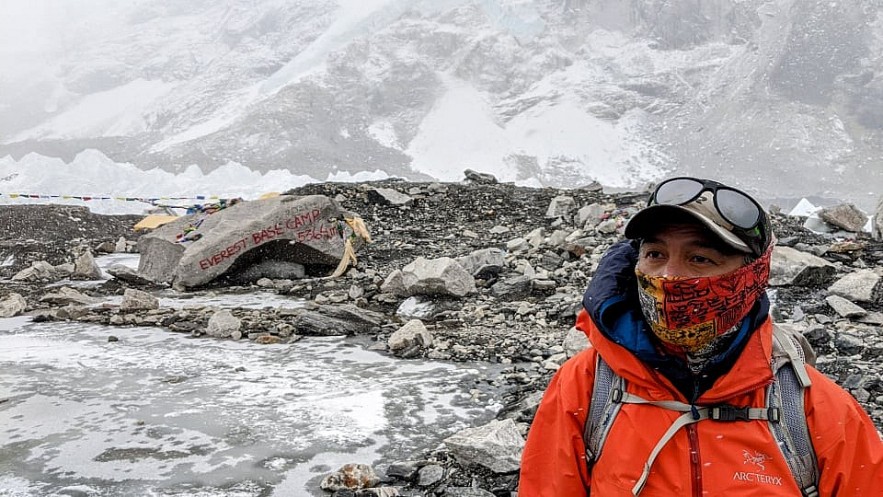 Khai Nguyen at the Everest base camp. Photo courtesy of Khai Nguyen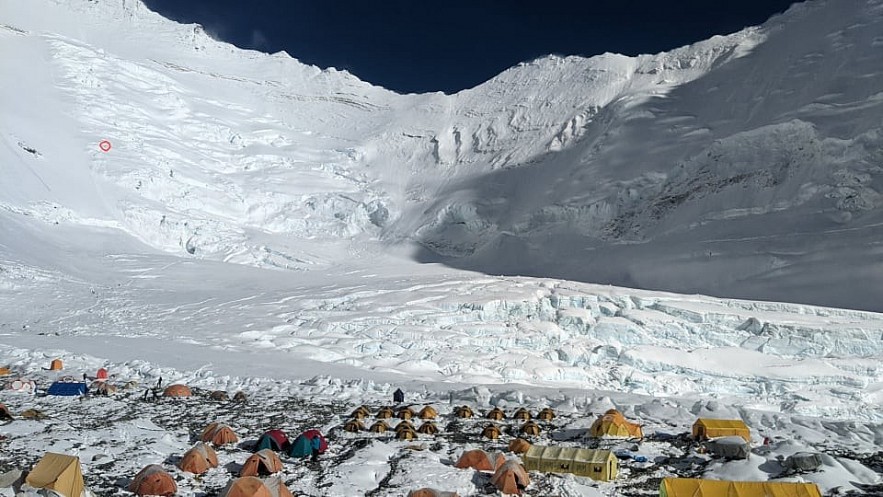 Tents of climbers in the snow mountain. Photo courtesy of Khai Nguyen
A common place for rest is Namche Bazar but Khai decided to return to Lukla and stayed there for four days to avoid crowds and Covid-19 infection.
After the resting time, Khai and his team climbed a steep slope to the peak.
It was only when sleeping did he use oxygen, but only in minimal doses.
The next morning, when he woke up at around 7am, Khai was surprised at a long line of climbers on the road to Station No 4 so it took his team a long time to reach the station.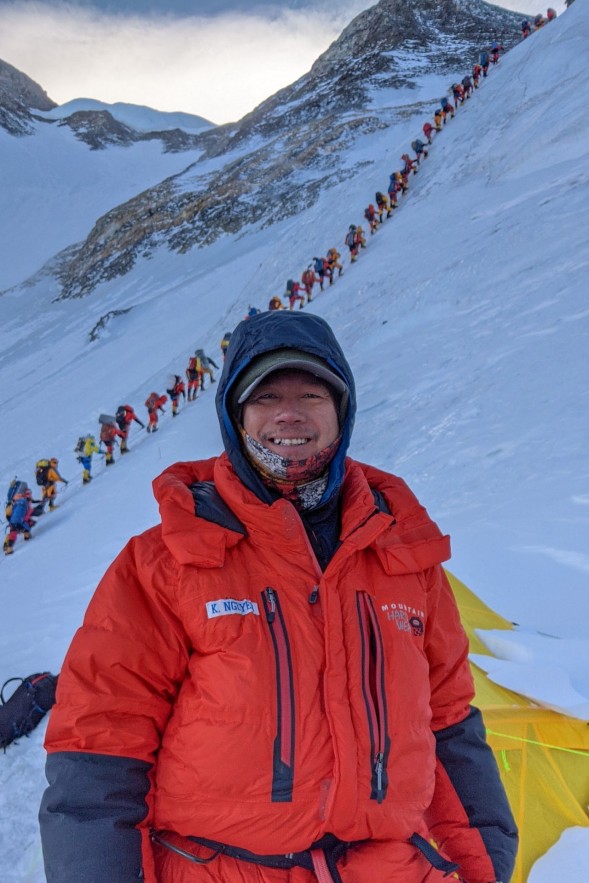 Behind Khai is a long line of climbers who share the dream of conquering Mount Everest. Photo courtesy of Khai Nguyen
When the team reached station 4 located at the height of 7,950 m, which is called the "Death Threshold", they needed to maintain their breathing with an oxygen tank. The wind was getting stronger now. Some of his companions told him the wind speed could reach 75 km per hour. At station 4, the terrain is quite flat. Because of the strong wind, there was no snow cover.
The station is surrounded by black slate rocks, a lot of garbage, tattered tents, old oxygen tanks that the climbers left.
That night, the radio in the station kept receiving calls from climbers who asked whether they should continue to climb or not. At 7pm, everyone in the station could not start climbing because the wind was too strong, the risk of frostbite was high.
Khai received a message from his family via a satellite locator, saying the weather would be better on May 24, but it would only last until early morning, so he decided to wait for the next day.
Waking up in the morning, Khai heard from people who had successfully climbed to the top that the higher the altitude, the lower the wind speed.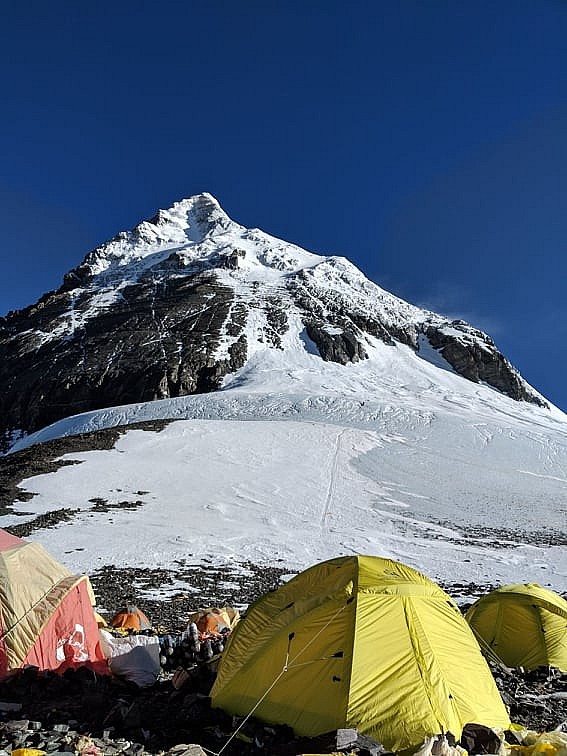 A photo of the Mount Everest's pyramid peak taken from Khai's tent. Photo courtesy of Khai Nguyen
Around 9am, when the winds were weaker, he had to convince the trip organizer to continue. This was not the right time to climb because there are many dangers such as unexpected weather changes in the afternoon and after returning to the top, it would be very easy to fall down. Rescue work would be more difficult then.
Conquering top of the world
After several efforts, Khai managed to climbed to the peak.
Standing on the top of the world in a sunset, Khai and his sherpa enjoyed the very special and rare experience.
Khai's smartphone and action camera could work well in the bitter cold of Mount Everest. Luckily, the sherpa had a GoPro to record memories although it did not work well in the weak light.
The photos taken on the mount were then posted by Sherpa Chhiring Namgel on his personal Facebook. For him in nine times conquering the Everest, this was probably the most special time. Khai sent a message using a satellite navigation device from the top of Everest to mark this moment.
One of Khai's climbing guides said "We are delighted to welcome Khai back this spring, especially when he has conquered the highest mountain in the world in bad weather. He is also one of the Vietnamese I know who have conquered the top of the mountain."
Khai said "Anyone who climbs a mountain wants to reach the top, but this is uncertain. That's why people often use the word 'try to' or 'try on' rather than 'will'.
"Before climbing any mountain, I tell myself that I may not be able to reach the top. A climber must know when he should go ahead advance and when to return."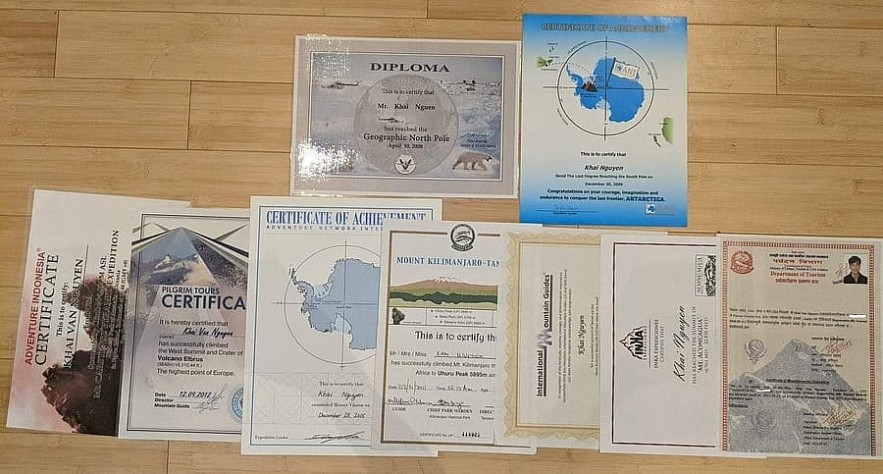 An album of mountain climbing certificates owned by Khai Nguyen. He has so far conquered seven mountains. All of them are the highest mountains in each continent. Photo courtesy of Khai Nguyen
Sad memory in the first attempt
In 2019, in his first attempt to Everest, he returned after reaching the height of 8,100m.
Then his breath was still stable but he no longer wanted to eat, because his appetite gradually disappeared. To maintain his strength, he tried very hard to swallow instant noodles and junk food. He started to cough up blood and had the muscle between his ribs torn due to coughing for a long time.
Khai Nguyen has a meal with his companions during the trip to Mount Everest in 2019. Photo courtesy of Khai Nguyen
More badly, his companion, Donald Cash, died on the way to the peak.
"I was shocked and sad. There are many accidents caused by weather, other external factors or simply bad luck on the way," Khai told VnExpress.
Mahendra, another Khai's companion, could not move because he had snow blindness. Another bad news came to him as Mahendra's brother was being trapped on the mountain, which he was close to the death.
Khai decided to give up because he did not want to leave another companion behind.
He told his Sherpa "Go save them by any means. The mountain has been here for millions of years and I will come back any time."
Khai did not want any more member to die.
"When I tell this story, many people say I am a hero, but I humbly deny it. The real heroes are our sherpas. It's great that the death list on the Everest doesn't get any longer," Khai said.
The mighty mountain is still there and Khai have returned. And he made it.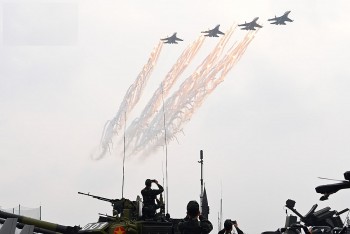 National
At the opening ceremony of the Vietnam International Defense Expo 2022 on December 8th morning, there were impressive performances of the air forces and commando of the Vietnamese People's Army.