Close Look at Billion-dollar New Office of US Embassy in Vietnam
The new US Embassy campus project in Hanoi costs US$1.2 billion, higher than the country's new embassy in London, UK, which was built in 2018.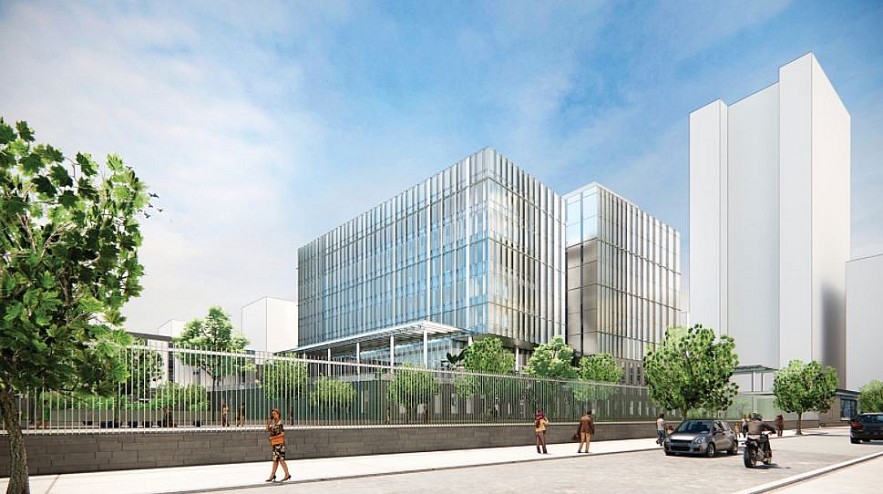 The three-story basalt base of the New Office Building represents strength and stability, while stainless-steel panels reflect the sky and represent openness. (Photo: EYP Architecture & Engineering)
US Charge d'Affaires deputies Christopher Klein and Director of Hanoi Department of Natural Resources and Environment Bui Duy Cuong signed a 99-year land lease agreement to build a new office for the US Embassy in Hanoi on August 25 during US Vice President Kamala Harris' visit to Hanoi.
According to the US Embassy, the new headquarter will be built on an area of 3.2 hectares, with a total estimated budget of US$ 1.2 billion. EYP Architecture & Engineering, an enterprise based in Washington D.C., will be in charge of the construction.
The new embassy campus will be a modern urban space embodying the culture and vitality of the Vietnamese capital city, and become a symbol of cooperation, friendship, and development for years to come, the US embassy said.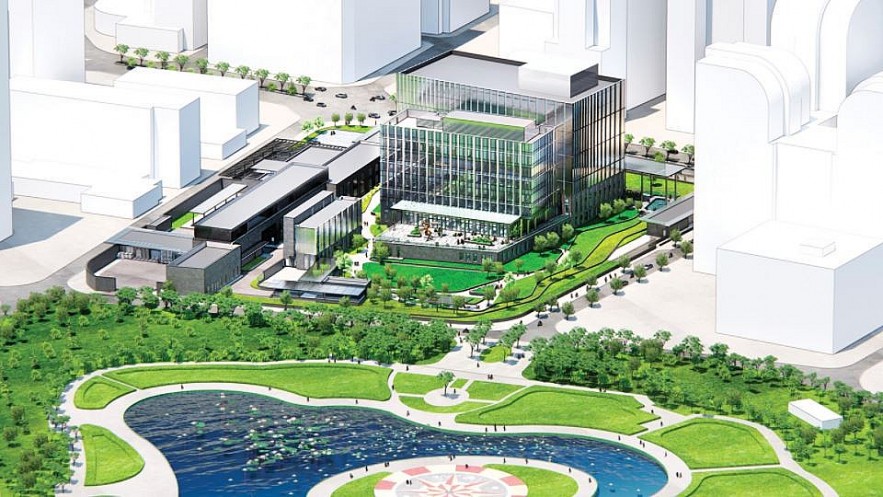 Situated between Cau Giay Park and Pham Van Bach – an active urban boulevard – the NEC blends the activity of the city with the serenity of nature. (Photo: EYP Architecture & Engineering)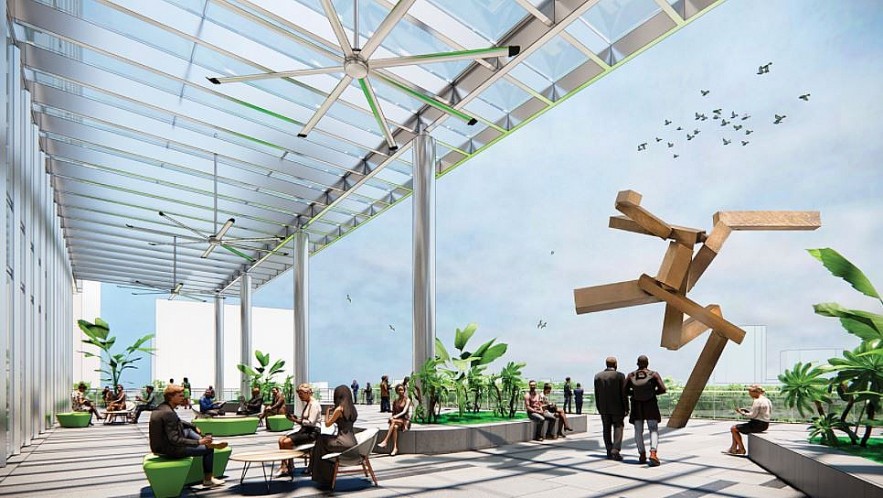 With views of the park, the elevated terrace offers protection from sun and rain. Fans provide air movement while dedicated planters and art installations enliven the space. (Photo: EYP Architecture & Engineering)
'Representing a significant milestone in America's ongoing diplomatic relationship with Vietnam, the New Embassy Campus embraces Hanoi's modern urban landscape while reflecting the city's serene natural beauty,' EYP Architecture & Engineering said on its website.
The site includes a New Office Building, Marine Security Guard Residence, support annex, utility building, parking garages, and campus access pavilions.
Uniquely situated on an active urban boulevard, the 8-acre campus connects the bustling city with the tranquility of the adjacent Cau Giay Park. Inspired by Ha Long Bay in northeast Vietnam, which is known for its shimmering waters and thousands of towering limestone islands, the building materials portray America's forward-looking, reflective, and transparent approach to diplomacy.
Diplomatic functions are organized under a grand civic canopy displayed along the boulevard, while community areas are oriented with views of the park. In the elevated gallery and outdoor terrace, visitors can join dignitaries at an afternoon reception in a safe, secure environment.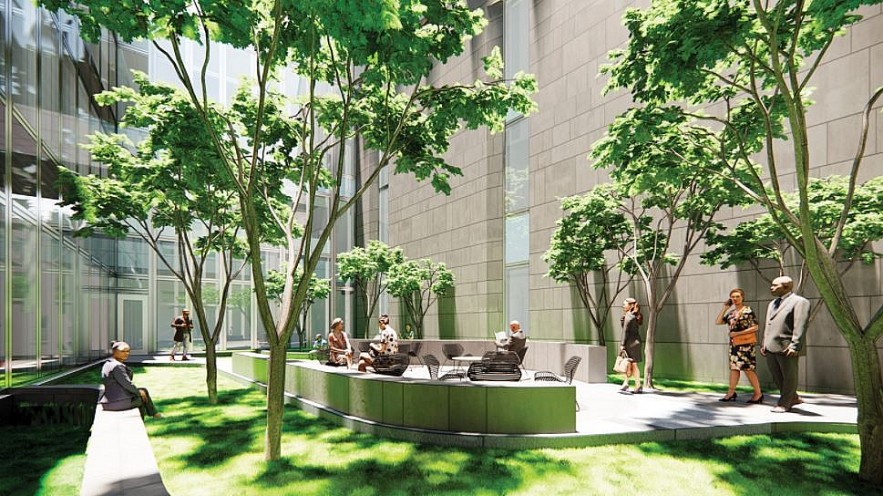 Strategically placed courtyards provide moments of connection and relaxation for embassy staff, while also allowing light into the surrounding office space. (Photo: EYP Architecture & Engineering)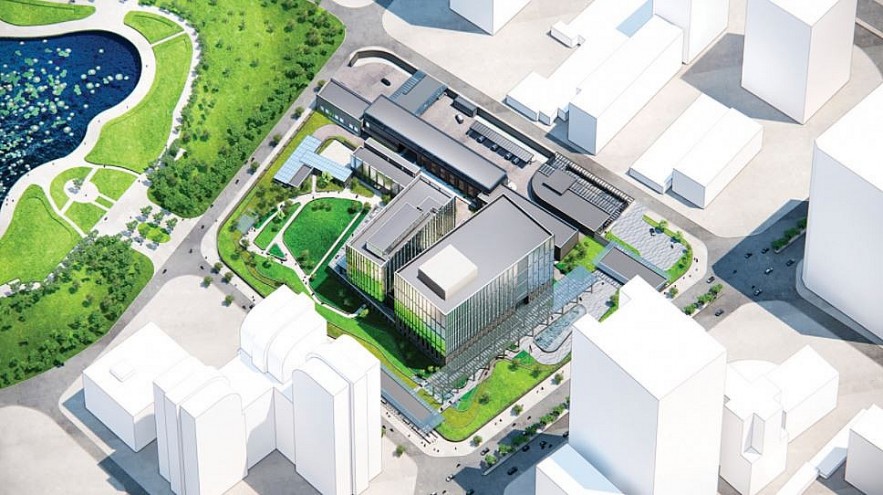 The new headquarter will be built on an area of 3.2 hectares. (Photo: EYP Architecture & Engineering)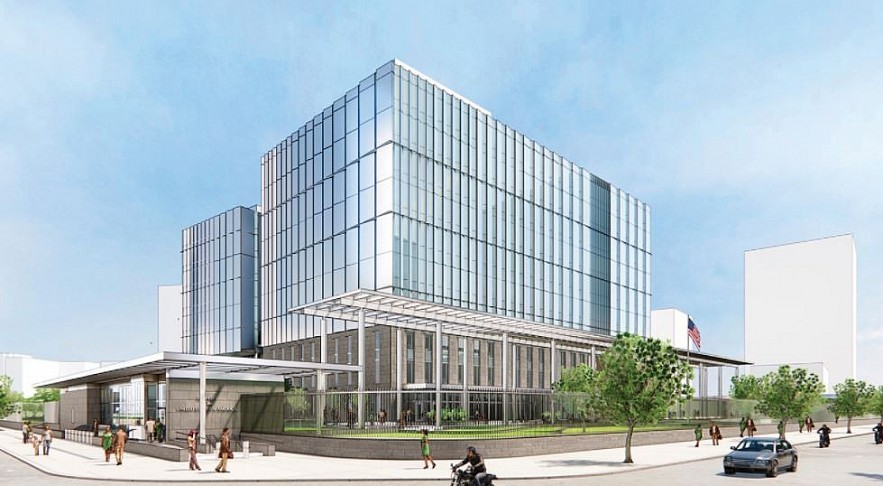 The site includes a New Office Building, Marine Security Guard Residence, support annex, utility building, parking garages, and campus access pavilions. (Photo: EYP Architecture & Engineering)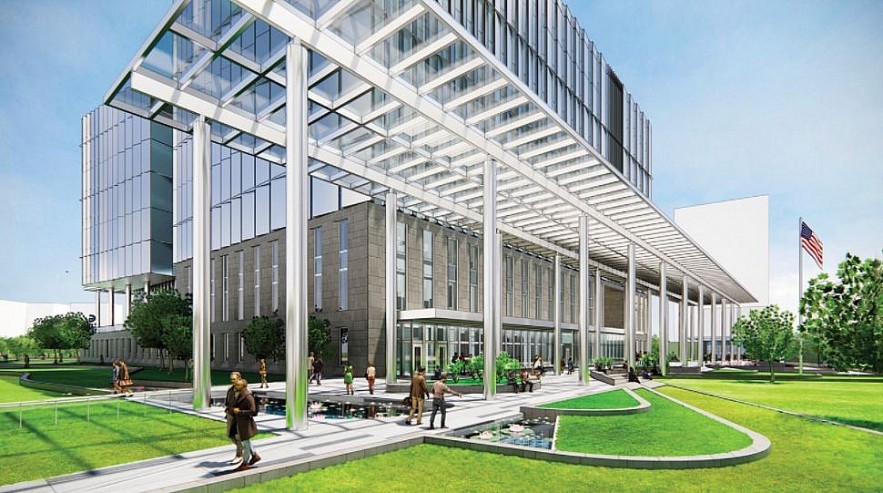 Inspired by Ha Long Bay, the building materials portray America's forward-looking, reflective, and transparent approach to diplomacy. (Photo: EYP Architecture & Engineering)
The New Embassy Campus offers an open, engaging architecture representing America's diplomatic partnership with Vietnam. (Photo: EYP Architecture & Engineering)