CNN audience responds positively to Hanoi's sights and culture
The U.S. Cable News Network (CNN) has recently broadcast a special programme titled "Destination Hanoi", with footage of the Vietnam capital's sights and culture having received a positive response from many international friends.
The U.S. Cable News Network (CNN) has recently broadcast a special programme titled "Destination Hanoi", with footage of the Vietnam capital's sights and culture having received a positive response from many international friends.
A panorama of 'Hau Dong' in Vietnam's Mother Goddess worship. (Photo: CNN)
The 30-minute feature takes a look at some of Hanoi's proudest traditions and the efforts to preserve them, including the Thanh Chuong Viet Palace, the Quintessence of Tonkin – an open-air spectacle, Cu Da Vermicelli Village, Shrimp Cake from Hanoi's West Lake, and the worship of the Mother Goddess.
British photographer Andrew Wiggin showed his excitement on the contents that CNN's programme brings to the audience, saying that, from its food and tourist sites to its quiet street corners, Hanoi is a dream destination for photographers such as himself.
Especially, the 'Hau Dong' ceremony (trance rituals) of the Mother Goddess worship in "Destination Hanoi" attracted the attention from many foreign watchers.
Inscribed by UNESCO in 2016, as part of Vietnam's intangible cultural heritage, Mother Goddess worship in northern Vietnam involves a medium channelling the various female deities in a ritual filled with music, singing, dance and costumes.
On the Facebook and Twitter networks, many applauded the beautiful and proud 'Hau Dong' footage.
B. Hanah from Switzerland shared that she did not consider the rituals as something of superstition as some might think and she spoke highly of the unique cultural features of the Hanoi people through the programme.
Lee Kang So from the Republic of Korea said Vietnam's Mother Goddess worship was really special, while highly appreciating Vietnam's perse culture which is full of attractive values to foreign visitors.
Destination Hanoi, a special program included in the promotion deal signed between Hanoi and CNN.
A PUSH TO HANOI TOURISM
CNN and Hanoi has shaken hands in bring the city`s image to the world with a two-year cooperation deal starting 2017. The partnership is expected to enter a new phase.
According to the report on tourism of Hanoi released recently for the first six months of 2018, the city keeps being an attractive spot, especially for foreign travelers, with the 3.1 million international tourists landing on the city in the period, a year-on-year increase of 26 per cent.
Among those, 2.2 billion foreign tourists stayed longer than a single day stay, marking a climb of nearly 27 per cent against the same period last year. They came from about 190 countries and territories, including high-spending areas such as Western Europe, Northern America, and Northeast Asia, etc.
Evidently enough, changes seen in Hanoi's tourism scene can mostly be attributed to the city's efforts in persifying the promotion channel.
Five or six years ago, it was quite rare to find a tourism ad of Hanoi on international media channels. Now billions of potential tourists in the world can, for example, marvel at a hot cup of egg coffee—a Hanoi specialty—via CNN's articles or catch a glimpse of the spider-web-like alleys of the city through video clips that leave them wanting more. These ads were created through the USD 2-million promotion program signed between Hanoi and the cable news network during 2017-2018.
In 2018, according to leader of the Hanoi Tourism Department, the 30-second clips feature the capital's scenery and heritage were aired on iCNN.
According to CNN's broadcast schedule for "Destination Hanoi" program in Asia, Europe, Middle East, North America, and South Asia, short clips from 3-5 minutes were aired for 40 times on CNN Today and News Stream between June 11th-15th, while a 30-minute special program would be shown 12 times between June 16th and 20th.
HANOI ATTRACTS 92 PER CENT OF CNN'S AUDIENCES
Coming to Hanoi's hidden gems, Sunita Rajan, Senior Vice President, Advertising Sales, Asia Pacific, CNN International Commercial, believes they will stun viewers across the globe.
"This 1,000-year-old city has cuisine that cannot be found anywhere else in the world," Sunita told Hanoitimes when CNN signed up for the campaign in 2016.
The program has proven to be highly effective in spreading images of the city across the rest of the world after only one year on air. "Feedback from an independent third-party survey released in early 2018 by the UK's largest research consultancy, BDRC Continental, showed that the majority of respondents developed an interest in Hanoi and wanted to visit the city after watching some of CNN's shows such as #MYHANOI and Hanoi POV," affirmed Sunita.
Accordingly, nearly 93 per cent of respondents agreed that the ad showed them that Hanoi has many interesting sites and places, while 92 per cent were impressed with the tourism activities available in the city and were reinforced in the belief that the city is a worthy holiday destination. The figures state that respondents who regularly watched CNN's coverage would be more likely to travel to Hanoi than non-regular audience (17 per cent vs. 11 per cent).
FURTHER COOPERATION EXPECTED
The CNN's leader also noted that a two year period is not enough, only marking the start of a promotion campaign for Hanoi on global scale.
Hanoi aims to lure around 5.7 million international arrivals, with total revenue from tourists reaching VND 120 trillion (USD 5.2 billion) by 2020, a goal that Sunita from CNN affirmed a four-year promotion campaign needs to fulfil.
It's a modest strategy for Hanoi to meet the target of turning tourism into its spearhead economic sector by the time, she added.
Specifically, according to Sunita, via the promotion deal from 2017 to 2018, CNN has posed an "exploration" period for audience through introducing Hanoi to the world with different aspects from celebrities and Hanoians. This period will lead to another key phase in 2019, when the promotion program heads to interact with audiences. The year 2020 will be the "influential" stage, is that the promotion campaign would start to influence the viewers, pushing them to come to Hanoi for their direct experience.
Further stories of Hanoi told by CNN would be in video platform, attached with messages like "Tell me what I have never knew about" or "Show me what I have never seen before," etc., Sunita said.
On this matter, Head of Hanoi Tourism Department Tran Duc Hai said, "During the remaining six months of 2018, we will round up the cooperation program with CNN during 2017 and 2018 as well as propose the upcoming plan for the next two years."
VNF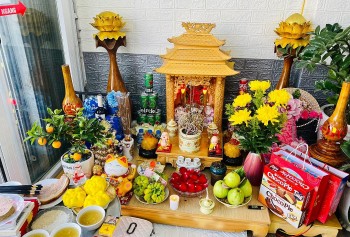 Handbook
Learn more about an ancient Vietnamese tradition that may bring you good fortune!