Coffee Addict: Difference Types of Italian Cofee Drinks That You Should Try
Coffee is a global beverage, and many famous coffee, such as Cappuccino or Macchiato, were originated from Italy. Here is 8 different type of coffee drinks that you should try once in your life, and how to tell them apart.
Italian coffee drinks are something of an art- built on tradition and simplicity. There's a reason international chains haven't opened here, or been met with much success. Many of the traditional bars have been in the family for generations, and the locals value authenticity.
Ordering coffee in Italy isn't as simple as queueing up at your local Starbucks. First, Italians are unfamiliar with the concept of a queue. And second, it is always cheaper (and the Italian way) to order your coffee at the bar and drink it standing up. There likely isn't a menu of the coffee drinks available anywhere to be found and though Starbucks sounds very Italian (venti actually means the number twenty in Italian, not the size of a coffee), you won't recognize many of the names of types of Italian coffees.
There are 8 types of coffee drinks in Italy in total, and each of them have their own characteristics, taste and unique.
1. Caffè (Espresso, Caffè Normale)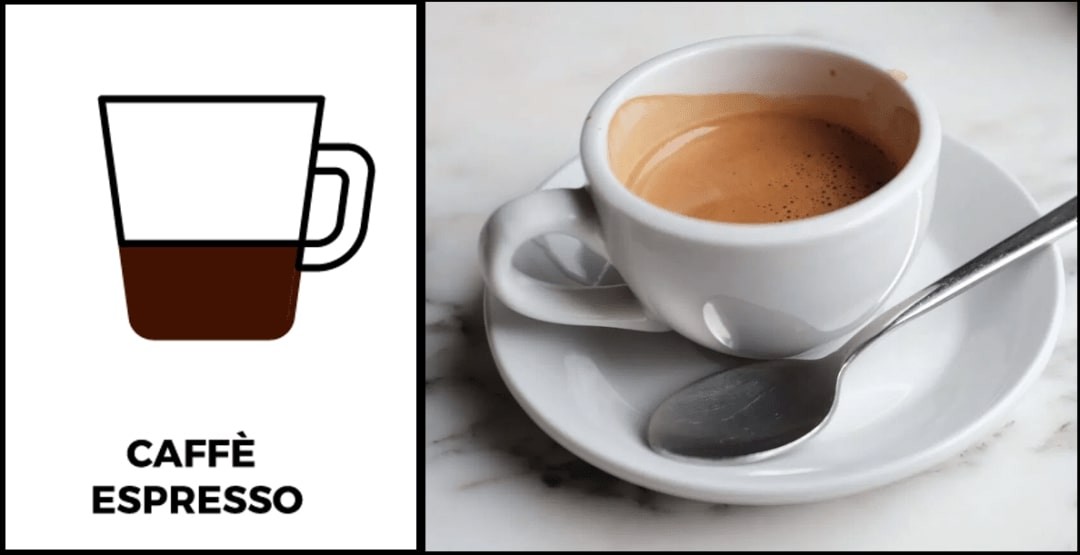 Photo: Lost on the Route
While caffè does literally translates to coffee, a caffè is also a shot of espresso. It is served in a tiny cup and drank all throughout the day. When ordering, you order un caffè and not un espresso.
You can also order caffè corretto (pronounced kahf|FEH cohr|REHT|toh), which is a shot of espresso "corrected" with a shot of liquor. The most common additions are a shot of grappa, sambucca or cognac, but feel free to ask for the liquor of your choice. A shot of Irish cream added is always delicious.
2. Ristretto (Caffè Stretto)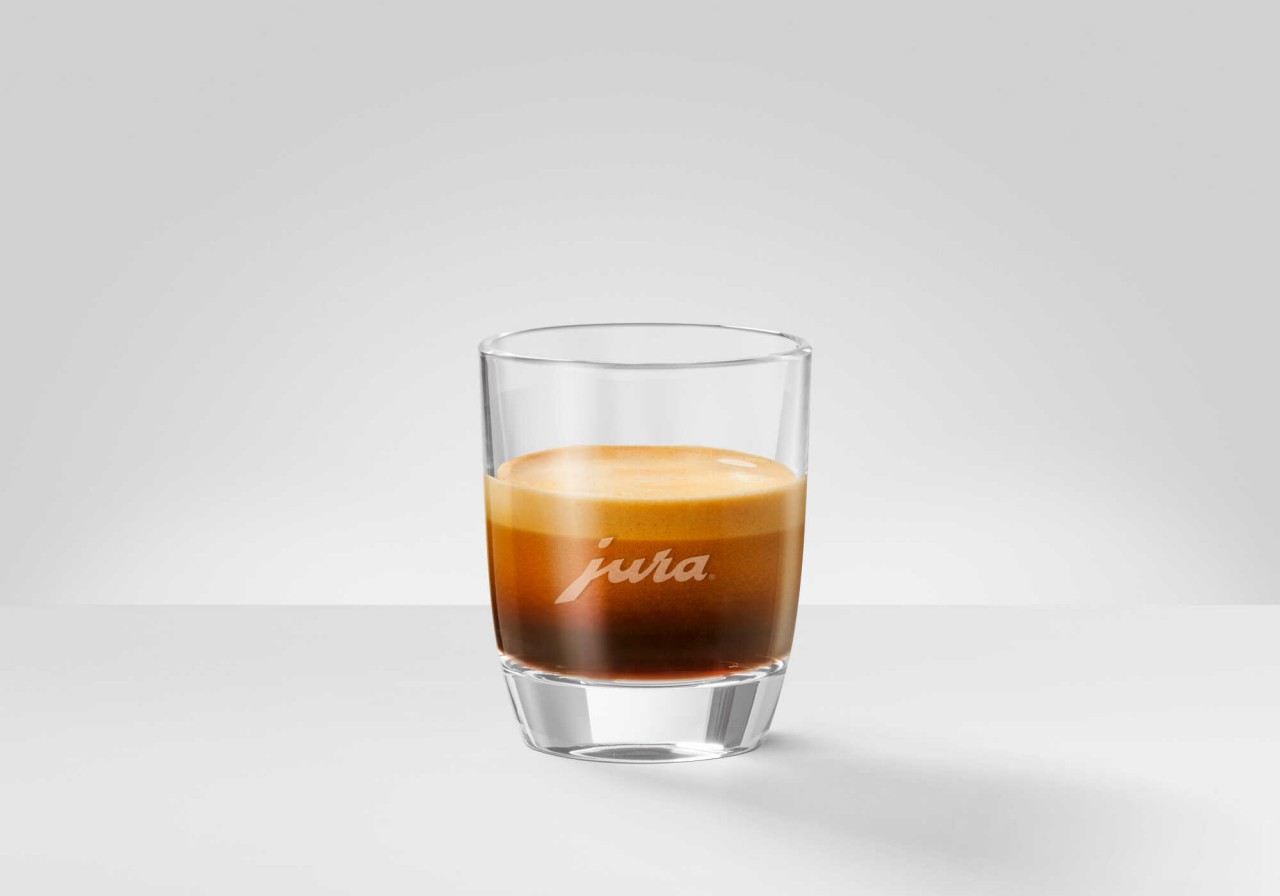 Photo: Jura Vietnam
Ristretto is a "short shot" (30 ml from a double basket) of a more highly concentrated espresso coffee. It is made with the same amount of ground coffee, but extracted with a finer grind (also in from 20 to 30 seconds) using half as much water. A normal short shot might look like a Ristretto, but in reality, would only be a weaker, more diluted, shot. The opposite of a Ristretto (which means in Italian, "shortened, narrow") is a lungo ("long"), which is a double shot. The French call a ristretto a café serré.
Regardless of whether one uses a hand pressed machine or an automatic, a regular double shot is generally considered to be around 14–18 grams of ground coffee extracted into 60 ml (2 fl oz or two shot glasses). Thus, a "double ristretto" consumes the same amount of coffee beans but fills only a single shot glass.
This is something perfect when you only have time for one sip, as opposed to the three sips in a caffè. Which makes sense from the meaning of the name- ristretto means restricted. Un caffè stretto, per favore!
3. Cappuccino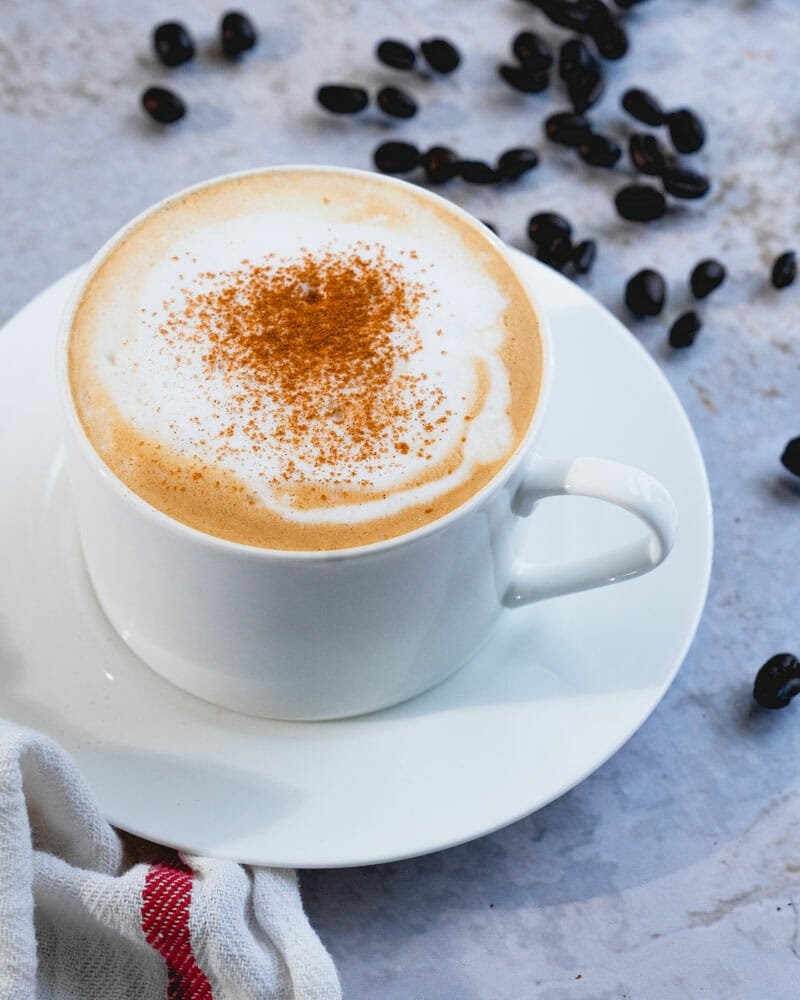 Photo: A Couple Cooks
A cappuccino is an espresso-based coffee drink that originated in Italy, and is simply prepared with steamed milk foam (microfoam).
Variations of the drink involve the use of cream instead of milk, using non-dairy milk substitutes and flavoring with cinnamon or chocolate powder. It is typically smaller in volume than a caffè latte, with a thicker layer of microfoam.
The name comes from the Capuchin friars, referring to the colour of their habits, and in this context referring to the colour of the beverage when milk is added in small portion to dark, brewed coffee (today mostly espresso). The physical appearance of a modern cappuccino with espresso créma and steamed milk is a result of a long evolution of the drink.
The Viennese bestowed the name "Kapuziner", possibly in the 18th century, on a version that included whipped cream and spices of unknown origin. The Italian cappuccino was unknown outside Italy until the 1930s, and seems to be born out of Viennese-style cafés in Trieste and other Italian areas in Austria-Hungary through the Kapuziner coffee in the early 20th century. The drink spread from Trieste, the main coffee port in Central Europe, throughout Italy, especially after World War I and later worldwide, and can be found at a number of establishments.
4. Macchiato
Photo: A Couple Cooks
Caffè macchiato, sometimes called espresso macchiato, is an espresso coffee drink with a small amount of milk, usually foamed. In Italian, macchiato means "stained" or "spotted" so the literal translation of caffè macchiato is "stained" or "marked coffee."
The origin of the name "macchiato" stems from baristas needing to show the serving waiters the difference between an espresso and an espresso with a tiny bit of milk in it; the latter was "marked". The idea is reflected in the Portuguese name for the drink: café pingado, meaning coffee with a drop.
5. Shakerato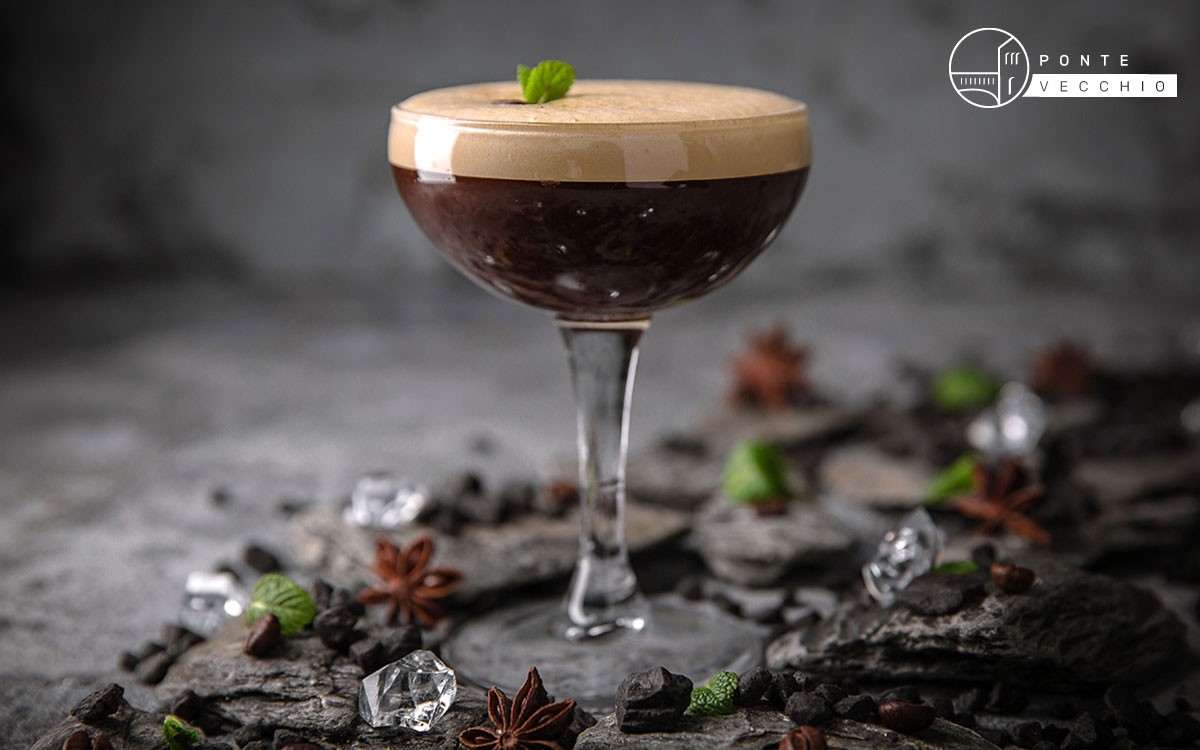 Photo: Pontevecchio
A shakerato is an Italian drink prepared using espresso and ice cubes. It is popular and easily obtainable in Italy.
The shakerato is prepared by shaking together a shot of espresso with ice cubes in a cocktail shaker and simple syrup. Once a frothy consistency has been obtained it is strained into a glass. It is usually served in a martini glass. Sometimes, Baileys is added to give an alcoholic twist.
6. Crema Di Caffè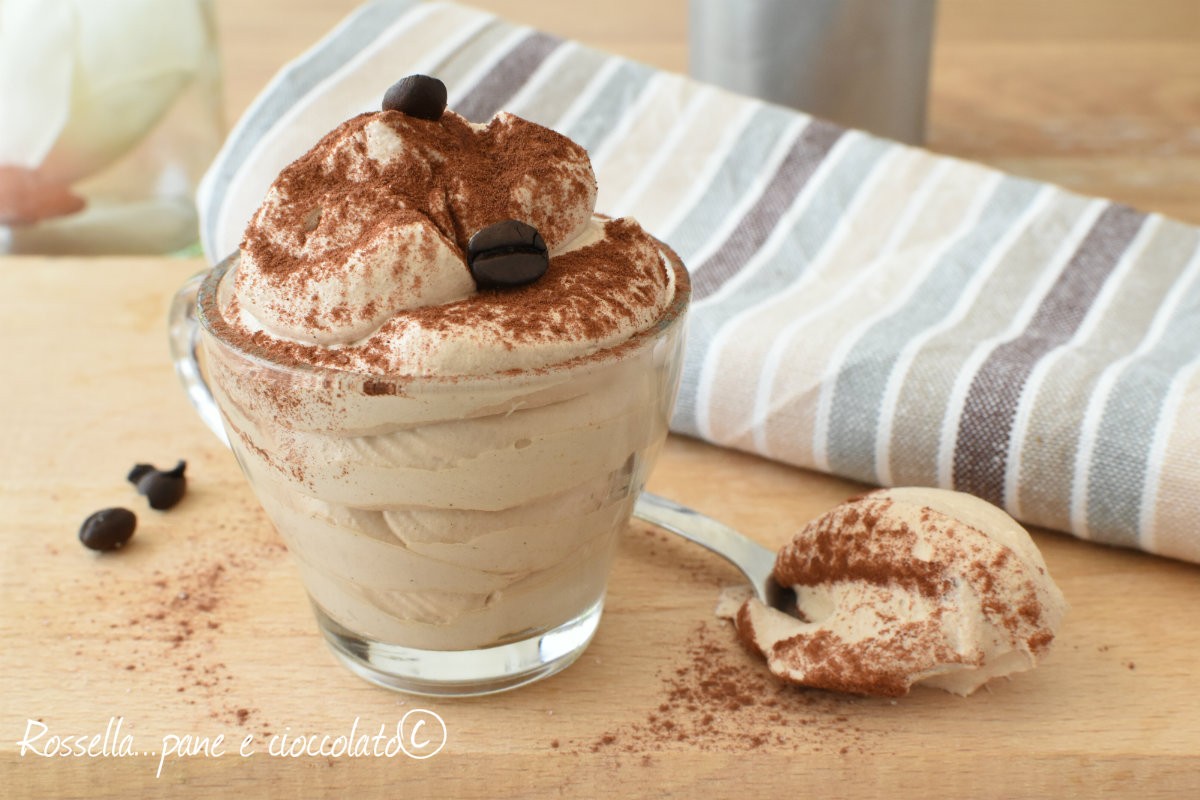 Photo: Giallo Zafferano
Crema di Caffè. Served in a small cup, not much larger than an espresso cup. It's almost like a soft ice cream, and each coffee bar makes its own.
This one, in Sacrofano north of Rome, was delightful. A blend of espresso, milk, cream and sugar freshly made and constantly churning to maintain its delicious consistency. It's one of Italy's best mini summer treats. It gives you your coffee kick, a cooling-off treat to beat the heat and an unparalleled flavor combination.
Top it with whipped cream if you are really "goloso," or enjoy it just as is. Anyway you choose, there's simply nothing quite like it!
You could add layers of crushed amaretti cookies, add a sprinkle of cinnamon, add a couple of chocolate covered espresso beans. If you prefer decaffeinated or instant coffee, those would work too.
7. Caffè Lungo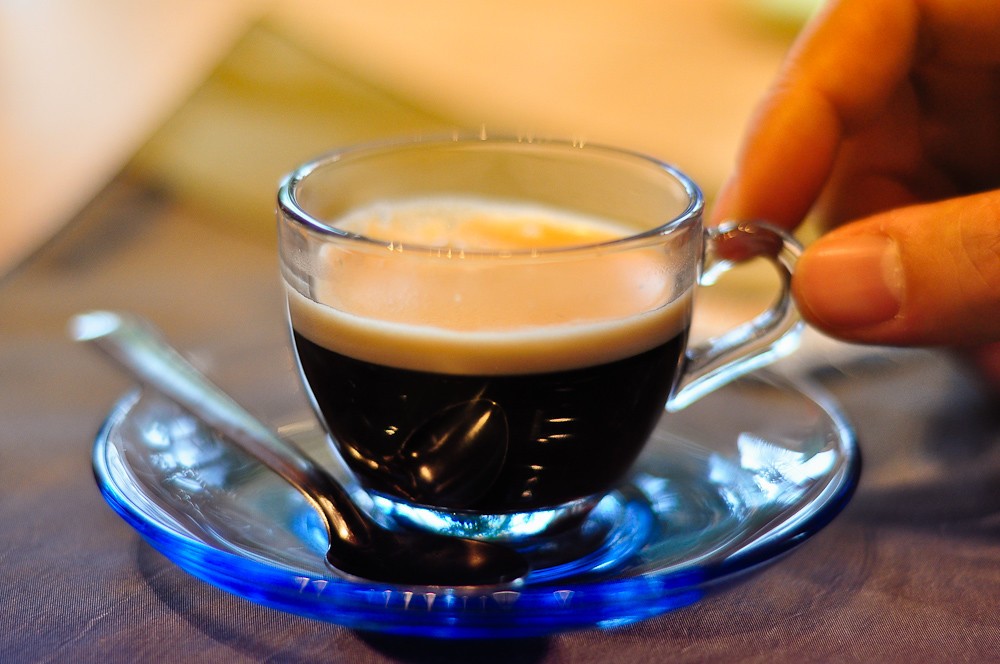 Photo: Flickr
Lungo (Italian for "long") is a coffee beverage made by using an espresso machine to make an Italian-style coffee – short black (a single espresso shot) with more water (generally twice as much), resulting in a larger coffee, a lungo.
A normal serving of espresso takes from 18 to 30 seconds to pull, and fills 25 to 60 millilitres, while a lungo may take up to a minute to pull, and might fill 130 to 170 millilitres. Extraction time of the dose is determined by the variety of coffee beans (usually a blend of Arabica and Robusta), their grind and the pressure of the machine.
In French it is called café allongé.
A caffè lungo should not be mistaken for a caffè americano (an espresso with hot water added to it) or a long black (hot water with a short black added to it, which is the inverse order to an Americano and done to preserve the crema).
In the lungo, all the water is brewed, and the lungo is generally shorter than an Americano or a long black.
In comparison, the caffè crema is a significantly longer drink, comparable in size to an Americano or long black. (This drink is rare in the English-speaking world.) Like the lungo, it is all brewed water, but is about twice as long as a lungo.
8. Caffè Marocchino
Photo: Nespresso
Marocchino (Caffè Marocchino) is a coffee drink created in Alessandria, Italy. It is served in a small glass and consists of a shot of espresso (sometimes a small shot, or ristretto), cocoa powder and milk froth. In some regions of northern Italy, thick hot cocoa is added. In Alba, the home of the Italian chocolate giant Ferrero, Nutella is used. The name Marocchino (Italian for Moroccan) is derived from its colour, as marocchino was a type of light brown leather (see Morocco leather) used in the 1930s to make hair bands.
Preparation methods vary. Generally, the glass cup is first dusted with cocoa powder, then topped with milk froth and espresso, with a second dusting of cocoa on top.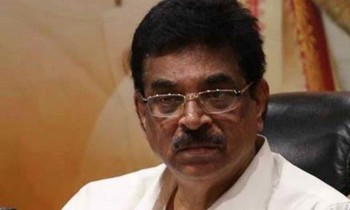 Economy
Mizoram Governor Hari Babu Kambhampati on Thursday said that a Super-Speciality Cancer Hospital and Research Centre would be set up in Aizawl