Colombian Buddhist Praises Vietnam's Heroic Martyrs
"As I stand in front of the graves of countless revolutionary martyrs in Nghe An, I have a deeper appreciation for both the value of peace like we currently enjoy in Vietnam and the meaning of loss. It is something priceless and cherished forever," Colombian Buddhist Daniel Blanco told the Vietnam Times.
On July 25, at noon, hundreds of Vietnamese and Buddhists gathered at the Vietnam-Laos International Martyrs Cemetery to pray for national heroes and revolutionary martyrs (Anh Son District, Nghe An). Even in the scorching heat of around 40 degrees Celsius, many people can still distinguish a pretty unique Buddhist: a foreigner, dressed in a blue monk shirt and holding prayer beads, walks to each martyr's grave to pray under his breath.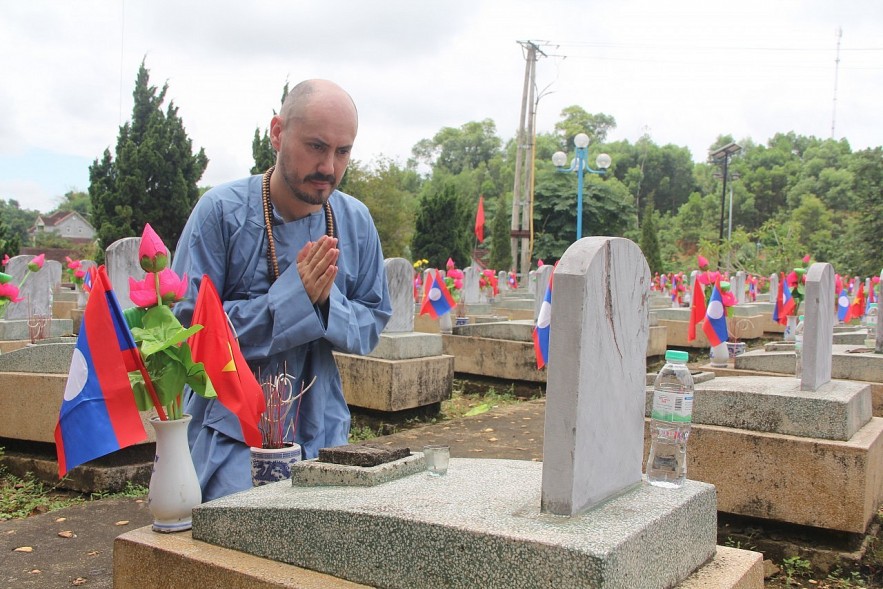 Daniel next to the graves of martyrs at the Vietnam - Laos international martyrs cemetery (Anh Son, Nghe An).
Destined with Vietnam
The Buddhist is Daniel Blanco, a native of Colombia. The story presented itself to Buddhism and the country of Vietnam as an opportunity for him. Daniel Blanco, now 37, holds a master's degree in anthropology and history. He was previously the publishing director of Jorge Tadeo Lozano University and is now an online lecturer at the Instituto Caro y Cuervo (Bogota, Colombia).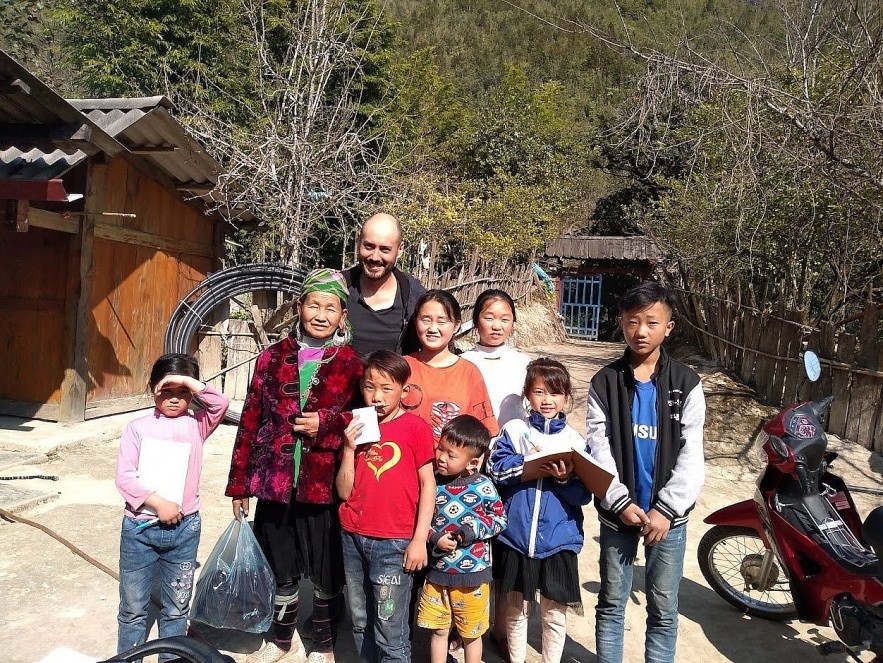 Daniel Blanco with locals on a field trip in Vietnam. Photo: Thoi Dai
"I've previously experienced spiritual encounters that were challenging to discuss with folks around me. I always consciously ignore or dismiss it as a result. Until one day, those concerns became evident and compelled me to put everything on hold in order to embark on a journey to see life from new viewpoints. As a means of reinforcing my income while I was on the road, I took a temporary position teaching Spanish," Daniel said.
"In 2020, I received an offer to be a Spanish teacher in Hanoi (Vietnam). Maybe that was the beginning of my predestined relationship with Buddhism," Daniel recalls.
The Covid-19 pandemic made travel challenging shortly after arriving in Vietnam. Daniel, however, sees this as a chance to stay in this place longer. He has since had the chance to learn more about the locals and way of life. "I can visualize life here quite clearly. I'm motivated to investigate the life and intriguing things that are still hidden here, especially by the hospitality of the locals.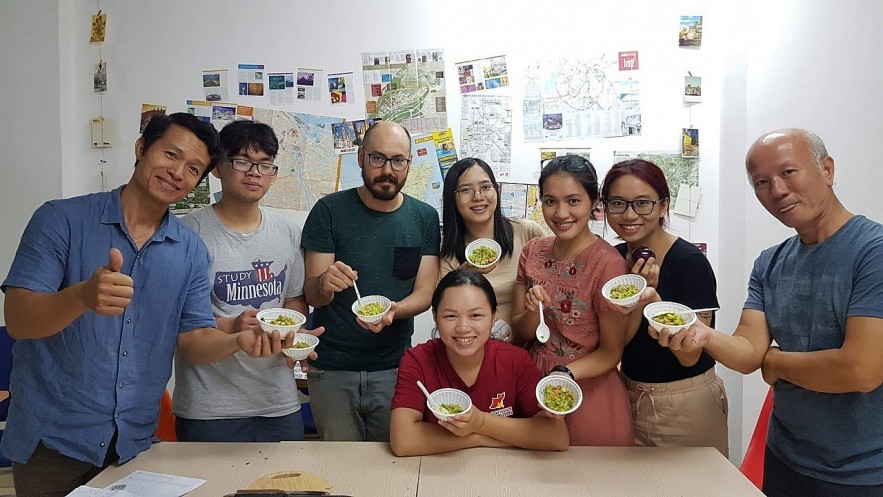 Daniel Blanco works with young Vietnamese people. Photo: Thoi Dai
A buddy brought him to a deeper sense of Buddhism and his experiences pursuing Buddhism in Vietnam.
"This made it easier for me to understand that the spiritual premonitions I had previously dismissed as strange displays of spirituality were actually still present in me. The more I understand about Buddhism, the more I believe it is a wisdom that can answer many unanswered questions," Daniel revealed.
By chance, he was invited by friends to visit monk Thich Tue Quang, abbot of Truc Lam Yen Thanh Pagoda, and took meditation training while in Yen Thanh (Nghe An). Meeting the abbot and being able to eat vegetarian and drink tea with him is truly an honor and a blessing for the Colombian lad.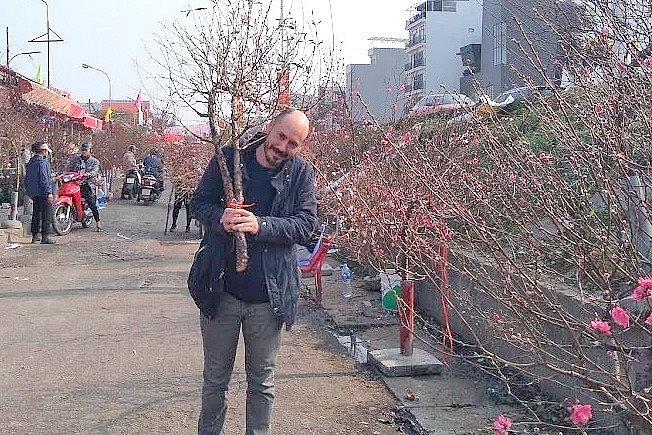 Daniel celebrates the Vietnamese New Year with a branch of Nhat Tan peach blossom. Photo: Thoi Dai
He went on to explain further, saying: "I realize that it is really difficult for an ordinary traveler to have such a fortunate fate and opportunity. I was deeply moved by the abbot's warmth and generosity as well as that of everyone else in the temple, from the women who perform meritorious deeds to the kids who help him with temple duties. I feel emotional like I'm saying goodbye to a family member every time I come here.
Because of these interactions, the Colombian child was able to attend the intercession ceremony for heroes and martyrs that took place in the final days of July at the Vietnam - Laos International Martyrs Cemetery (Anh Son, Nghe An).
Touched by hundreds of unknown revolutionary martyrs' graves
Daniel expressed his thoughts on the prayer that took place towards the end of July 2022: "Being attached to monk Thich Tue Quang of Truc Lam Yen Thanh Temple, I understand more about the core values of Buddhism." Thanks to him, I was also made aware of the Vietnam-Laos International Martyrs Cemetery's prayer service for heroes and martyrs (Anh Son, Nghe An). It is a humane activity that amply displays Vietnam's outstanding cultural customs.
Daniel is still filled with feelings even though the window of opportunity to attend the praying ritual has passed for a few days. The ritual, where individuals and relatives of the dead come to burn incense at thousands of graves of volunteer soldiers and military specialists, especially in the cemetery sight with thousands of martyrs' graves, changes Daniel's perceptions.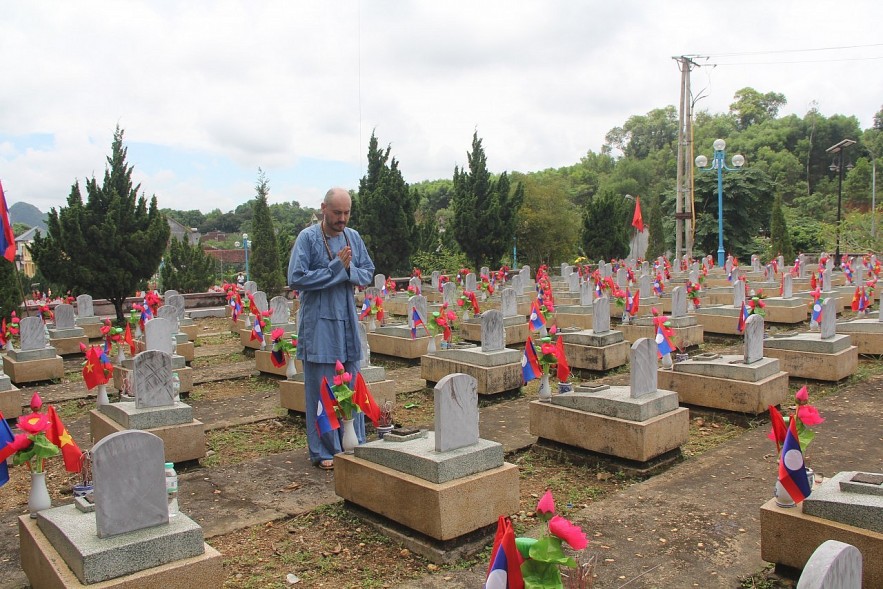 Daniel was really touched by the thousands of graves of martyrs at Vietnam - Laos International Cemetery (Anh Son,

Nghe An

). Photo: Thoi Dai
"As a historian who now publishes books, I have studied the Vietnam War and watched foreign movies that place a strong focus on displaying military prowess and first-rate equipment. It is heavy. By using the numbers, I can see the extent of the casualties. But the connection between what was being read and the current catastrophe didn't really make me stunned until I arrived here and saw it with my own eyes," he recalled.
Daniel visited numerous graves and recited the Buddha's name while observing the scene of hundreds of people and family members gathering to burn incense. He was surprised to find that numerous gravestones bear the same inscription: "Unknown Martyr."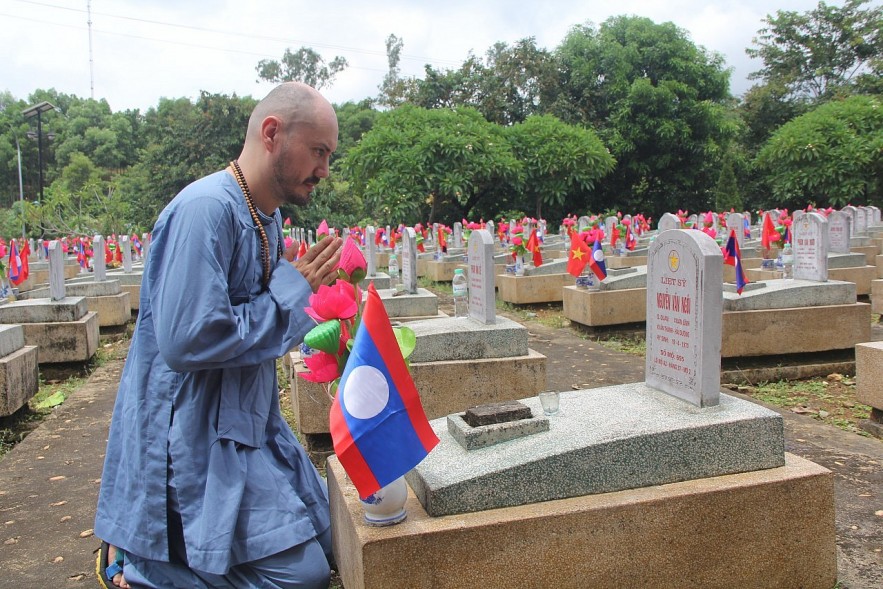 Daniel has come to meditate in front of many graves. Photo: Thoi Dai
"At first, I failed to notice. But after praying at 5-6 different graves, I saw the exact same information on hundreds of graves bearing the same name. I just asked around and found out that it's the burial of martyrs who passed away but the letter on the graves saying the burials are identified as "unknown"," Daniel shared.
The Vietnamese people's army had to make significant sacrifices, according to Daniel, in order to accomplish the unification of the nation as it is today. Those are significant and significant losses. The cost of achieving peace and national unity is not negligible. Even in times of peace, many historical figures are still at a disadvantage because their names, ages, and hometowns have not been recognized.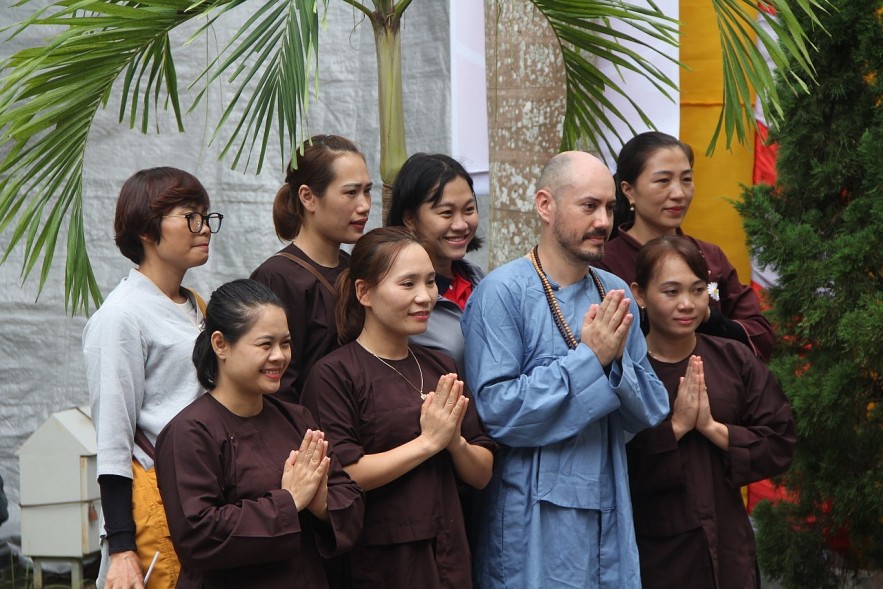 Many Vietnamese Buddhists were surprised by Daniel's appearance at the ceremony. Photo: Thoi Dai
When he thinks back on the ceremony scene, his circle of confidants still seems to be overflowing. Aside from that, he was also moved by the local civilian's sympathies. He came to say hello and take pictures because he was dressed in Buddhist monk garb and had his head shaved, leading many people to believe he was a monk.
The faithful Colombian views this kindness and openness as a predestined relationship.
"I remain merely a Buddhist. I may need to have another predestined relationship in the future to be able to lead a true monastic life," stated Daniel respectfully.
Thời Đại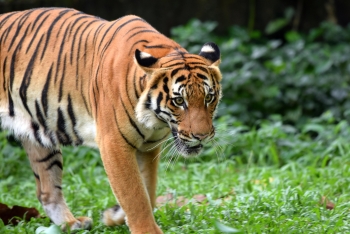 Economy
#ShopeeGivesBack, Shopee's long-term community initiative, has raised over RM48,000 from 1 May 2020 to 31 July 2022 for two Non-Governmental Organisations (NGOs) championing environmentally-conscious efforts in Malaysia.