Covid-19: Beijing Reported Its First Case In 6 Months Amid Delta Variant Break
The Chinese capital Beijing on Wednesday reported a locally transmitted COVID-19 confirmed case, the first in months, local authorities said Thursday, as China is struggling to curb the spread of Delta variant.
China recorded 49 new cases on Wednesday, including 24 local infections from three additional provinces, according to the National Health Commission (NHC), taking the total number of cases associated with the new cluster to at least 175.
Though the latest nationwide count marks a slight drop from the 86 cases recorded Tuesday -- the highest single day increase since January -- the virus' spread across provincial borders is sparking alarm among the country's leaders, after more than a year of low case numbers and resumed daily life.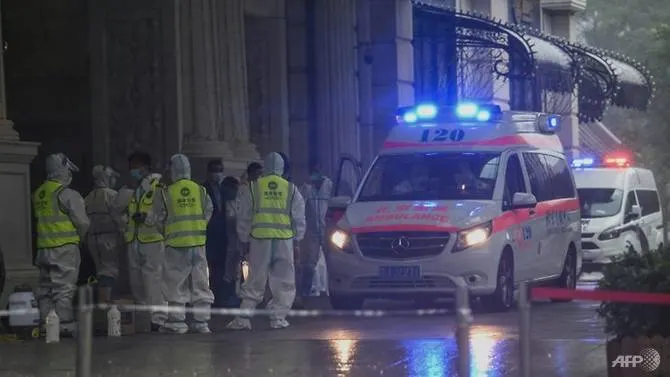 The high-end Legendale Hotel in Beijing was locked down after a reportedly imported COVID-19 case among guests. (Photo: AFP/Noel Celis)
A second new case was reported in Beijing on Thursday afternoon, with health authorities describing the two local cases as a husband and wife who had recently traveled to a city in Hunan province that has been linked to the latest outbreak. Close contacts of the couple have been placed in quarantine, according to CNN.
The coronavirus was first detected in the central Chinese city of Wuhan in late 2019, rapidly spreading across China and the world. Yet despite being the first country to succumb to the virus, China has since managed to successfully contain its spread. Since March 2020, the official case figures have remained low, and occasional flare-ups have been quickly contained with mass testing and severe restrictions, including mass lockdowns of hundreds of millions of people across the country.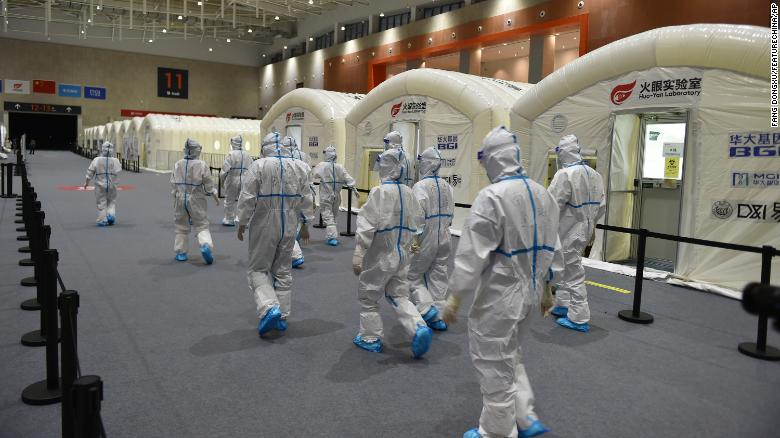 Workers prepare a pop-up Covid-19 testing lab at an expo center in Nanjing, China, on July 28. Photo: CNN
The current outbreak, however, poses a new threat, with the more transmissible Delta variant identified in the eastern city of Nanjing, capital of Jiangsu province and a major industrial and transport hub home to more than 9.3 million people.
Other countries in the region, including Thailand and Australia, have also been hit by the Delta variant and are currently battling outbreaks. But these countries have also struggled with a slow vaccination rollout beset by delays and shortages. This is in sharp contrast to China, which is on track to reach its goal of achieving so-called "herd immunity" -- the point at which enough people have either been infected or vaccinated to end community transmission -- by December this year.
Delta variant drives COVID-19 spread to 3 China provinces
It is geographically the largest spread for several months, challenging China's aggressive containment efforts which have relied on mass testing, lockdowns and swift contact tracing.
The virus first emerged in the central city of Wuhan, but China has extolled its success in largely extinguishing the pandemic inside its borders, allowing the economy to rebound, VOA reported.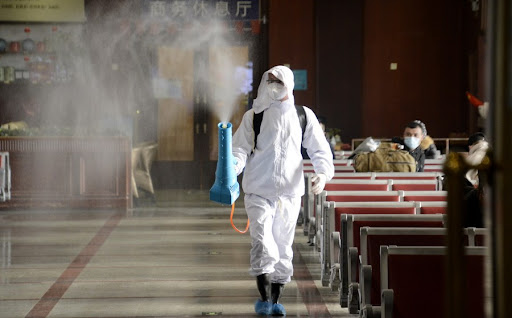 Photo: Xinhuanet
The new outbreak, coupled with cases seeping over the porous border with Myanmar, is threatening that record.
Officials in Jiangsu have locked down hundreds of thousands of residents, Lu Jing, a member of the epidemic prevention taskforce told on reporters Thursday.
"Internet cafes, gyms, cinemas and karaoke bars and even libraries in Nanjing have been shut down," he said.
The city has tested all 9.2 million residents twice as officials rush to curb the spread of the disease, he said, adding the highly contagious Delta variant is posing challenges to containment efforts.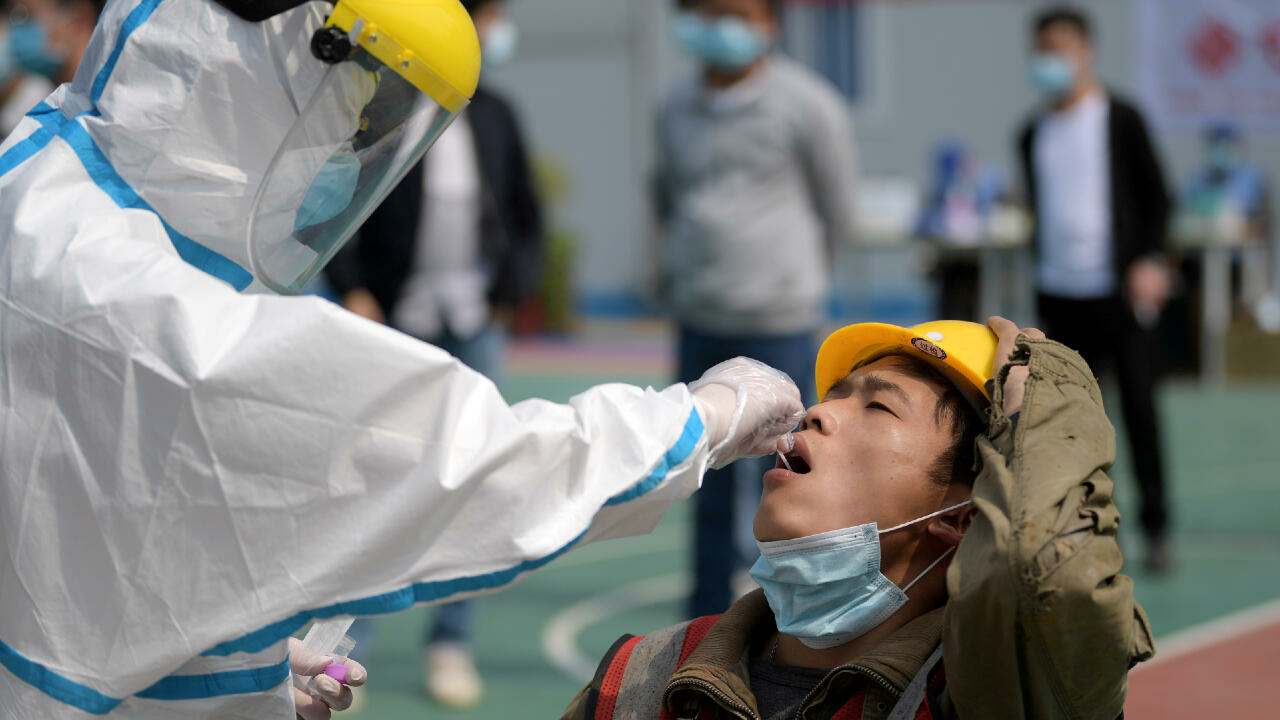 Photo: Reuters
The southwestern province of Sichuan reported three new cases on Thursday while Beijing reported one locally transmitted case, the first in six months.
The patient living on the outskirts of the Chinese capital had tested positive after returning from a theatre festival at a tourist hotspot in central China, health officials said.
Meanwhile, a high-end hotel in downtown Beijing has been locked down after media reported an imported case was found among the guests.
Police and workers wearing personal protective equipment suits and disinfectant hoses were seen outside the Legendale Hotel on Thursday.
Most of the patients testing positive in the latest outbreak have already been vaccinated, raising concerns about the efficacy of vaccines against new variants.
China is racing to vaccinate at least 65 per cent of its 1.5 billion population by the end of the year.
The country has given out about 1.5 billion doses of the vaccine as of Wednesday, the National Health Commission said, without offering details on the number of people fully vaccinated.
Airport cluster and flights grounded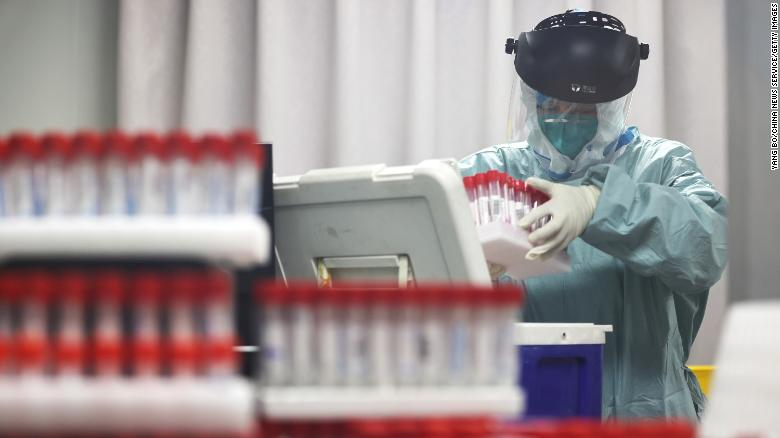 A medical worker works on samples from local residents to be tested for Covid-19 at a laboratory in Nanjing, China, on July 24. Photo: CNN
The latest outbreak first emerged last week after more than a dozen cases were detected among cleaning staff at Nanjing Lukou International Airport. The airport is one of China's busiest, and handled more than 30 million passengers in 2019, according to Chinese authorities.
The outbreak prompted officials to launch mass testing for more than 9 million residents starting July 21; a second round of mass testing was completed over the weekend, and a third round began on Wednesday.
So far, at least 175 cases are connected to the airport cluster, which officials have linked to the more infectious Delta variant.
"The recent spike in infections in the city can be attributed to the special location of the outbreak and the highly contagious nature of the (Delta) strain," said Ding Jie, vice director of Nanjing's center for disease control and prevention, at a news conference, state media reported Tuesday.
Despite the rapid and aggressive testing campaign, the virus appears to have already spread beyond Jiangsu province.
Infections have been reported among travelers who flew from Nanjing to other parts of the country, according to state-run news agency Xinhua, including the provinces of Guangdong in the south, Sichuan in the southwest and Liaoning in the northeast.
On Wednesday, state-run tabloid Global Times reported that the airport would look to suspend all flights until August 11, citing an insider source. Nanjing airport authorities told CNN that all flights have been canceled since Monday for disinfection works, and would resume once the process is finished. They did not say when that would likely occur and there has been no official announcement relating to the cancellation.